Gran Canaria's hidden trails
Road bikers have been hitting Gran Canaria as a winter warmer for years – the island's excellent roads, big climbs and balmy temperatures are an irresistible combination. 
Gran Canaria's mountain biking trails, on the other hand, are largely unmapped. To put this situation right, Cycle Gran Canaria have teamed up with the MTB experts at Free Motion to offer three different levels of fully guided singletrack trips on undiscovered trails.
BOOK IT: Prices from £975 half board.
Ride Shakespeare's Way
Fancy delving into a bit of history from the saddle? 
The Carter Company are celebrating Britain's best-loved playwright with their Shakespeare's Way self-guided route, which pedals around the Bard's hotspots. Start at the Globe Theatre in London, then ride along the Thames and through the Cotswolds to Stratford-upon-Avon to watch Shakespeare's plays in action. Over 10 days of cycling you'll ride mostly traffic-free lanes.
BOOK IT: From £2,425 including accommodation and some meals.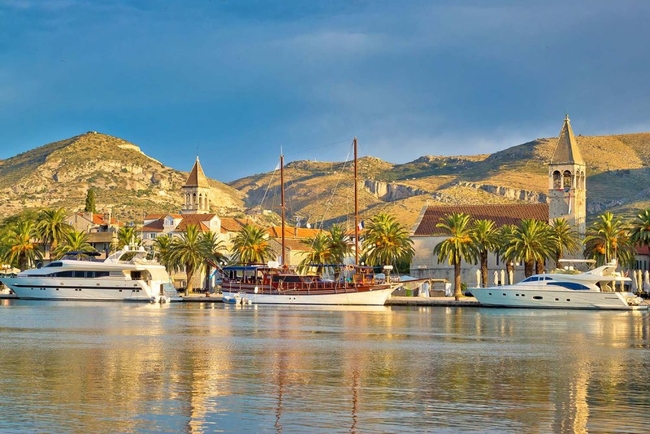 Bike and Boat Croatia
Macs Adventures perfectly mixes sunny cycling and island hopping on this dreamy ride around Croatia's North Dalmatia archipelago. You'll sleep on board a small sailing boat, navigating each day to a new island in the Adriatic.Then head for land and go exploring waterfalls, vineyards and ancient towns at your own pace by bike.
Hop between the UNESCO listed port of Trogir, explore the Kornati Islands and cycle in the lush landscapes of Krka National Park. With an average of 15 miles of pedalling a day, this trip is perfect for families, with plenty of time left over for swims in the secluded coves that dot the Croatian coast.
BOOK IT: From £1,072, including accommodation, bike hire and some meals. 
Discover Georgia by bike
The beautiful country of Georgia is finally emerging from the shadows of the Soviet Bloc as an active adventure playground, and with big mountains, quiet roads and mile upon mile of exciting singletrack, it should be on your cycling bucket list.
This new 10-day bike adventure winds its way through the Caucasus Mountains. You'll pedal through ancient Silk Road towns, past castles and into the surprisingly excellent wine producing region of Kakheti. Experience renowned Georgian mountain hospitality all washed down with some excellent wine.
BOOK IT: From £1,720, including accommodation and some meals.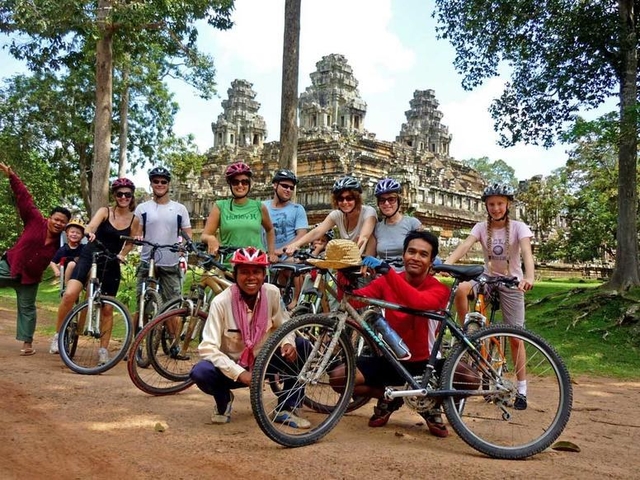 Family cycle in Cambodia
Ok, so you've biked as a family in Europe – where next? May we recommend Cambodia? This week-long adventure will be the trip of a lifetime for small cyclists. You'll ride through one of Asia's most welcoming countries, from Siem Reap and Angkor Wat to the riverside capital of Phnom Penh.
But it's not just all about covering miles - walks and a kayak on Tongle Sap Lake will mix it up for the kids and keep all the riding fresh. Best for families with prior cycling experience.
BOOK IT: From £1,424 including accommodation and meals.
On Mongolia's Route of the Nomads
Brand new for 2019, this epic 16-day trip is perfect for would-be cycle nomads, and includes cycling over the 2,540 metre Shar Hutul pass and an exhilarating downhill descent into the Tuin River valley, following ancient nomadic routes.
Nights are spent under the stars in a traditional Mongolian Ger camp, from which you'll venture into the pine forests at the heart of the Khangai National Park before your final ride along the Orkhon River valley, once the capital of the Mongol Empire. Don't forget to try the salt butter tea.
BOOK IT: From £2,295, including accommodation and meals.