Bikepacking is a wonderfully exhilarating way to explore the outdoors. At its heart is a fusion of mountain biking and lightweight camping – allowing you to set off on self-supported, overnight forays into Britain's beautiful wild spaces. Using a vast network of bridleways, forest trails or ancient byways, you can embark on adventures big or small, from local loops to epic journeys.

Of course you can stay at proper campsites if your tent is light enough to mount on your bike – and camping barns, pubs, hostels, bunkhouses and bothies all make ideal overnight accommodation – but possibly the biggest rewards are to be found wild camping along the way. There are few things more memorable than making your camp for the night on a mountain plateau or by a lake shore, or slinging your hammock between trees at the edge of a silent forest. And there's something quite special about knowing you are the only soul for miles, lying beneath the brightest of stars, with breathtaking views the last and first things you'll see.

All you really need is a sleeping bag and mat, waterproof bivvy bag and a tarp and guy ropes in case of inclement weather, with a lightweight stove and some simple food to turn a mountain bike ride into a memorable adventure.
With this in mind mountain biking gear expert Andy McCandlish picks out his go-to bikepacking kit of the moment......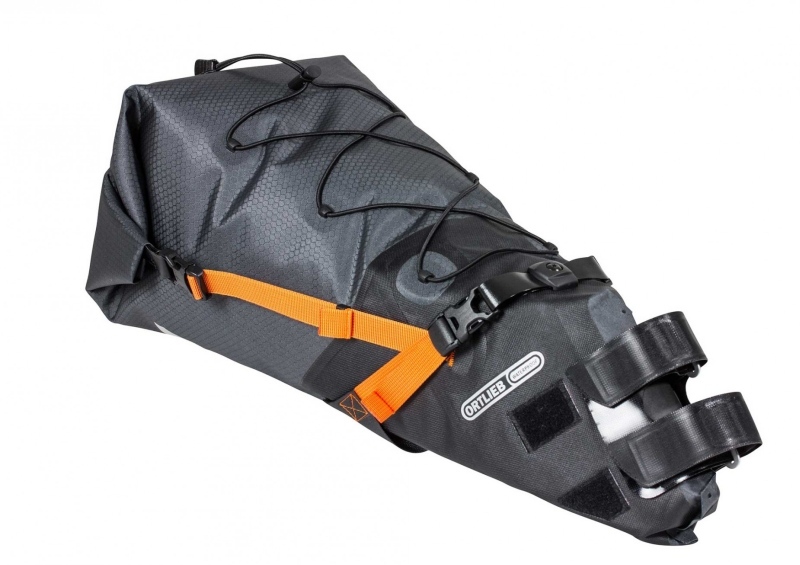 Ortlieb Handlebar Pack/Seat Pack/Accessory Pack | £210
Ortlieb's first foray into bikepacking baggage is made of super tough ripstop and waterproof nylon, with roll-top closures all round. The Seat Pack holds 16.5 litres, Handlebar Pack 15 litres and Accessory Pack 3.5 litres. Pricey but worth it.
+ Top quality, secure roll top waterproof bags
– You'll need at least 20cm of seatpost showing

Alpkit Kraku Stove/Tifoon Spork/MyTiMug 650 | £63
All you need to cook and eat (besides the gas canister) weighing in at around 160g. All titanium, even the stove body, which is a gadget lover's dream, folding down to D size battery dimensions!
+ Superlight, multi-function, long-lasting kit
– The stove, needs careful propping when in use

Rab Siltarp2 | £100
Our Siltarp 2 is the middle size, measuring 2.4 x 3m It's the ideal partner to a bivvy bag, with enough space for 2-3, weighs about 400g and packs right down, thanks to its Sil-Coat Cordura fabric.
+ Superlight, yet roomy and easily stowed
– Pricey for something so simple

Thermarest NeoAir XLite | £130
Packing to the size of a one litre water bottle and weighing only 340g, the XLite is incredibly light and compact to carry – even so, it doesn't sacrifice anything to comfort.
+ Superbly comfortable, compact and light
– You do have to be careful to avoid punctures

Alpkit Pipedream 400 | £200
This mid-weight bag is suitable for most UK conditions, with superlight materials and 750 fill power down for minimum weight (865g) and bulk, with a rating to -6C and water resistant down.
+ Excellent value, high specced sleeping bag
– Nothing

Rab Alpine Bivvy Bag | £220
Made from extremely light eVent DV Storm 3-layer fabric, this bag is truly minimalist kit. Weighing in at around 470g it's another that packs down to the size of a one litre water bottle.
+ Superlight, breathable and a tiny pack size
– Fragile fabric needs careful campsite clearance

Packtowl Luxe Towel | £19
This recent Luxe model has beautifully soft terry knit microfibre loops to feel far more like your cotton towels at home, yet packs down to the size of a tennis ball and washes easily, time and again.
+ Dries quickly and takes up little precious room
– Not cheap for a hand towel

Seal Line 10L Dry Sack | £16
The Blockerlite is perfect for bikepacking due to its extreme lightweight (just 44g for our 10 litre) and thin and pliable fabrics, easily stuffed into hydration packs or frame bags.
+ Incredibly light with wafer thin pack size
– Fragile – but then it has to be for the weight

Sweet Protection Nutshell Insulated Jacket | £190
This jacket is filled with Primaloft Gold, an insulation that is not only compact and effective, but retains 96% of it's insulating properties when wet. Its long cut covers your backside, the hood is snug and there are two deep waist pockets.
+ An excellent, snug jacket not afraid of water
– It is pricey for a synthetic jacket

Petzl Reactik Plus | £85
The Reactik Plus uses a light sensor to react – and adjust its light levels and beam patterns. So when you're reading a map, for example, it will dim automatically. It also connects wirelessly to its own smartphone app.
+ Automatic light management
– Not the lightest or smallest headtorch available