Go campervan road tripping
Need to escape for a weekend? Plan the ultimate road trip in a campervan – they give you the freedom to roam wherever you fancy, with your bed always ready in the back. Wicked Campers rent campervans of all sizes across the UK and Europe and Vintage VW Campers have a fleet of rainbow-bright VeeDubs waiting up in Scotland, perfect for spending a few days rolling around the Highlands with stops for loch swims and whiskey tasting.
Best KEEN Terradora model for this adventure: The Ethos
Wild swim in a Cumbrian pot
The search is over – the very best way to cool down in this sweltering heatwave is a wild swim-hopping weekend around the beautiful Lake District. Cumbria's unique pots (small, deep swimming holes half-hidden amongst its fells and hills) are the perfect place to make a splash, and half the fun is taking a map and seeking them out. Daredevils can jump into Tongue Pot and Kail Pot and beautiful Blackmoss Pot is the perfect place for a lazy day with a picnic or even to brave a skinny dip if you've got it to yourself.
Best KEEN Terradora model for this adventure: The Pulse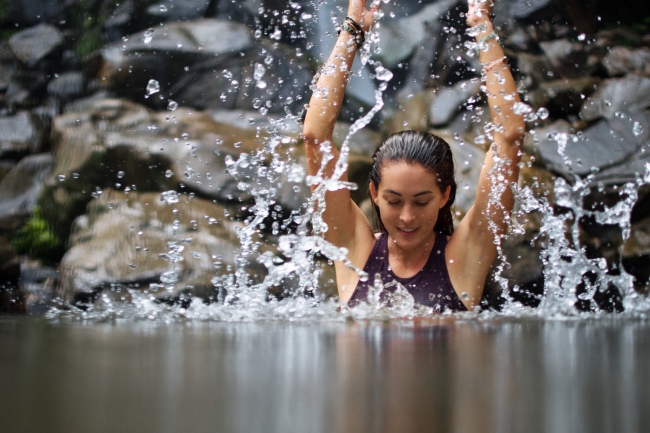 Camp on a beach
Fancy waking up to the sound of waves and a view of sky and sea from your tent? Whether you pick a relaxed campsite with an ocean view or set up your tent on your own for a wild camp on a remote beach, camping right near the sea is an amazing experience for lovers of nights in the great outdoors. There are plenty of gorgeous beachside campsites to seek out in England and Wales (try Cool Camping's list of the best ones) or go solo and set up on Scotland's beaches, where it's legal to wild camp – Sandwood Bay at Cape Wrath is our favourite spot.
Best KEEN Terradora model for this adventure: The Ethos
Hike a section of the South West coast path
The epic South West coast path stretches for an uninterrupted 630 miles from Minehead in Somerset to Poole Harbour in Dorset, and it makes the perfect easy weekend hike, as it's so simple to navigate. Pack a tent and provisions and see how far you can get in a few days – we think the most beautiful section of all is Cornwall's, where the grassy, flower-studded cliffs give way to bright turquoise water where you might spot seals and dolphins.
Best KEEN Terradora model for this adventure: The Leather WP
Go canoe camping
This is our recipe for the perfect summer weekend – one big canoe, a mate or two, a tent and a map of the River Wye, bordering England and Wales in the south west. The river is perfect for beginner paddlers in the summer, and Wye Valley Canoes, based near Hay-on-Wye, can rent you out a Canadian canoe and a waterproof barrel for your camping kit – just grab a paddle and head down the river, stopping wherever you fancy for a pub lunch, a swim or to set up camp for the night.
Best KEEN Terradora model for this adventure: The Ethos
Learn to surf on a girls-only weekender
Always reckoned there was a surfer inside you, waiting to get out? Learn to ride the wild Welsh waves of Llangennith with the lovely instructors at Surf Sistas, who organise female-only beginners weekends designed to help you gain confidence in a pressure-free environment. Beginner weekenders are based on the glorious Gower peninsula - you can camp nearby and explore the windswept cliffs and sandy beaches in between surf sessions.
Best KEEN Terradora model for this adventure: The Pulse