Sponsored content
The Saalbach Hinterglemm region is the Home of Lässig - which roughly translate as laid-back, nonchalant, and runs through this area of the Austrian alps like words in a stick of rock.
The concept delivers what it promises: a laid-back attitude to life, celebrated amidst spectacular mountain scenery, and with an emphasis on enjoying what nature has to offer. The number of possible activities is almost limitless - here, every day is an experience. In winter, you can revel in 270 km of ski pistes, and in summer, as Austria's largest bike region Saalbach Hinterglemm Leogang Fieberbrunn offers more than 90 km of cool lines and trails as well as more than 400 km of mountain bike trails.
But that's not all - not only can sports enthusiasts let rip here, but bon vivants and adventurers are just as well catered for. Indeed, an unbelievable variety of activities are just waiting to be discovered in Saalbach Hinterglemm – from sport to fun, for young and old. At times relaxing and others action-packed, but always creating unforgettable memories.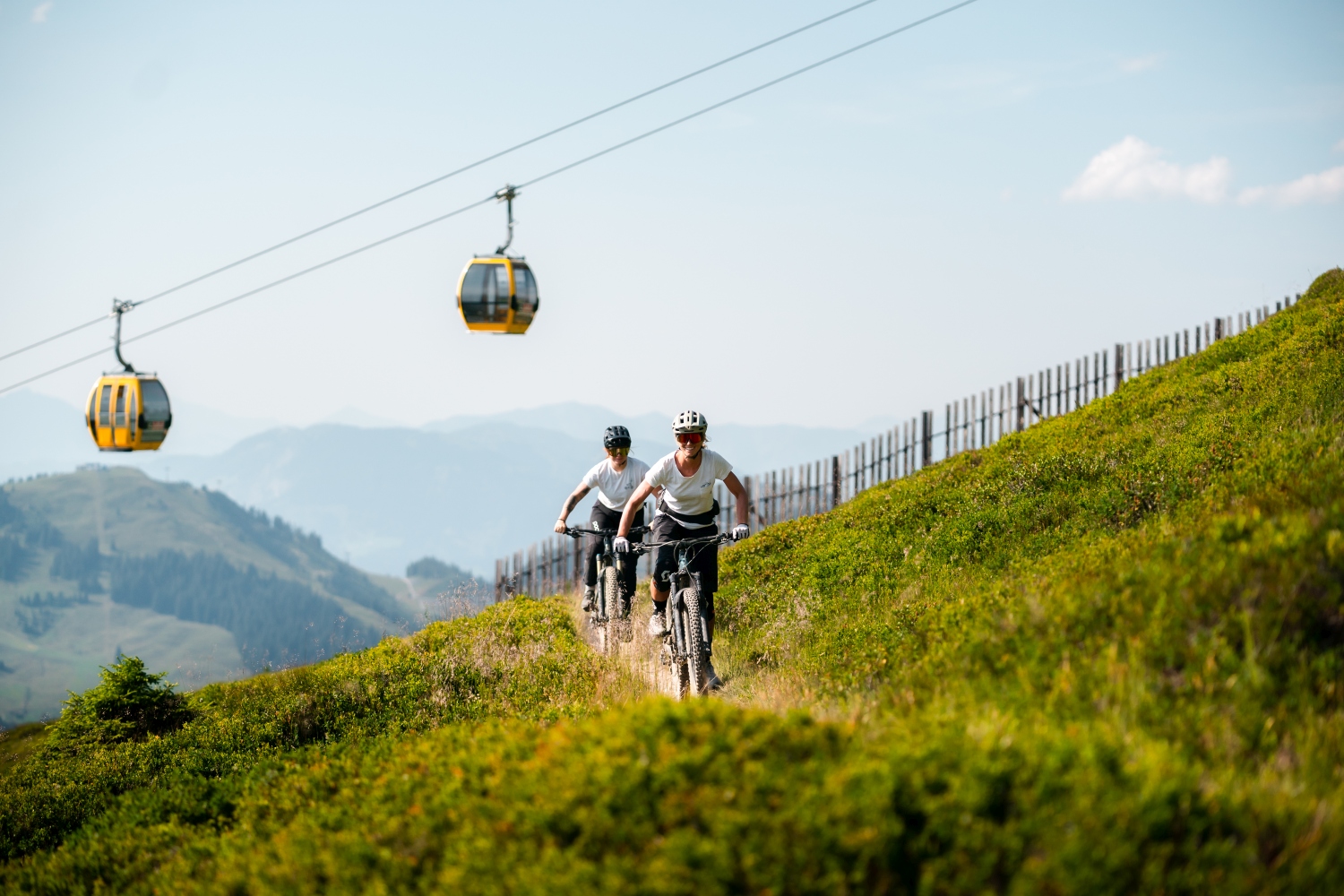 Where is Saalbach?
The village of Saalbach Hinterglemm lies in the Glemm valley (or Glemmtal) in the province of Salzburg in western Austria in an area known as the Pinzgau. It's also part of the Kitzbuhler Alps region. The nearest airports to Saalbach are Salzburg Airport at 90km, Innsbruck at 160km and Munich at 220km. You can book a convenient budget airport transfer directly from Salzburg or Munich Airport to your accommodation. Transfer time from Salzburg is about 90 minutes.
Why visit Saalbach in the summer?
Ski resorts are not just for winter. In summer when the snow melts and the meadows and mountains explode into lush life, this corner of the Kitzbühler Alps is a paradise for active travellers, with activities ranging from hiking and biking in the surrounding mountains to trail running and canyoning.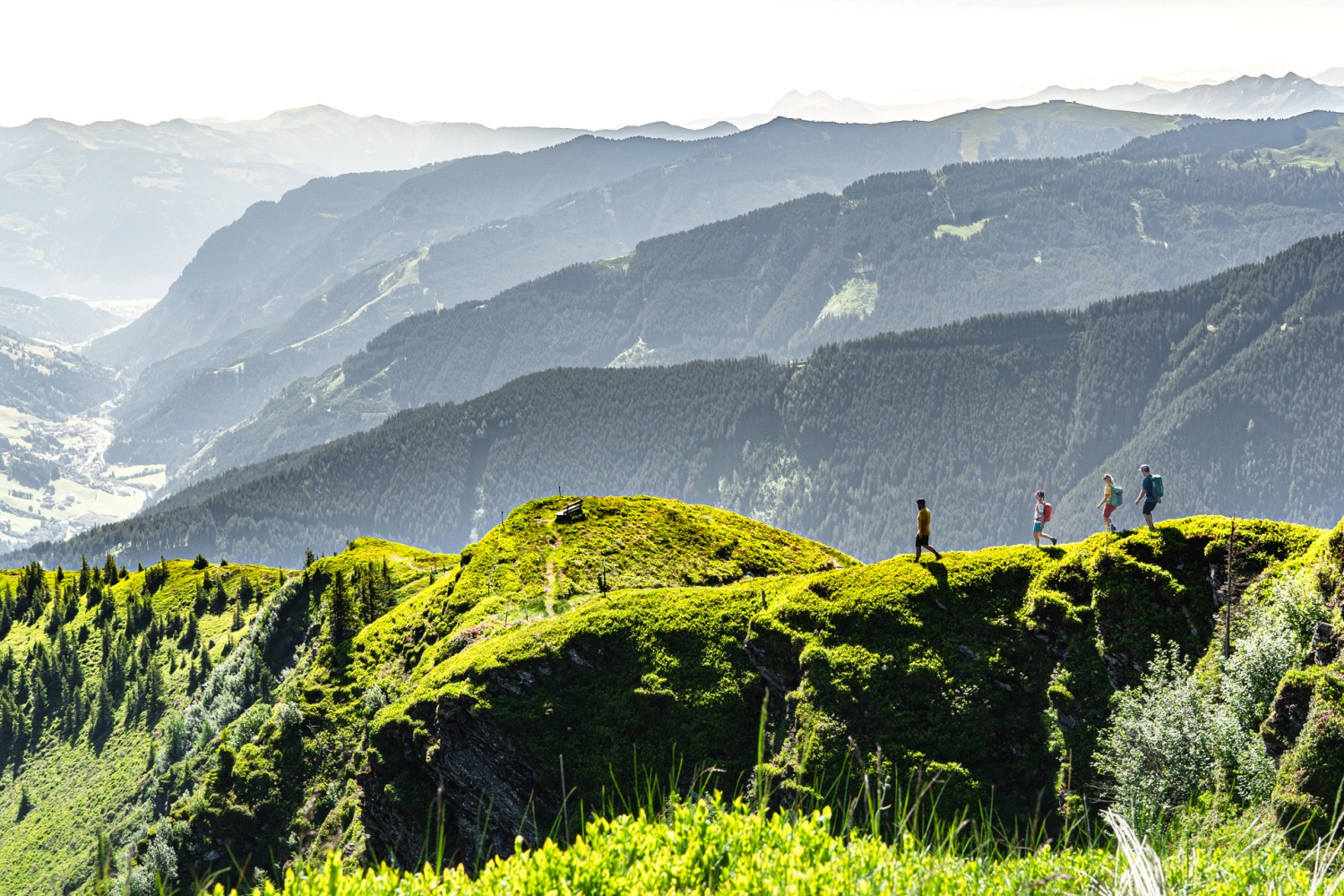 10 reasons to visit Saalbach in the summer
A Saalbach Austria summer is full of fun and challenging activities. Here are ten ways you can enjoy Saalbach Hinterglemm.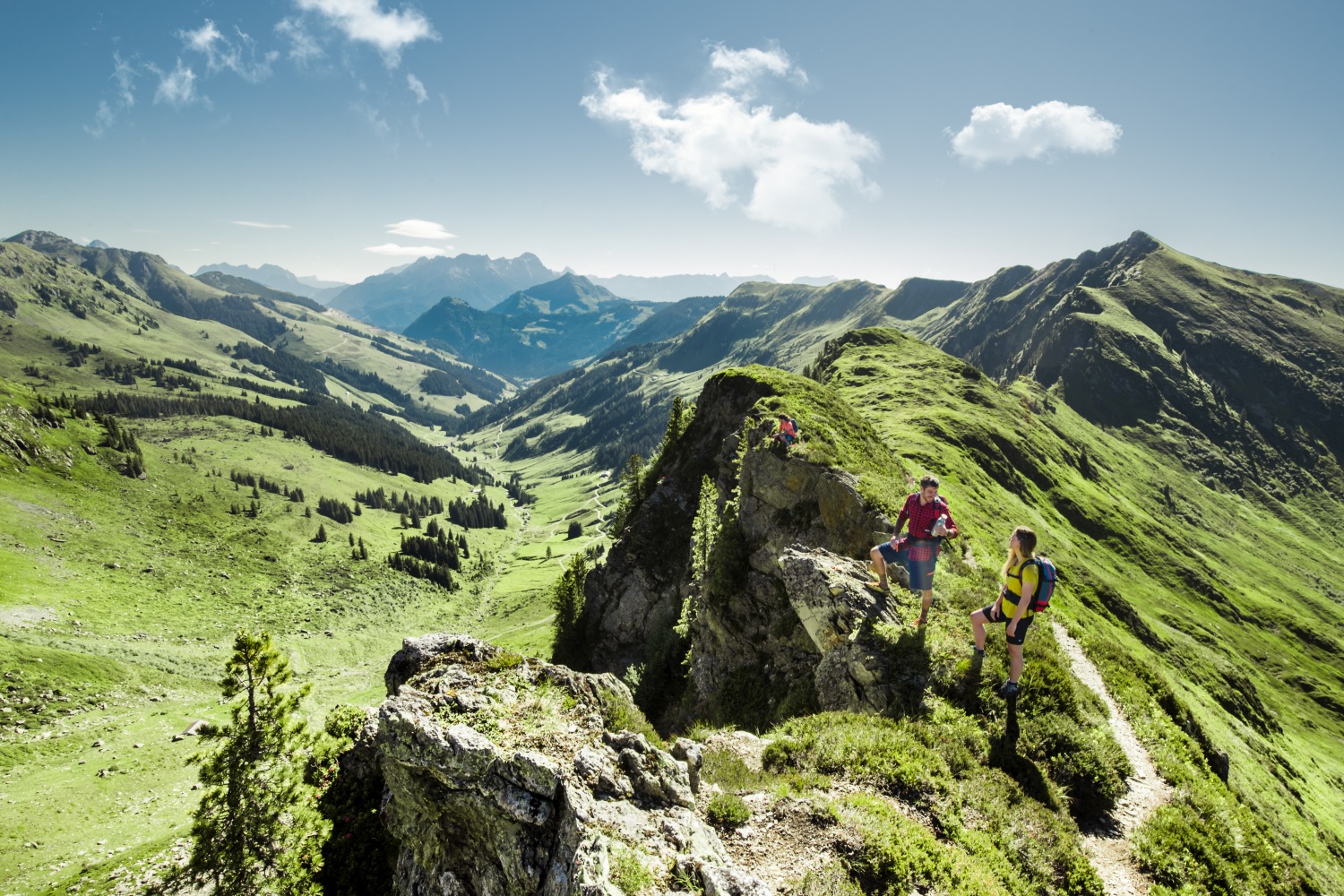 Hiking Trails in Saalbach
Summer walking in Saalbach Hinterglemm is a delight. Both casual hikers and experienced alpinists will love exploring Saalbach's 400km of marked hiking trails, of varying difficulty from easy walk to summit trek, alongside picturesque mountain lakes, through deep shady forests, over panoramic mountain ridges and lush green Alpine pastures leading up to unforgettable peaks.
The reward after the ascent is stunning views that open up to the gentle ridges of the Pinzgauer Grasberge, the jagged peaks of the Kitzbüheler Alps and the snowy peaks of the Hohen Tauern. This is the world of chamois, marmot and deer. Even a few golden eagles can be spotted, hunting for prey above the rugged cliffs.
For the endlessly energetic, there are plenty of long-distance hiking trails, such as the Seven Summits, the Home of Lässig Walk and the Pinzgau Walk. Indeed, all three together make up the Saalbach Hiking Challenge. Complete this trio and you can claim your own personal trophy.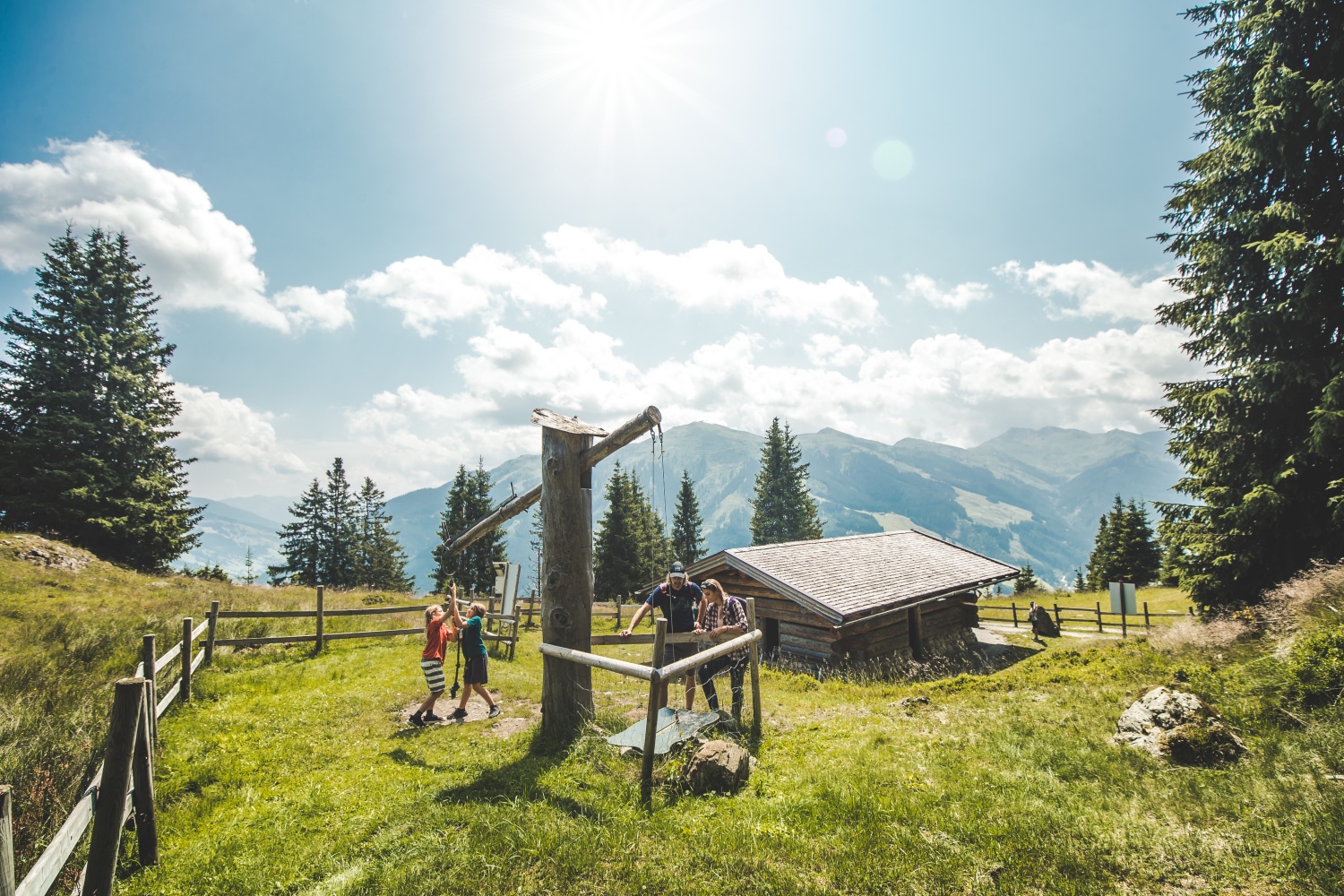 Family holidays in Saalbach
Saalbach is great for outdoor-loving kids, with a series of six special adventure hiking themed trails around Montelino and Kodok making up the Kids' Hiking Challenge, for which the little ones will be rewarded with the Golden Clown.
Additional family highlights include Montelino's Water Playground, a fun, splashy spot for big and small visitors alike, and Montelino's Wild Animal Feeding where visitors can while away the time watching deer, stags and fawns during grazing or daily feeding sessions.
There are new attractions in store for families at Kodok's Playworld in the beautiful Rosswald Reservoir, with a slide tower, water playground, a motor skills trail and the huge Archimedes screw. Spending time by the cool water is a real highlight, and a great way to wind down after spending some time on the hiking trails.
At the end of the valley you will find range of family leisure activities, from the Wildlife Trail to the High Rope Park.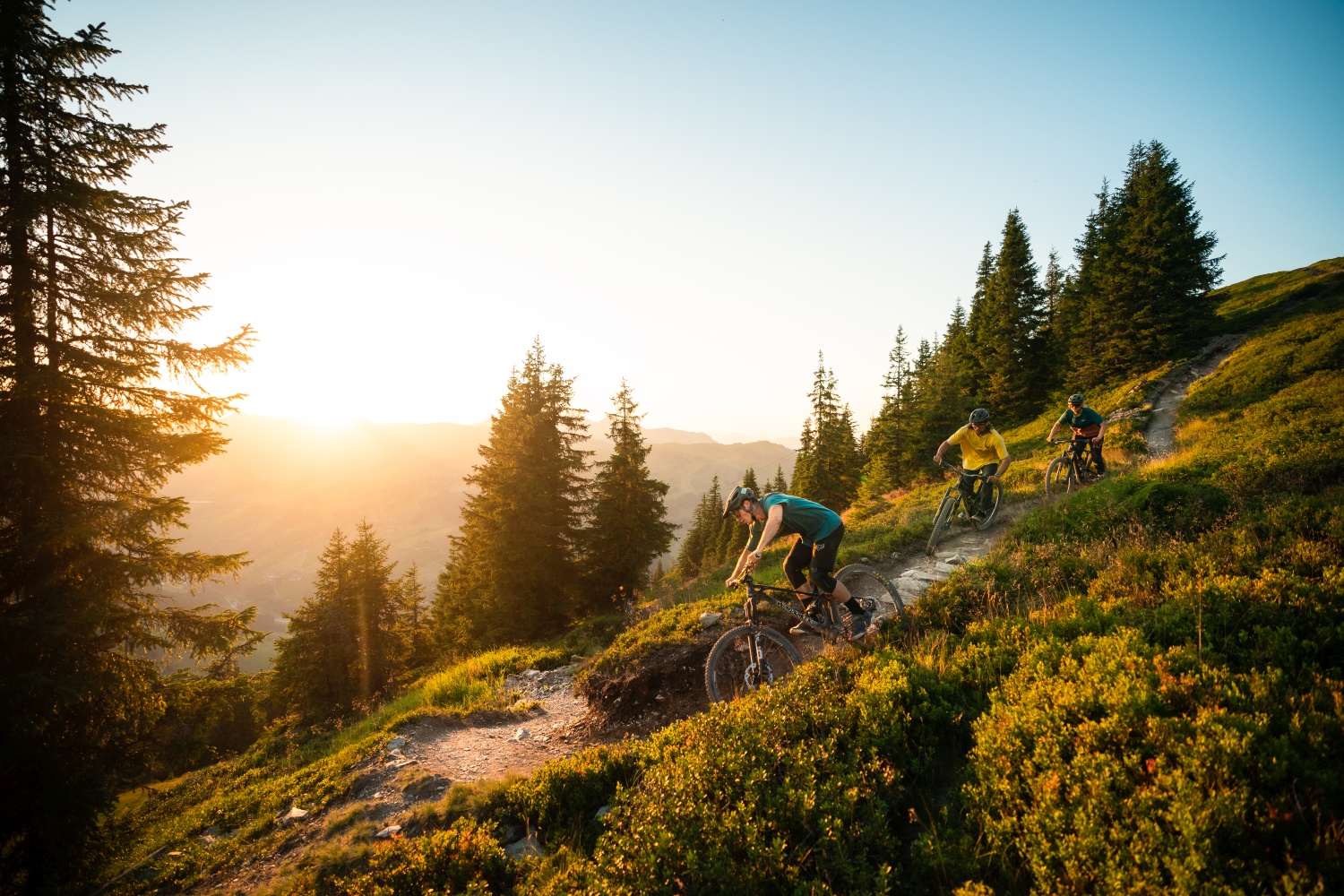 Mountain Biking in Saalbach
Saalbach Hinterglemm is a natural paradise for mountain biking. More than 400km of marked trails, cableways with bike transport and bike park features for beginners and pros alike make the region an exciting experience for MTB fans.
Six modern cable cars in Saalbach Hinterglemm, two in Leogang, and one in Fieberbrunn trransport bikers swiftly and comfortably to the most beautiful mountain peaks and coolest trails. Saalbach Hinterglemm is not only the largest bike region in Austria, but also renowned for its legendary trails such as the Hacklberg-Trail and the World Championship trail in the Epic Bike Park Leogang. There are also fantastic events such as the Global Bike Festival, the GlemmRide Bike Festival and the World Games of Mountainbiking
For something truly epic, take on THE CHALLENGE - Bike Your Limit, a brand new challenge that asks the question: Can you ride the entire area around Saalbach Hinterglemm Leogang Fieberbrunn in one day? Yes, thanks to the fantastic network of lifts, it is possible.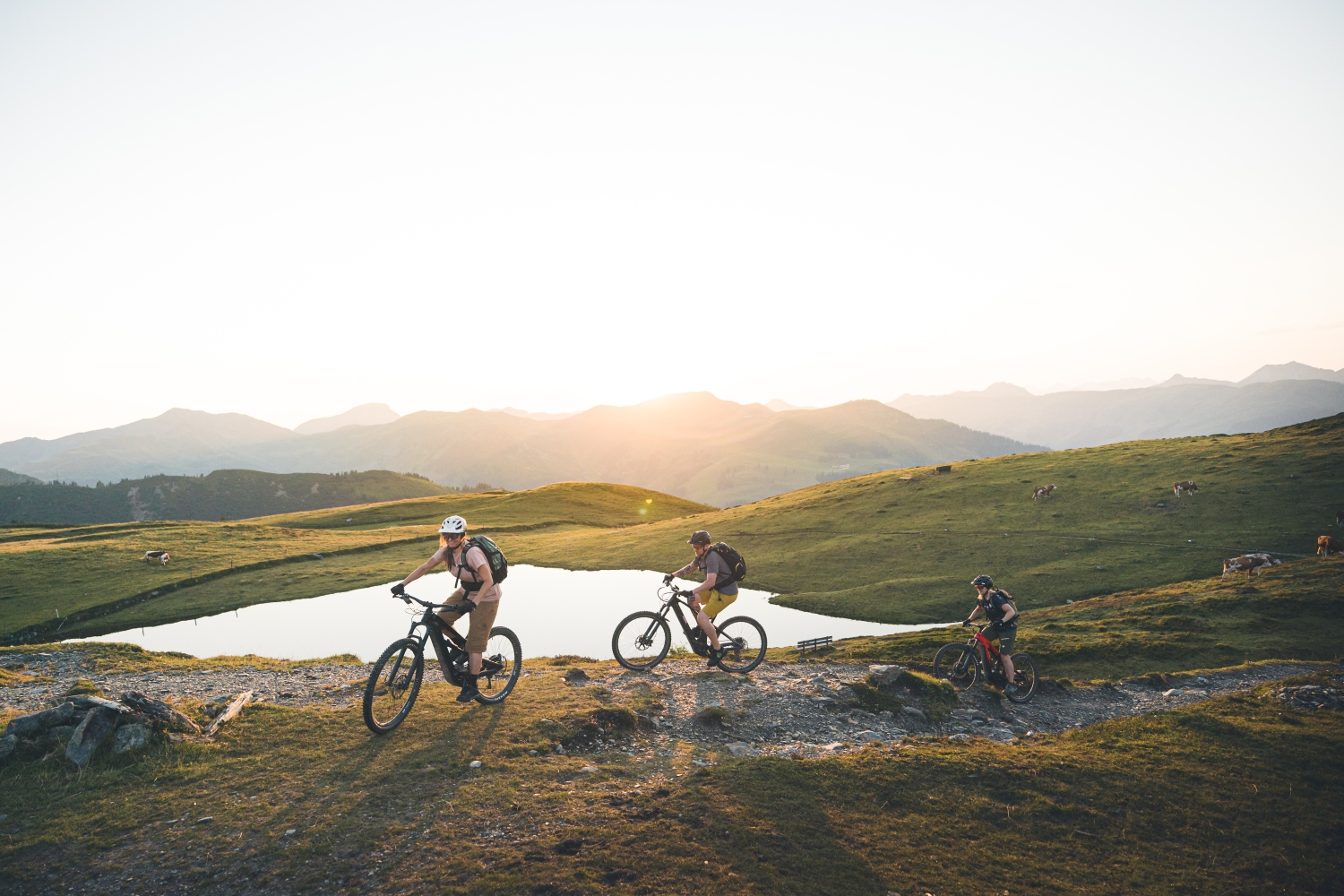 E-biking in Saalbach
Specially marked e-bike routes allow families and friends to effortlessly explore the 400 km of marked trails and take in the breathtaking landscape and great views. But there are also several hidden trails and tracks which provide e-bikers with the right thrills for an all-around exciting day on the tracks. And many additional tours are well within reach in the surrounding areas, such as Saalfelden - Leogang or Zell am See-Kaprun.

If you fancy indulging in a little competitive e-biking, check out the E-Bike-Marathon at the World Games of Mountainbiking in September!
E-mountain bikers will find charging stations on the mountains and specially designated e-biking tracks.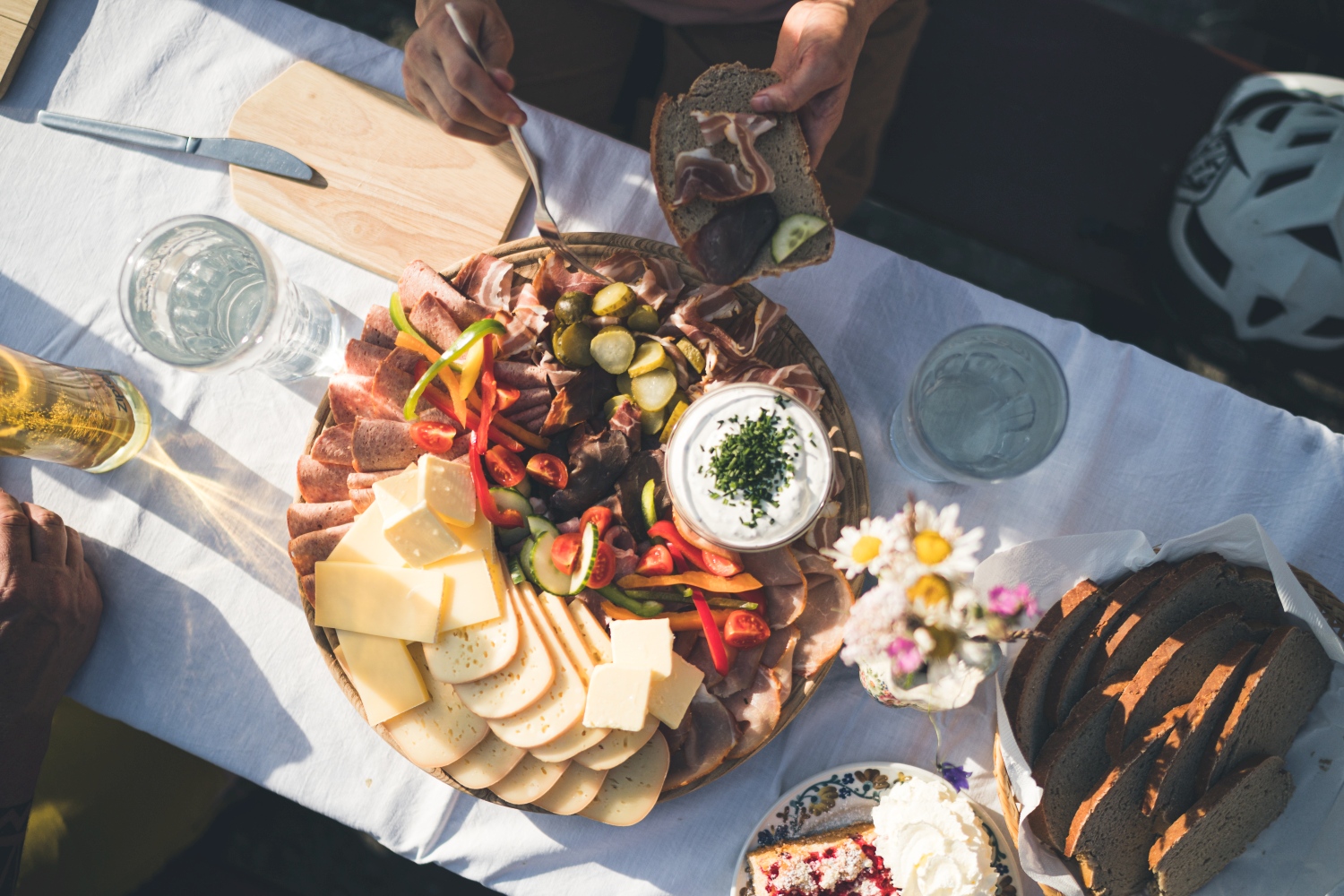 Authentic culture and cuisine in Saalbach
As well as being a natural adventure playground with its outstanding scenery and alpine flora and fauna, an active break in Saalbach offers the chance to try some traditional Pinzgau dishes, such as the popular 'Kasnocken' (cheese dumpling) and, for those with a sweet tooth, the fantastic Kaiserschmarrn, which is a kind of scrambled pancake, often served with apple or plum sauce.
Why not stop off on the trails at one of over 40 mountain huts and enjoy a time-honoured 'Jaus'n' snack break while you take in the views? You can even spend your stay at a local farm to sample the local produce and get a taste of country life in Saalbach.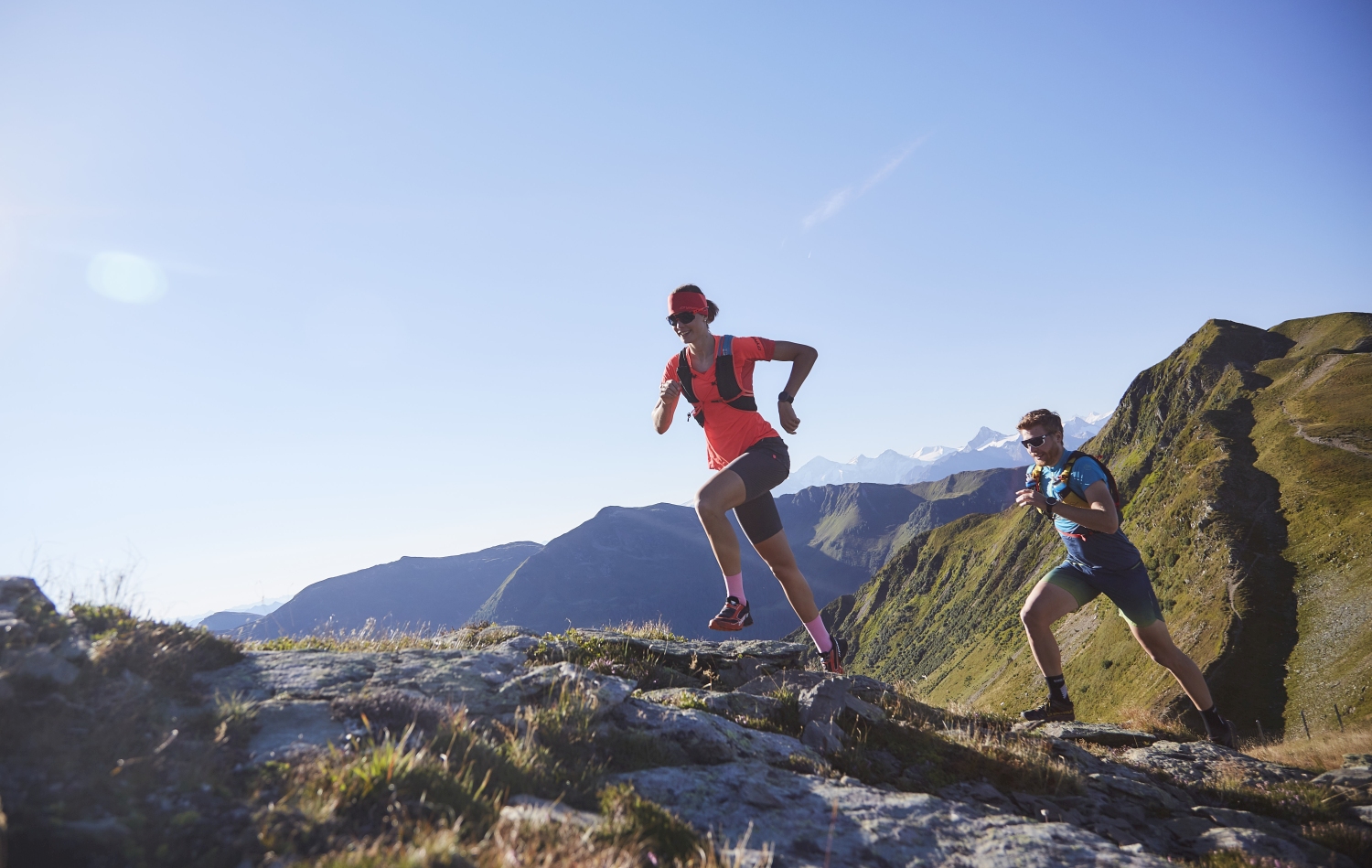 Try trail running in Saalbach
For visitors wanting to pick up the pace… Saalbach Hinterglemm offers athletically ambitious runners speed, marathon and endurance trails for every taste, from panorama-rich tracks for beginners all the way up to more challenging tours and races such as the Saalbacher Trail and Skyrace in August. Detailed trail descriptions, including GPS tracks, are available to download on the interactive hiking, cycling and trail running map on saalbach.com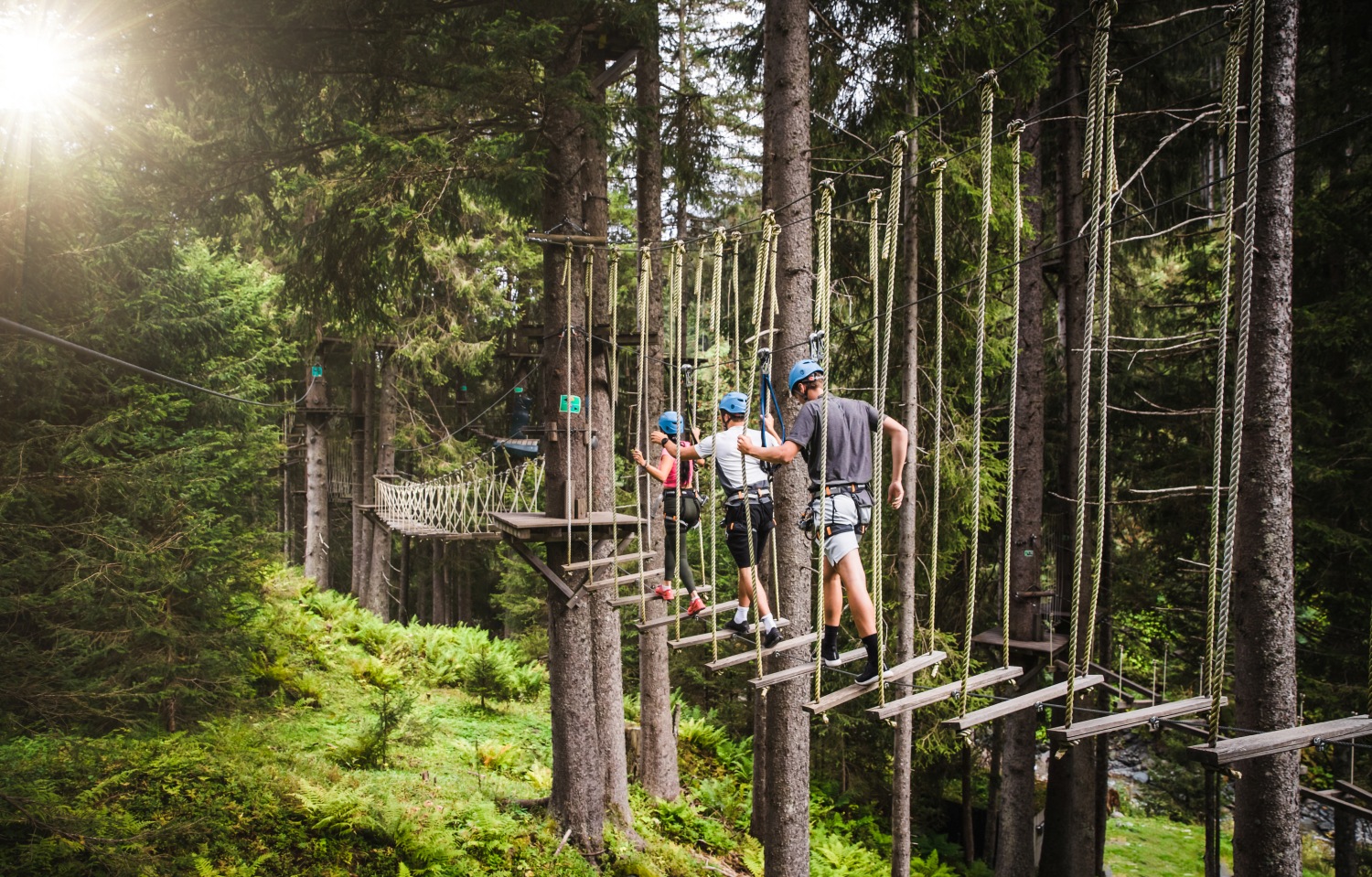 High-octane fun in Saalbach
A world of adventure awaits thrill-seekers in Saalbach. The Canyoning Course in the valley head of Hinterglemm leads through a watery gorge and offers exciting jumps and slides for both courageous, and more careful participants.
Nearby is Europe's biggest high-rope park, where the fearless are invited to slide down Europe's longest rope slide. And at the Treetop Trail, the 200-metre-long Golden Gate Bridge of the Alps, leads to an 800m circular walking path winding up into the treetops.
You can also take a tandem paraglide, go-karting, parcours, horse riding and archery, and enjoy an eight-meter high jump tower, a trampoline area and a freestyle ramp at the world's first jump and slide park.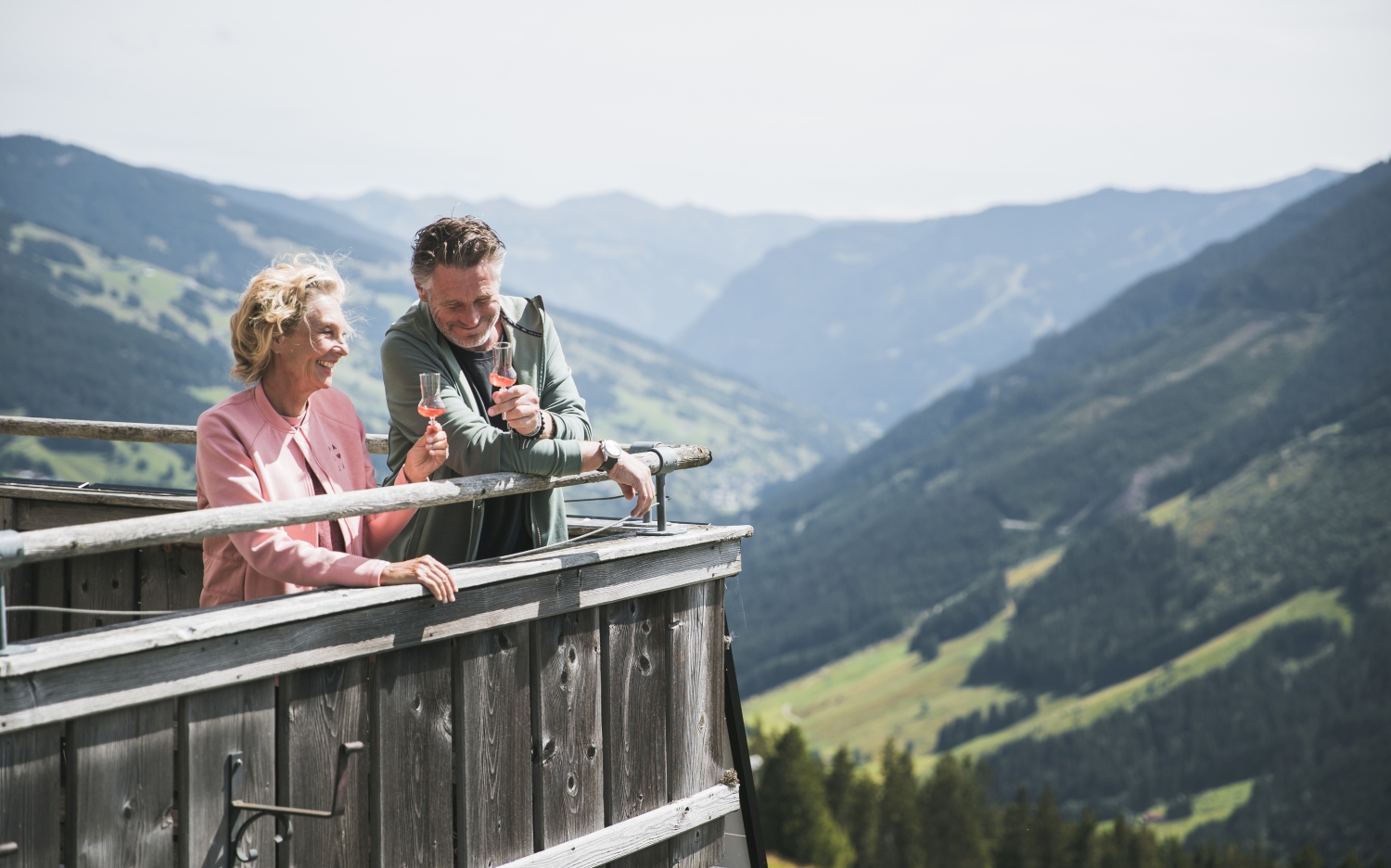 Visit a mountain hut in Saalbach Hinterglemm
Whether hiking or biking, you're sure to work up an appetite and visitors can enjoy traditional dishes and local products served up by hosts at one of the 40 mountain huts around Saalbach Hinterglemm, that are open in the summer. Hut classic dishes such as Kasnocken, Kaiserschmarrn, homemade soup or simply a traditional Brettljause (snack) provide culinary delights up on the mountains. Some huts also offer an evening programme.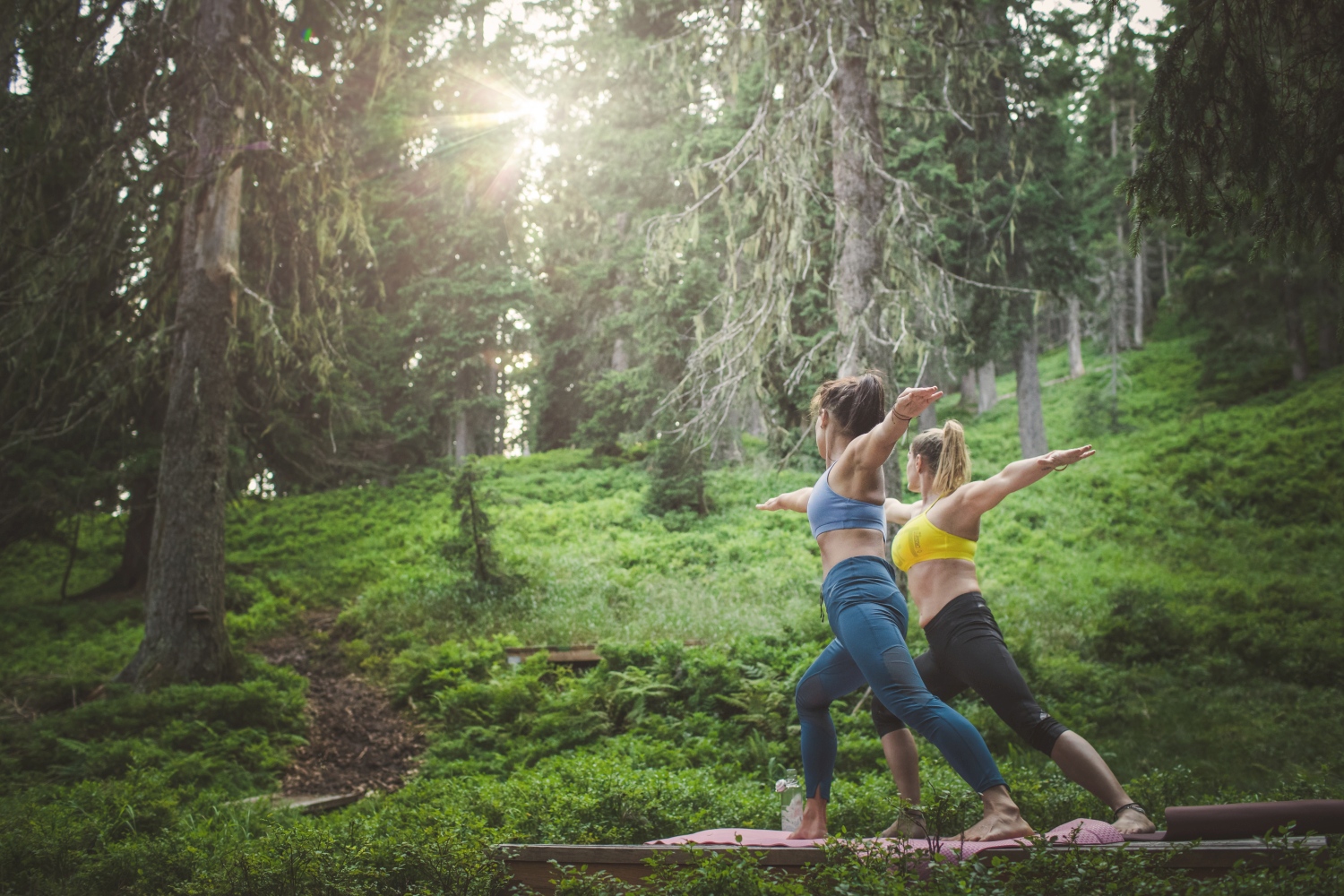 Rest and recharge in Saalbach
Today 4,000 hectares of woodlands cover the slopes of the Glemmtal, providing clear spring water, pure fresh air, the finest game, mushrooms, berries and herbs which are used in culinary dishes in the kitchens of the hotels and restaurants.
The new Forest Wellness Trail on the Reiterkogel is a relaxing woodland experience where you can go forest bathing in a world of soft green moss and wild growing lichens. In the shade of the massive spruce trees, you will find perfect designated areas for yoga, hammocks for swaying, wooden loungers and a woodland library and places for a picnic.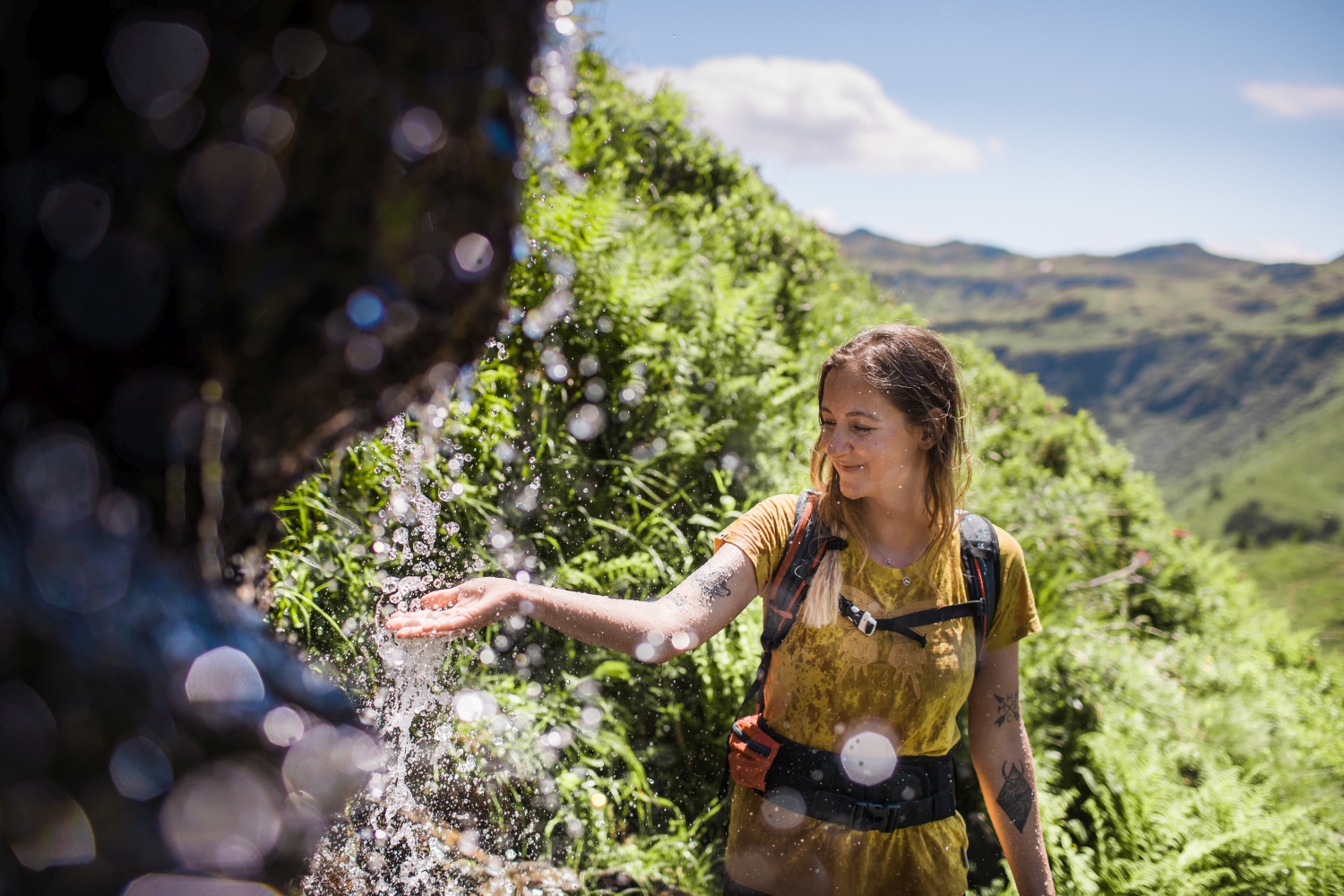 Adventure holidays made easy with the JOKER CARD
With the JOKER CARD, the use of lifts operating in Saalbach Hinterglemm is entirely free of charge for all hikers, as well as two free bike transports per day.
The JOKER CARD is included at all partner accommodation providers up to 15 October 2023 and allows free use of up to 8 gondolas and access to the region's most popular attractions. Plus, JOKER CARD holders can get 20% off bike tickets purchased on site in Saalbach Hinterglemm, in the Epic Bikepark Leogang and in Fieberbrunn as well as bonus partners throughout the SalzburgerLand.
To find out more about summer adventures in Saalbach, go to saalbach.com