One of the most famous ski resorts in the French Alps, Morzine in the Portes du Soleil is also a delight for summer walkers and bikers, and has built up a reputation for exciting and varied new activities.
1. Try Trail Running
Morzine offers a complete package for trail runners: dedicated routes for all levels, with Discovery trails from 6-28km, multimedia support, including a new smartphone app, and enjoyable, challenging races – all in an exceptional natural setting with incredibly varied landscapes.
This year, Morzine-Avoriaz has regrouped all its summer trail races into one incredible weekend:
9, 10 and 11 August : Trail Festival
Specially created itineraries have been put together to help participants discover the best trails in the Portes du Soleil: Pléney ridge, Pointe de Nyon, Vallée de la Manche, Mines d'Or lake, Col de Cou and Vanet ridge, Col du Fornet, Morzinette alpine meadow. The programme features:
• 9 August: KMV de Nantaux, the toughest vertical kilometre in France: 1,000m of height gain over just 2.2km with a gradient of over 70% in the toughest part of the climb!
• 10 August: 197+ : a fun relay course in teams of 2, each relay is a steep loop of 197m of altitude gain on the famous Pléney ski piste, in the heart of the village.
• 11 August: a choice of four great trail running events:
Trail des Hauts Forts: 51km (3800m height gain);
Trail du Fornet: 40km (3000m height gain);
Trail des Mines d'Or: 23km (1900m height gain);
Relais des Contrebandiers: 51km (3800m height gain) in relays of 2 (30 & 21km)
BOOK IT: traildeshautsforts.com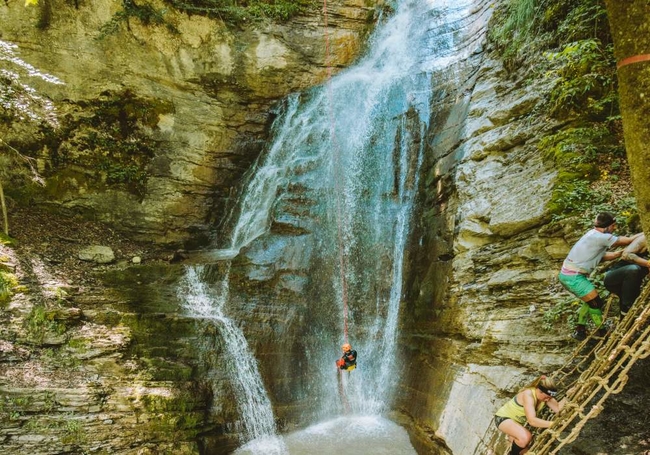 2. Throw yourself down a waterfall
Once the winter snow melts, all that water has to go somewhere, and the rivers and streams around Morzine become a playground for watersports adventures, such as canyoning and rafting.
Canyoning is increasingly popular with several excursions offering the chance to make your way through gorges, thin ravines, abseiling and sliding down natural drops....and jumping down waterfalls! While on a rafting trip, you get to explore a river descent in an inflatable boat with like-minded adventurers led by experienced guides.
Also: the ESF (Morzine ski school) offers multi-activity mountain and water sports courses for youngsters aged 8 to 17 years, with special themed weekends throughout the summer. Monday to Friday, 1 July-30 August, available by the half-day, day or week. 8-12 years: climbing, ice-skating , MTB, orienteering. 13-17 years: canyoning, via ferrata, MTB, biathlon, canoe-raft.
BOOK IT: Contact: , +33(0)4 50 79 13 13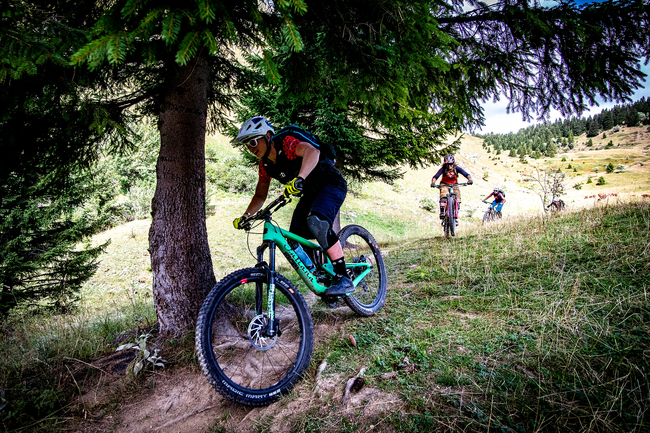 3. Get on two wheels
For those in the know, Morzine is the mountain bike mecca. Over the years, the Portes du Soleil's 12 interconnected resorts have become a benchmark for mountain bikers throughout the world.
For descent, or cross-country mountain biking, the know-how and infrastructures have made this place a real heaven for mountain bikers, with 21 lifts, more than 600 km of slopes, an 80km Enduro loop, 25 MTB schools and guiding services and 25 hire and sale shops
Morzine's central position means you can easily get to all the best trails in the Portes du Soleil.
Kit yourself out and try a day in the bike park where lifts carry you and your bike up the mountain so you can ride back down.
Or try a night MTB ride: the ride starts at 4pm taking the lift and then an easy ride towards the guide's chalet, far away from the villages and roads. It is followed by an aperitif looking out over Mont-Blanc and an optional game of pétanque. After the sun goes down a raclette is served before the riders start the descent with headtorches to light the way. Eight people max.
BOOK IT: 55€ with meal, lift and guiding Contact: Activités Morzine - +33 4 50 79 07 97
And new for 2019:
5 to 9 August
Downhill training camp for teenagers
A must for teenagers who love the thrill of speed and for those looking to perfect their off-road descent skills! Over four days, experienced, qualified instructors take groups of youngsters to the different bike parks of the Portes du Soleil, providing coaching that helps improve their riding technique and encourages them to be safer riders. From 12 to 17 years, level: intermediate & advanced, 8 max/group. From 9am-4.30pm. Coaching in French and in English.
BOOK IT: Tarif: 350 € pp (lunch, lift passes and goodies included) Contact: RideAbility – +33 6 62 10 32 77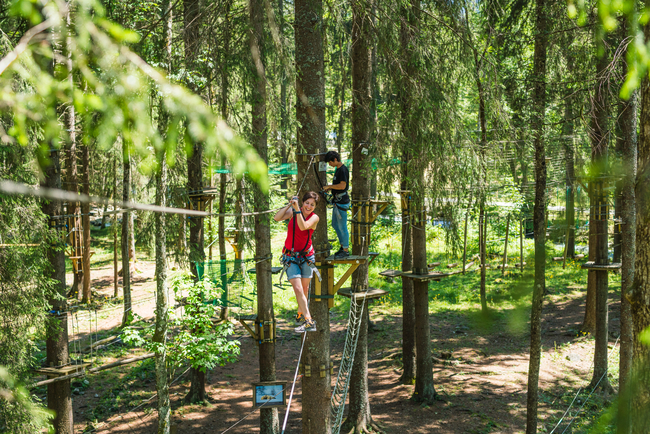 4. High rope action with a difference
Already tried the high roped parks in trees? Morzine has gone one step further, with a Parcours adventure extreme.
The unique new high ropes obstacle course hangs underneath the Super Morzine Bridge, 35 metres above the Dranse River providing impressive views of the valley. Adventurers traverse nets, beams, steps, tightrope cables and pendulums before taking an adrenaline-fuelled zip-line journey back to the start. Operates daily during the summer from 10am-12noon and 2pm-5pm. Suitable for all adults 150cm+ tall.
BOOK IT: Tarif: 35€ pp Contact: Indiana'Ventures – +33 4 50 49 48 60
The Morzine based company Cascade Aventure offer year-round, outdoor soft adventure activities. The latest experience on offer is Tyro-Ferrata, which sees thrill-seekers using a zip-line to fly above the Nyon canyon and waterfall! Suitable for those aged 12 years and older.
BOOK IT: Tarif: Tyro-ferrata : 10€ pp, Tyro-ferrata + circuit tyrolienne : 20€ pp., Tyro-ferrata + circuit tyrolienne + parcours vertige : 30€ pp. Contact: Cascade Aventure – +33 6 83 19 21 18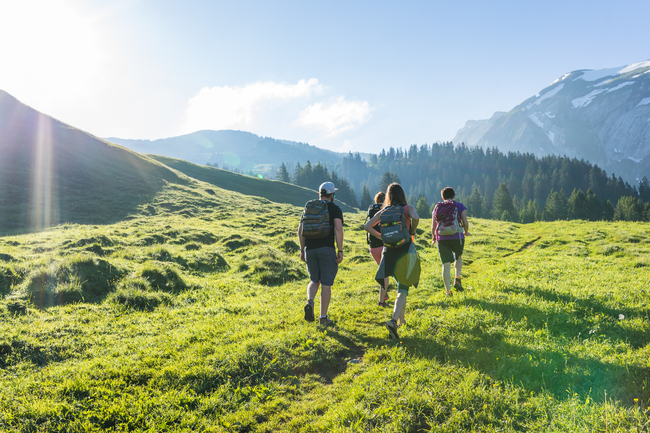 5. Hike away from it all
Morzine is a buzzing, vibrant village, with great restaurants, bars and shops, but just a short lift ride or walk away you'll be surrounded by glorious nature. A free walking guide, available in the Tourist Office, is packed with inspiring routes from easy walks near the village and off the lifts to full-day mountain treks. But try these innovative ideas for a hike with a difference:
Afghan walking introduction
Afghan Walking is a rhythmic breathing technique synchronized with walking. It was born out of the observations made by the Frenchman Édouard G Stiegler in the 1980s, of Afghan caravaners, capable of walking more than 60km a day for dozens of days at a time. Half-day walks, either morning 9am-12noon, or afternoon 12noon- 2pm.
BOOK IT: 20€ pp, 3 half days over 3 days: 55€pp. Contact: Bureau des Guides Morzine-Avoriaz +33 4 50 75 96 65
Mountain Bivouac
Disconnect from modern life and reconnect with the great outdoors by spending a night in the mountains under the stars. Leaving late afternoon (4-5pm) in a small group, you hike to a secluded spot with an expert guide before setting up camp.
BOOK IT: 50€ hike + bivouac pp. Contact: Hervé Le Sobre – +33 6 19 42 95 57
Gastronomic walking tour and meal in a mountain chalet
Join tour guide Véronique Fillon for a walking tour combining wildlife watching with foraging for the best natural ingredients. Spot marmots and deer before finishing at a high mountain chalet for a taste of authentic Morzine cooking. Half-day walks from 9am-3pm with a meal in her chalet. 12 people maximum.
BOOK IT: 45€ pp. Contact: Véronique Fillon - +33 6 77 77 74 64
Meet the Chamois and Marmots
A guided wildlife-watching morning walk in the alpine meadows above Morzine that lets you observe wild marmots and hordes of chamois, without disturbing their natural habitat or local ecosystem. Leave at 8.45am, return around midday. No limit for the number of people, a second guide will be added if more than 10.
BOOK IT: 25€ pp. Contact: Bureau des Guides Morzine-Avoriaz - +33 4 50 75 96 65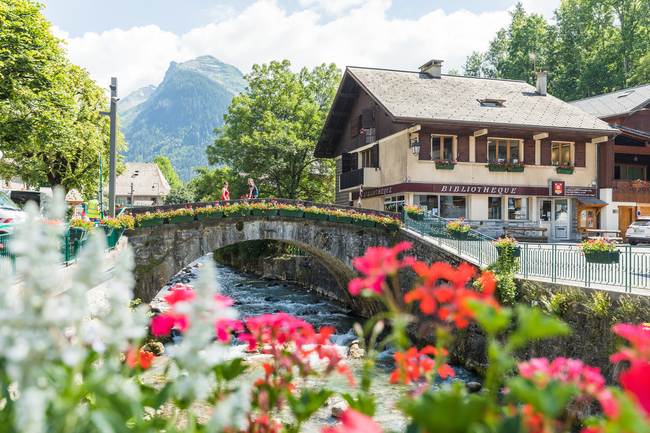 6. Try some local products
After the effort comes the reward, and Morzine doesn't disappoint on the gourmet front! Try these delicious tastes:
Traditional cheeses
Since 1996, holidaymakers and residents have been enjoying cheese from La Fruitière in Morzine. Owner Nicolas Baud loves working with good products, and especially helping others discover them, such as the raclette or the vieux fromage de Nyon with its unusual spicy taste. Abondance, reblochon & tomme are some of the other speciality cheeses hand-made here. Free guided visits on Wednesdays and Thursdays from 9am. Open visits every afternoon from 3-7pm.
BOOK IT: Contact: L'Alpage - +33 4 50 79 12 39
Local micro-breweries
Morzine seems to particularly inspire beer lovers. Two micro-breweries have set up home in this corner of the Alps, brewing beers full of the flavours of fresh mountain water.
Ibex - Ibex set up shop in Morzine in 2014 aiming to create local beers with international influences. Themed dinners are organised every month, with a different world food each time. Info & contact : +33 4 50 37 18 18
Bec Jaune - Chrigl was originally brewmaster at the Kernel Brewery in London before moving to the Haute-Savoie. Since then, he's been brewing beers in Morzine mixing American influences with more traditional French and German styles. All this in an imaginatively renovated gastro-pub with dishes prepared on site from fresh ingredients. Info & Contact: +33 4 50 79 08 44
Chocolate heaven
Au Délice Chocolaté owner Eric offers homemade creations in his little boutique in the heart of Morzine. For this master chocolatier, quality is essential: working with small sustainable producers, all of his creations are homemade in his workshop which is open onto the boutique. Contact : Au délice Chocolaté +33 6 22 13 18 99