Rifugio Lagazuoi, Cortina d'Ampezzo, Italian Dolomites
Mountain refuges don't have to be all about smelly dorm rooms packed wall-to-wall with snoring mountain folk – there are some that are more akin to high-altitude hotels than huts. The 2,752m high Lagazuoi is one such close-to-heaven haven with roughly a quarter of its 74 beds in private rooms complete with bed linen, no less. Some have balconies and all are decked out in wood – but if you still hanker for the smell of many walking socks, there are five dormitories…
The refuge has been run by the Pompanin family since 1965 and can be reached via a cable car from the Passo Falzarego for jaw-dropping views of the Tofana and Cinque Torri mountain groups. Stop off on a hut-to-hut hike or ski tour, take on the nearby Via Ferrata, or enjoy the sunset from its mountain-top sauna (above).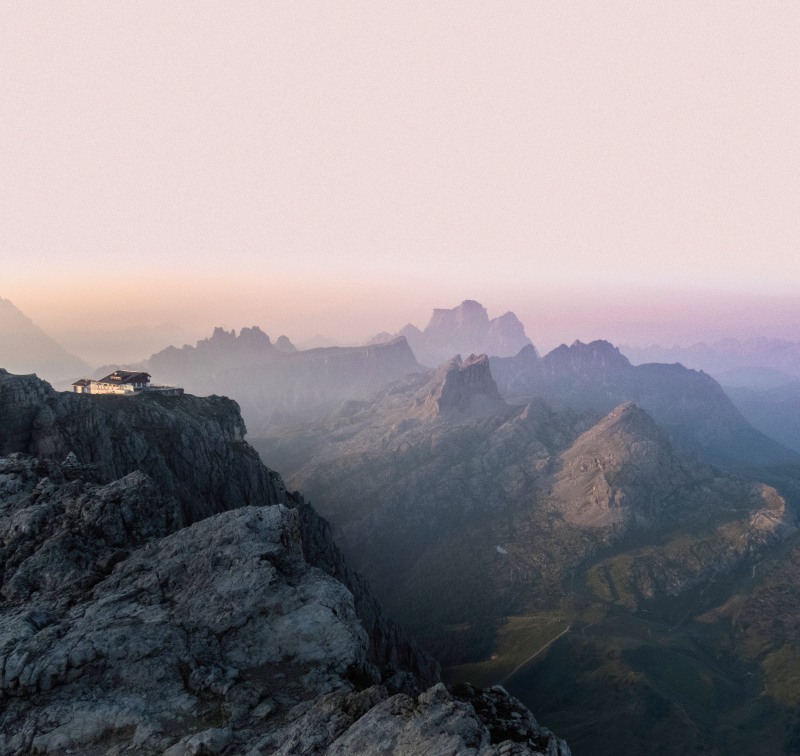 Price: From £57 pp per day half board in a private room.


Topnotch at Stowe Resort & Spa, Stowe, Vermont, USA
At the foot of Vermont's tallest peak, Mount Mansfield, the Topnotch Resort delivers luxury adventure sport as only the Americans know how. In winter the resort is America's ski capital of the east but in summer you can try traffic-free leisure biking on the 5.3mile Stowe Bike Path, mountain bike a huge network of single-track, or take guided hiking or biking tours from the hotel, before heading back to Topnotch Resort's 30,000 square foot mega-spa.

Price: From £161 per room per night B&B.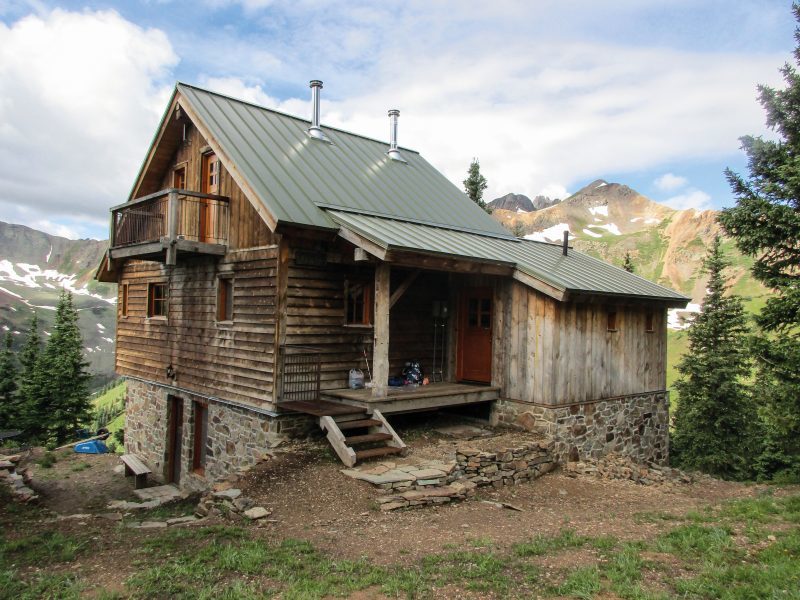 OPUS Hut, Ophir, Colorado, USA
Nestled in south-west Colorado's San Juan Mountains between the old mining towns-turned mountain resorts of Silverton and Telluride, the OPUS hut is the definition of 'off the grid'. Built on the Ophir Pass to access backcountry skiing and hiking in the surrounding 4,000m peaks, devotees of either discipline will love this hut. But (there had to be one!) to access the hut in winter you'll have to skin or snowshoe 8km with 550m of vertical ascent just to get a bed in one of its four rooms, and in the summer face a similar hike. But it'll be worth it!
Price: From £93 per night for a private room plus £35 pp half board.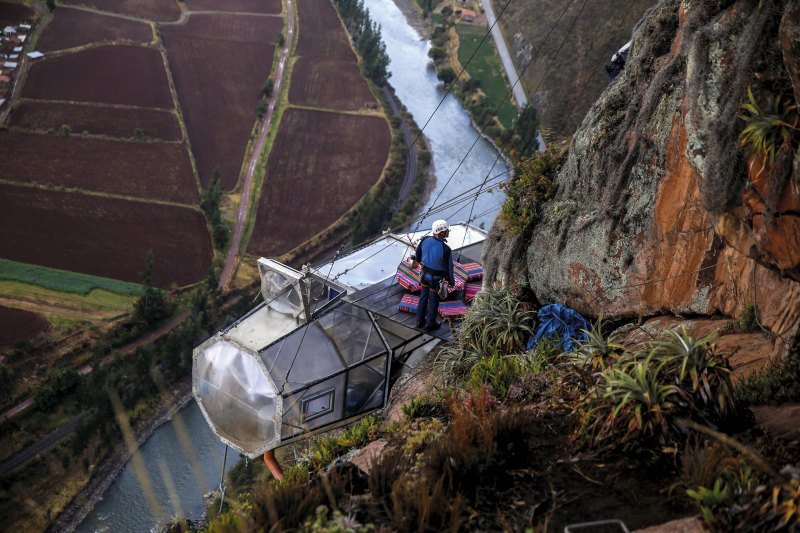 Natura Vive Skylodge Adventure Suites, Sacred Valley, Peru
As far as bookable extreme sleeps go, the Skylodge Adventure Suites take the biscuit, where exclusivity doesn't come through cost but through how extreme it is to check in. Located, or rather suspended, above Peru's Sacred Valley, 90 minutes from Cusco, the three Skylodges can only be reached via a 400m via ferrata climb.
Built out of aerospace aluminium and plastic, each transparent 8m long Suite is attached to the rock face with steel cables and comes with four beds and its own private bathroom. In the morning, climb out of your pod's top hatch to eat breakfast on your own 'terrace' platform – wearing your hard hat, of course – then take on the seven-line, 2,800m zip line experience. When you've had your fill of the high life, descend to the railway station on the valley floor below, which will take you to the fascinating ancient mountain citadel of Machu Picchu.

Price: From £340 for one night B&B, snacks, dinner with wine, Via Ferrata Tour and Zipline Tour.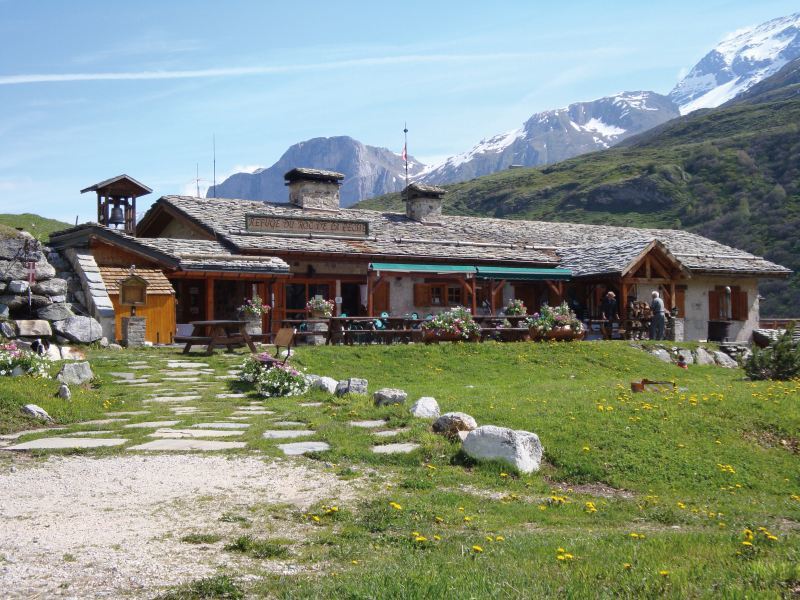 Refuge du Roc de la Pêche, Pralognan-la-Vanoise, French Alps
The Refuge du Roc de la Pêche is run by former pastry chef Thierry and his partner Carole but there's more to this mountain retreat than just top-notch desserts. For over 25 years the Roc de la Pêche has brought cosy, luxurious comfort to the heart of the Chavière Valley at 1,911m above sea level. As well as excellent traditional dishes (and incongruously good desserts), you'll find six bedrooms with six beds and six with four, all with en-suite shower and toilet, as well as sheets provided. There is also a self-contained gite. In winter the refuge enjoys perfect, snowbound seclusion, so you'll need to leave your transport in Pralognan and either ski tour or snowshoe the remaining 8km. In summer the walk in is easier. This is the perfect starting place for hikes and ski tours deeper and higher to the summits and glaciers of the Vanoise National Park.

Price: From £53 pp for half board in a room for 4 or 6 people.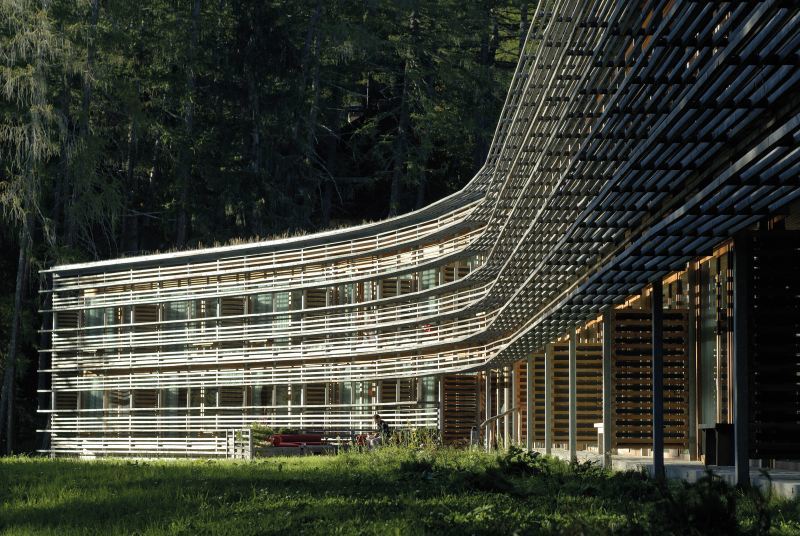 Vigilius Mountain Resort, South Tyrol, Italy
Car-free and reachable only by cable car or on foot, the Vigilius Mountain Resort sits 1,200m above the South Tyrol's largest fruit growing village Lana. Surrounded by larch woodland and with mesmerizing views of the Dolomites' limestone monoliths, this hotel is a perfect escape from busy, everyday life. You can take yoga classes, personal training, or book a Fit Week with a 'vitality check', including training plan and sports massages. In summer there is guided mountain biking and walking for all abilities – from high-mountain hiking on Monte San Vigilio to gentle strolls along the unchallenging and shady Waalweg irrigation stream paths.

Price: From £215 per double room B&B including activities.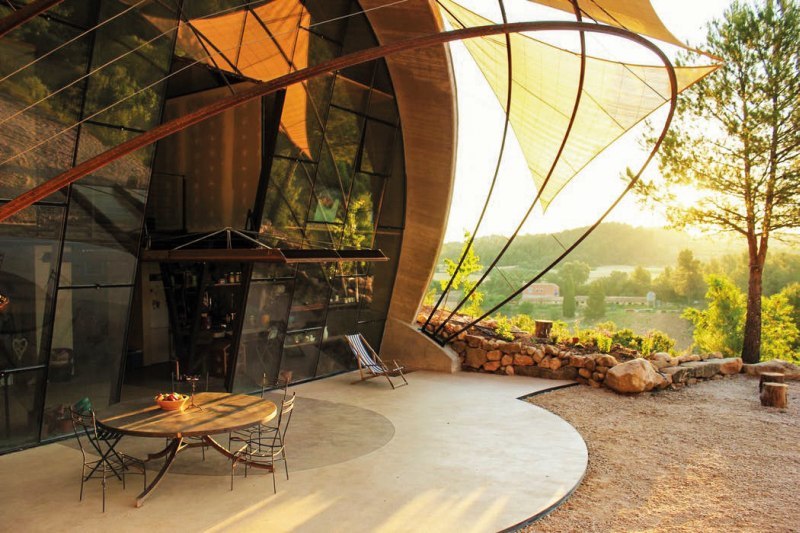 El Caracol, Lledo, Aragon, Southern Spain
Technically this stunning retreat in southern Spain is on the edge of (rather than in) the mountainous Els Ports national park but we couldn't resist including it. Set amidst eight acres of Mediterranean pine forest, close to the hill-top crusader village of Horta de San Juan and with breath-taking views of the nearby Els Ports mountains, this incredible house is ideal for exploring the wild region of Aragon. Solar powered, entirely glass fronted, and domed like a giant shell, it has three bedrooms, and two nearby streams popular for wild-swimming. For family bike rides head to Horta, to join the Vias Verdes ex-railway path that runs gently downhill and pretty much traffic-free all the way to the Ebro river – and even on to the Mediterranean. Or, for spectacular hiking and climbing, head into the Els Ports national park, whose Roques de Benet cliffs dominate the view from your private pool.

Price: From £1,260 per week for the whole house.