Sponsored content
What makes an ideal summer holiday in the Austrian Tirol? The untouched nature, maybe? Fresh mountain air, wide-open landscapes and glorious views that seem to go on for ever? Or maybe it's outdoor exercise. Or spending quality time with the family surrounded by lakes and summits.
St. Anton am Arlberg and its neighbouring villages of Pettneu and Schnann, Flirsch and Strengen have a range of holiday options for active travellers, couples and families, ranging from hiking and biking to open-air yoga, from water sports to the culinary delights of mountain huts. In short, there's a St. Anton am Arlberg to suit every taste.
Where is St. Anton am Arlberg?
The mountain village of St. Anton am Arlberg is in the west of Austria's Tirol region. Easily accessible by air just an hour west of Innsbruck airport, you can also find your way there by car and it's an easy 4hr 19m journey by train from Zurich, across the border in Switzerland.
Why take a summer holiday in St. Anton am Arlberg?
St. Anton am Arlberg is legendary among skiers and snowboarders as a welcoming and challenging winter ski resort, but the summer is the perfect time to experience the sunnier side of the mountains and soak up Tirolean charm at its best in unspoiled nature. With a wide variety of summer activities such as mountain biking, e-biking, hiking, golf, spas and rock climbing, you'll never be short of things to do.
Summer also sees some unique sport events such as the Mountain Yoga Festival or the E-Bike Fest. It's easy to reach by plane, car, train and bus, and the St. Anton summer guest card, available from 18 June to 3 October, includes access to cable cars and lifts, guided hikes, swimming pool entry, free yoga and many more activities. See details at stantonamarlberg.com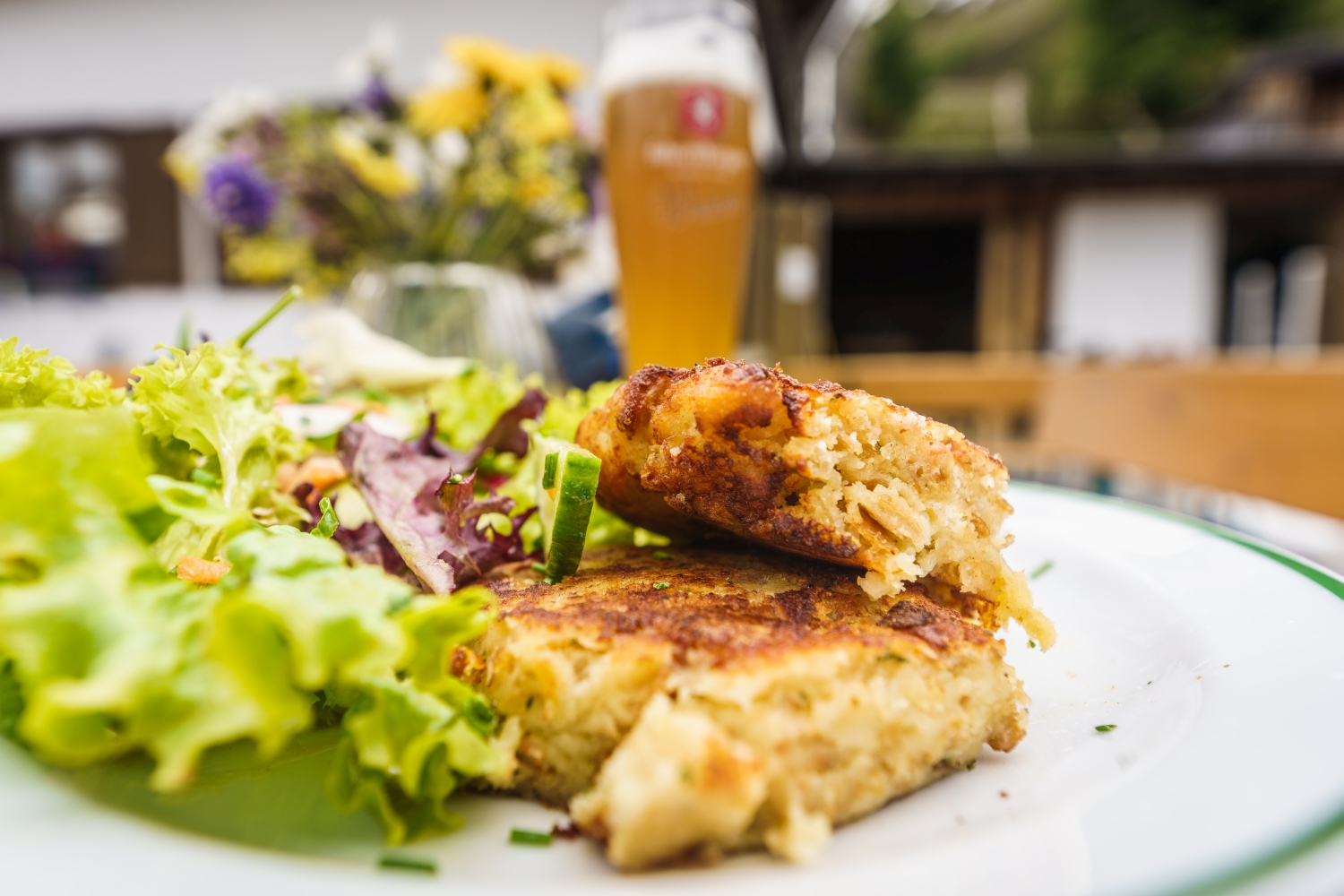 Highlights of the St. Anton am Arlberg area
The magnificent Arlberg mountain range features 350km of biking and 300km of hiking trails amidst beautiful scenery speckled with alpine flowers. Don't miss sunrise at the Wirt mountain when the peaks are bathed in orange light, or a visit to the brilliant emerald waters of Lake Kartelsee. And if you've a head for heights, the Valluga mountain viewing platform offers spectacular panoramic views.
And for the foodies among us, with 35 mountain huts ready to welcome walkers and bikers, you are never far away from a great meal. Enjoy a 'Spritzer' or a homemade Tiroler Gröstl (a fry-up of bacon, onion, and potato) on the mountain for a quintessential Tirolean experience.
Moreover, the Arlberg region boasts more than 40 gourmet restaurants, cafés and bars featuring Tirolean delights, international cuisine and great cocktails. And then, of course, there are traditional inns, where the locals have gathered for centuries.
Bad weather? Go indoor climbing, play tennis or jump on the trampoline at Sport Park arl.park.
The best summer activities in St. Anton am Arlberg
From white-water rafting to mountain yoga, from an e-bike tour to a mountain hike, here's our pick of the best St. Anton am Arlberg summer activities.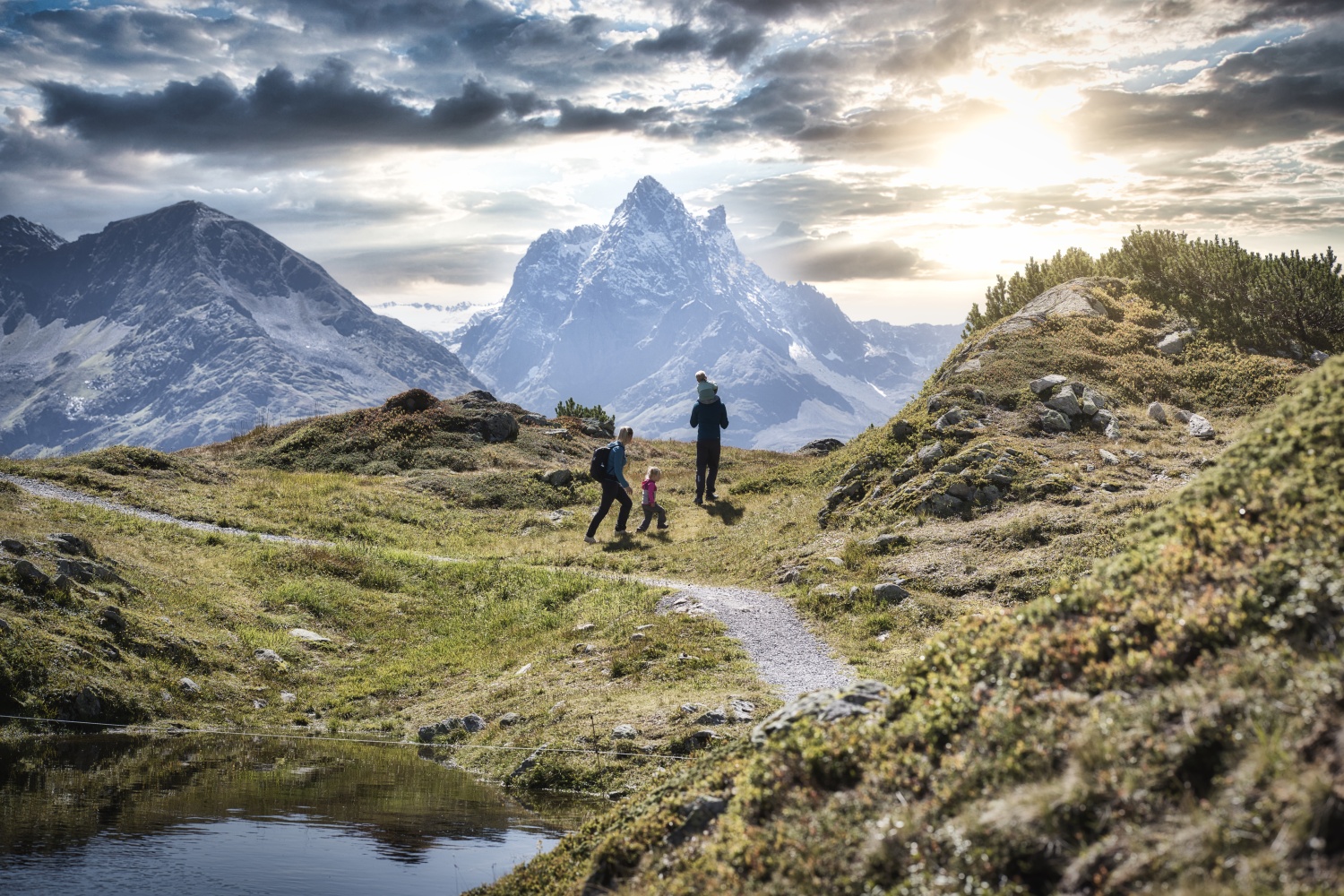 Hike some of the 300km of marked trails
With more than 300km of walking trails in St. Anton am Arlberg, the Tirolean Alps are open to holidaymakers for a range of hikes in the healing mountain air, from challenging summit treks to leisurely family strolls. Well-marked trails of varying lengths and difficulty lure you into the nature of the Verwall- and the Lechtal Alps. 
The Stanzertal and the surrounding region of St. Anton am Arlberg offer numerous huts and alpine pastures. And the Arlberger Bergbahnen lifts can help hikers to reach the summits faster: They take you to Rendl, Gampen, Kapall, Galzig and the highest peak in the region, the 2,811 metre-high Valluga. 
Particular highlights in the region are the Alpine Rose Trail and the Mountain Spirit Trail, both have been awarded the Bergwege seal of approval by the state of Tirol for many years. Senn's WonderWalkingWay around the Sennhütte is a popular day-trip destination for the whole family, as is the Mutspuren circular hiking trail which begins and ends at the Galzigbahn mountain station and takes in amazing views, play and learning areas and water games on the reservoir along its 5km route.
So, whether you want to walk on the lush valley floor or head up the mountain in search of hidden patches of snow, you'll find your perfect route in this fantastic corner of the Austrian Alps. 
If you prefer to be accompanied, the summer card allows you to take part in a guided hike free of charge.
Go to stantonamarlberg.com for more information about hiking in this fantastic region.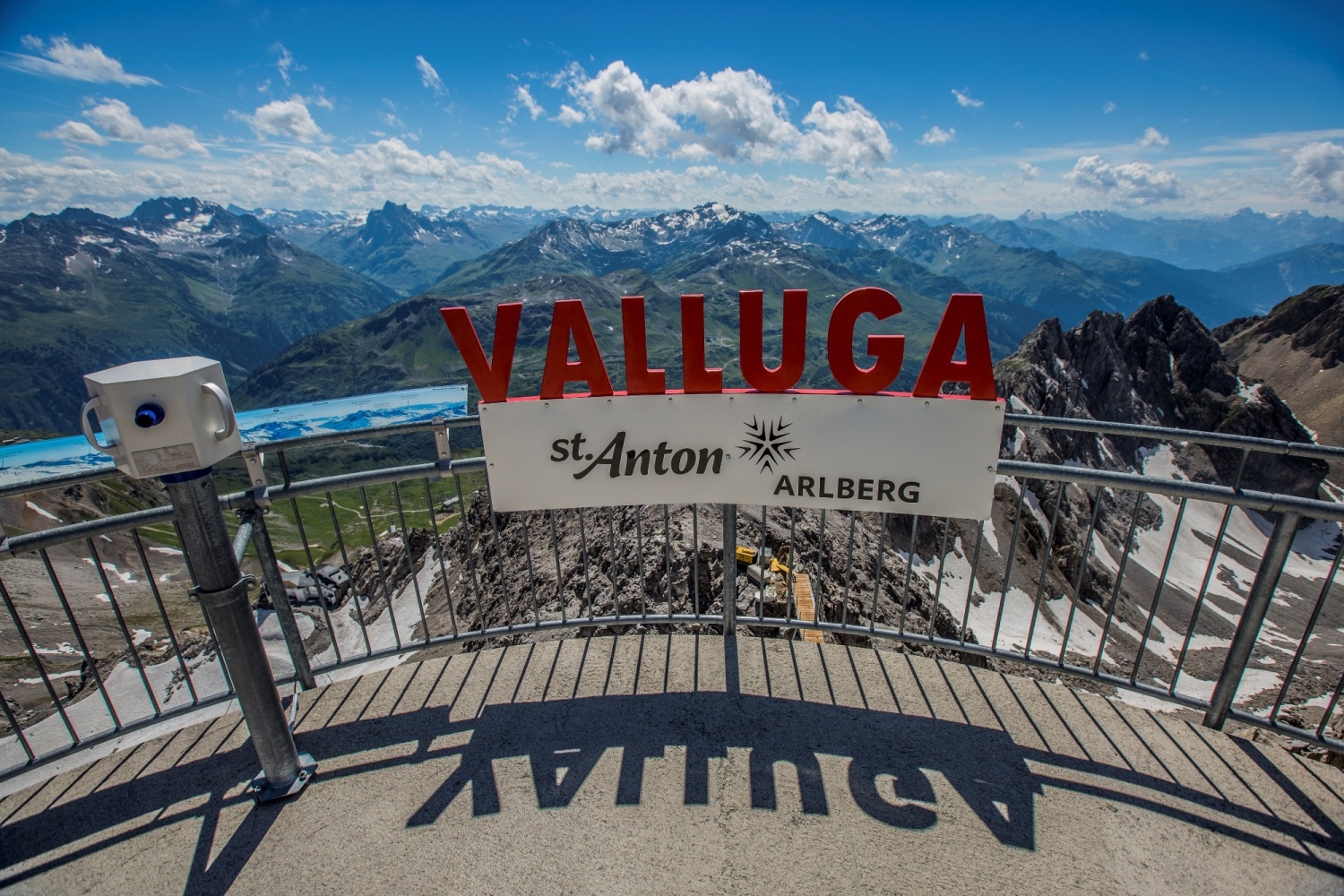 Visit the Valluga viewing platform
An unmissable day out for the whole family. At 2,811m, the summit of Valluga Mountain is one of the most stunning views you'll find in Tirol. To enjoy it, you can take a scenic ride up the Valluga Gondolas and enjoy a 360 degree vista of 'Three-Thousanders' - high-altitude peaks over 3,000m. 
Your reward: a superb panorama of nearly every peak in the Lechtal and Allgäu Alps, of the summits along the Verwall Range and of the Ötztal and Stubai Alps and Silvretta Range.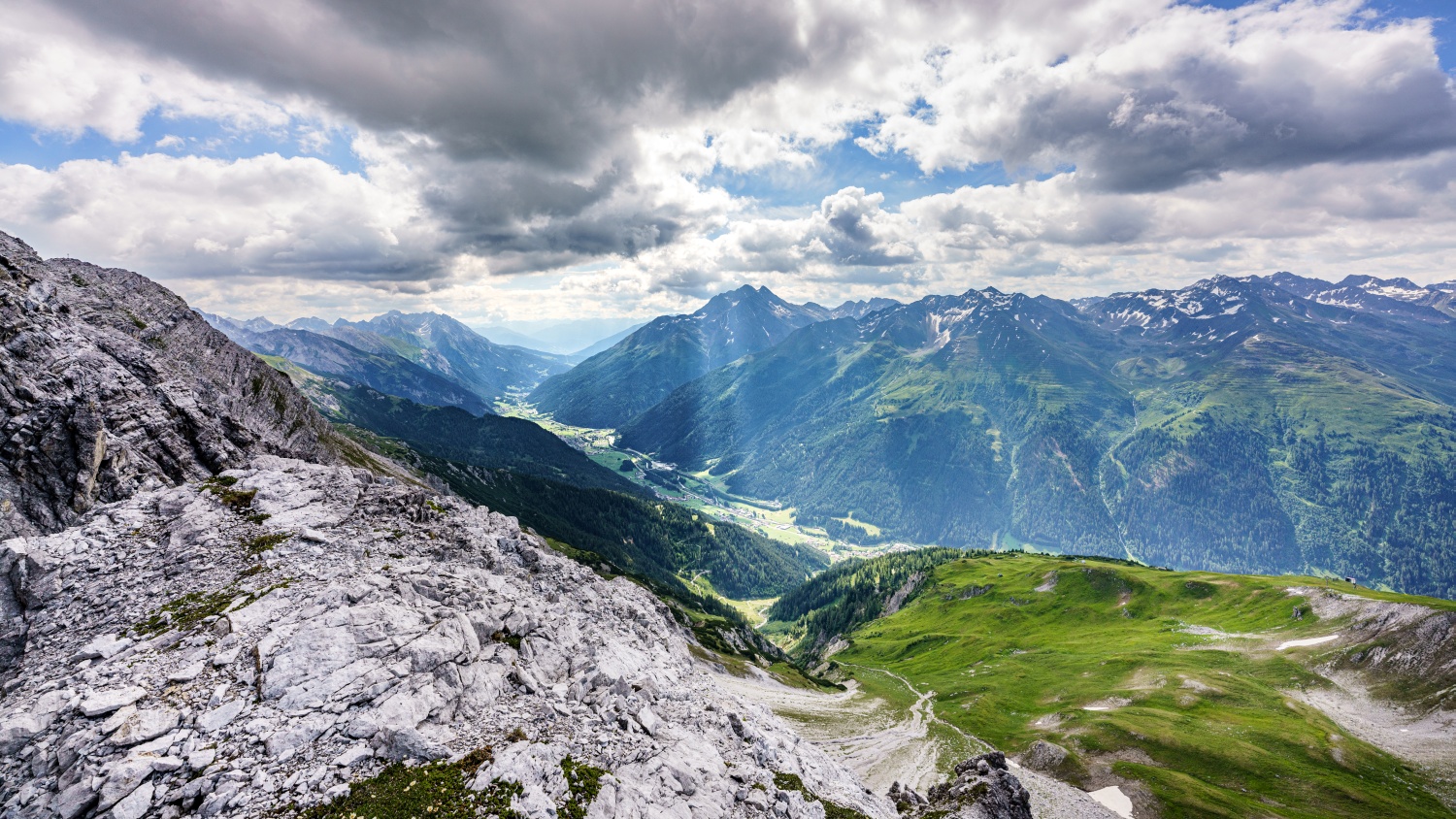 Relax and recharge with mountain yoga
Today's yoga has become modern and, above all, healthy. As a result, it has become a balance between work, family and sport for many people. Inspired by the Mountain Yoga Festival (1-4 September 2022), now in its sixth year, yoga is now practiced all year round in the 'arlflow' yoga room at the Finish stadium.
The experience of practising yoga in St. Anton am Arlberg's spectacular mountain landscapes, breathing in the fresh air and immersing yourself in unspoilt nature is one you won't soon forget. 
As part of the St. Anton summer card, guests can sign up for yoga lessons with experienced yoga teachers several times a week.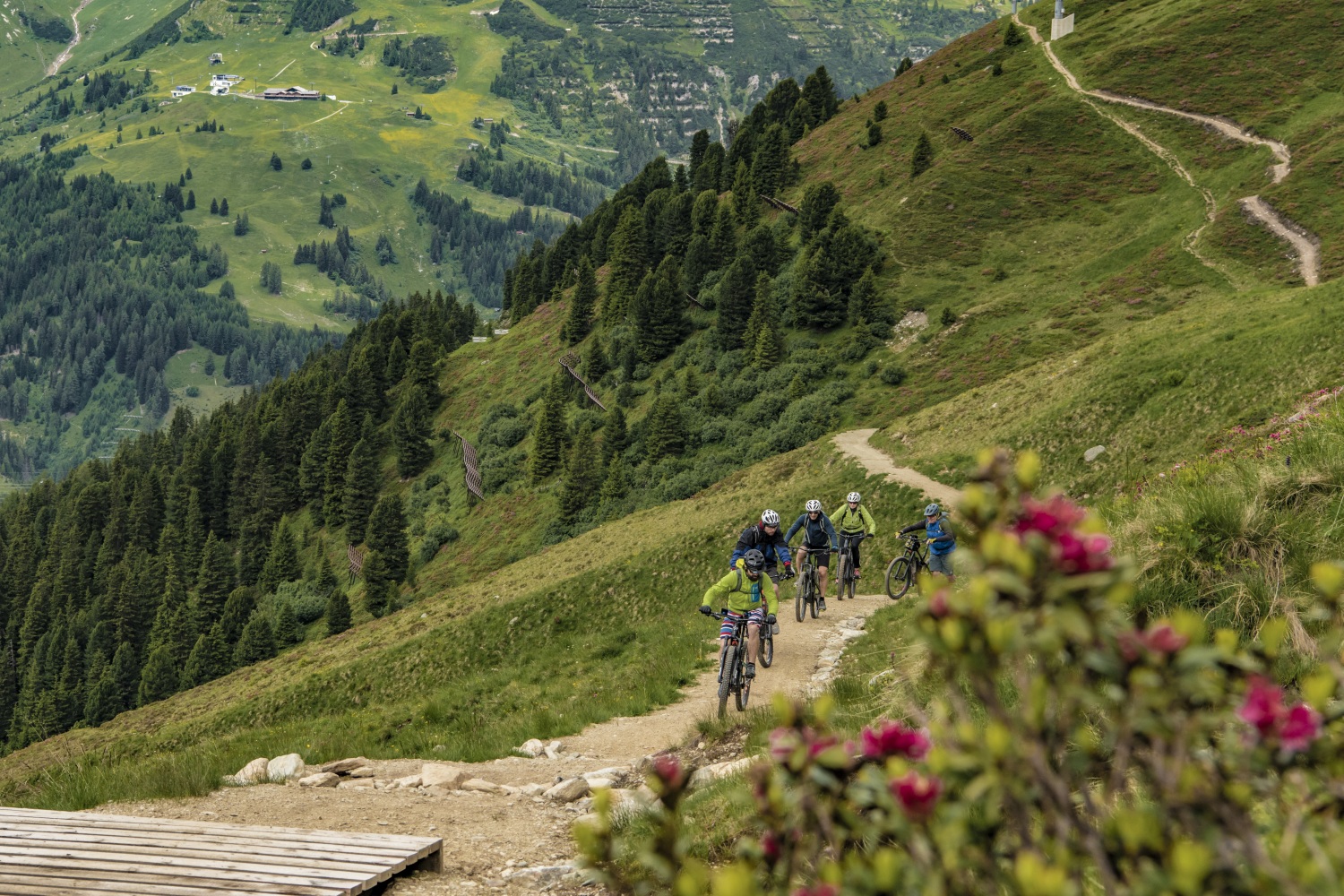 Go on an e-bike tour
St. Anton am Arlberg is a popular area for bikers of all kinds. The well-signposted and marked network of mountain trails covers a total of 350km, with routes for every ability and taste: comfortable paths to cruise, slight inclines and steeper ones, leading to more challenging tours. 
 
But if your own pedal power is not enough, a little electrical push up the hill goes a long way! And if you've ridden an e-bike before, you'll need no persuading of its pulling power, but if you've never experienced the beauty of an e-bike, you can, with the St. Anton summer card, test ride an e-bike and enjoy a tour with an experienced guide at a discounted price.
 
There are several (e-) mountain bike tours available in the St. Anton am Arlberg region. Many routes start at the Arlberg WellCom and are regularly signposted. Plus, 23-26 June 2022 sees the hills come alive with the E-bike Fest with a full programme of events and products.
If you're up for something even more adventurous, try renting an E-Motorcross bike and take it for a spin around the track at EldoRADo bike park.
Go to stantonamarlberg.com for more information on cycling in St. Anton am Arlberg.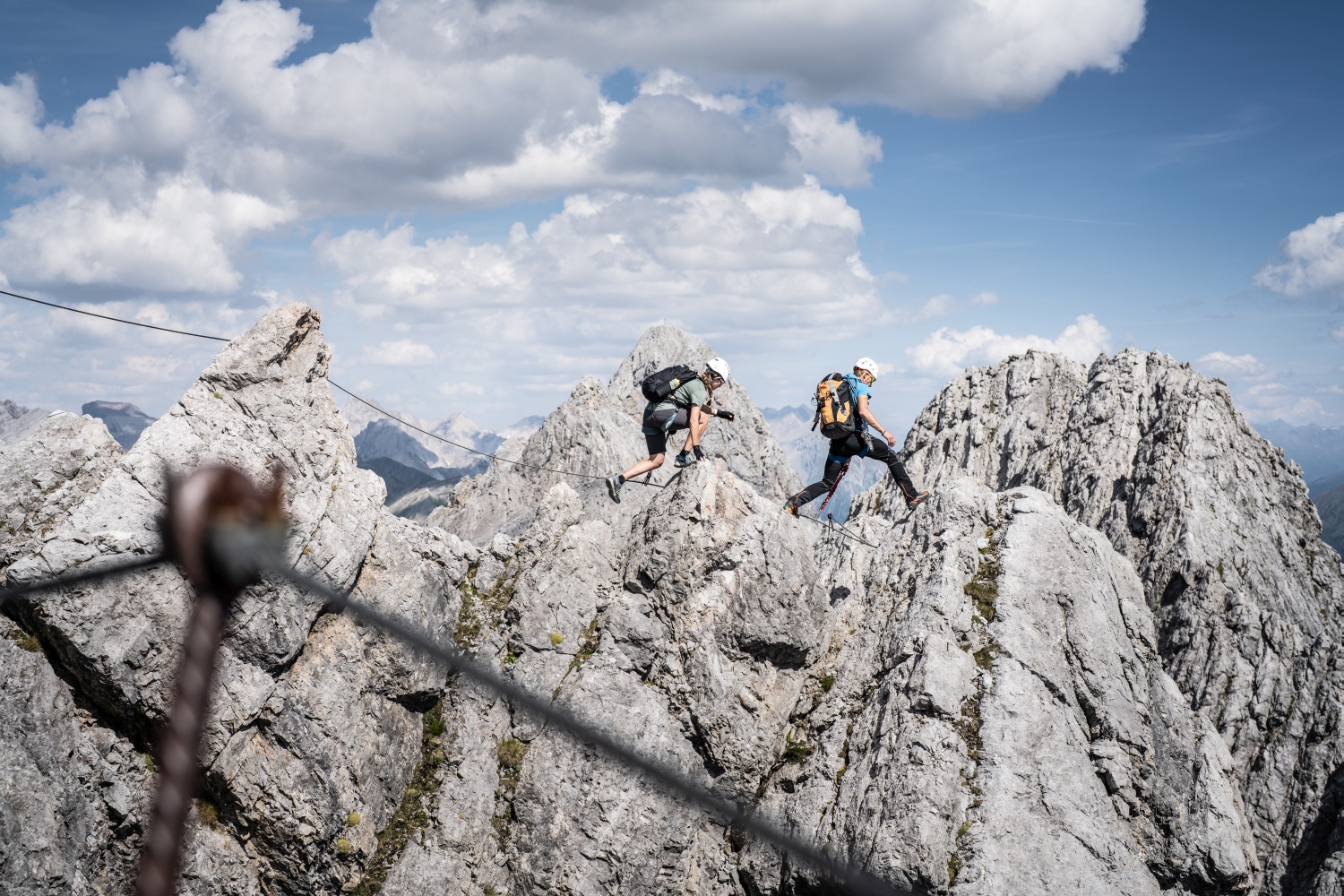 World-renowned via ferrata
Vie ferrate are assisted routes that combine hiking and climbing with prepared cables that you attach to via a harness, and St. Anton am Arlberg is well known for its via ferrata itinerary, with the summer months attracting climbers from all over the world to take it on.
The Arlberg Via Ferrata route, at 3km long and 2,500m high, is one of the five prettiest but most challenging Alpine tours, with climbers venturing along steep rock faces and over narrow ledges, scrambling up vertical rock faces and crossing craggy ridges. 
It's accessed from the Vallugagrat cable car station or from the mountain station of the Kapall chairlift.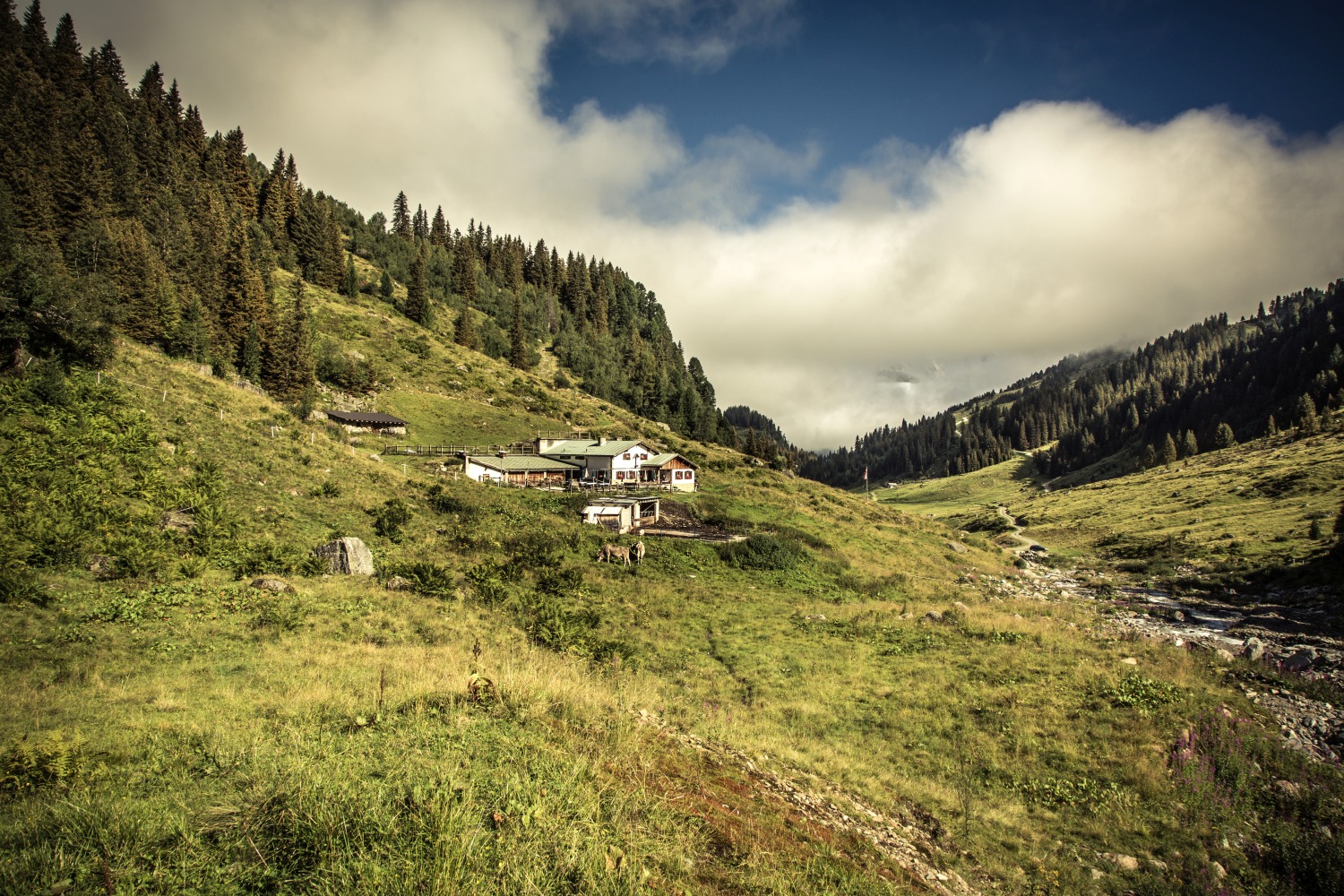 Experience the culinary delights of the many mountain huts
With 35 mountain huts to choose from, you're never far from a great culinary experience. For example, hiking from St. Anton am Arlberg to the Konstanzer hut, where you can enjoy Tirolean food with the locals, you will get to enjoy a beautiful lake, a modern hut, various streams and the Patteriol Mountain (3,056m). 
The Darmstädter Hut is famous for its wonderful variety of dumplings, the Wagner hut serves traditional delights on its sun terrace, the Tritsch Alpe is famous for its home-made cheese and the Sennhütte is well-known for its schnapps and gin! Take your pick and experience the unique taste of Austria. 
To experience the #realAustria and to find out more about summer in St. Anton am Arlberg, go to austria.info
---
This year has also seen the introduction of brand new flights to Innsbruck from the UK to make getting to the Tirol even easier. 
Jet2 flies you to Innsbruck from:
Birmingham every Saturday
Bristol every Saturday
Manchester every Wednesday and Saturday
easyJet takes you to Innsbruck from London Gatwick:
19 April - 25 June 2022 on Tue | Thu | Sat
26 June - 3 September 2022 on Tue | Wed | Thu | Sat
4 - 30 September 2022 on Tue | Thu | Sat