Sponsored content
The picturesque Austrian town of St Johann in Tirol, along with its neighbours Oberndorf, Kirchdorf and Erpfendorf provide a quartet of idyllic Tirolean hospitality.
Each of these four Tirolean towns makes an attractive Austrian summer holiday destination for active travellers, nature lovers and families. From sporty activities to relaxing moments in the gentle grassy mountains to alpine peak adventures, entertainment and foodie delights, the St Johann region is an ideal place for the whole family to linger on a hot summer's day.
Besides several hundred kilometres of hiking and biking trails, St. Johann in Tirol also boasts countless adventure-packed activities: Try paragliding, parachuting, ballooning, canyoning or rafting to get your adrenaline fix. And for kids, a visit to one of the many outdoor adventure parks is a fantastic day out, as is taking a themed family-friendly hike, or a dip in one of the outdoor swimming pools with slides.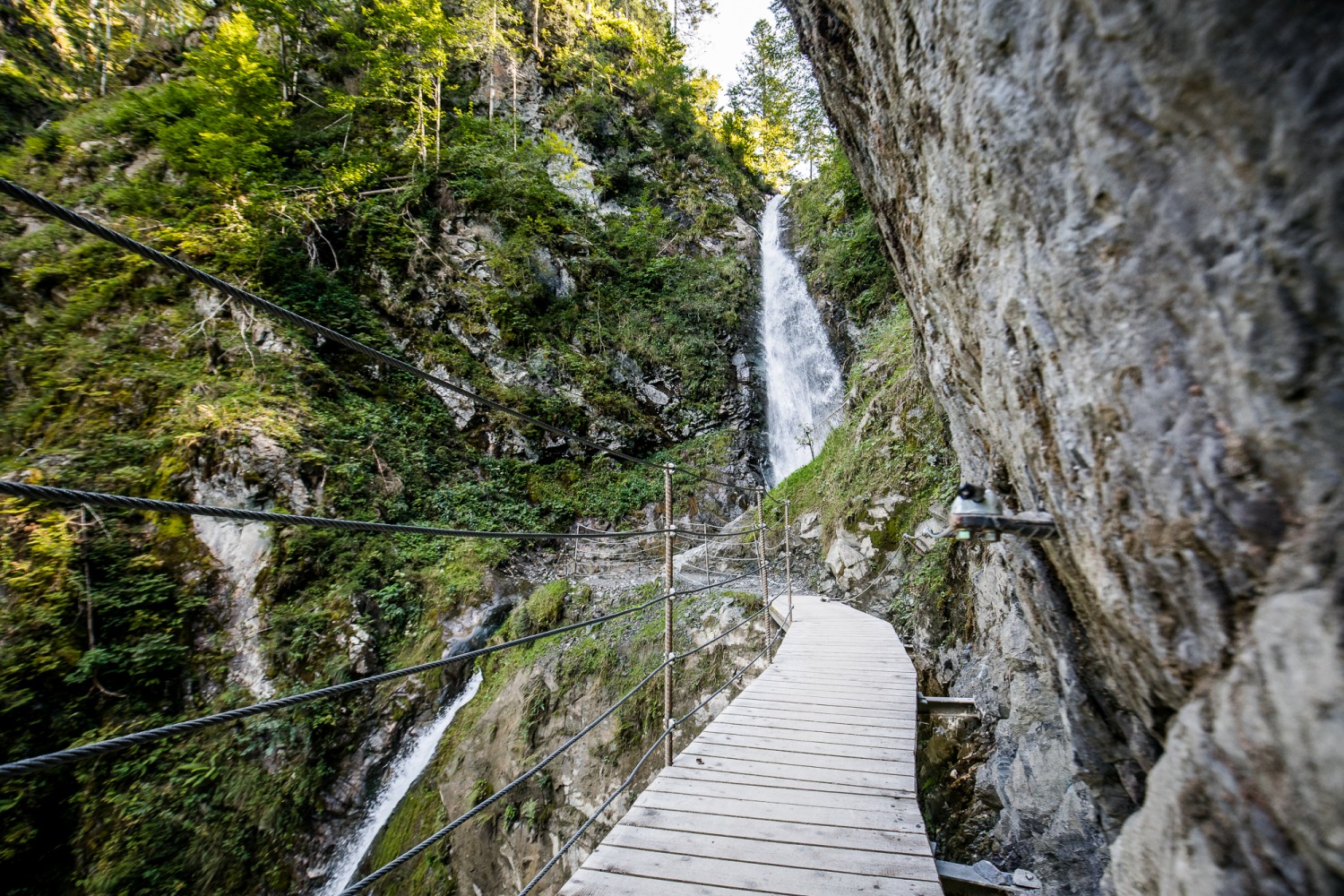 Where is St Johann in Tirol?
The St Johann in Tirol region is located in the valley basin between Wilder Kaiser and Kitzbüheler Horn, amidst the Kitzbühel Alps. It's close to the well-known cities of Salzburg (60km away), Innsbruck (90km away) and Munich (135km away) and has outstanding transport links to all three airports.
The magnificent landscapes in this region of Austria are best experienced on foot or on a bike. You can hike across alpine pastures, discover romantic mountain lakes and waterfalls or gorges and ravines, all on well-marked hiking and forest trails, before enjoying a typical Tirolean mountain lunch.
The St Johann in Tirol Guest Card offers free use of public transport and many discounts on souvenirs and attractions in the region.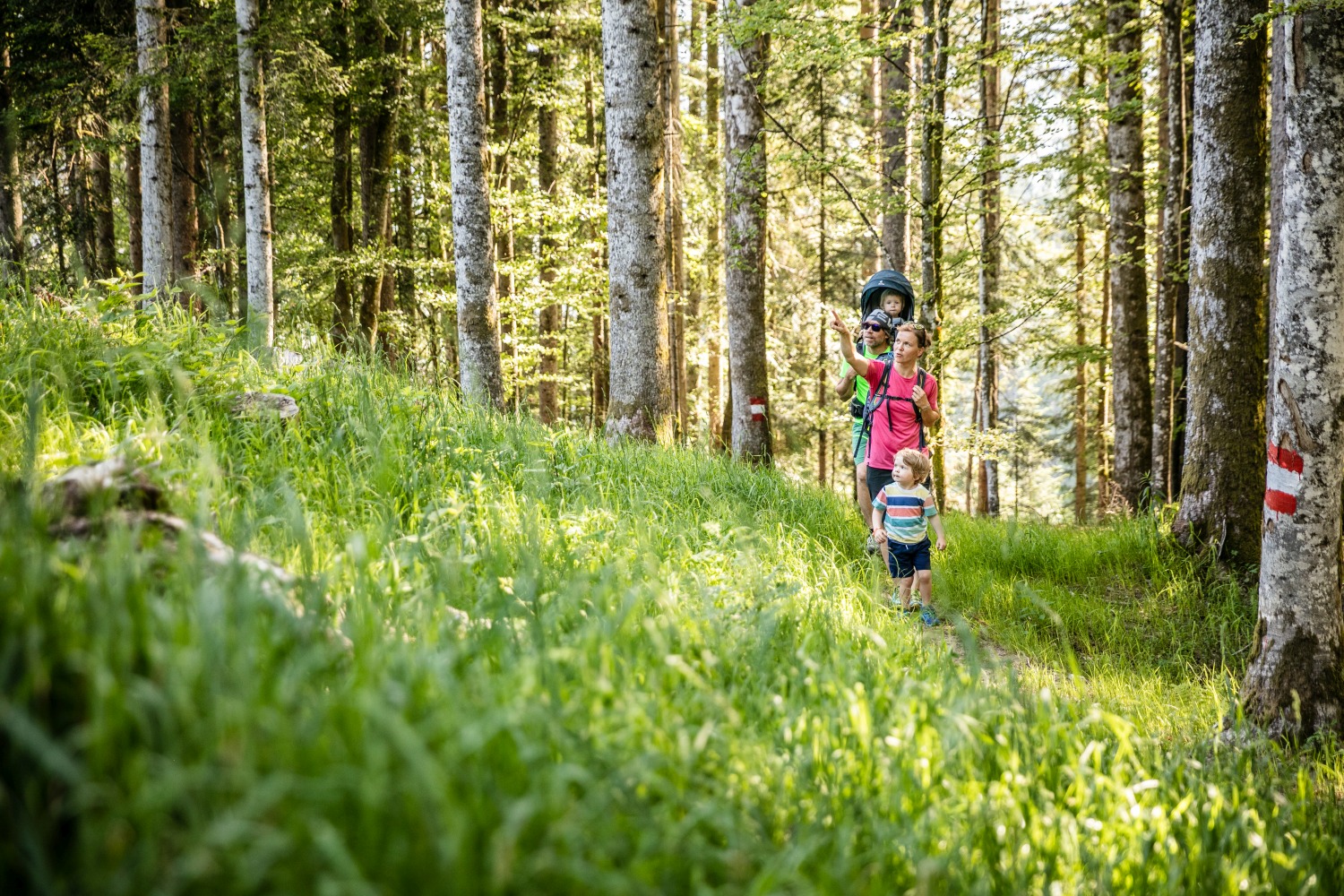 Hike and bike around St Johann in Tirol
When it comes to hiking, St Johann in Tirol and its picturesque backdrop will certainly inspire. There are routes across flower-filled Alpine meadows, to mountain lakes and waterfalls, to high summits and through deep gorges.
You can head out by yourself or join a guided tour, while for families, a themed and educational path can provide so much interesting information about nature and history. Guided hikes are free as part of the weekly programme when you have the St Johann Guest Card, and special events include a Full Moon Hike - perfect for stargazing!
With more than 200km of hiking trails there is a huge selection of routes to suit all ability levels. You can hike the Koasa Trail, a five-day tour through the spectacular Wilder Kaiser, taking in impressive features such as the Niederkaiser ridge, the picturesque Kaiserbach valley, the mysterious Teufelsgasse (Devil's Lane), the well-known Griesbachklamm gorge and the Eifersbacher waterfall.
The St Johann in Tirol region is also the starting point of the first stage of the famous Eagle Walk, which proceeds right through Tirol.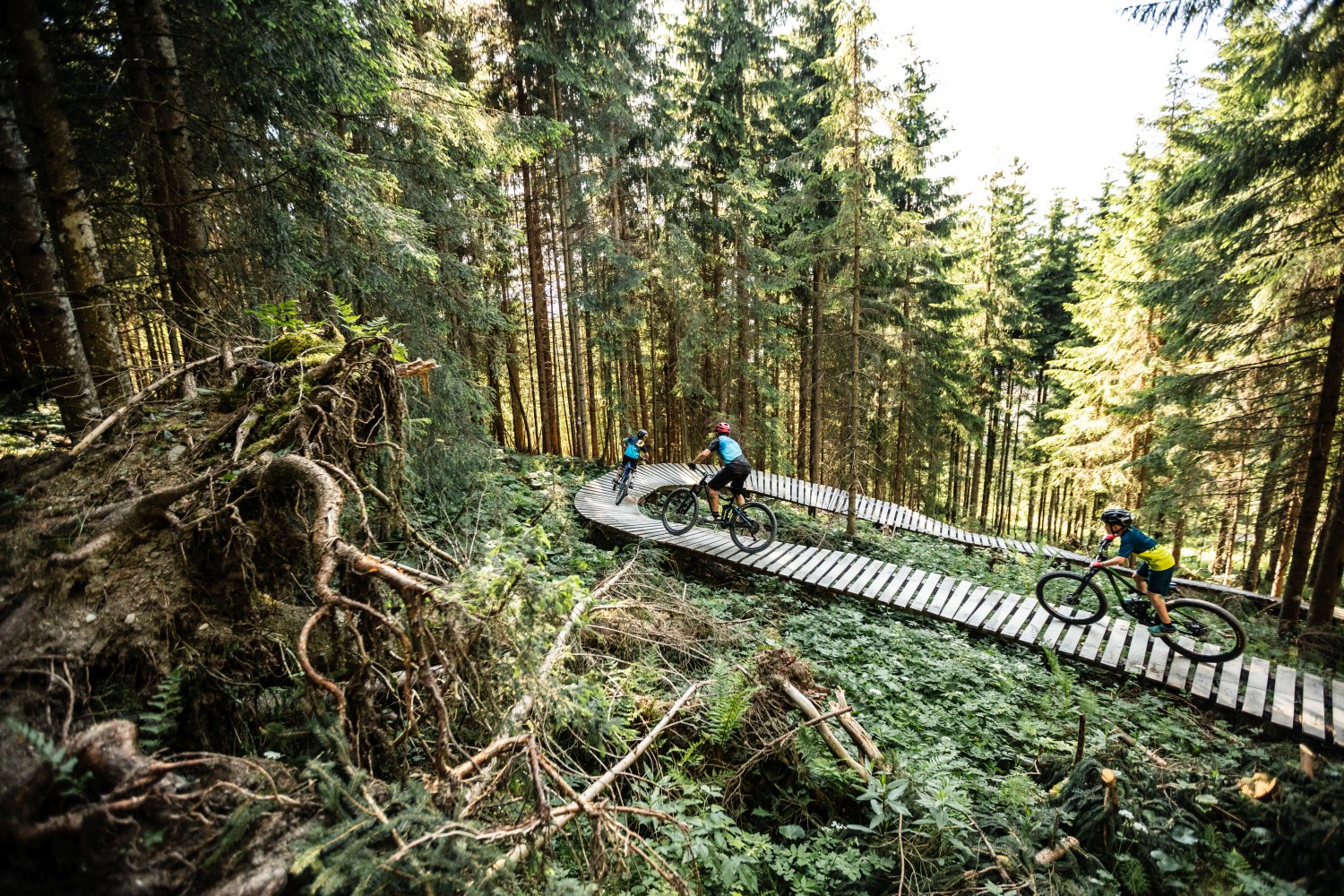 If two wheels are your ideal way to explore, both road riders and mountain bikers will find plenty to enjoy with 200km of bike trails from leisurely tours in the valley to challenging mountain biking excursions. There are nearly 40 marked tours, graded from easy to difficult, taking in a wide variety of terrain with spectacular views.
One particular challenge for mountain bikers is the KAT-Bike - a multi-stage tour across the Kitzbühel Alps stopping off at bike-friendly accommodation in the evening.
Kids will also relish the OD Trails at the Bikepark in Oberndorf - the perfect way to help young riders develop some of the techniques and skills of mountain biking.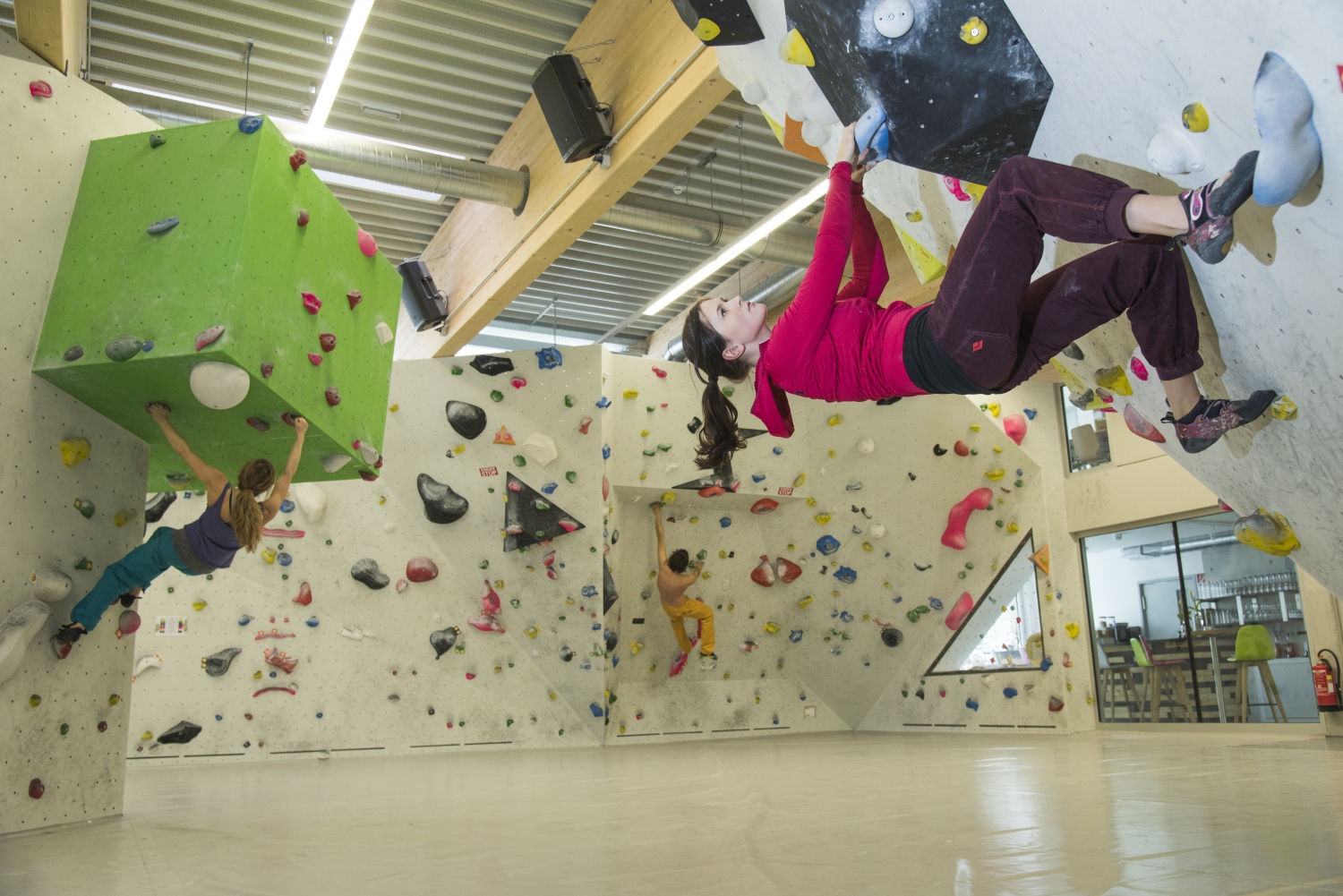 The best family activities in St Johann in Tirol
The best summer family activities St Johann in Tirol has to offer invariably involve the mountains in some way. Exciting excursion destinations on the mountain are a special highlight for children, with more than 10 adventure realms for families on the programme.
Explore the Hornpark treetop adventure park, Triassic Park, Witches' Water and much more for magical voyages of discovery in the world of dinosaurs, witches, spirits and nature.
One ticket covers you for all mountain adventure worlds - the great value Kitzbühler Alpen Summer Card which entitles you to use the cable cars and adventure realms in the Kitzbühel Alps as often as you like. Some of the family-friendly highlights include: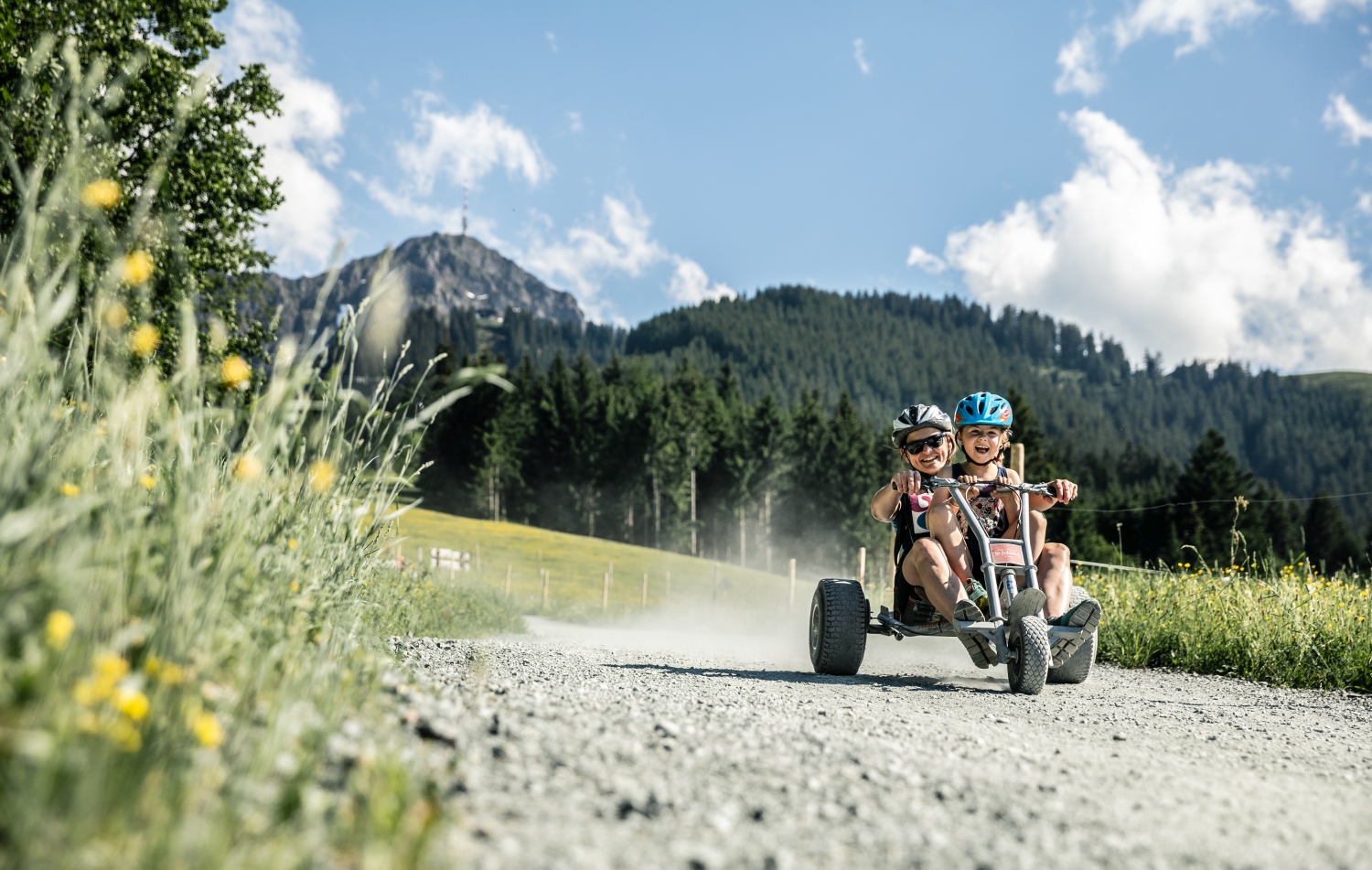 Mountain carting
Mountain carting on special go-karts is a great way to get your kids' adrenalin flowing. Speedy, yet safely, the mountain cart route takes you 3.8km from the middle station for the Harschbichlbahn down to the valley station in St. Johann in Tirol. On the ride down, you get to experience fantastic views and some tricky turns and spectacular steeper sections.
The carts are equipped with dual circuit breaking system, while safety fences, ropes and of course a safety helmet provide protection during the ride. You decide whether you would prefer to enjoy a leisurely descent into the valley, or an ambitious race with your friends!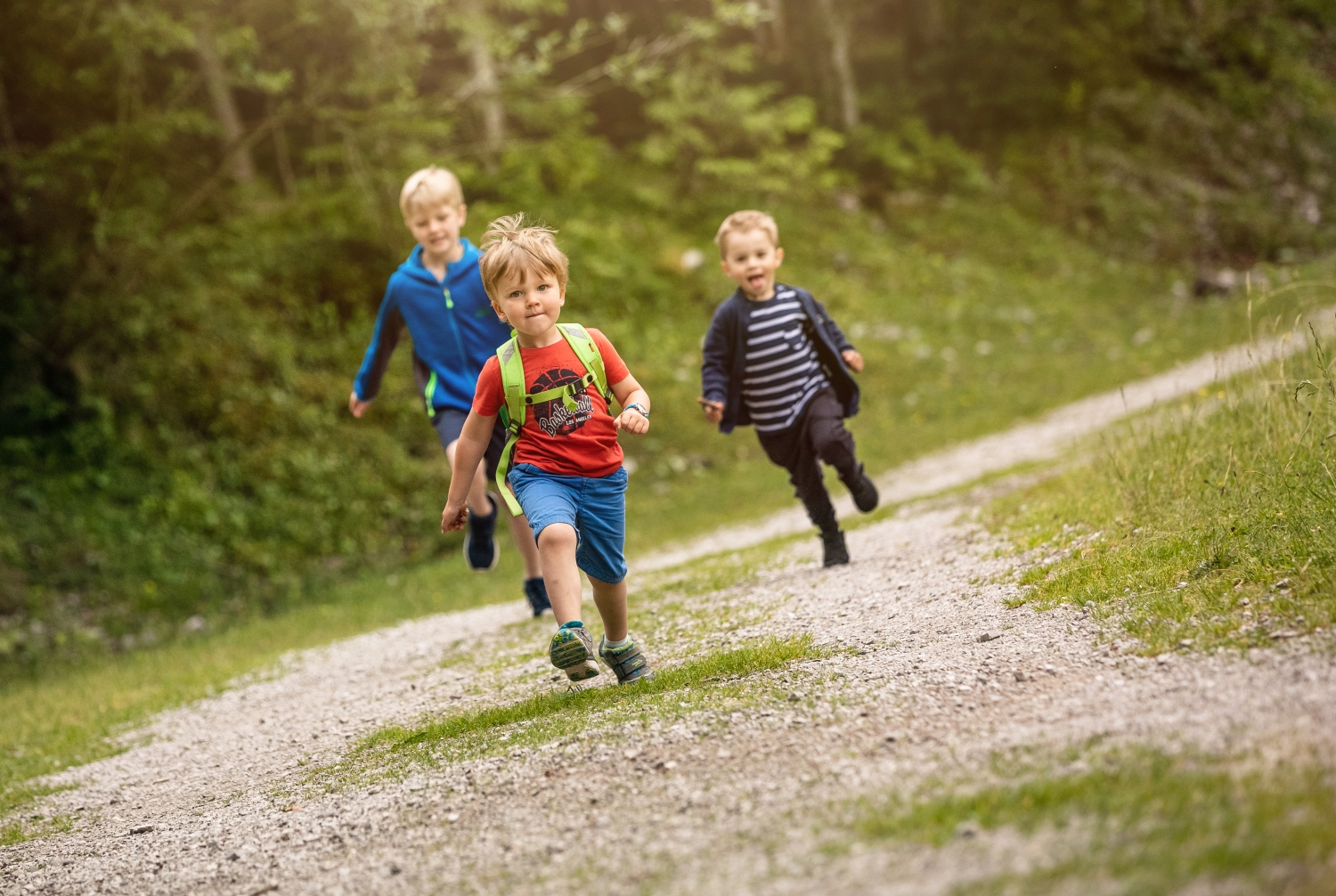 Follow the Schnackler Adventure Trail
If you are out and about with children in Kaiserbach valley, the Schnackler adventure trail is a great nature reserve for younger visitors, based around a local story of a bored young shepherd, the Schnackler, who decided to make music by clicking his tongue and snapping his fingers.
You'll find information boards and statues to spot, as well as climbing frames and play areas along the way. The trail is also directly linked to the Alpine Outdoor Gallery, which is a 3km-long path that gives you info on Alpine history and legendary mountaineers.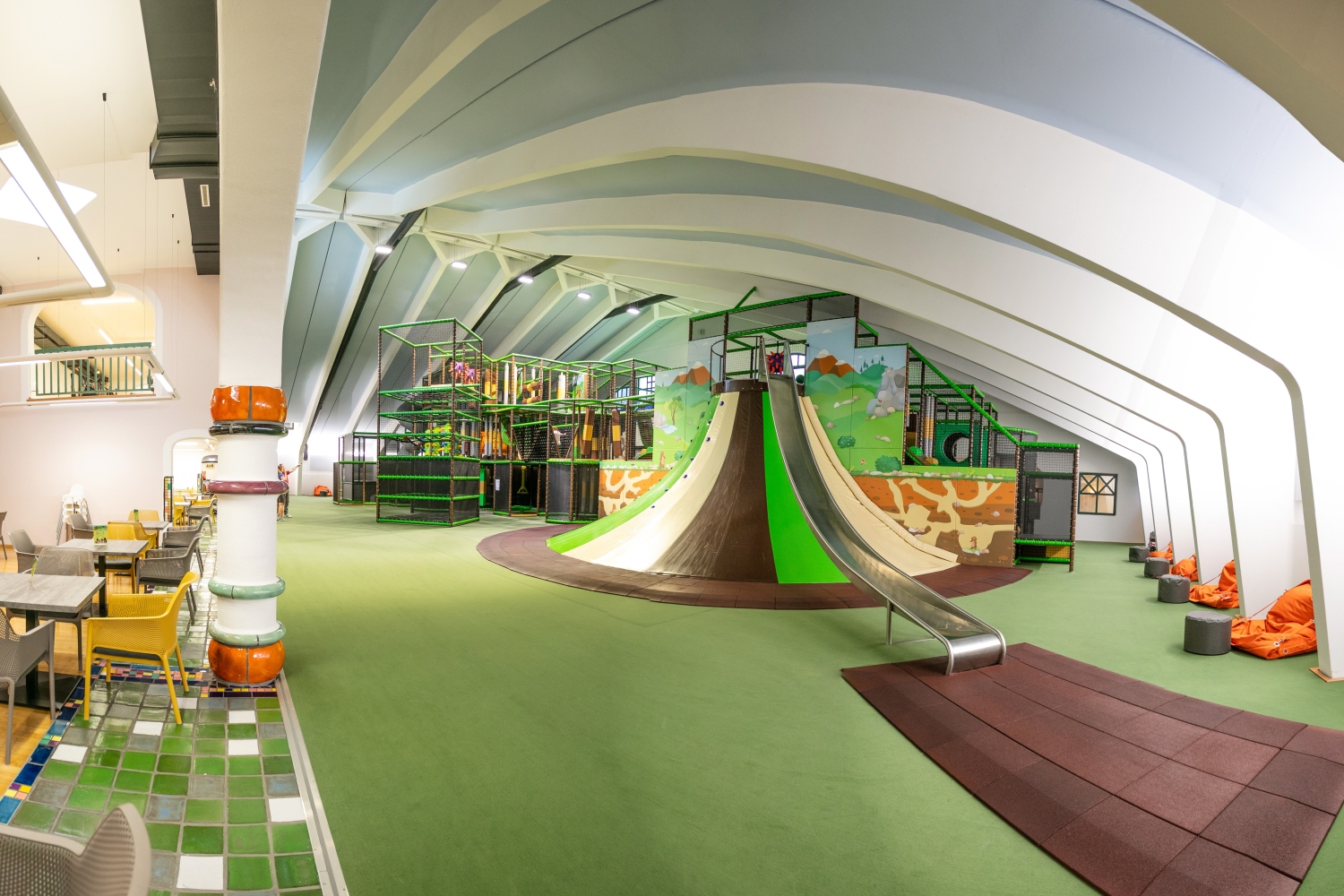 Play at Murmi's Kinderland indoor playground
This huge indoor playground of Murmi's Kinderland in Kirchdorf is a highlight for families. Whatever the weather there is plenty for children aged 2-10 to explore in a play area spanning 1,200m². Climbing, jumping, running and sliding are special features!
A big play area with a children's trampoline, a spinning tower, two giant slides and a climbing volcano will keep your young ones happy for ages, and there is a separate area for infants, giving parents the chance to relax too!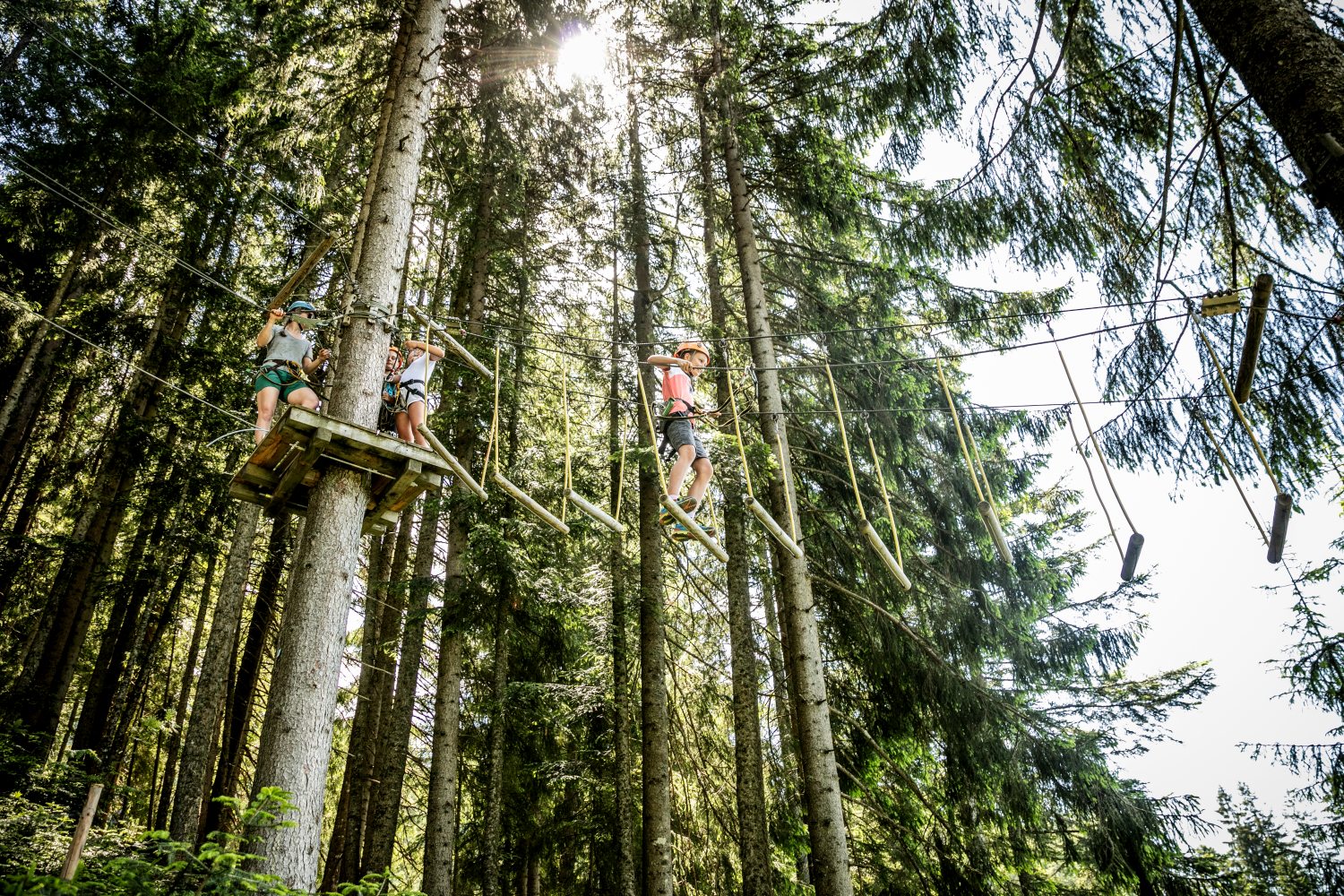 Spend a day at the Hornpark Treetop Adventure Park
Hornpark tree top adventure park is the biggest high ropes course in the Kitzbühel Alps. Situated at the middle station for the Harschbichlbahn for the St Johann in Tirol cable car, beneath the Kitzbüheler Horn at Angereralm mountain lake, Hornpark has fantastic views to the Wilder Kaiser.
There are eight different courses and more than 106 elements to enjoy, covering all difficulty levels. A special course for children aged 3 and over makes the high ropes course in St. Johann in Tirol an excursion destination for the whole family. Other highlights include the Flying Fox course, segway tours, stand-up paddling (SUP) and so much more!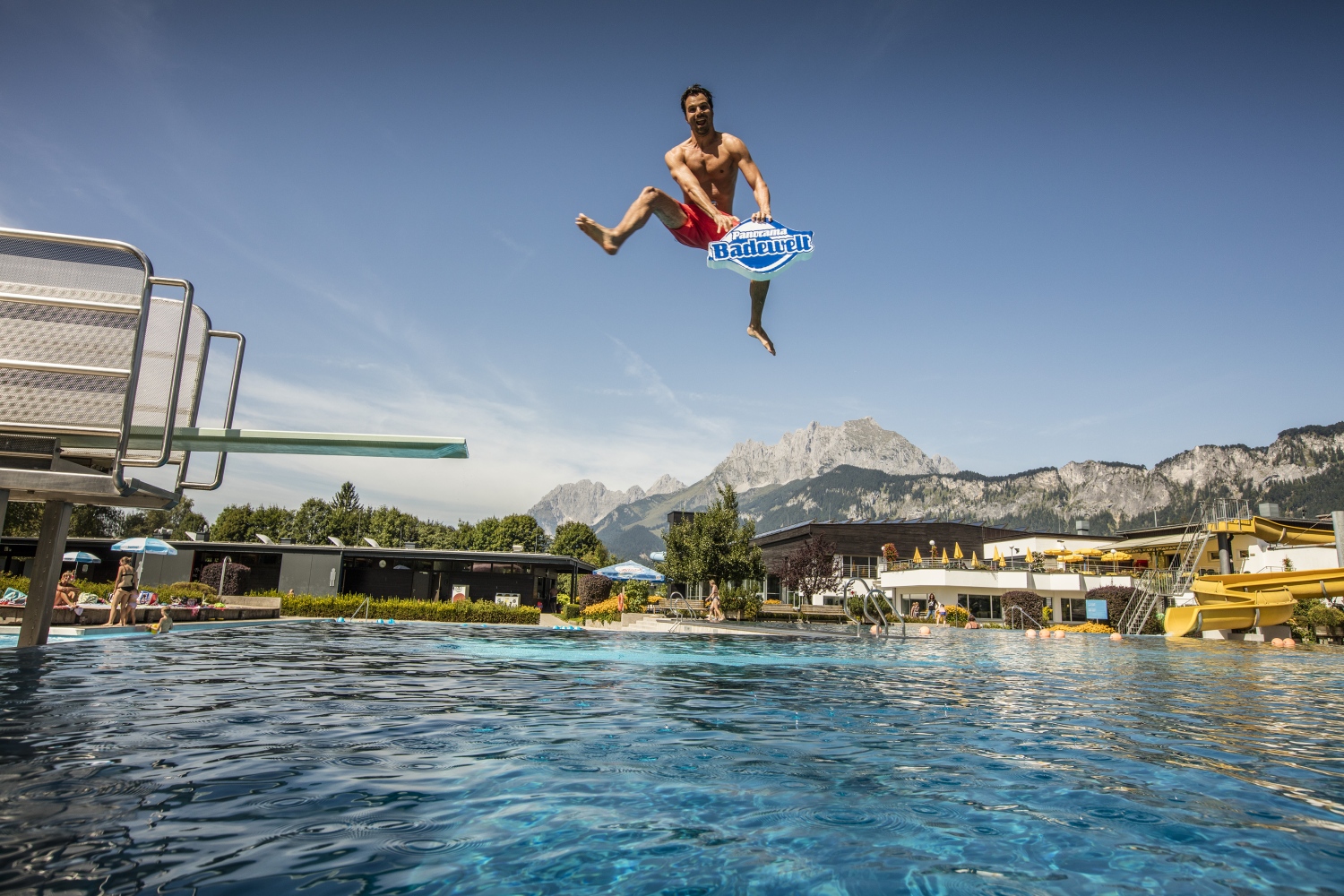 Go swimming
The towns of St Johann in Tirol, Oberndorf and Kirchdorf have fantastic swimming pools that the whole family will love. In the summer months, after a long walk or bike tour that makes you work up a sweat, there's no better way to cool off than by taking a dip in one of the three outdoor swimming pools. 
The wonderful views to the surrounding mountains make swimming, playing and sliding even more fun, and if the weather should be against outdoor activities, there are also indoor pools and wellness facilities to try.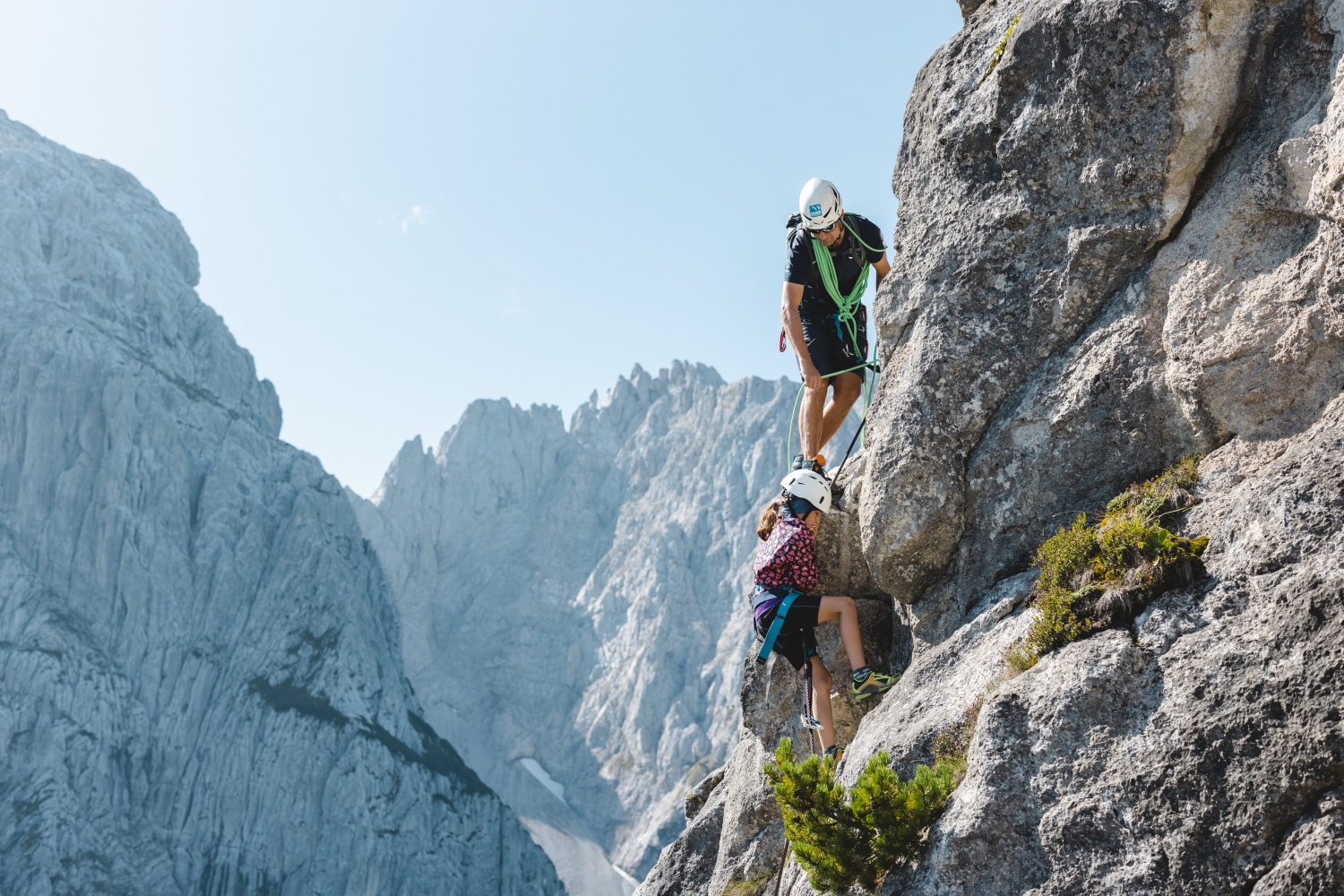 Join the adventure-filled programme for children and teenagers
In July and August, teenage visitors to the region get to experience an adventure-filled programme of organised activities from Monday to Friday, with the chance to take part in loads of exciting things such as canyoning, SUP, river rafting and even an introduction to the world of via ferrata. Advance booking can be done up to 4pm the day before and costs vary from activity to activity, but holders of the St Johann Guest Card are entitled to generous discounts!
To experience the #realAustria and to find out more about summer in St Johann in Tirol, go to austria.info
---
This year has also seen the introduction of brand new flights to Innsbruck from the UK to make getting to the Tirol even easier. 
Jet2 flies you to Innsbruck from:
Birmingham every Saturday
Bristol every Saturday
Manchester every Wednesday and Saturday
easyJet takes you to Innsbruck from London Gatwick:
19 April - 25 June 2022 on Tue | Thu | Sat
26 June - 3 September 2022 on Tue | Wed | Thu | Sat
4 - 30 September 2022 on Tue | Thu | Sat