Switzerland Travel Centre
STC can offer tailor-made cycling and hiking holidays in the Bernese Oberland and help you put together packages including flights, accommodation, and hotel-to-hotel luggage transport, leaving you free to cycle in comfort, on trails such as the Heart Route.
Prices: 5 days cycling the Heart Route, from £599
Tel: 0207 420 4934 www.stc.co.uk
OTP Swiss Holidays
OTP (On the Piste) began 25 years ago as a ski holiday company, but since 2004 has also been offering summer mountain biking and road cycling holidays, as well as city breaks, to destinations including Bern and Grindelwald. For example, you can experience what it is like to ride actual Tour de Suisse routes just like the pros – but without having to carry your luggage!
Prices: call or email for a quote.
Tel: 0844 5858508 otp.co.uk

Ticket to ride
The Swiss Transfer Ticket is the most cost-effective solution for short trips and travellers staying at a single location. It takes you from airport or border train station, to and from your destination. Valid for a month, it costs from £112. A Swiss Travel Pass gives you the flexibility to use the transport network (train, boat, bus) for consecutive days. It costs from £145 for a youth or £170 for an adult.
It also gives you a 50% discount on most mountain railways.
myswitzerland.com/rail
Getting there
By car
If you're using motorways, you will need a vignette (toll sticker). This usually costs CHF 40 (approx. £31) and is valid from 1 December the previous year to 31 January the following year. For trailers or camper vans, you'll need an additional vignette. These can be obtained from border posts, Swiss post offices and petrol stations.

By air
The nearest airport is Bern, a fast, efficient hub for the region. Skywork is the only airline flying direct to Bern from the UK, with flights from London City Airport from around £275 return
flyskywork.com

SWISS offers direct flights to Geneva and Zürich from various UK airports. All-inclusive fares start from £77 one-way, including taxes, one piece of hold luggage and hand luggage, plus food and drink. Importantly SWISS will also transport your bike as part of your baggage allowance.
swiss.com

Other carriers, including Easyjet, B.A and Ryanair, offer varied routes to Geneva, ZÜrich and Basel. Onward travel is best done by the Swiss rail network.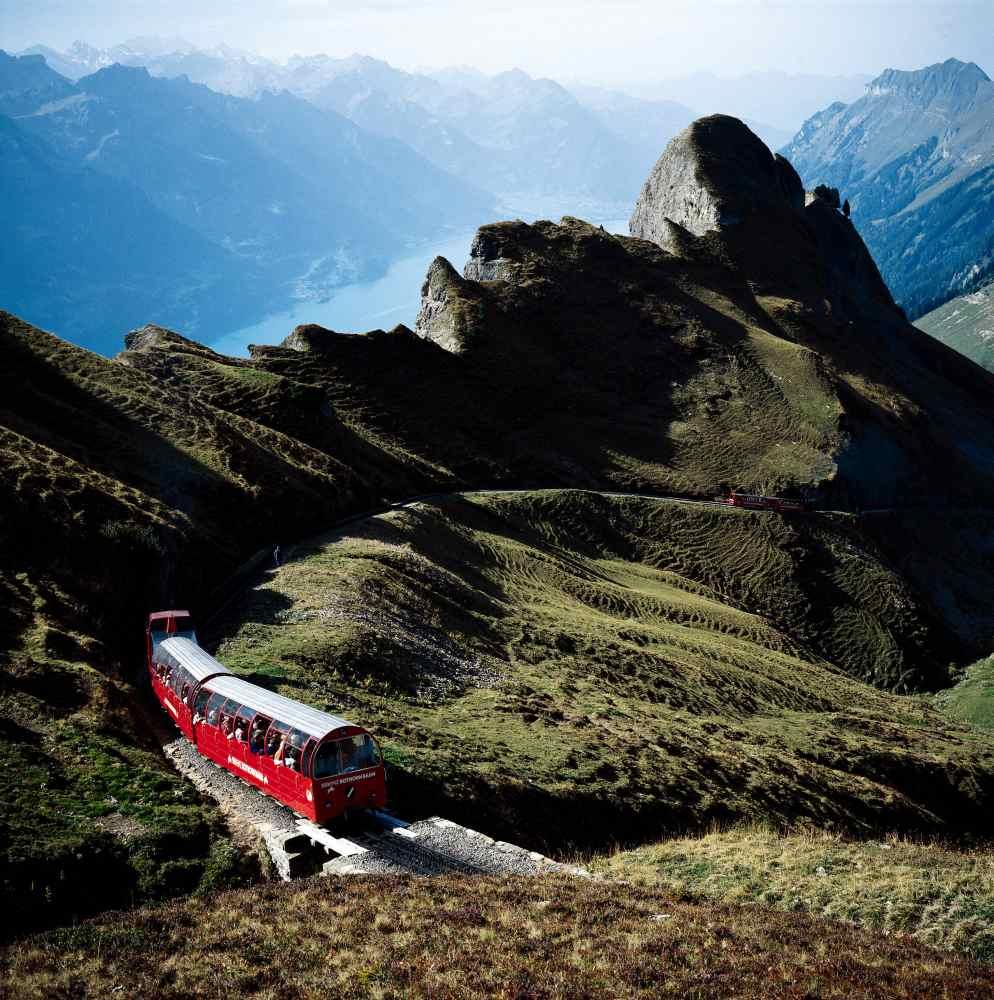 By rail
Switzerland has excellent links to the continent's high-speed rail network.
Inside the country, the efficiency and scope of the Swiss Travel System network is extensive.
A Bernese Oberland Regional Pass allows you to explore many attractions, including the train ride to Jungfraujoch – Top of Europe. Costs: from CHF 250 (approx £200) for a 4-day pass.
MySwitzerland.com/rail

TRAVELLING WITH BIKES
You can take your bike with you on Postbuses providing there is sufficient space available and you do not obstruct passengers. During the summer season, Postbuses travelling on most tourist routes are equipped with bike racks.
postbus.ch
To ride the trains with your bike you need a bycycle ticket. You can purchase a 1-day bike pass multipack, valid for six freely selectable days for CHF 78.

BIKE RENTAL
You can rent bikes at over 200 locations throughout Switzerland, including over 50 railway stations.
MySwitzerland.com/bike