Sponsored content
Majestic mountain passes, roads, trails and paths: the Catalan Pyrenees are an unbeatable setting for cycling, whether you're an athlete in full-on race training mode or just want to potter about with the family or friends. 
The network of roads through the Catalan Pyrenees offers many options to practice this sport, while the off-road landscapes have more than 5000km of marked itineraries for everyone to enjoy, from beginner to pro-rider.
Adding a family-friendly element to the mix are the Vies Verdes – Greenways – cycle and hiking routes developed from natural paths or from disused railway routes.
The Catalan Pyrenees really come into their own for cycling tours, both on road bikes and MTB. Cycle tourism is a great way of exploring the area at your own pace, stopping along the way and enjoy the gastronomy and hospitality of the area. 
Here are some of the best ways to make the most of cycling in the Catalan Pyrenees:
MTB
Mountain bike lovers will find ATB circuits throughout the Catalan Pyrenees, ranging from challenging traverses to family excursions, with a wide range of options that will delight young and old alike. 
The perfect complement for the variety of Pyrenean landscapes, ATB Centres of Catalonia is a network providing all the information, assistance, and services needed for full enjoyment of both cycling and the itinerary. It offers over 5,000km of marked itineraries classified by difficulty level, so that cyclists from beginners to experts can enjoy practising the sport in any of the 17 centres in the network.
Five top MTB routes
Pedals de Foc
Distance: 215km
Time: 3-6 days
Elevation: 5,700m
Difficulty: Easy (6 days); Challenging: (3 days)
This circular route – best ridden in summer and autumn - runs along the outskirts of the National Park of Aigüestortes and Estany de Sant Maurici. It travels along typical mountain paths and forest tracks, footpaths and footpaths, taking advantage of the hotel and rural tourism infrastructure in the area, beginning and ending in Vielha, and traveling through the regions of Vall d'Aran, Pallars Sobirà, Pallars Jussà and Alta Ribagorça. The longer you allow, the more you will have time to linger over a Pyrenean meal or visit a monument or two. A non-stop version of Pedals de Foc takes place at the end of June, in which cyclists complete the route in one go or in less than two days.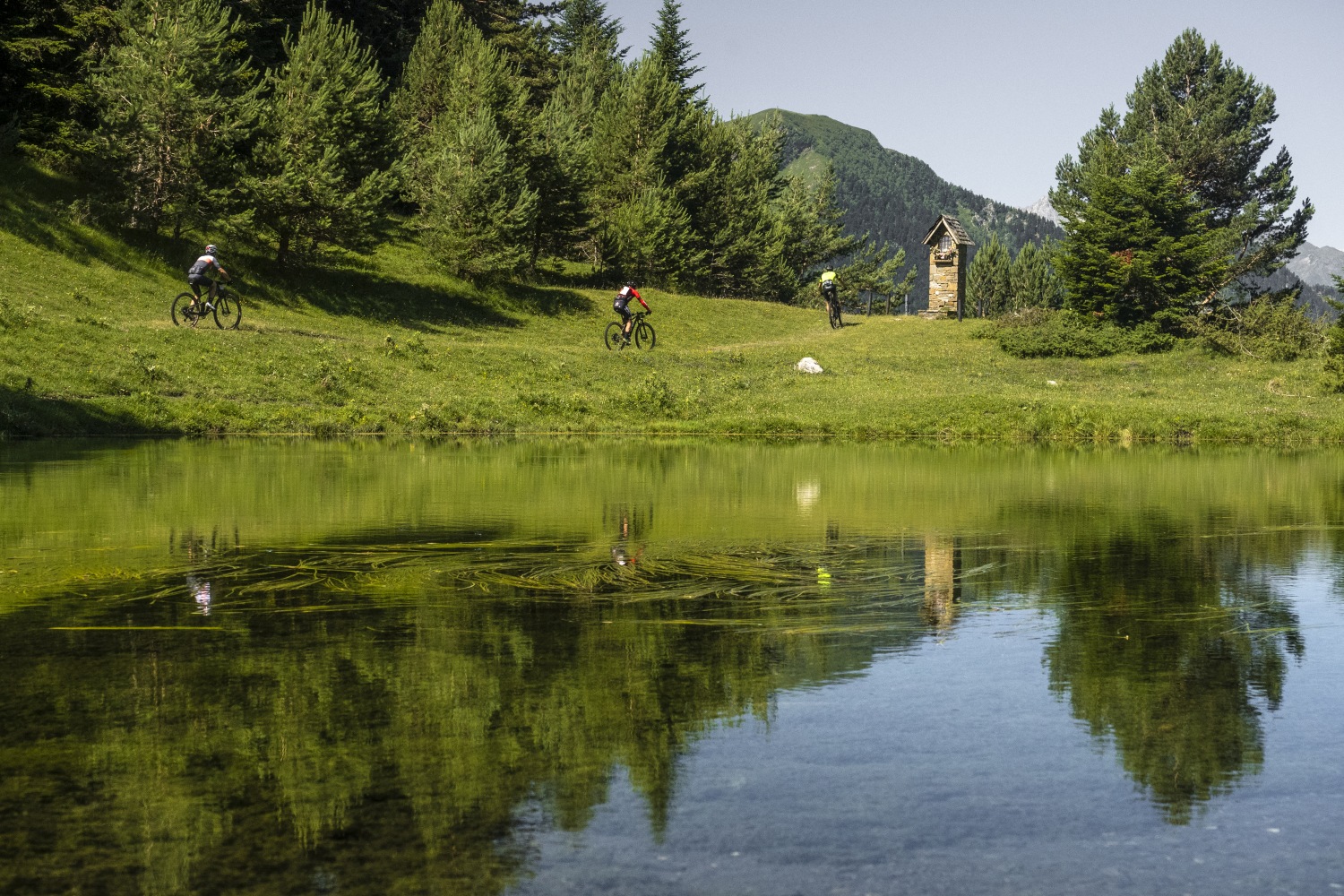 Era Roda Pallars
Distance: 215km
Time 3-6 days
Elevation: 6,300m
Difficulty: Easy - Challenging 
Era Roda are themed MTB routes through the most inhospitable and emblematic areas of Val d'Aran and Pallars. The Era Roda Pallars is a classic route for the all-round mountain-biker, who wants a touring route packed with adventure among great mountains but with the chance to get to know the Pallars gastronomy first hand. If you're going to stay between 3 and 6 days: El Pallars won't let you down! A shorter 170km option is also possible.
El cinquè Llac
Distance: 172km
Time: 5 days
Elevation: 5,930m
Difficulty: Moderate
El Cinquè Llac by mountain bike or electric bike has been designed to enable you to get to know some of the least known valleys in the Lleida Pyrenees (Vall Fosca, Vall de Manyanet, Vall d'Adons and Pla de Corts). Highlights of the route include the Geganta Adormida (the Sleeping Giantess), one of a series of especially wonderful ridges, and the spectacular Pont del Diable, the Devil's Bridge, built over a deep gorge carved out by the river from layers and layers of conglomerate rock. The legend says that the bridge was built by the Devil in a single night's work. And, of course, there's the fifth lake itself, Lake Montcortès, situated in the centre of the charming Pla de Corts. Best time to ride this route: May to October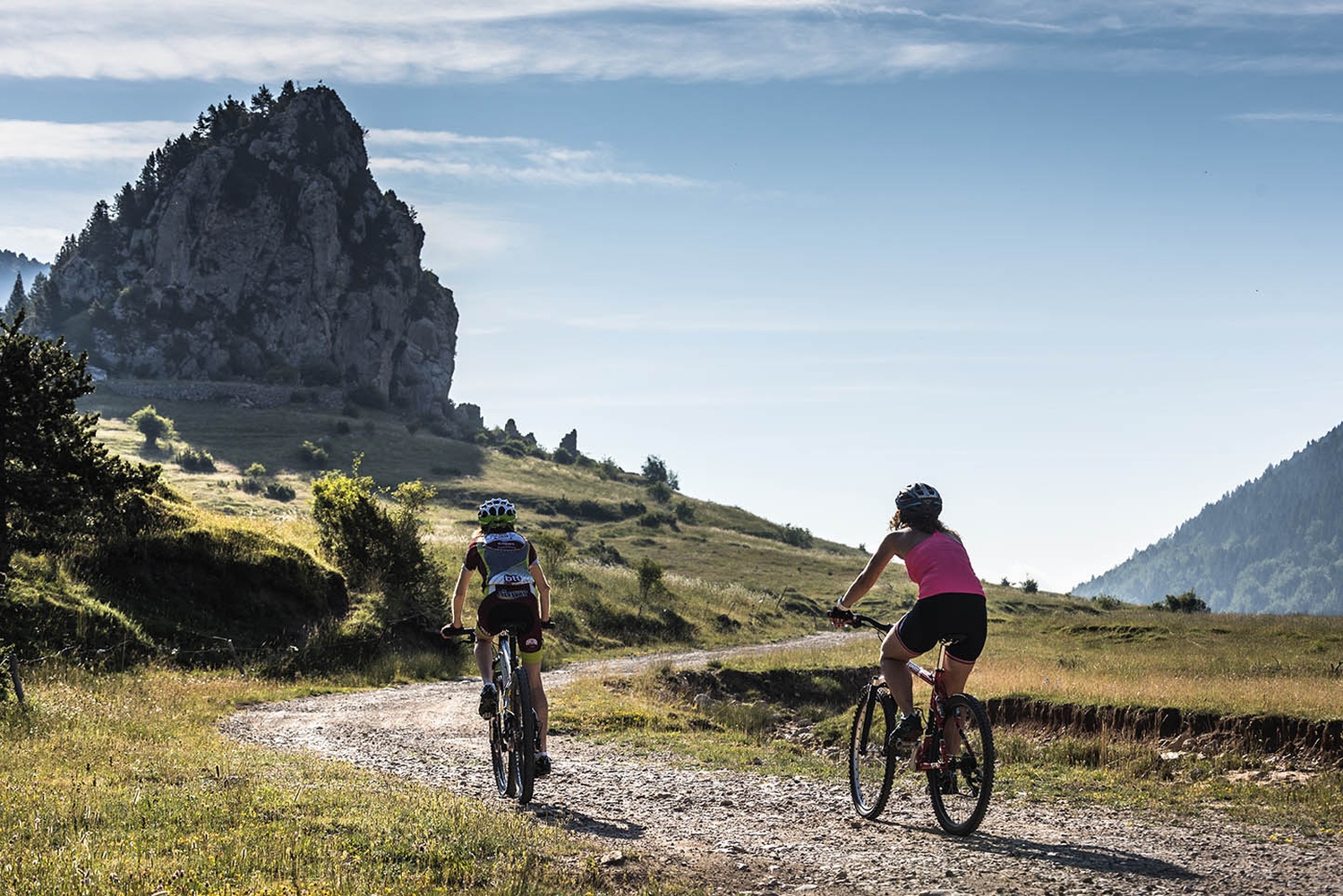 The Cathar's Trail
Distance: 260km
Time: 7 days
Elevation: 9,000+m
Difficulty: Challenging
There are various versions of this famous route, also well-known as a hiking path that follows the route into exile of the Occitan Cathars, who advocated a pure and simple Christianity based on spirituality and were opposed to the 13th-century Catholic Church. This MTB version of The Cathar's Trail is a linear route, crossing the Eastern Pyrenees, from the Queralt Sanctuary in Berga to the Occitan city of Montségur. It is a true challenge, split into 7 stages, along a physically and technically demanding itinerary, best tackled by experienced MTB or e-bike cyclists.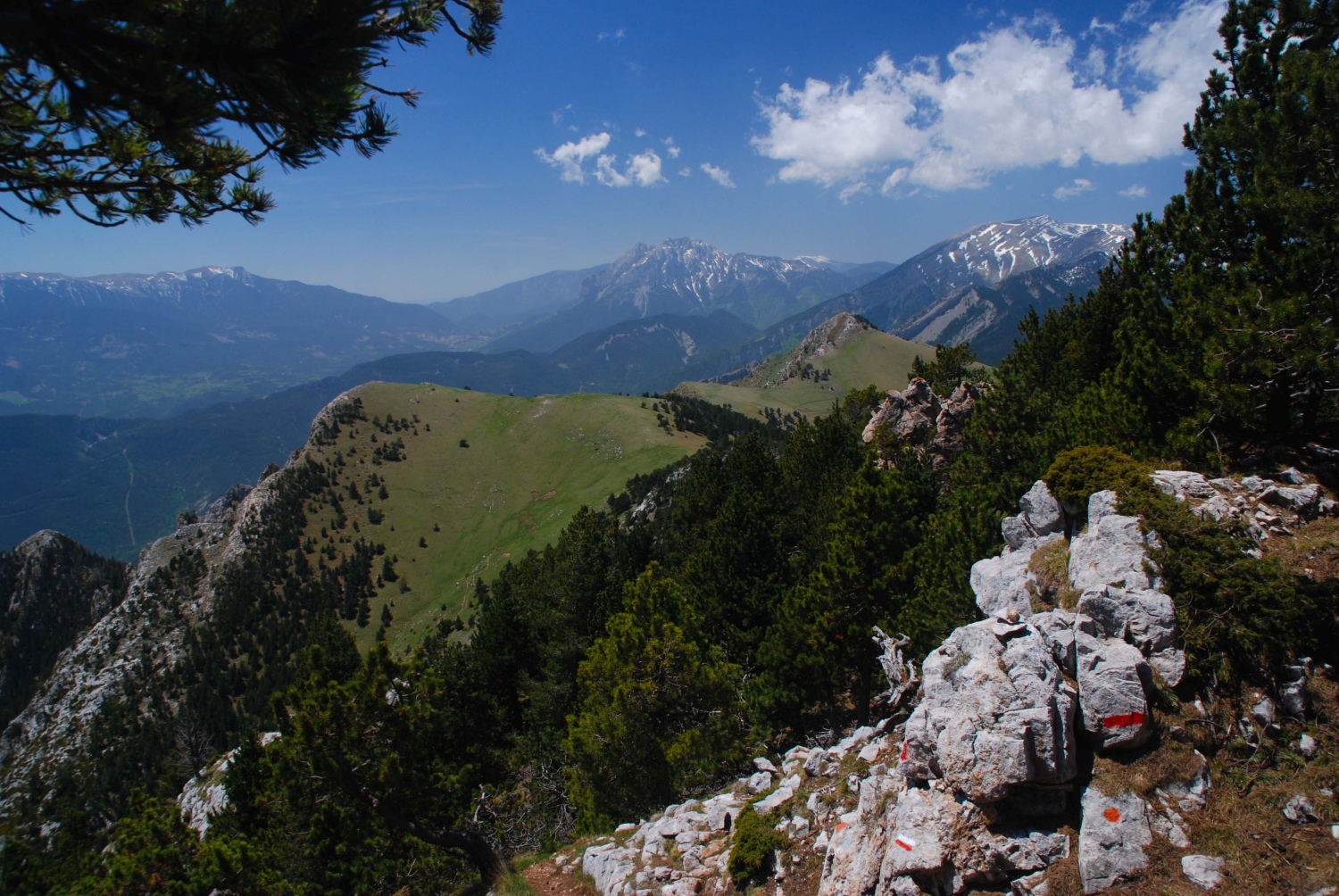 Cavalls de Vent 
Distance: 223km
Time: 4 days
Elevation: 7,300+m
Difficulty: Tough
The Cavalls del Vent traverse is a spectacular journey through one of the biggest and most diverse protected areas in Catalonia, the Natural Park of Cadí-Moixeró. Adaptable to different levels, it's a challenging route honouring the Nepalese prayer flags it is named after, and offers a space for introspection and personal improvement. Best attempted between April and October, it can be self-guided or guided, with departure and arrival in Bagà. It circulates mainly on forest paths and tracks with sections of footpaths and paths and short links on local roads. For overnight stays, use hotel and rural tourism services in the area.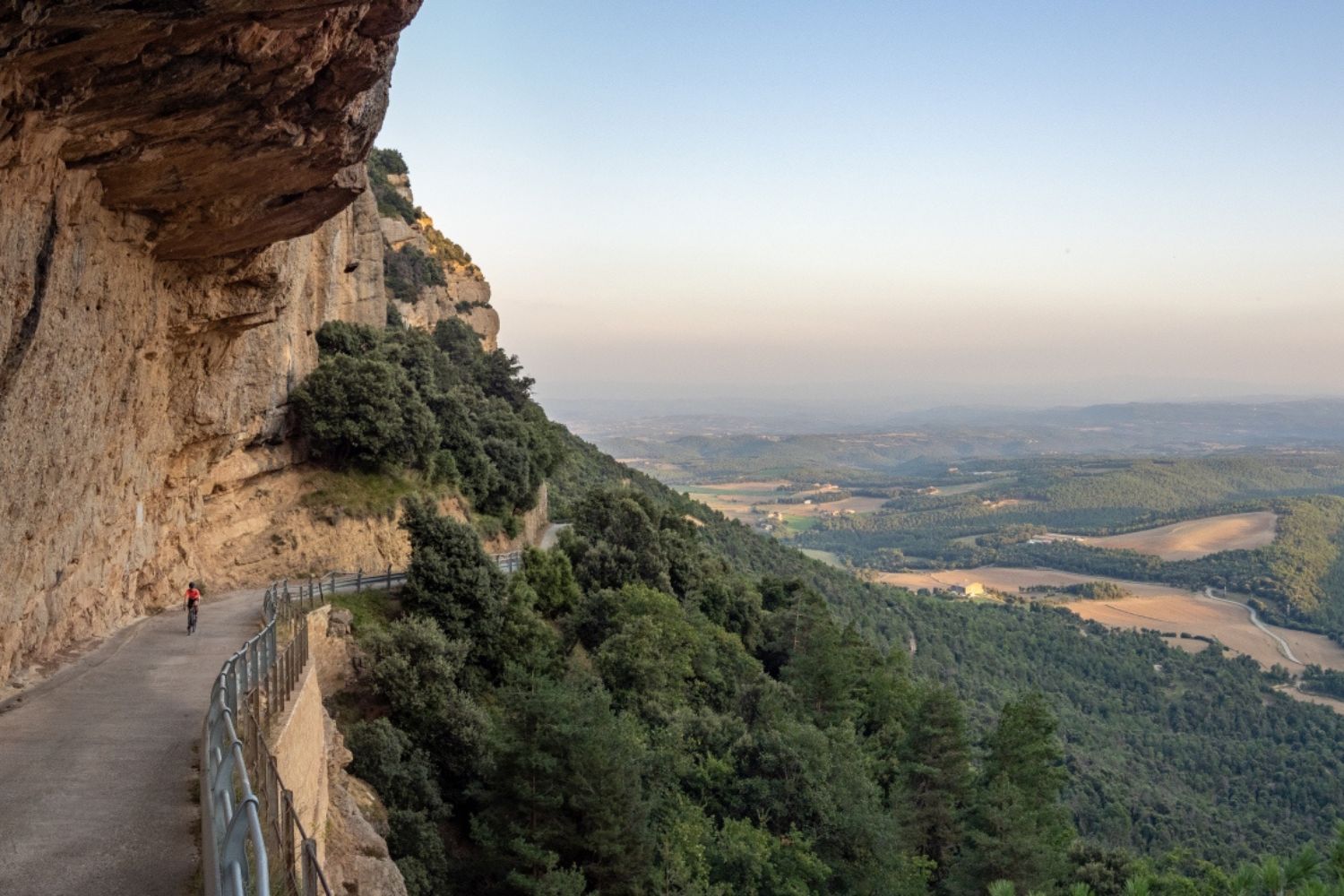 Road Bike Touring
The network of roads through the Catalan Pyrenees offers many options to practice this sport. It is common to see teams of professional cyclists training on the countless highways or mountain routes of the Catalan Pyrenees. 
Val d'Aran has various routes marked for road bike. Among the recommended rides is an Aranese itinerary called Le Defí Occitan, a demanding 197km journey across Occitania that allows the cyclist to discover all the magic of the Pyrenean mountain passes.
Berguedà is another exceptional area for road biking: from the simplest low-traffic routes in the southern part of the county to the steepest and most demanding mountain ascents, seven of which are marked. It's protected from the Pyrenean winds by the natural barrier formed by the mountain ranges of Cadí and Moixeró, while the capital of the region, Berga and the town of Bagà offer accommodation and are perfectly located to be a starting and ending point for many stages.
The foothills of the Pyrenees form a rolling terrain, crossed by the valley of the Llobregat river, which combines wooded areas with open farmland. Scattered throughout this area there are a large number of small villages, with Romanesque churches that are the remains of a rich history. These lands are part of the Catalan Depression, a popular cycling space in Berguedà.
Alt Empordà, a region bathed by the Mediterranean Sea, and the neighboring regions attract thousands of cyclists every year. Many of them choose this land to train due to the goodness of its climate and its topography.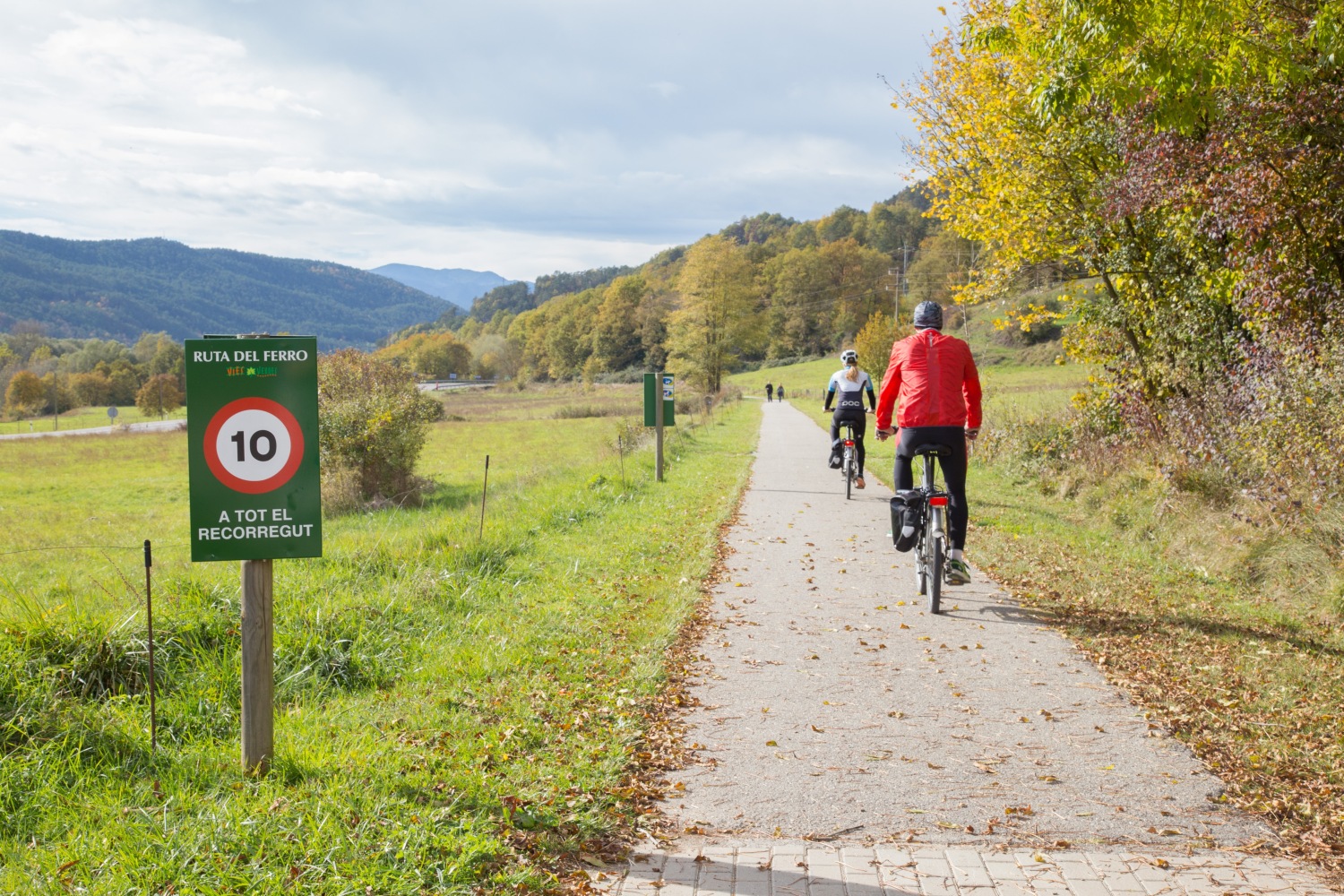 Cycle Tourism on Greenways
Families and leisure cyclists looking for shorter rides, should search out the Via Verdes, or Greenways – 125km of easy, safe, pleasant routes developed along natural paths and stretches of disused railway lines, designed so users can walk or cycle from the Girona Pyrenees to the welcoming Costa Brava, through five of the eight counties in Girona province: Baix Empordà, Gironès, Selva, Garrotxa, and Ripollès.  
New Greenway cycle routes include the Iron and Coal Route from Ripoll to Ogassa, the Narrow-Gauge Railway Route from Olot to Girona, and the Narrow-Gauge Railway Route from Girona to Sant Feliu de Guíxols on the Costa Brava.
Other itineraries include the route between Rosal industrial colony and Pedret Bridge (Berguedà County), and the Vall Fosca valley route between Gento Lake and Espui (Pallars Jussà). Both are classified as greenways as they run along disused narrow-gauge railway lines now converted into active tourism routes. 
Long Distance Cycle Route
Pirinexus 
If you're really up for a marathon ride, the Pirinexus is the longest circular cycling route in southern Europe. With a total of 353km running through the north of the province of Girona and the south of the French region of Occitania, specifically the department of Pyrenees-Orientales. The Pirinexus passes through a total of 53 towns and 8 different regions, combining greenways with other cycle routes, such as rural roads or roads with low traffic density. It features a mixture of landscapes and history, mountains and beaches, cities and towns with a lot of history and quiet villages.
Cycling Races
The Catalan Pyrenees is also home to several major cycling races, such as The Transpyr Coast to Coast stage race considered one of the ten best mountain biking adventures on the planet. It sets out in June, from the Cantabrian Sea to join the Mediterranean in seven exhilarating stages. 
For details of the routes here, and many more besides, check out visitpirineus.com/en
Getting to the Pyrenees
Getting to the Pyrenees from the UK is easier than you might think, with several options of airports to fly into, as well as possible rail links that can be used. 
Flights
The closest larger airports are Barcelona and Toulouse, both of which are served by multiple UK airports and several airlines such as British Airways, easyJet and TUI.
You can also choose to fly to smaller, more central airports such as Girona Costa Brava, where you can fly to with Jet 2, Ryanair and TUI, from many UK airports, including London Gatwick, Doncaster, Birmingham and Newcastle.
By Train
If you prefer to get here by rail, there are international train links from the UK to Barcelona via the Eurostar from London St Pancras to Paris Gare du Nord and onward TGV services from Paris Gare de Lyon to Barcelona Sants. The total time for this is about 10.5hrs. From Barcelona there are high-speed rail connections to Figueres, Girona, Tarragona and Lleida.