If you're looking to shift gear from one place to the next, on and off South American bus roofs, through airports, or even simply out of taxi boots, then the Osprey Farpoint Trek 55 is for you! Being quite robust and travel friendly with the features to match, the Farpoint Trek comes in at a shade under 2kg so if you're looking for a super lightweight pack then you may want to look elsewhere.
In terms of storage the Farpoint Trek has a fantastic front flap which opens up the whole bag in a suitcase style, making it easy to pack the 42L compartment, and even easier to find kit in it afterwards. Two internal wings buckle together to hold your gear in place and stop it tumbling out as soon as you open the bag. One of these wings also has a handy pocket for stashing tickets or passport in. There's also a hydration bladder sleeve, buried deep under all your clothes.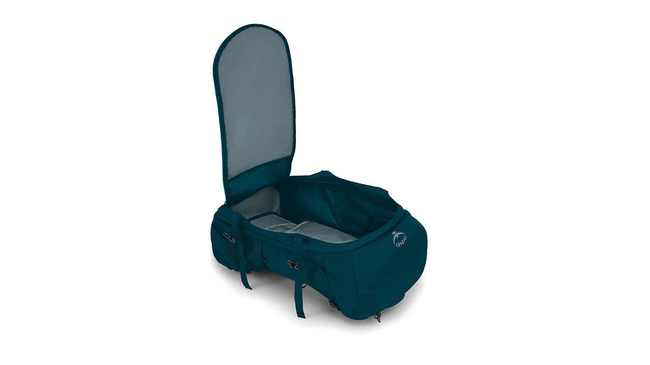 Being that the Farpoint has a front U-shaped opening there is no floating lid or top access but you still get a couple of pockets on the top area of the bag. The smaller of the two is ideal for keeping important documents in and the other is much larger and houses the rain/bag cover. This cover completely envelopes the bag when on, so is ideal for airport check ins as well as strapping your bag to vehicle tops. In this mode the bag has a very sturdy grab handle on one side, so you can carry it like a suitcase.
Externally there are two stretch side pockets, great for the usual water bottles, as well as a long and slim front zipped pocket. You can compress your load and therefore stabilise it using the front and side compression straps, and there are addition - removable - straps for a sleeping bag or mat.
Osprey's Airspeed suspended mesh backpanel is robust yet comfortable, in part thanks to being adjustable to your back size. The back venting works really well and the broad, well-cushioned hipbelt allows you to carry a decent load. The hipbelt also benefits from two good sized zipped pockets.
Where the Osprey Farpoint Trek 55 comes into its own is in its compatibility with the Daylite series of backpacks. This is a great system available on Osprey's more travel focused packs. It essentially allows you to attach a daypack to the main pack, creating one larger bag. We're using a 13l version of the Daylite backpack which, although not a fully-featured hiking daypack has reasonable straps, a slim hip-belt, extendable front pouch, elasticated side pockets and three different compartments.
If you want a durable bag for backpacking, with the added convenience of daypack compatibility to boot, the Osprey Farpoint Trek 55 could well be your perfect travelling companion.