Photos: Martin Orton
Ever heard of Kerry's Ring? Thousands flock here every year on the trip up Ireland's Wild Atlantic Way, a road trip world-renowned for its beauty. In a normal year, streams of tourist buses clog the narrow roads here, jostling for space with cyclists in what is rightly considered one of the most beautiful corners of the island. But step away from the Ring itself, and you'll find an untouched rural interior, equally as beautiful and home to empty back roads, Ireland's highest mountain, and a whole host of water sports.
The Reeks District - a large square area within County Kerry, in Ireland's south west - is so unvisited that you'll often feel like the only tourist in town. It's truly a hidden gem, and a bit of a 'Swiss army knife' destination for people who enjoy outdoor sports - and to encourage people away from the better-known Ring, the Reeks area's tiny tourist board have developed a clever new concept, aimed squarely at the adventurous travellers who want a challenge.
The Big Five is a series of tough, yet very achievable activities – climbing Carrauntoohil mountain at 1,038 metres, paddling the length of Caragh Lake, surfing on Inch Beach, a night stand-up paddleboarding trip on Cloon Lake, and a 56 mile cycle around the Ring of the Reeks mountain loop. Challengers are issued with a passport that's stamped after each activity, and anyone completing all five in five days or less has their name added to the hall of fame, which hangs proudly in the Killorglin tourist office. It's the kind of thing that I can't resist.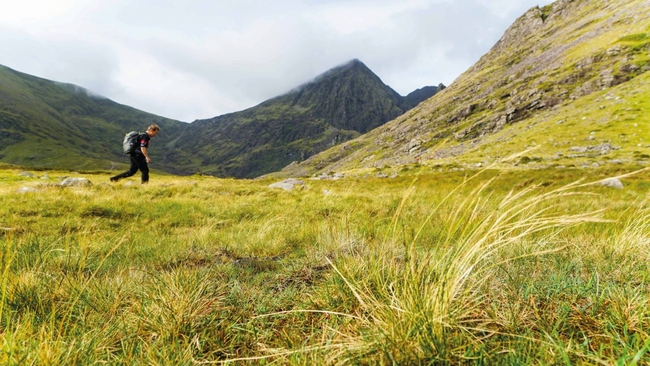 Challenge accepted
I arrive at Cork airport with photographer and friend Martin Orton, and we drive to the small village of Glenbeigh. Dropping our bags at the Glenbeigh Hotel, we head out on a maze of singletrack lanes to the wonderful lakeside Ard Na Sidhe Country House Hotel for a drink. Lounging by a huge stone bay window with the sun setting across Caragh Lake, the scene of one of the challenges to come, it's hard to show restraint and refuse another glass of wine - but I reluctantly do, since we're going to need plenty of energy to take on the Big Five; and not in five days, but in just three.
An 8:30am rendezvous in the car park, and we're met by our man from Reeks Guiding Company. You can tell with one glance that John O'Sullivan is a man who spends his life in the mountains. His weathered face has a large grin plastered on it as he takes us up towards Carrauntoohil mountain, at 1,038 metres. We'll be summiting Ireland's highest point.
"Carrauntoohil is privately owned," explains John. "If we don't respect it, the farmers here could simply close down all access, and that would be that. That's why we started the MacGillyCuddy's Reeks Mountain Access Forum, so we can help maintain the paths, and educate people on how to respect the mountains."
John goes on to explain the many routes up Carrauntoohil - from tricky scree slopes to technical climbs. It feels a bit like a cross between the rugged ridgelines of Skye and the landscape of Snowdonia, with drystone walls arrowing straight up a mountainside that's dotted by red and blue-sprayed sheep, grazing on the peat bog.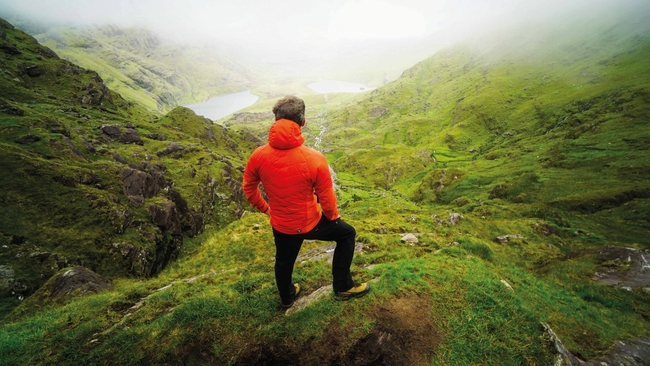 We leave the farm track and hike steeply, scrambling at points, to a small lake below O'Shea's Gully. We then follow this gully up, zig-zagging our way to a col below the summit. Once out of the gully, the wind is ferocious, and we're battered by it all the way to the summit. Descending out of the wind on the much-used Devil's Staircase, we've ticked off the first of our five challenges.
The next morning we're up early to try to complete three more in just one day. Feeling fresh, we wolf down breakfast and drive around Castlemaine Harbour to the north shore of Dingle Bay, parking at the blue flagged Inch Beach - the perfect spot for a surf lesson: challenge two. It's September, and the water is surprisingly warm (my thick wetsuit also helps). After a quick lesson on the beach with our dreadlocked instructor from Kingdom Waves Surf School, we're in the sea.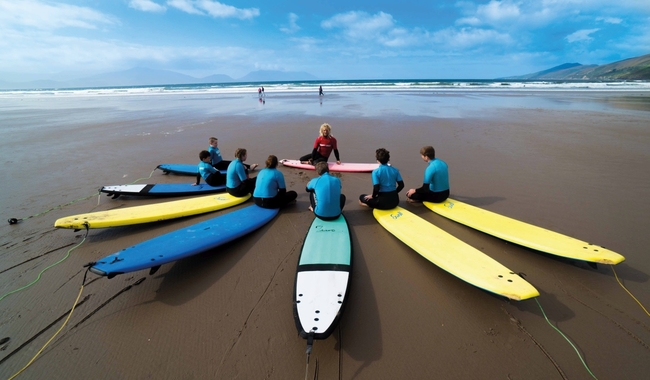 The sand on Inch Beach slopes gently, so there's no real need to swim out through the crashing waves – at least, not at my level of surfing anyway. I simply walk, run and jump my way out far enough into the waves before completing my second challenge - riding an Atlantic wave back into shore. We change out of our wetsuits, stuff in a pub snack, and drive onward to challenge three.
The glacial Caragh Lake looks like it's been lifted straight off a postcard. It runs from north to south, and the challenge is to kayak its 3.7 mile length. There's zero wind today, and we hug the shore almost effortlessly, paddling slowly north with wonderful views across to Carrauntoohil, yesterday's mountain goal. There's no one else on the water, and not a soul to spot on the shore either. Then, right the end of our paddle, a tiny boat with an outboard motor cruises past with two local anglers aboard. They've not caught anything, they tell us, but that doesn't seem to have dampened their spirits.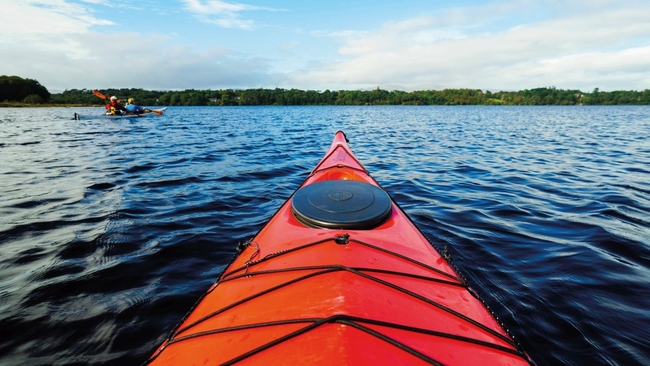 We're a little fatigued in the arms after challenges two and three. But there's time for a quick shower and dinner at Carrig House before the next one. The lodge, which sits above the lake, focusses primarily on serving locally-sourced fish – which is divine. There's not much time for dinner to settle, though: the sun has set and it's high time to head deep into the foothills of the MacGillyCuddy's Reeks mountain range to take on challenge four.
We'll be stand-up paddleboarding on Cloon Lake, on the very edge of the Kerry Dark Sky Reserve, where usually you get to paddle under a sky full of stars. Unfortunately, the Irish weather has reverted to type, and a fine drizzle is falling from a starless sky. Unperturbed, we change into wetsuits for the third time that day. I've never SUP-ed before, and once I've launched myself onto the water, my legs seem to incur early stage rigor mortis. Yet I paddle on, and eventually begin to feel balanced.
It's so dark that I start to feel as if I am floating above a never-ending void, the dark sky and the dark water merging. I become totally discombobulated. Eventually, turning my board around 180 degrees, I can see where our guide has lit a fire on the shore back at our starting point, giving me a bright reference point to focus on for our paddle home.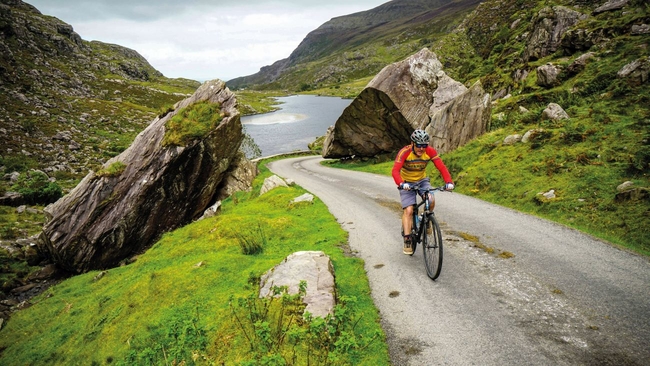 Ring of the Reeks
The Irish saying 'If you don't like the weather, simply wait five minutes' echoes in my mind the next morning as we slowly pedal up the Devil's Elbow, high above Carragh Lake. Leif, our guide from Trailflow Biking Adventures, somehow manages to keep our minds off the combination of sleet, sunshine and rain we experience in just the first 30 minutes of our ride by chatting away about the medicinal uses of the wild plants we're riding past.
An exhilarating descent on a singletrack lane, followed by a close call with one of the few vehicles we come across, leads us to the Climber's Inn in Glencar for a quick coffee and slice of fruit cake. Refuelled, we ride slowly up the Ballaghbeama (pronounced 'balockbayma') valley, a wonderful, steep-sided climb past exposed rock and hardy green grazing pastures that then closes out into a tight squeeze between small cliffs, made even more exciting by having to avoiding the many sheep that litter the road.
The descent is a joy. The sun is back out and the valley on the other side of the pass is wide open. Then it's time for an uphill climb again, and we pull up a painfully long and steady slog to Lough Barfinnihy, where we stop to eat our sandwiches and watch a lone black-backed gull dive for its fish lunch in the clear water.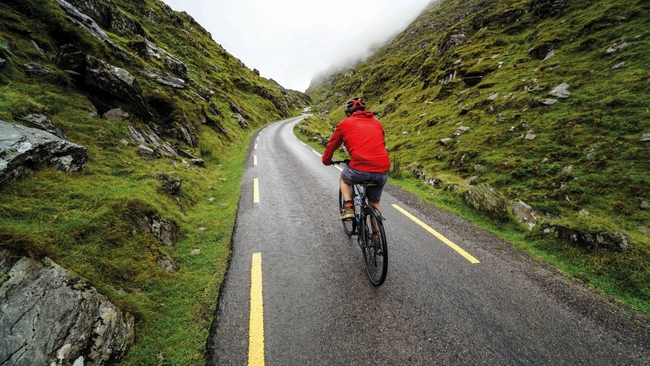 After lunch, we drop down into the wonderful Black Valley, one of the last places in the region to get electricity in the early 1980's, for the last big climb of the day. It's a brutally tough, but mercifully short-lived, series of switchbacks up to the top of The Gap of Dunloe, known locally as 'The Gap'. Once we've conquered the bends and reached the top of the mountain pass, we're rewarded with a beautiful ride down through rocky fields and cracked boulders, and past a series of small lakes, before finally hitting Kate Kearney's Cottage pub for a well-deserved pitstop.
The last 10 miles of cycling along semi-flat terrain back to our start point, Killorglin, fly by. With the final rotations of the pedals, I realise that we've not only finished the 'Ring of Reeks' ride, but also completed The Big Five too. That coveted place on the Killorgin Hall of Fame wall is mine.
Sometimes tourist boards can try too hard to package up adventure ideas into a saleable commodity, but the Reek's Big Five is a well thought-out challenge that's a joy to take on from start to finish. Having completed the challenge, and got both the t-shirt and the tired leg muscles to prove it, we decide to spend our last few hours in Sol y Sombra, a tapas bar in an old Anglican church with a few pints of the black stuff. A celebration is in order.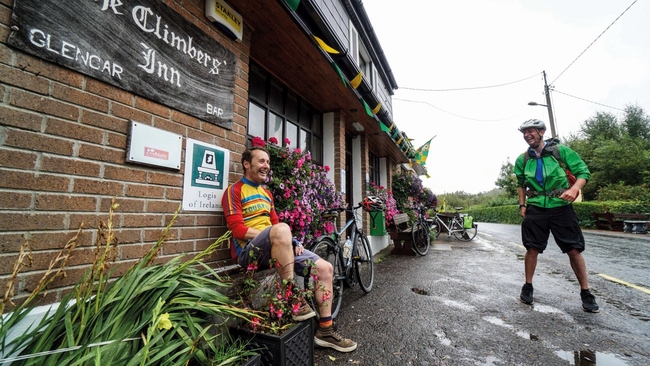 Pete's Picks: Four UK Challenges You can Try:
Cycling: Bealach na Bà and NC500
A cycle up Bealach na Bà, in Scotland's Highlands, is possibly the hardest road climb in Britain. Bealach na Bà itself is a 5.5 mile, 626m beast of a climb - but the ride down and towards Applecross and the NC500 coastal route on towards Torridon makes it worth it.
Running: The Ragnar Trail
Teams of three runners tackle a series of loops through the Forest of Dean in a relay, with all challengers having to complete all three gruelling routes to finish. There's an even harder four-person team challenge, too.
Hiking: The South West Coast Path
Starting in Minehead, Somerset, and finishing in Poole, Dorset, the 630 miles of this superb coastline trek - which makes up the longest National Trail in the UK - is a serious undertaking, but you'll be fine as long as you stuff down enough cream teas along the way.
Kayaking: Three Lakes Challenge
Ever thought of paddling the three longest lakes in each of the UK's mainland countries? The Three Lakes Challenge is a test of endurance similar to the Three Peaks Challenge (only wetter) - paddling Llyn Tegid (Bala Lake) in Wales, Lake Windermere in England, and Loch Awe in Scotland.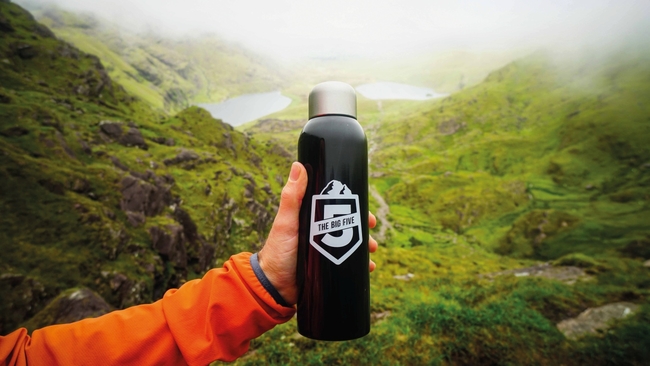 Travel info:
Our trip
Take a guided ascent of Carrauntoohil with Reeks Guiding Company from £51 per person.
Kayak on Caragh Lake or go night-time stand-up paddleboarding on Lough Cloon from £55 per person.
Take a two-hour surfing lesson with Kingdom Waves from £30 including your wetsuit and board.
Cycle the 'Ring of the Reeks' with Trailflow Biking Adventures from £25 including bikes.
For more information on the Reeks District and plenty of ideas for other adventures in the region visit their website, reeksdistrict.com
Getting there
Return flights from London Stansted with Ryanair to Kerry Airport start from
£30 return.
Food and drink
Kate Kearney's Cottage - This delightful 19th century pub and shop in the Gap of Dunloe serves ideal fare for tired cyclists.


Sol y Sombra
A cosy tapas bar with a nice atmosphere inside what was once an Anglican church, with a big outside terrace.
Where to stay
The Glenbeigh Hotel
In the heart of the seaside town of Glenbeigh, this friendly hotel has twelve cosy rooms and a great restaurant. Double rooms from £77 per night.