Sponsored content
Whether you're planning a holiday in the Alps as a couple, family, with friends or simply as a solo traveller, the delightful village of Söll provides a superb base for exploring the incomparable nature and mountain experience of the impressive Wilder Kaiser massif. As one of the most scenic mountains in Tirol, the Hohe Salve mountain at 1,829m, is a particular highlight, From its summit you can drink in the glorious views of the Wilder Kaiser mountain range towards Söll.
Söll has easy access to an array of hiking treks through mountain woods, Alpine meadows and pine forests, boosted by the wonderfully efficient lift system across the SkiWelt, making it straightforward to hit the hiking and bike trails, and you can go for a trail run before taking a dip in one of the crisp mountain lakes to cool off.
Families are especially well catered for with seven mountain theme parks, including the famous world of the witches, the Hexenwasser.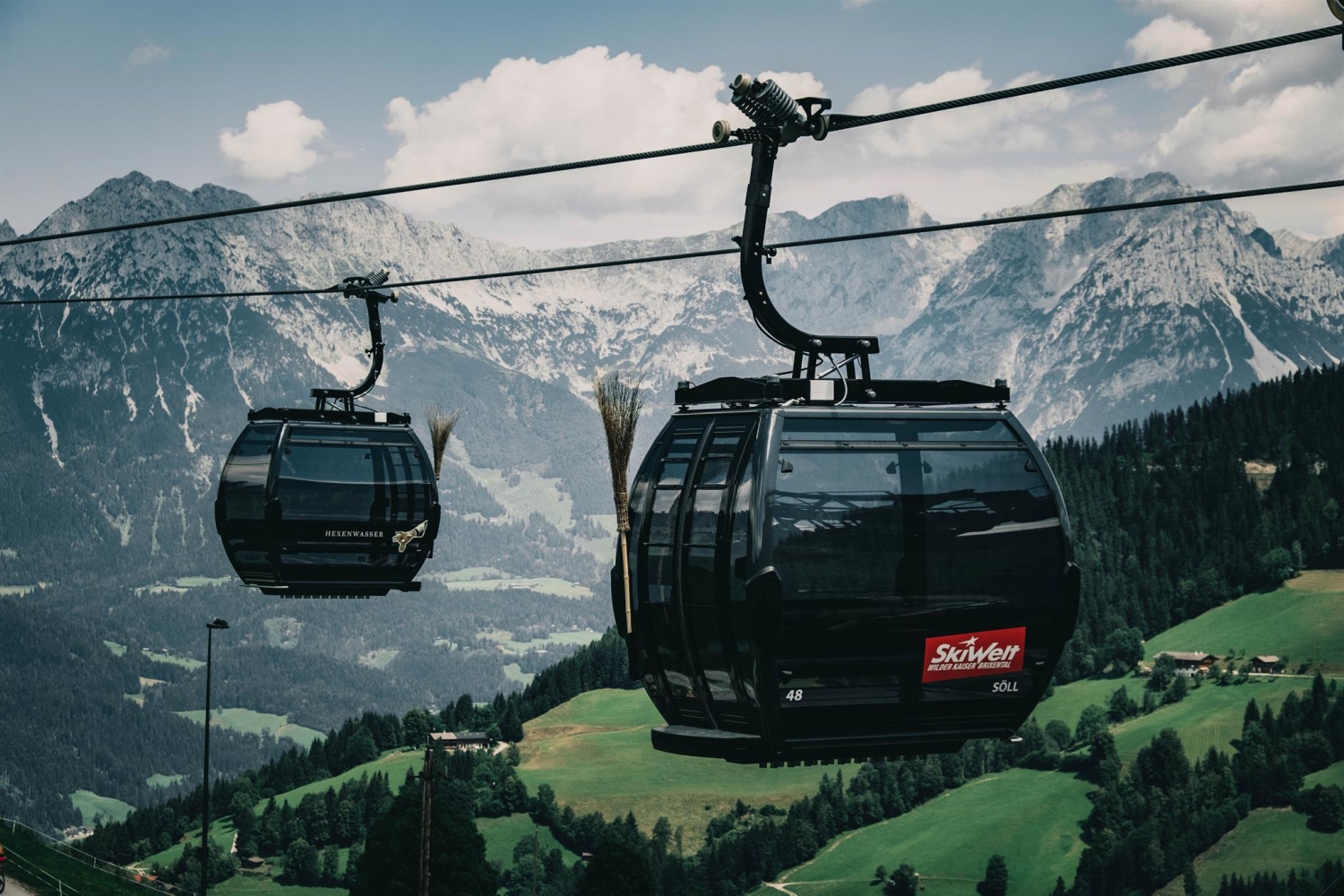 In numbers
400+km of hiking trails
350km of bike trails
7 mountain adventure worlds
200+ places to stay
40+ restaurants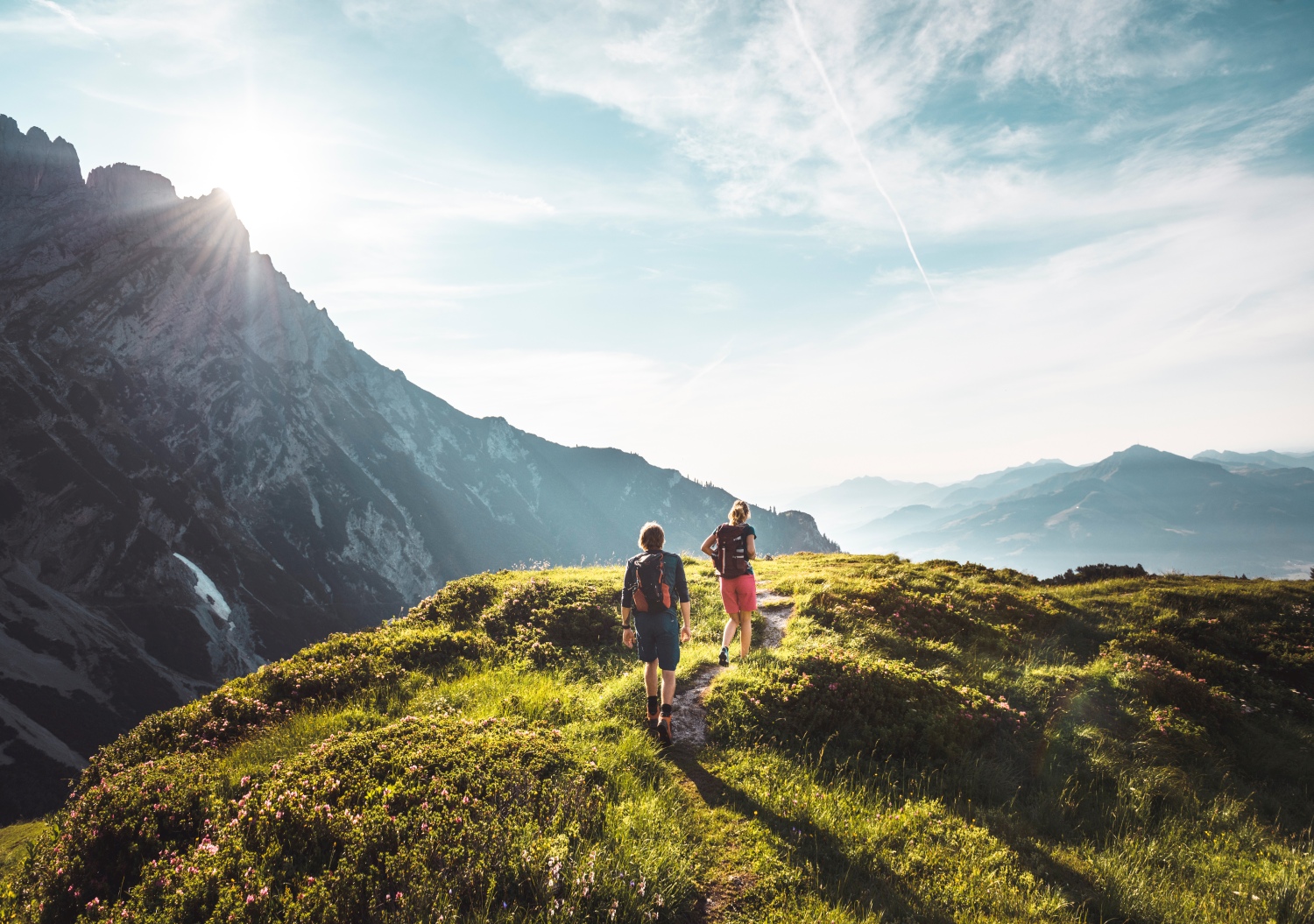 Where is Söll?
Söll is in the heart of the Austrian Tirol's SkiWelt region, set amidst the marvellous scenery of the Wilder Kaiser and the Kitzbuhler Alps. For UK visitors, the nearest airport is Innsbruck, which is only 78km away, and the journey takes about an hour by private transfer or rental car. There are train and bus connections too, but they take longer. Salzburg and Munich airports are also within 90 minutes' drive of Söll.
Why take a summer adventure holiday in Söll?
Part of one of Austria's biggest and most beautiful winter ski areas, summer in Söll brings out the sunny side of the region in a destination that seamlessly combines the rural and the modern. It's an active playground for hiking and cycling - including e-biking - and is perfect for a trail run. Here are just a few of the attractions: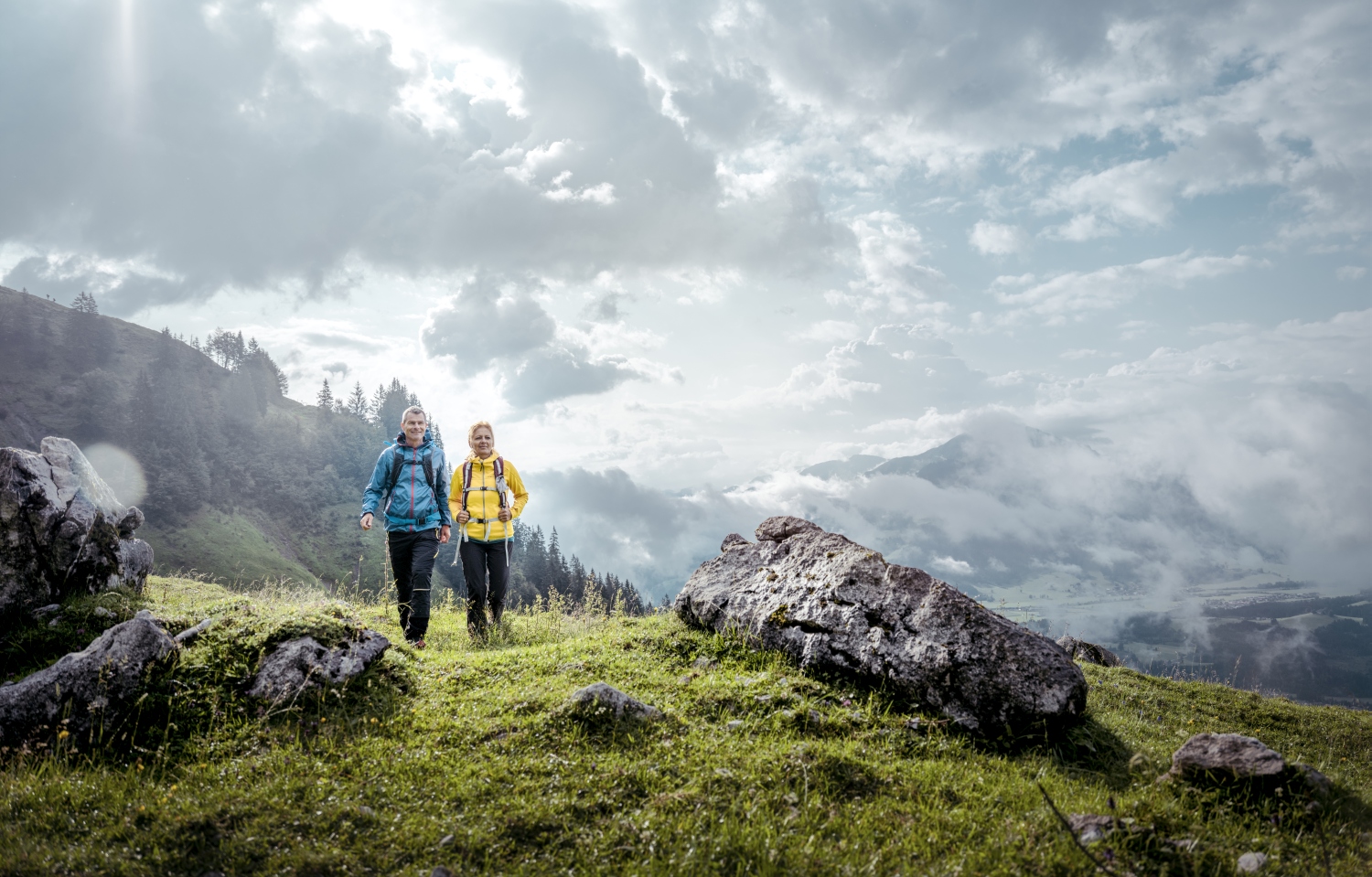 Find stunning hiking routes in Söll
Whether you're a beginner or an experienced walker, hiking in Söll has plenty to offer, with more than 400km of trails covering everything from a gentle village stroll to multi-day high altitude adventures.
In the valley and in the area of the Mountain Adventure Worlds, there are many family-friendly and easy hiking trails, some of which are also very easy to navigate with prams. Many tours can also be combined with trips on the Wilder Kaiser-Brixental cable cars, making accessing the higher mountain landscapes a breeze. Try the Sunnseitweg Circular Route, a 12km easy walk that highlights Soll's history and offers plenty of chances to sample the culinary delights and a sun-soaked local inn.
For walkers with more experience, there are nearly 50 marked trails of intermediate difficulty, and the chance to reflect on the day's events at rustic mountain huts offering delicious food and drink. The 3-day mountain hut hike along the Kaiserkrone on the south side of the Wilder Kaiser mountain range or a leisurely day hike in the Kitzbühel Alps are particularly recommended. Or try the summit cross from Söll to the Brandstadl - a 3hr, 5.6km hike with wonderful panoramic views.
This region is also a trail runners' playground., where the possibilities range from leisurely forest roads for beginners to steep climbs, serpentine paths, technically demanding trails or even skyrunning routes over the peaks of the Kaiser massif. The region also hosts two trail running events, the Kaiserkrone Trail in early summer and the Tour de Tirol in autumn.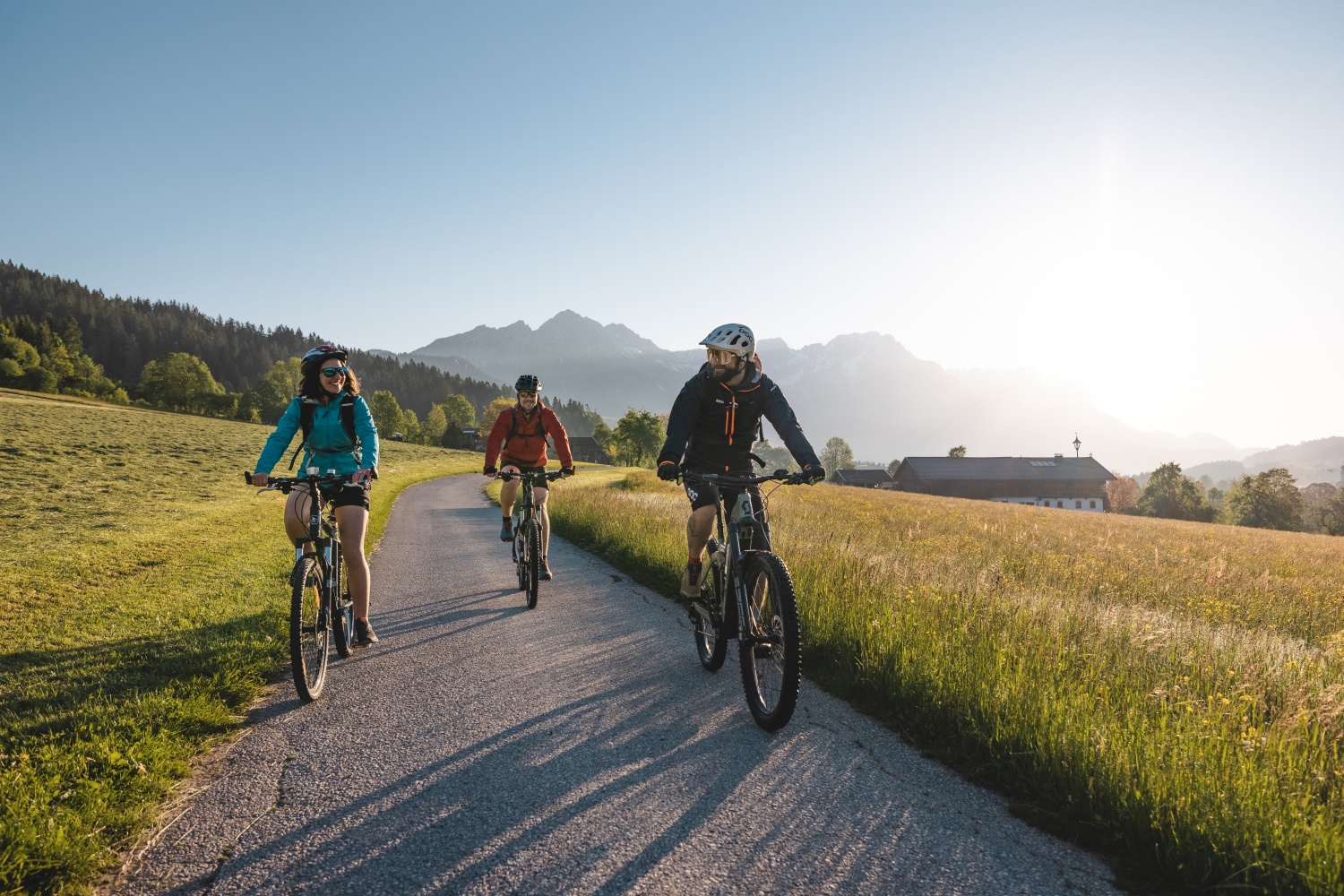 E-biking and cycling around Söll
Cycling in the Wilder Kaiser mountain range is a must for the entire family, and as one of the four wilder Kaiser villages, Söll is a great place for e-biking and gravel biking. It also boasts one of Austria's largest Bike Skills Parks.
Thanks to a route network boasting more than 350 km of cycling and mountain bike trails, fun, variety and challenge await cycling enthusiasts of all ages and ability. You'll be assured of a warm welcome in one of the many comfortable, quality-tested bike accommodations, while those who enjoy a self-guided cycling adventure can profit from route planners in addition to tips on rentals and service.
Cyclists wanting to stretch their legs should try the Kaiser bike trail - an 80km circuit that can be joined from Söll - or any of the other three villages of the Wilder Kaiser. This varied bike tour has many interesting sights to see and stop at, including beautiful lakes such as Walchsee.
The 38.5km Sölllandl circular cycling route takes you mainly on cycle trail no. 14 with various loops between the villages of Ellmau, Going, Scheffau and Söll. You can start the tour from any of the four villages and shorten or vary them as desired. Get to know the character of these four villages of the Wilder Kaiser region and their culinary delights, plus the always fascinating views of the Wilder Kaiser massif from various perspectives in the Sölllandl valley.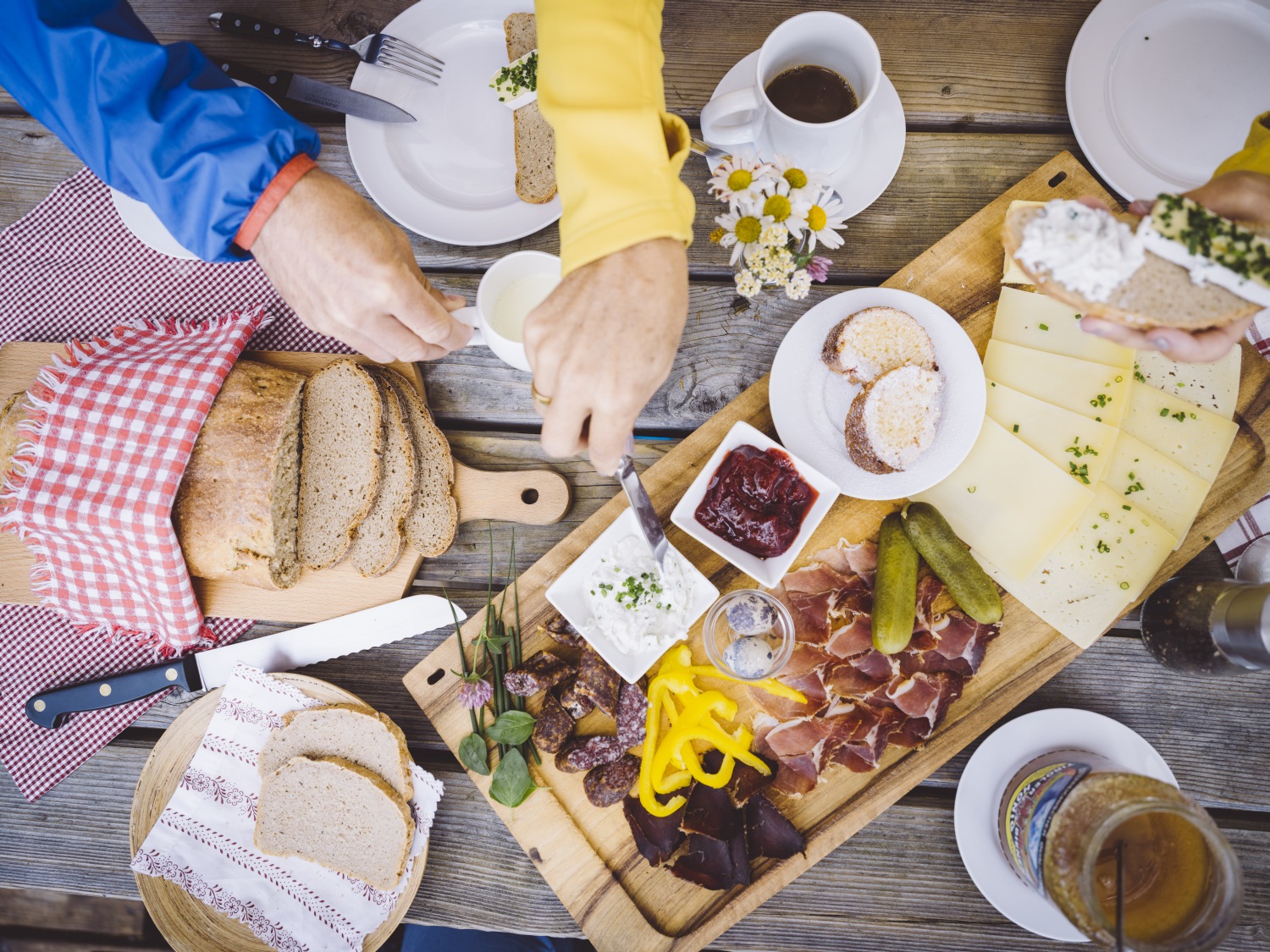 Sample the Tirolean cuisine in Söll
A holiday in Söll offers visitors the chance to enjoys superb regional cuisine bursting with local flavour and waiting to be enjoyed amid spectacular scenery in one of the 58 mountain huts that dot the landscape. Traditional home-style cooking such as Kaspressknödel cheese dumplings shares the menu with award-winning cuisine recognised by Gault&Millau. Superb restaurants from steak houses to traditional Tirolean. Try breakfast by the lake or on the mountain for a stunning experience.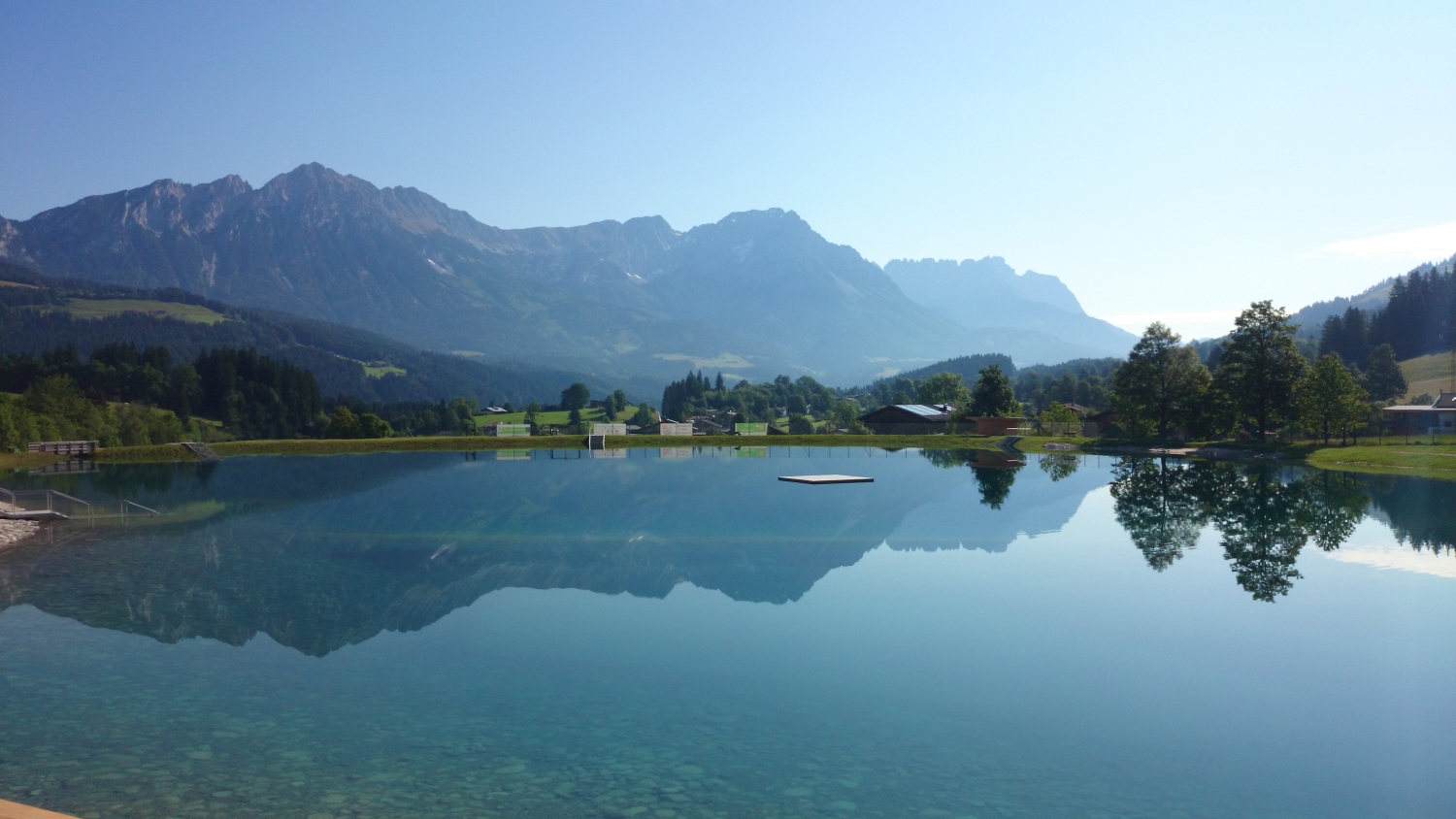 Cool off in Söll's clear mountain lakes
The 11m deep Ahornsee lake offers guests and locals alike a refreshing oasis for summer fun. The lake has four bathing bridges, a beach volleyball court, showers, a kiosk, a children's area with a reservoir, and water stations as well as deckchairs and sunshades.
The perfect destination for families in Söll
Families will especially love the mountain theme parks, such as The Mountain Adventure World Hexenwasser with its witchcraft-themed HeXpeditions. Hexenwasser has been delighting children and adults for more than ten years. Stations, paths and magical chambers can be explored partly on your own, partly under guidance.
To get back in touch with nature, try Austria's longest barefoot trail that leads over grass, bark mulch, massaging stones and rippling water to numerous stations where all the senses are addressed in a new way.
With llama trekking, canyoning and climbing to tempt you as well, Söll has your holiday sewn up!
For more information about taking a summer holiday in Söll, do to soll.tirol