Main image credit: Shinta Mani Wild
"The decisions that you make and the actions that you take upon the earth are the means by which you evolve." wrote Gary Zukav, and he could easily have been talking about our ten best eco hotels and lodges on the planet, where ethical living and wild adventure go hand in hand. Choosing to plan environmentally friendly adventure holidays and to stay in green hotels is an easy and rewarding way to put your money where your mouth is - after all, if we all chose eco-friendly accommodation when we travelled, sustainable hotels would quickly become the norm.
Going green has a big benefit, too - eco hotels are often to be found in the world's wildest, off-grid places where hiking, cycling and kayaking are right on your doorstep. We've chosen ten of the very best eco-friendly hotels around the world, from eco lodges hidden in national parks to tented camps where you can sleep outside under the stars.
Our choices vary from pocket-friendly stays to the last word in luxury hotels, but they all commit to using eco-friendly building materials, consuming water and energy in a sustainable manner, using locally sourced food and resources and respecting (and sometimes even improving) the local landscape and wildlife.
How you get to and from the world's best eco hotels is another environmental issue, of course. If you'd prefer not to fly in order to keep your carbon footprint down, hotels such as Borgo Pignano, our top eco-friendly hotel pick in Italy, are easy to access by train, or you could choose to stay in the UK and escape to The Scarlet, a wonderful property on the Cornish coast which is easily reached by public transport.
So, when the world opens up and we're able to travel again, head to any of our picks for an unforgettable holiday.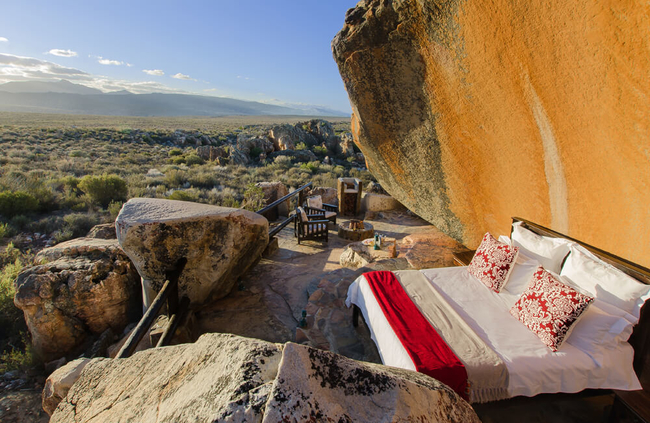 Image credit: Kagga Kamma
Kagga Kamma, South Africa
You may feel like you've landed on Mars at Kagga Kamma, where open-air bedrooms and cave-style rooms are built right into the pink rock formations of the Cederberg Mountains on South Africa's Western Cape. Kagga Kamma uses environmentally-friendly power sources including solar power to run their unique wilderness lodge.
Fall asleep under a sky full of stars (light pollution is non-existent here), then spend your day hiking or mountain biking on the myriad trails that criss-cross this harshly beautiful landscape - keep your eyes peeled for local critters ranging from aardvarks to zebra. Back at Kagga Kamma, you can cool off in a natural rock pool after your day in the wild.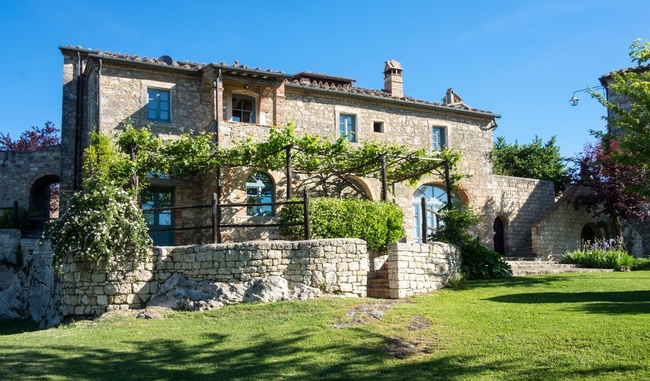 Image credit: Borgo Pignano
Borgo Pignano, Italy
Borgo Pignano is picture-perfect Tuscany. Look out of any window at this award-winning sustainable hotel and you'll see miles of rolling hills dotted with cypress trees leading all the way down to the Mediterranean. This 18th century villa is surrounded by 750 acres of olive groves and vineyards, perfect for peaceful rambles, horse riding and leisurely cycle tours.
Borgo Pignano is committed to protecting its wonderful surroundings – the villa was restored with eco materials and is fuelled by solar panels, and most of the food is sourced from the hotel's organic farm and vegetable gardens.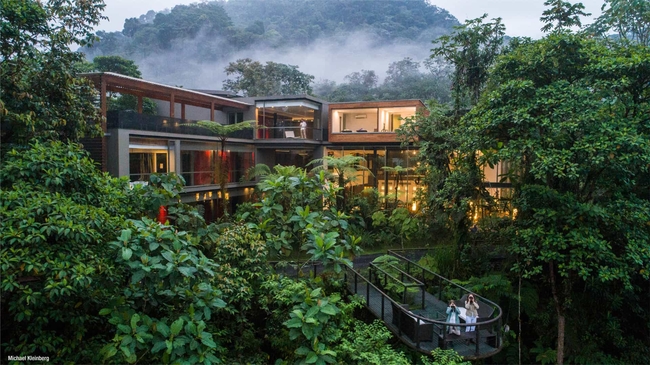 Image credit: Mashpi Lodge/Michael Kleinberg
Mashpi Lodge, Ecuador
Enter Ecuador's Choco rainforest, and somewhere in the 3,200 acres of sprawling ancient jungle you may stumble across stunning Mashpi Lodge. A clutch of awards recognise Mashpi as one of South America's - and the world's - top green hotels, and you really are immersed in nature here, with huge windows overlooking an ecosystem home to over 400 species of birds, trees and frogs.
The lodge was constructed to have as little impact as possible on its surroundings, and encourages local communities to work in conservation over traditional logging. What to do at Mashpi? The lodge reckons you should "get ready to trek down hidden paths, splash through rivers, rise at dawn to spot rare birds, or fly high above it all aboard our Dragonfly canopy gondola." There's also a resident biologist who can take guests interested in conservation on hikes to gain a scientist's perspective on the cloud forest ecosystem.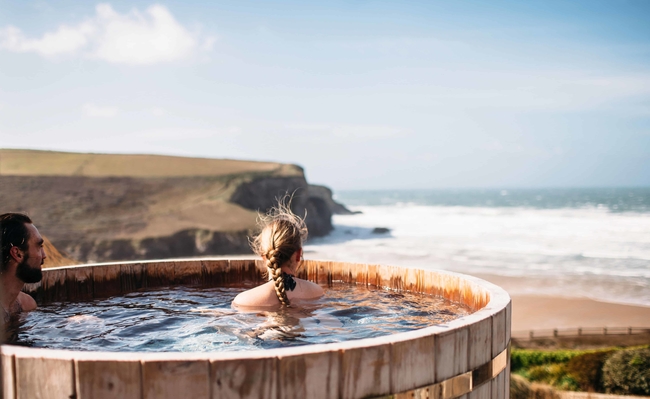 Image credit: The Scarlet 
The Scarlet, England
Grown-up, sexy, decadent - not always words applied to eco hotels, but the smart, adults-only Scarlet near Newquay in Cornwall manages to be them all. The modern, sustainable design is all clean lines and huge glass windows, bringing the ever-changing ocean in the deceptively simple bedrooms. The cosy restaurant is a wonderful place to sample locally-sourced Cornish treats, but best of all is outside, where a seaweed-strewn natural outdoor pool and two wooden hot tubs perch loftily above Mawgan Porth Beach.
The hotel has a list of 111 ways it works to be eco-friendly, which show great attention to detail, and The Scarlet Hotel also supports Surfers against Sewage and CoaST, Cornwall's sustainable tourism initiative.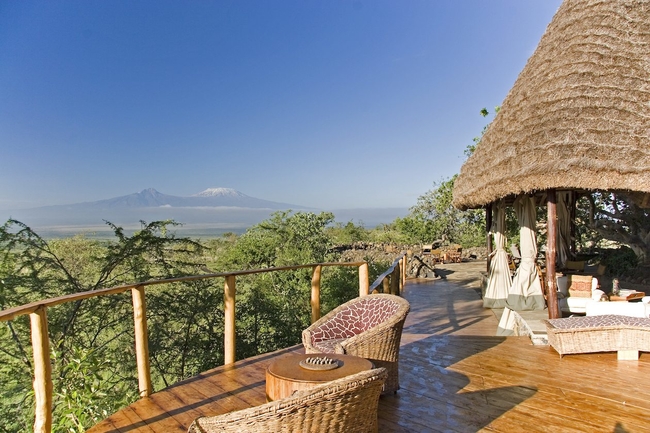 Image credit: Campi Ya Kanzi
Campi Ya Kanzi, Kenya
Can you safari sustainably? That is the question that Campi Ya Kanzi is here to answer. This multiple award-winning boutique ecolodge is at the heart of a 283,000 acre Maasai-owned reserve in Kenya's heartland, an endlessly varied landscape of savannah, volcanic summits and cloud forest.
Campi Ya Kanzi aims to live in harmony with its epic surroundings - hot water and electricity come from solar power, rain water and used water are recycled for the use of local wildlife and the lodge offsets the carbon footprint of every guest. 16 guests at a time can stay in a mix of luxury villas and tented cottages - either way, real wilderness home to lions, leopards and giraffe is all around you.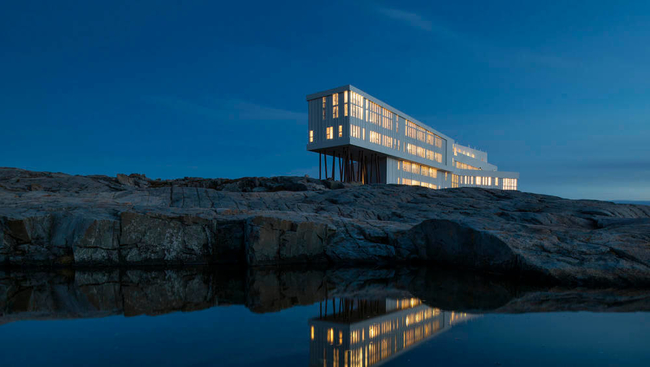 Image credit: Fogo Island Inn
Fogo Island Inn, Canada
'Atmospheric' doesn't even begin to do justice to Fogo Island Inn, which is to be found on an 'island off an island' - Fogo Island to be exact, off the coast of Newfoundland on Canada's eastern coast. Perched on stilts right above the ocean, this futuristic architectural masterpiece is also a green hotel worthy of its wild natural surroundings.
The hotel was constructed using sustainable building materials, runs a recycling program, uses solar and wood-burning energy sources and serves up delicious local and organic food. Whether you sit and watch icebergs float by out to sea or go and kayak among them, this hotel really feels like you've reached the ends of the earth.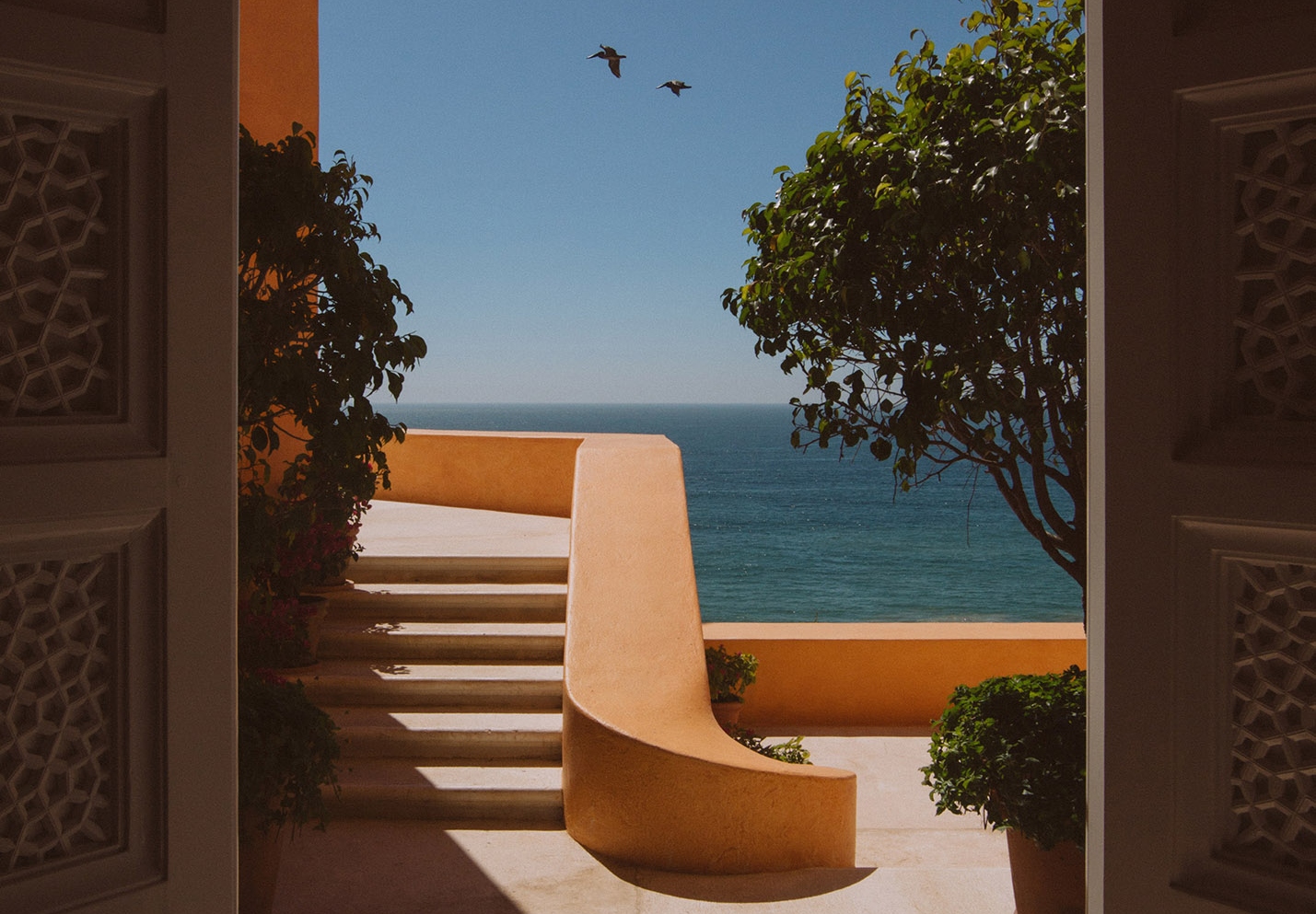 Cuixmala, Mexico
Step off the white sands of Cuixmala Beach on Mexico's Virgin Coast and right into the quirky beauty of this opulent hotel. Once the home of eco-warrior millionaire James Goldsmith, Cuixmala is now a seriously luxurious hotel with an equally serious focus on working in harmony with nature.
Stay in the main villa or in small lodges dotted in the grounds and get ready to go exploring - wildlife abounds on the 30,000 acre estate (which itself is a UNESCO biosphere reserve), and you can meet the resident zebras, help out on the estate's biondynamic farm, which provides 90% of the hotel's food, walk along miles of hiking trails or meet the new arrivals at the estate's own turtle hatchery.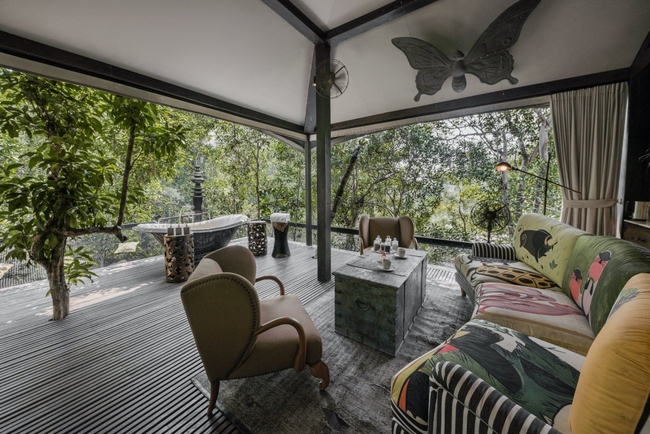 Image credit: Shinta Mani Wild
Shinta Mani Wild, Cambodia
Head deep into Cambodia's Cardamom Mountains to unearth this otherworldly eco camp, where 15 luxurious tents make the perfect base for hiking in the surrounding tropical jungle. Shinta Mani Wild is a conservation success story - buying this land helped to save it from logging and make this river valley into a wildlife corridor, and staying here is a big vote for ecotourism in a country where conservation efforts are key to the future of tourism.
The Shinta Mani Foundation also has a keen eye on supporting local communities, offering help with schooling, small business sponsorship and sustainable farming. Splash out and go kayaking or tubing down the wide river before returning to your seriously swish tent to be lulled to sleep by the sound of the nearby waterfall.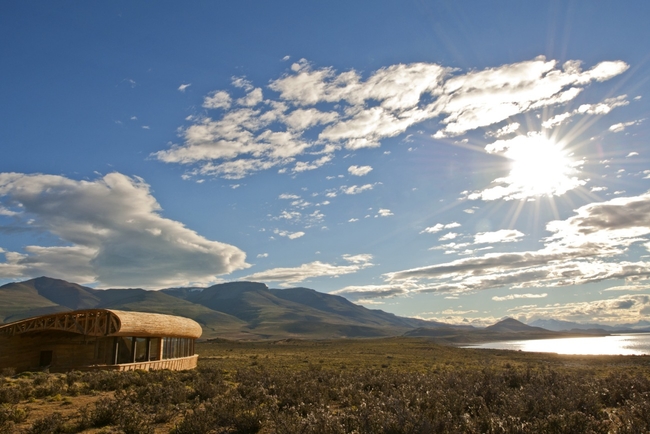 Image credit: Tierra Patagonia
Tierra Patagonia, Chile
This hotel looks like nothing else on earth. Tierra Patagonia is a sustainable eco lodge on the edge of Chile's Torres del Paine National Park, and its jaw-dropping architecture make this sweeping building look like it landed in this glorious wilderness from outer space.
The hotel was designed and built using locally sourced materials and is run with as little environmental impact as possible. Tierra Patagonia's pared-down luxury makes it the perfect base for heading out on some of the best hiking and cycling routes in the world among Torres del Paine's soaring mountains and rolling grasslands.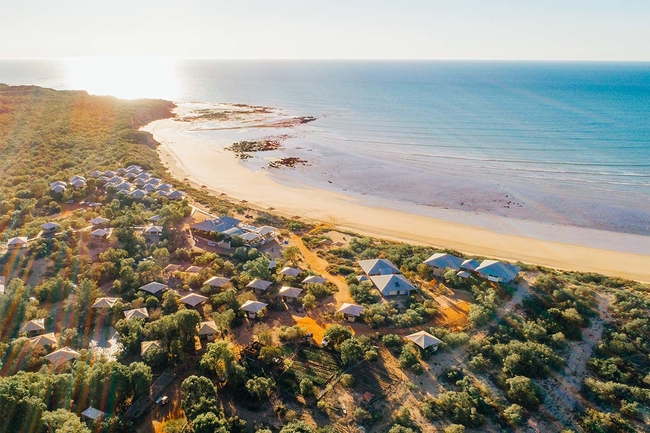 Image credit: Eco Beach Resort
Eco Beach Resort, Australia
Eco Beach is green by name and by nature. At this sprawling resort on Western Australia's Kimberley coast you can choose from roomy eco villas linked by elevated wooden boardwalks, eco-friendly tented rooms or a stay in the Beach House, right on the edge of the ocean, where kayaks and paddle boards are available if you fancy taking to the water.
The strong Australian sun means the resort can be solar powered year-round, and water and drinking water comes from the hotel's own bore hole. There are some fascinating residents to meet down on the beach during part of the year - from June to September you may spot whales out to sea, and between October and December flatback turtles make an appearance on the sands.