Walking poles will make your hiking so much easier, taking pressure off the vulnerable knee joints and spreading the impact of walking. On the face of it, walking poles are a simple thing, but get a badly built pair and you risk falling and injuring yourself when the pole fails or snaps.
Walking pole construction
Most poles are made from lightweight but strong aluminium which also has an element of 'give' leading to natural shock absorption. Some trekking poles have a built-in antishock system to further lessen impacts, but the jury is out on whether these offer any real benefit. Although most poles are aluminium, there are many lightweight carbon fibre options available. These reduce swing weight, reducing fatigue in the arms on longer walks. Lighter poles have the added benefit of being easier to carry when you're not using them. Most hiking backpacks have some form of pole carry system, and most poles are collapsible to a manageable size for carrying on or in your backpack. 
Walking pole grips
Trekking pole handles are made from real cork, synthetic cork, or foam. Real cork handles are known for being the most comfortable, best at moisture management, and having the most secure grip. This comes at a cost though, as walking poles with cork handles tend to retail for £10-£20 more than their foam equivalents.
Foam handles can be comfortable too, just make sure that they have some form of moulding, as the foam will not conform to your hand. 
Most decent trekking poles will have an extended foam grip, which allows you to slide your hand down the pole when ascending, rather than stopping and adjusting the length.
Walking pole adjusters
Talking of adjusters, these are incredibly important. Good ones will be easy to use but offer a secure, reliable grip on the shaft of the trekking pole. This is the main area where cheaper trekking poles lag behind those from the likes of Leki and Black Diamond. Get a pair of walking poles from one of these brands in your hands and you will immediately appreciate the precision engineering and build quality.
The best walking and trekking poles
Leki Makalu walking poles, £110
Best walking poles for durability and reliability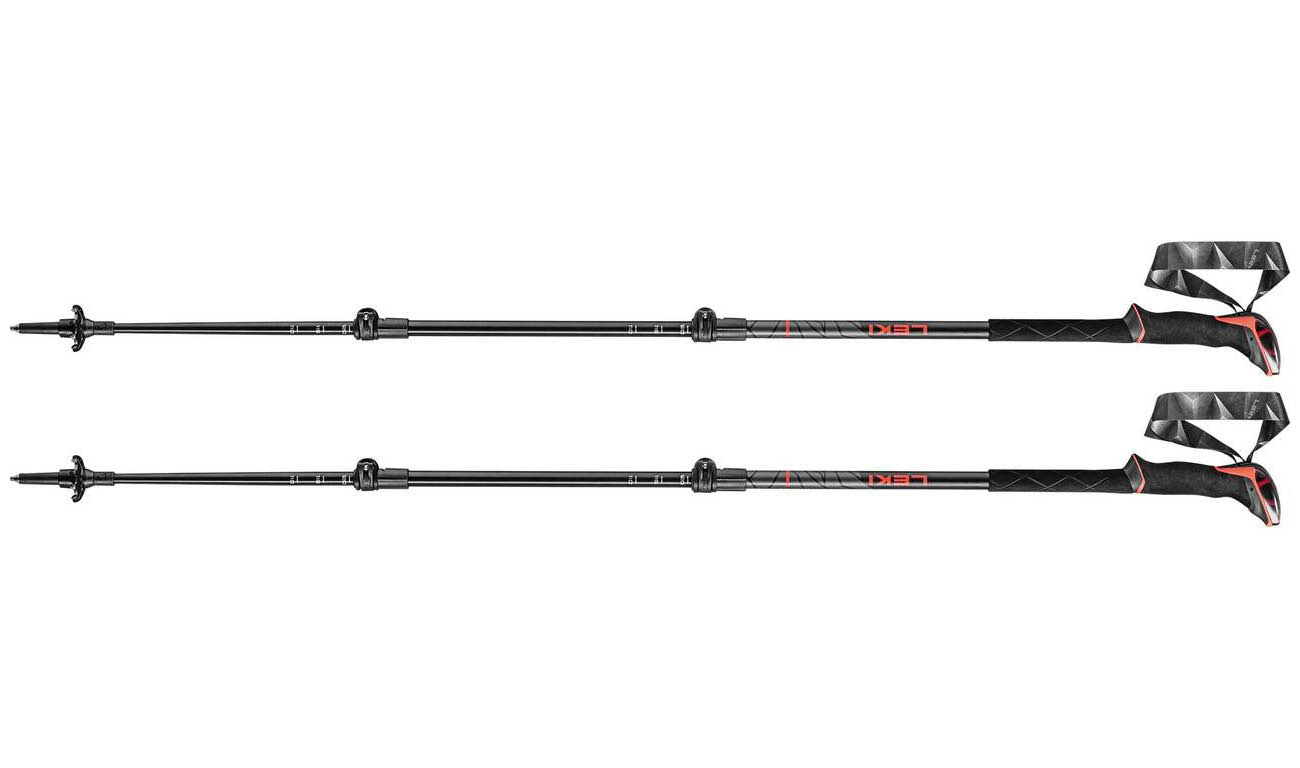 Leki's Makalu walking poles are equipped with the latest generation of Aergon Air grip. This grip is specifically designed for trekking with a hollow core technology that allows for a lightweight construction while providing large, supportive surfaces that sit nicely in the hand.
The rubberised grip head on the Aergon Air provides maximum control when going downhill, and the inclined head angle aids in optimal pole placement, which helps to reduce fatigue in the arms and hands.
In terms of construction, the Leki Makalu walking poles are top-notch. The aluminum tube design is stable and sturdy. The continuously adjustable Vario construction allows the Makalu walking poles to be used at lengths between 110-145 cm, which is perfect for a range of heights and quickly switching between ascent and descent where the foam grip extension also comes in handy. The locking system, Speed Lock plus, is supremely reliable and ensures that the poles stay at the desired length throughout your hike.
The Leki Makalu walking poles weigh in at a fairly portly 598g and the three-section design allows for a small folded pack size at a compact 71cm, making these walking poles reasonably easy to stow away in your backpack but not as light or compact as some.
The Leki Makalu walking poles come equipped with Trekking 2.0 baskets and Flex Tips, which provide excellent stability and grip on a variety of terrain. 
Overall, a sturdy and comfortable walking pole that won't let you down.
Buy Leki Makalu walking poles: £99.90 at Amazon <<Best Deal>>
Buy Leki Makalu walking poles: £110 at Blacks
Black Diamond Trail Cork Trek Walking Poles, £85
Best 4-season walking poles
These poles are designed for year-round use, making them a versatile option for any hiker or backpacker. The 7075 Aluminum shafts provide excellent durability while keeping the weight to a minimum. Speaking of weight, these poles weigh in at a mere 486 grams per pair, which is pretty impressive for a 4-season pole.
Although walking poles with cork grips tend to run a little more expensive than poles with foam grips, cork tends to conform to your hand better, wicks moisture away, and offers a more secure grip. The premium 100% natural cork grip of the Trail Cork Trek walking poles is soft to the touch, ergonomic, and provides an excellent feeling in the hand. The EVA foam grip extension is also a nice touch, allowing you to move your hand down the pole when ascending. 
The Fusion comfort strap provides excellent support, distributing the weight of the pole evenly across your wrist and hand. The strap is adjustable, so you can easily find the perfect fit for your hand size.
The Trail Cork Trek poles adjust with Black Diamond's super sturdy Flicklock system, extending the poles between 100-140cm. When collapsed, they measure a very compact 62cm, making them easy to pack and transport.
Another great feature is the interchangeable carbide Tech Tips. These tips provide excellent traction on rocky or uneven terrain, and they're easily swapped out for the Rubber Tech Tips (sold separately) if you're hiking on smoother surfaces. The 4 season flex tips with both trekking and snow baskets included makes these poles versatile for any season.
If you're in the market for a pair of cork-handled trekking poles that are comfortable, durable, and versatile, the Black Diamond Trail Cork Trek poles are well worth considering.
Buy Black Diamond Trail Cork Trek Walking Poles: £84.02 at Amazon
Decathlon Forclaz MT500 Walking Poles, £32
Best budget walking poles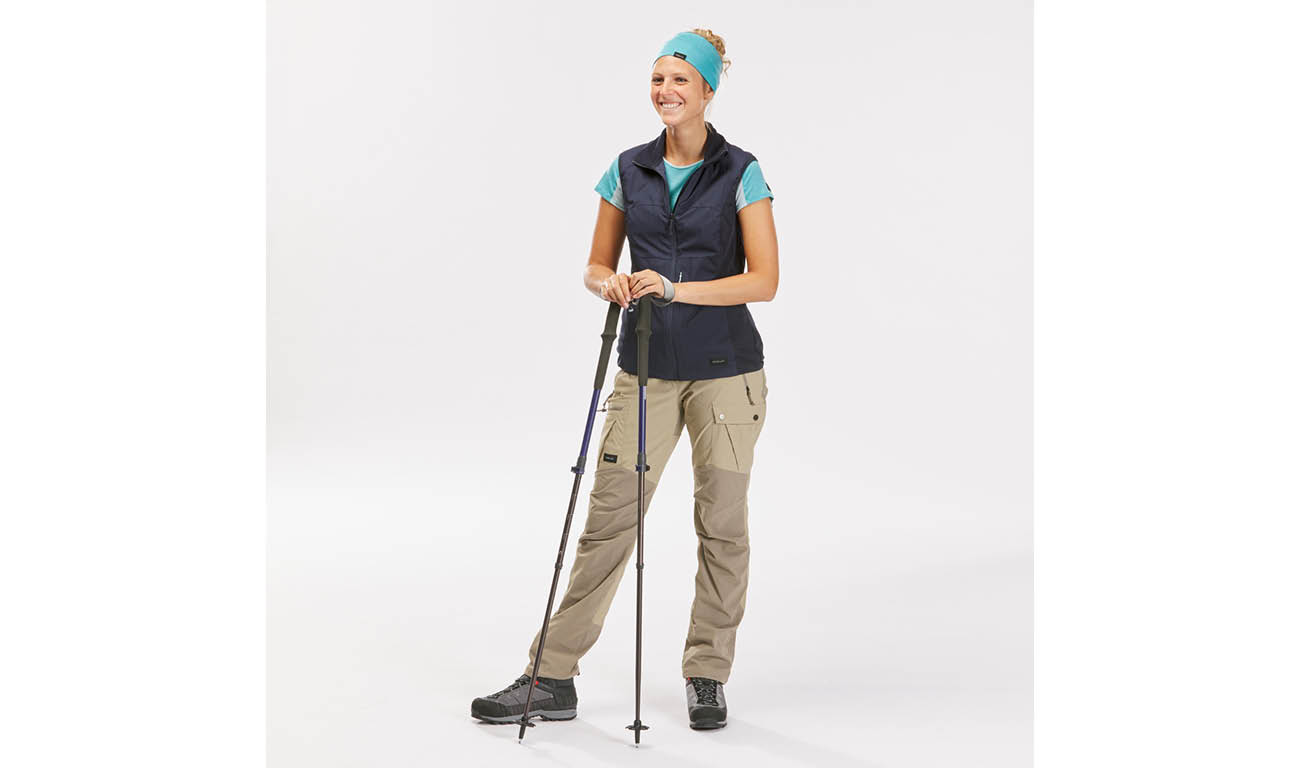 These walking poles are somewhat bizarrely sold in singles, but buy a pair and you will be in for the usual Decathlon bargain, with the grand total for two coming in at a shade under £32.
At that price, you're getting basic walking poles but if you're a casual hiker, trying out walking poles for the first time, or you're on a budget then the Forclaz MT500 Hiking Poles may be for you.
The foam grip is ergonomically shaped but fairly basic, and the dense foam isn't the best for sweaty hands. The long 3D design means you can adjust your grip depending on the terrain, moving your hand down the pole on ascents.
The locking system is sturdy enough and allows you to quickly and easily adjust the poles to your desired height, from 105-130cm. The 3 telescopic sections collapse down to a length of just 56cm, making these some of the most compact walking poles out there. Weight is also impressive at just 480g per pair, reducing fatigue while on the move and when stowed in your pack.
Durability is a prime consideration when it comes to walking poles, and despite being cheap the Forclaz MT500s are built to last. Made from aluminium 7075-T6/6061-T6 these poles are strong and sturdy enough to handle tough terrain. The MT500 walking poles are supplied with a small-diameter summer basket but other baskets are available separately.
All in all, the Forclaz MT500 walking poles are an excellent choice for those on a budget.

Leki Micro Vario Carbon walking poles, £165
Best lightweight walking poles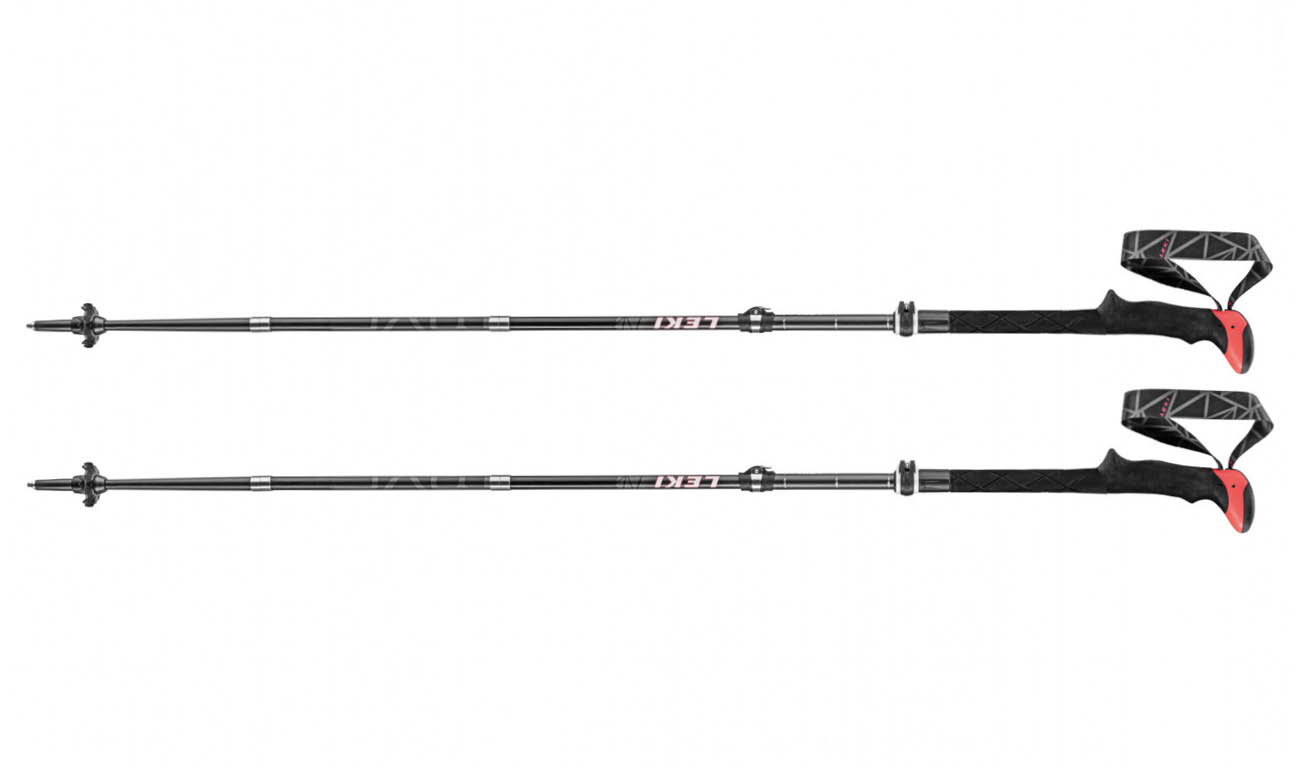 The best walking pole depends on its intended use, but for us, weight, packability, ease of use, hand grip comfort, and support are key factors. The Micro Vario Carbon poles excel in all these areas.
The SpeedLock 2 system on the Micro Vario Carbon poles makes adjusting the length easy and intuitive, with an adjustable dial for varying the strength of the holding force. These collapsible poles fold down to just 38cm, making them more compact than any on this page. Weighing in at a mere 468g for the pair, the Micro Vario Carbon poles are also ultralight.
The all-carbon construction of the Micro Vario Carbon poles provides excellent support and compliance over variable terrain, albeit with a slightly different feel from aluminum poles. These poles come with their own stuff sack and are suitable for anything from country walking to trekking in the Himalayas or ski touring in the Alps.
While the Micro Vario Carbon poles are on the more expensive end of the trekking pole market, their exceptional performance justifies their price tag.
Buy Leki Micro Vario Carbon walking poles: £164.95 at Amazon
Buy Leki Micro Vario Carbon walking poles: £145.95 at Alpine Trek

Trailbuddy walking poles, £35
Best budget 4-season walking poles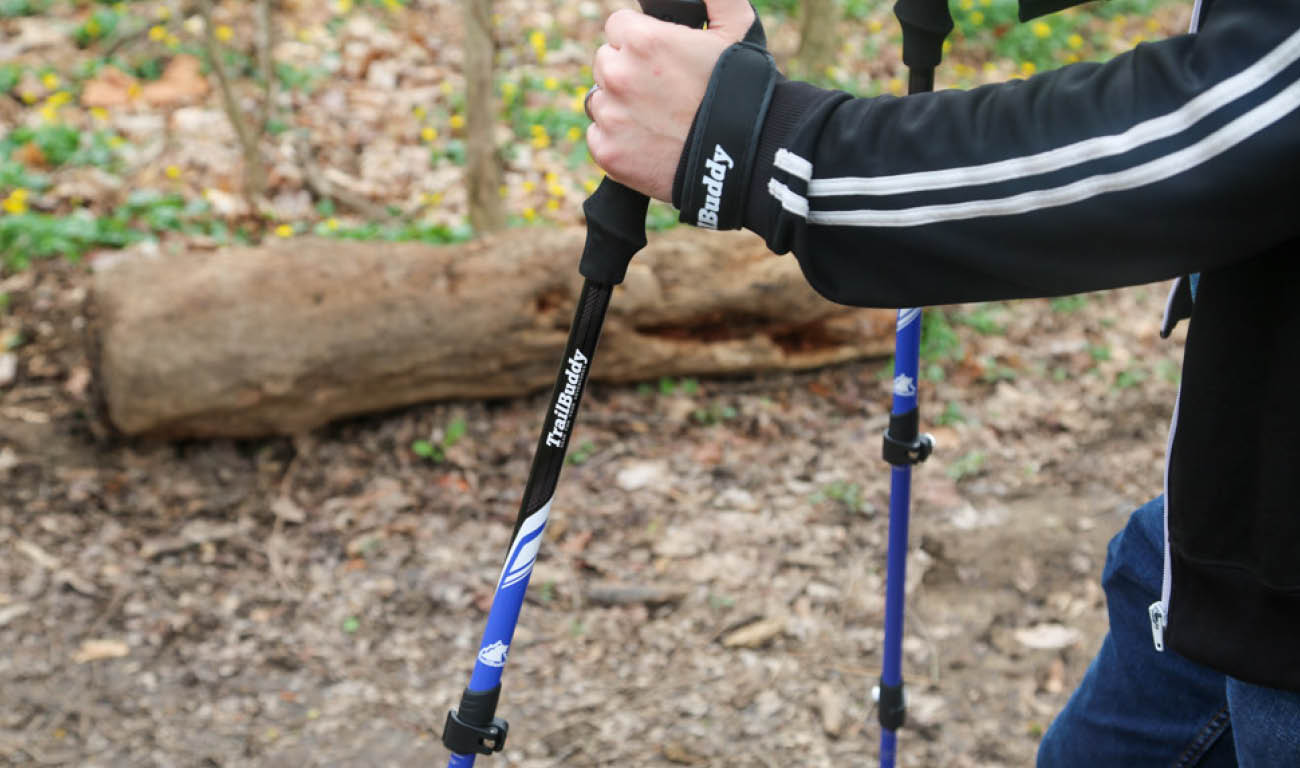 With nearly 50,000 Amazon reviews, these walking poles have been put through their paces, so don't write these off for not being from a big-name brand.
The Trailbuddy walking poles are definitely built to last, made with strong aircraft-grade 7075 aluminium, and decently put-together locking mechanisms that hold strong on downhill sections.
Trailbuddy claim these are adjustable from 62-137cm but we would only reasonably take the extended length to be true, as most walking poles have an operating length at the shorter end which in the case of these would be around 110cm. 
Coming with both mud and wider snow baskets, the Trailbuddy poles are suitable for summer and winter use and the threaded rubber pole tips keep the included accessories securely attached.
The moisture-wicking cork handles will mould to the shape of your hand for a secure and comfortable grip and the included bag is perfect for storing them at their packed 62cm length. This is very reasonable at this price point and compliments the low 550g weight nicely.
Buy Trailbuddy walking poles: £35.99 at Amazon