Hike your heart out on one of the best walking holidays in the UK. Home to no less than 10 national parks, 2,500 miles of official trails, 120 epic mountains and a winding coastline edged by car-free pathways, the endlessly varied landscapes of Great Britain make for rewarding hiking holidays all year round.
Even when we're allowed to travel abroad again, the added bonus of going on a walking holiday in the UK is that all of the island is easily accessible by car or public transport, so there's no need for the expense or carbon footprint of a long-haul flight. Whether you want historic hikes, countryside adventures, weekend routes or guided walking, and whether you dream of conquering a tough mountain trail and camp along the way or of a relaxed ramble along the coast with stops at cosy B&Bs, there are walks and routes for everyone in Britain.
Where can I go walking in the UK? 10 Best Walking Holidays UK:
Yorkshire Dales, Yorkshire
Walk through the rugged beauty of the Yorkshire Dales once and we guarantee you'll want to come back here again and again. The toughest bit of a Yorkshire walking holiday is choosing which trail to start with - do you fancy hiking along the winding drystone walls of Wensleydale, following the 52 mile-long James Herriot Way through the valleys, discovering Ingleton's roaring waterfalls or hiking across blustery Horse Head Moor?
Inn Travel's relaxed walking holidays are a great introduction to a new county, and their Yorkshire Dales bimble takes on the best of the Dales in four days (hiking ten miles a day), making it ideal for a long weekend of walking.
BOOK IT: inntravel.co.uk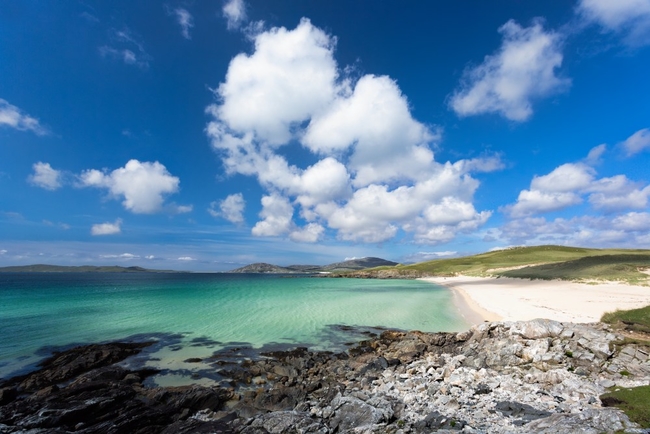 Hebridean Way, Outer Hebrides, Scotland
We can't think of a more beautiful backdrop for a long distance hike than the Outer Hebrides archipelago in northern Scotland. A 156-mile hiking route connects 10 islands, six causeways and two ferries, making it a doddle to hike all the way from Vatersay to Stornoway on one easy to follow trail.
The weather and the tough terrain (as well as the midges!) make this a challenging route at any time of the year, but it's well worth it to walk among towering mountains and past beaches that look so blue you could be in the Caribbean. The path is split into twelve sections, and Alpine Exploratory offer a great self-guided 12-night version of the route.
BOOK IT: alpineexploratory.com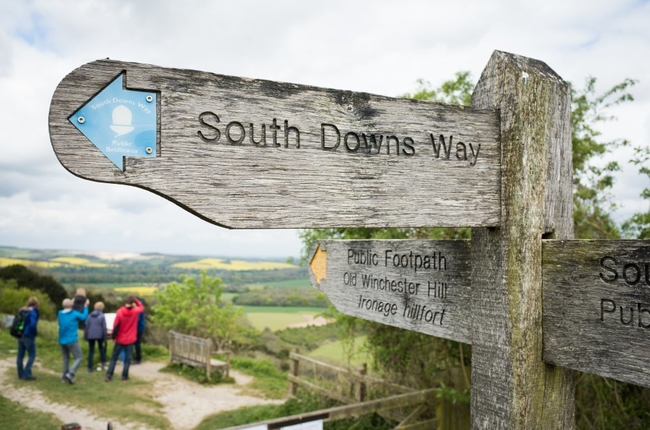 South Downs Way, Hampshire
Got a week or so to spare and fancy a walk in the wild? The rolling South Downs Way, one of England's best National Trails, makes for the perfect achievable challenge to complete in one walking holiday. Hike from Winchester to the beaches of Eastbourne across 100 miles of ridge line, following quiet walking trails and bridleways as you cross through Hampshire, West Sussex and East Sussex. This is a relaxed, uplifting walk – you'll come across pretty villages and traditional pubs, as well as bronze age barrows and ancient hill forts.
There's also plenty of wildlife to spot, including rare species of butterflies. Macs Adventures offer eight, nine and ten-day self-guided walking holiday versions of the 100-mile walk.
BOOK IT: macsadventure.com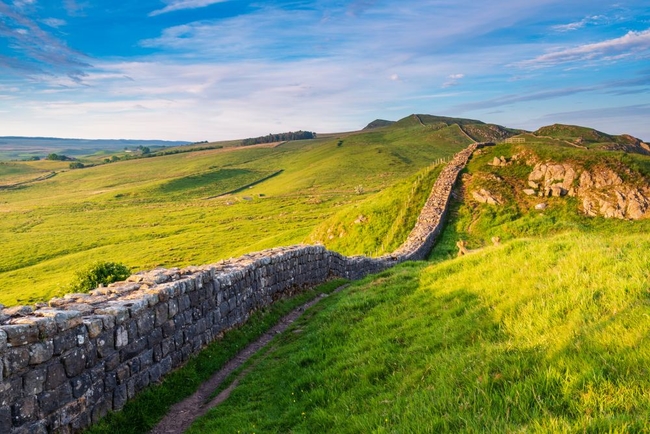 Hadrian's Wall, Northumbria
If you like your walking holidays drenched in history, look no further than Hadrian's Wall, which has stood proudly protecting the wilds of Northumberland and Cumbria since 128 AD. Once built to guard the wild north-west frontier of the Roman Empire, it now makes for an amazing walking route, its trail leading walkers past the Roman forts of Birdoswald, Vindolanda, Housesteads and Chesters. If you're pressed for time, The Adventure People offer a four-day Hadrian's Wall hike that takes in the best of the trail.
BOOK IT: theadventurepeople.com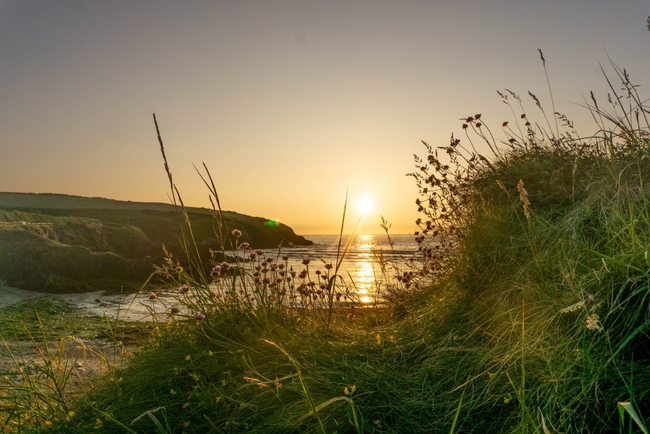 Pembrokeshire Coast Path, Wales
Constantly voted one of the best walks in the world, let alone in Britain, Pembrokeshire's lush coastline is best explored along the coast path that winds along the ocean for 186 miles from Amroth Castle to Cardigan Bay and passes through Britain's only coastal national park.
Wildlife lovers can keep their eyes peeled for seals and dolphins in the ocean below, and it's easy to clamber down to the many white sand beaches that line the trail for a break on a beach, making this a wonderful summer walk. The Pembrokeshire Coast Path is still a challenge, though - its 35,000 feet of ascent and descent is said to be equivalent to climbing Everest. If you'd rather explore it on a guided route, HF Holidays offer a seven-day guided hike.
BOOK IT: hfholidays.co.uk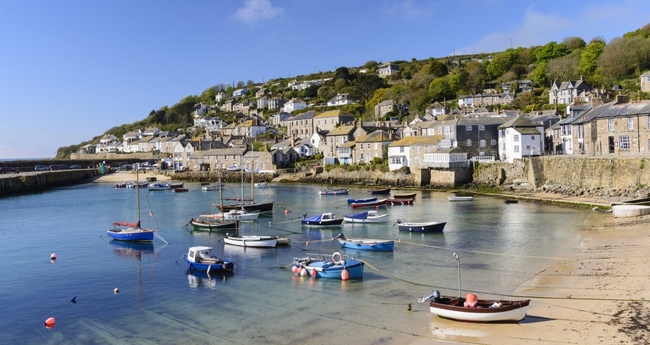 South West Coast Path
Whether you complete it in many sections over a lifetime or take on the whole epic 630 miles in one go, the South West Coast Path is bound to charm you. Running from Minehead in Somerset and along the coasts of Devon and Cornwall to reach Poole Harbour in Dorset, this hike is a real challenge - but it rewards walkers with incredible coastal views around every corner.
This well-signposted national trail hugs the coastline and passes through plenty of villages and towns with great accommodation options, so it's one of the best English walking trips to do on a self-guided basis. The South West Coast Path website lists week-long itineraries covering around 12 miles a day along the coastal path.
BOOK IT: southwestcoastpath.org.uk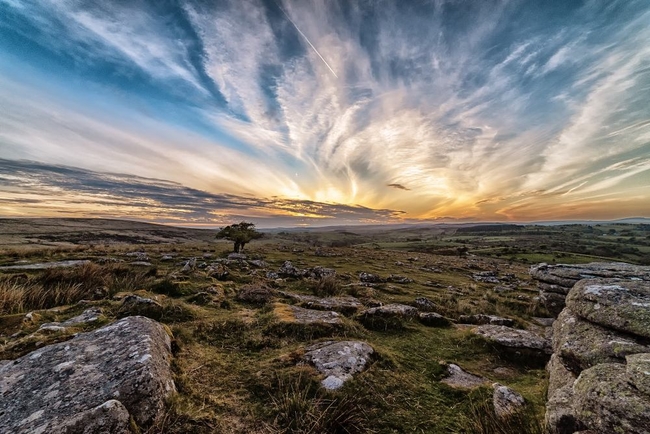 Dartmoor, Devon
There's nowhere else in Britain quite like weird and wonderful Dartmoor, which has a mood and landscape (and quite often, a weather system) all of its own. Dartmoor is just 20 miles from north to south and from east to west, but it's still endlessly varied, with open, grassy moorland, tall stacks of rocks called tors looming on the horizon and charming ancient woodland home to deep rivers, perfect for a swim.
The best thing about hiking on Dartmoor is that you can freely wild camp, making it perfect for a multi-day walking holiday. There are plenty of circular trails to follow if you want to go self-guided, and if you want help with planning a route and sorting accommodation, Encounter Walking offer a stomping 90-mile, six-day self-guided hike along The Dartmoor Way.
BOOK IT: encounterwalkingholidays.com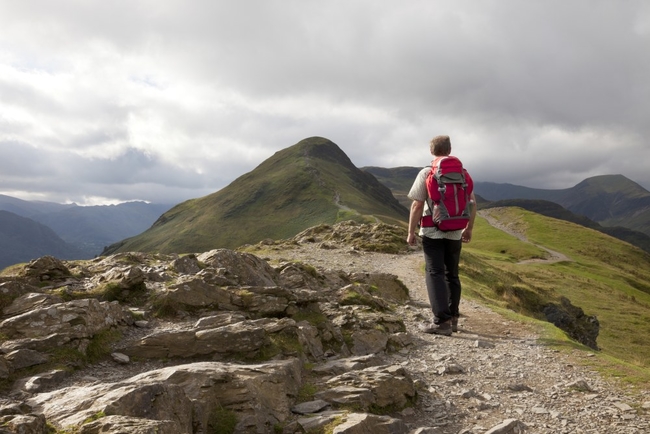 Lake District, Cumbria
Follow in the footsteps of the walkers who have journeyed to this stunning corner of Britain for hundreds of years to walk its mountains and gaze down on its sixteen spectacular lakes. The best walking to be found in the Lake District is in spring and autumn, when the snow has melted but the summer crowds aren't in evidence.
There are wonderful trails across the Lake District to suit all abilities, but if you're up for a challenge, we recommend the 72 mile-long Cumbria Way (usually walked in five to eight days), which passes through Keswick, Coniston and Ulverston and follows lake shore paths with views of the high fells. Mickledore offer a self-guided five-day walking holiday of the Way.
BOOK IT: mickledore.co.uk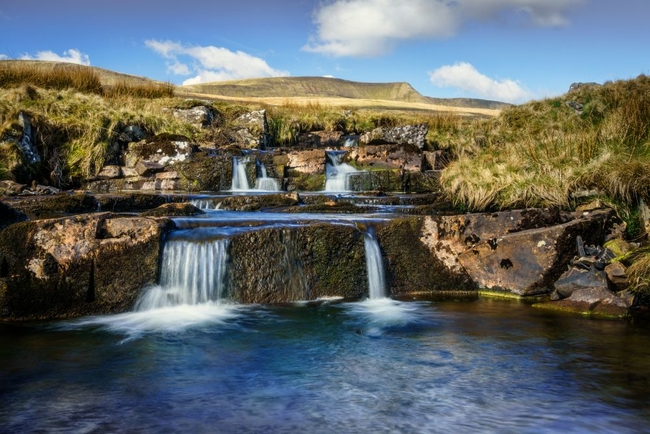 Brecon Beacons, Wales
Dreaming of a holiday full of mountain summits? The verdant Brecon Beacons National Park in South Wales is the perfect destination for a walking holiday if you want to tick off a different hill hike every day.
If you want to base yourself in just one campsite or holiday cottage for your walking adventure, you'll find famed mountains and hills all around this easily accessible Welsh national park, including Pen y Fan, Corn Du, Cribyn and Fan y Big. Alternatively, the eight-day Beacons Way runs the length of the park over 99 miles, and is easily broken down into 10-mile sections.
BOOK IT: breconbeacons.org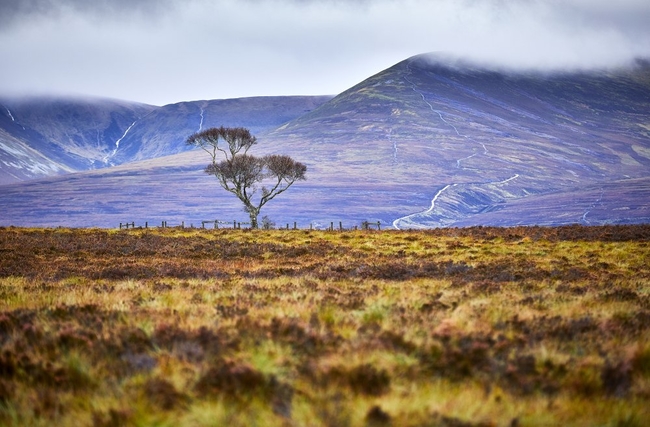 Cairngorms National Park, Scotland
For wide-open wilderness, you can't beat the Cairngorms National Park in eastern Scotland. A great way to reach this remote area is by riding the Caledonian Sleeper night train from London - imagine going to sleep in the city and waking up ready to hike in the heart of the mountains. At 4,528 sq km, this is the biggest national park in Britain, with trails to suit all levels of ability and plenty of longer distance routes such as the 65 mile-long Speyside Way to tackle.
You can also wild camp or stay the night in a bothy on a multi-day hike. Not sure where to start? Wilderness Scotland offer a wonderful six-night guided itinerary through the park, covering a relaxed five to six miles a day and including a day following an old whisky smuggler's trail.
BOOK IT: wildernessscotland.com