Sponsored content
From challenging mountain tours to leisurely valley jaunts to epic road rides – the Kitzbühel Alps are a genuine summer cycling paradise. Its 800km of mountain bike routes offer breath-taking views of Kitzbühel's extraordinary mountains, with a variety of tours to suit every kind of rider.
Meanwhile, Kitzbühel also has a wide network of road routes covering a total of 1,200km. Keen riders eager to take on a challenge will relish tackling the steepest bike mountain in Austria, the Kitzbüheler Horn – with a continuous gradient of up to 22% over just 10km and around 890m in altitude, endurance and stamina are required here.
For those less able to take the strain of an epic climb, e-biking is a growing trend here! With an electric bike that adapts to all fitness levels, anyone can stick a map in their backpack and jump off to explore our mountain landscape.
Over 80 destinations can be reached by e-bike from Kitzbühel – from a leisurely ride to a mountain bike tour followed by a downhill trail, there are no limits for e-bikers.
Biking is a great way to keep fit and a long day on the trails gives you a fantastic excuse to take advantage of all of the traditional cuisine on offer in Kitzbühel. 60 rustic mountain huts will tempt you with delicious regional delicacies with locally sourced produce, along with wonderful Austrian wines, traditional beers and exciting new craft ales.
You'll also find a scattering of wonderful gourmet restaurants in Kitzbühel town centre as well as the surrounding villages. A visit to the local tourist office will help you find some of the best places to eat.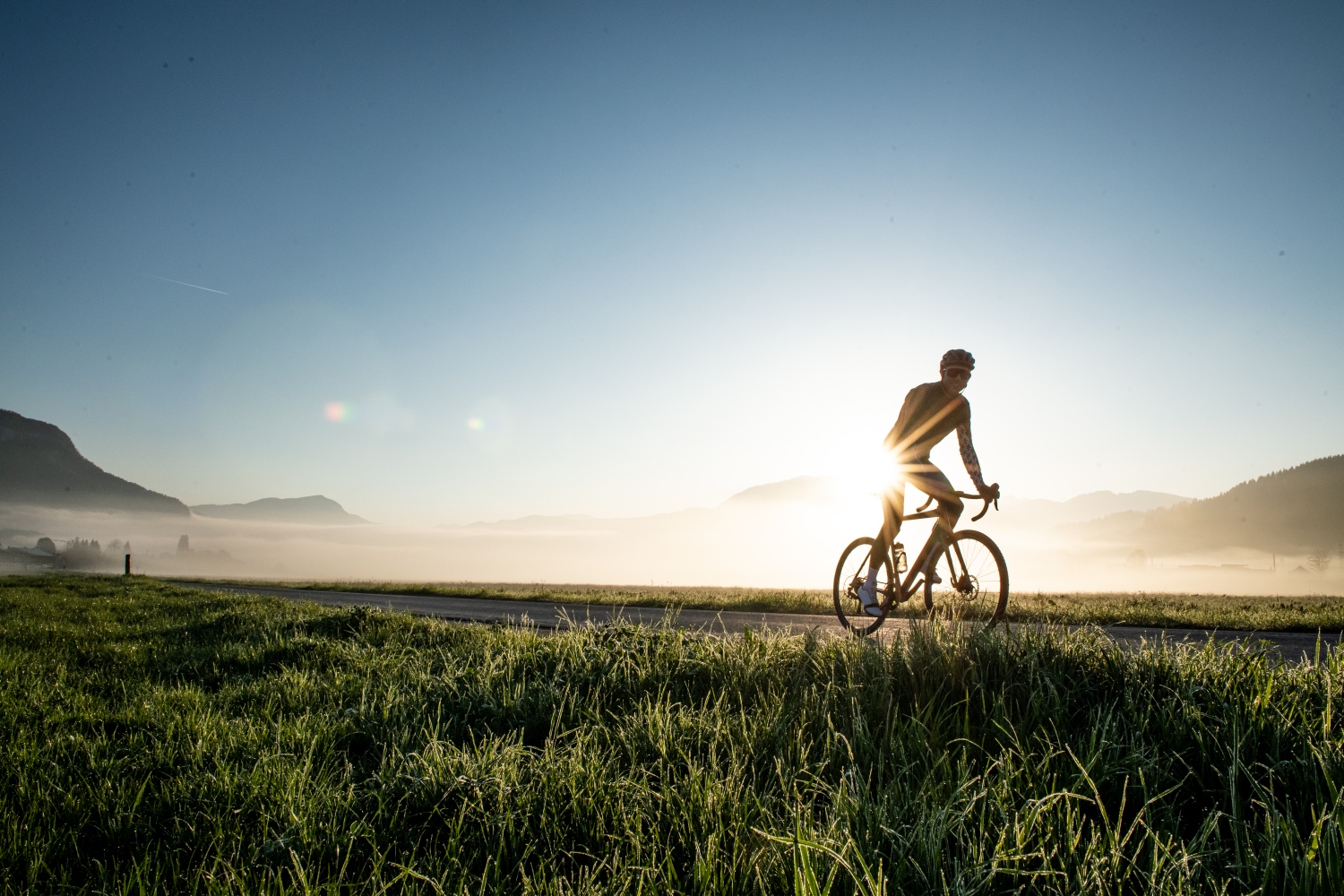 Where is Kitzbühel?
One of the top international year-round destinations in the Alps, Kitzbühel lies in the heart of the Austrian Tyrol region, framed by the famous Horn, the South Mountains and the famous Hahnenkamm. One of the most legendary sports towns in the Alps, with its resort villages Reith, Jochberg and Aurach, Kitzbühel offers an enticing Alpine lifestyle all year round.
The picturesque historic town centres, friendly locals, the strong tradition and pristine nature of the region combine with wonderful local cuisine and a wide range of outdoor activities to make this a perfect holiday destination.
Getting here is also straightforward, with regular flights from the UK to Munich (120km), Innsbruck (95km) and Salzburg (80km). And once here, you'll soon discover that Kitzbühel operates one of the largest and most modern mountain cable car networks in the world - even in summer!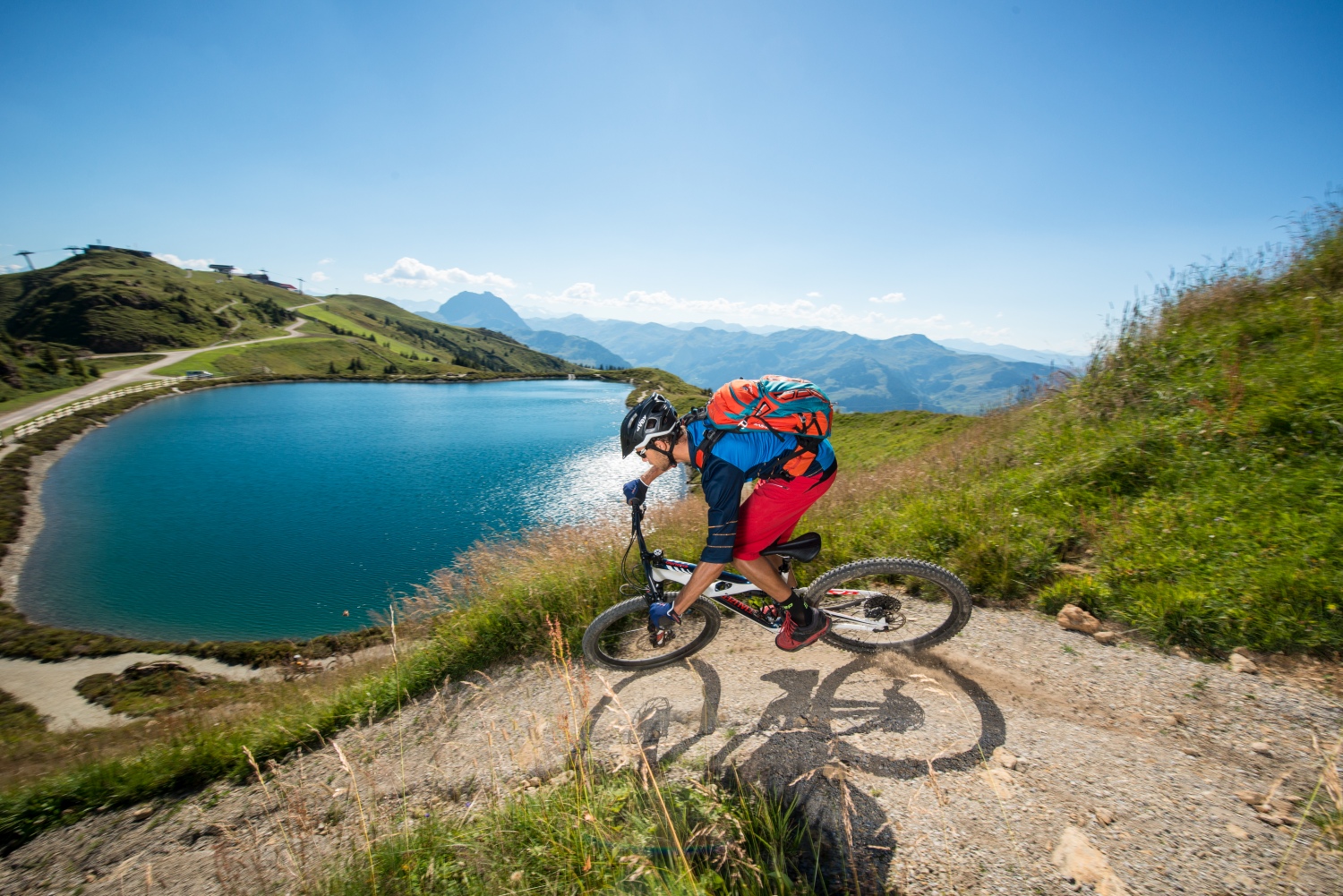 What is the biking terrain like in Kitzbühel?
Whether on mountain bikes, road bike or e-bike, the Kitzbühel Alps have got something to offer novices and expert riders alike.
Several cycling events take place here and it's the final stage in the Tour of Austria: the climb to the Kitzbüheler Horn – the steepest biking mountain in the country. Once a year, the pros sprint up the road to the Alpenhaus at a maximum gradient of 22.3%. The rest of the summer, the road is open to all biking enthusiasts – and you'll get timed, too.
Those who prefer a less steep but just as strenuous excursion can choose from 14 racing bike tours with a total length of 750 miles and more than 5,900 feet of elevation. The cycling routes cover the most beautiful roads in the Tyrolean lowlands, with tours into the neighbouring regions of Salzburg Pinzgau and even to the Grossglockner.
For mountain bikers, the 500 miles of MTB trails and routes take in everything from easy valley trails, through to alpine pastures and grassy mountains, and to challenging single track trails, including the spectacular, flowing Hahnenkamm Bike Trail. If you want to save your strength for the descent, just take a cable car, gondola or chairlift to the top. For example, the Gaisberg chairlift is your access to two great downhill descents - the Gaisberg Trail and the Lisi Osl trail
For e-bikers, the Gamsstadt is part of the largest e-biking region in the world, with an extensive charging network to top up your battery if it runs out of energy before you do!
With so many bike routes to choose from, a guided tour will often help cyclists get the most out of a cycling holiday here. The bike pros from Kitzbühel Tourism will take you to the most beautiful spots – and pass on great tips for cycling technique.
Or if you want to ride out on your own, the fantastic interactive maps at maps.kitzbuehel.com make finding routes, planning trips and exploring new cycling tours in the Kitzbühel Alps a breeze. The interactive tour portal makes it easy to prepare for your adventures, with ride options, distances, difficulty levels and altitude profiles all easily accessible.
With numerous cycling routes as well as hiking, running and Nordic walking routes, it's simple to discover the perfect adventure for you. You can even download GPS data direct to your phone for easy access on the go. 
The best cycle routes in the Kitzbühel mountains:
From day-long rides to epic descents, try these top cycle routes in the Kitzbühel Mountains.
Mountain bikers: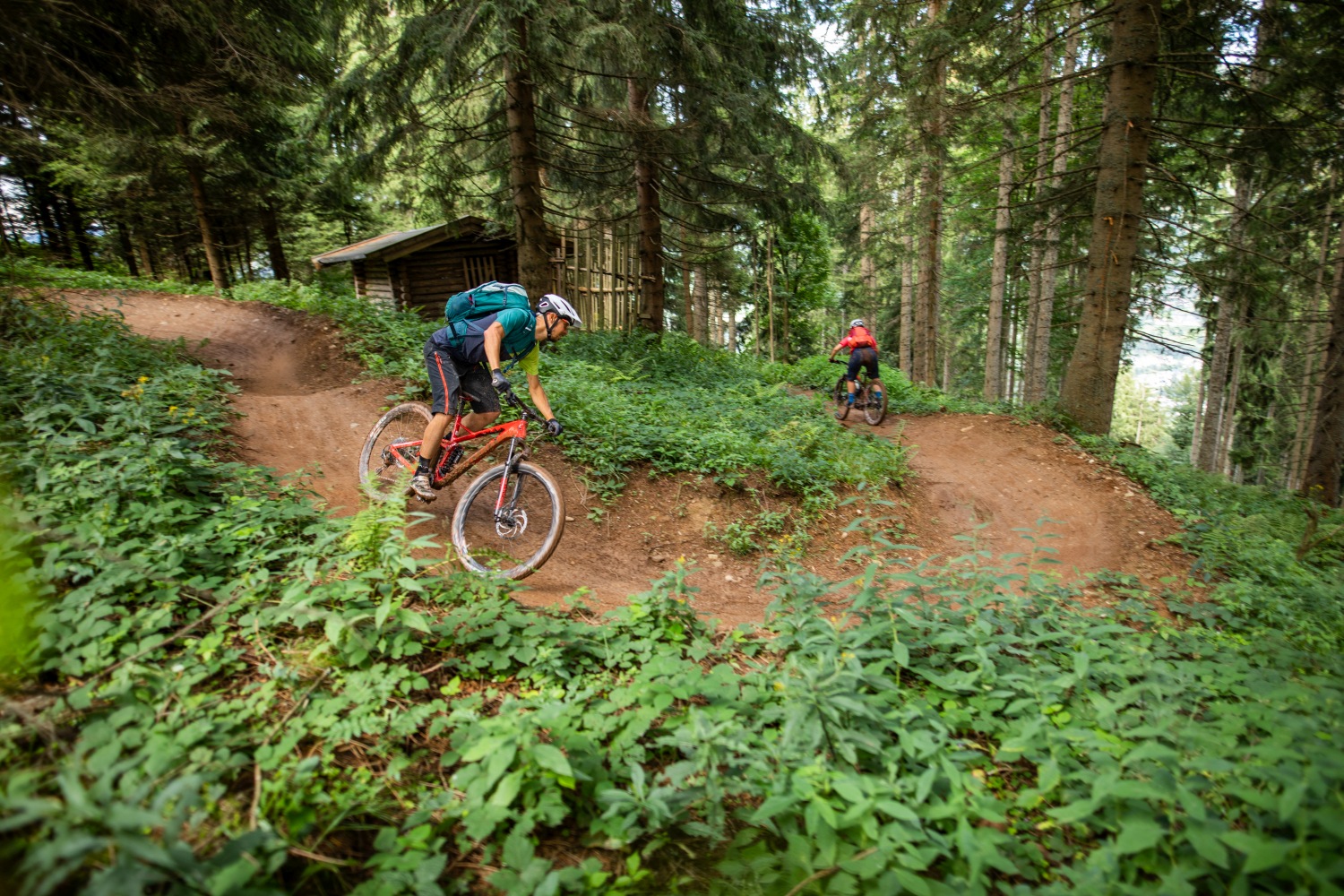 Hahnenkamm Trail
Distance: 8.4km
The trail starts at the mountain station of the Fleckalmbahn and heads over the Hahnenkamm (with its famous 'Streif' descent loved by skiers in winter) down into the valley. The blue-rated trail on the Hahnenkamm is the longest of its kind in Tyrol and a must-ride for any keen mountain biker.
The route is family-friendly, with simple sections and playful elements as the trail blends skilfully into the natural landscape, making great use of the curving pastures, undulations and jumps as well as natural obstacles. Only occasionally does the beautiful sight of Kitzbühel encourage you to kill your speed and enjoy the views.
Find out more about this route here: kitzbuehel.com
Fleckalm Trail
Distance: 9km
This moderately difficult bike ride starts in the district of Klausen near Kirchberg iT. Beginning on paved road, it continues on the forest path, running uphill through meadows and forest in several sweeping bends to the Gasthaus Fleckalm. Here the forest begins to fall away and the tour continues uphill through meadows to the Ehrenbachhöhe.
At the top, bikers can refresh themselves at the reservoir and several mountain huts will tempt you into relaxing for a little longer. To return to the starting point, experienced bikers can descend via the black Fleckalm trail (MTB 293) or go back along the same route.
Find out more about this route here: kitzbuehel.com
Hansler-Burgstall
Distance: 4.5km
An average grade point-to-point uphill trail, this route takes you through lush green forest to the Hansleralm and on to the Burgstallalm as you gain altitude. From there you have a wonderful view of the Sintersbach waterfall, the spectacular peaks of the Hohe Tauern National Park, Teufelssprung and Kuhkaser.
Find out more about this route here: kitzbuehel.com
Road cyclists: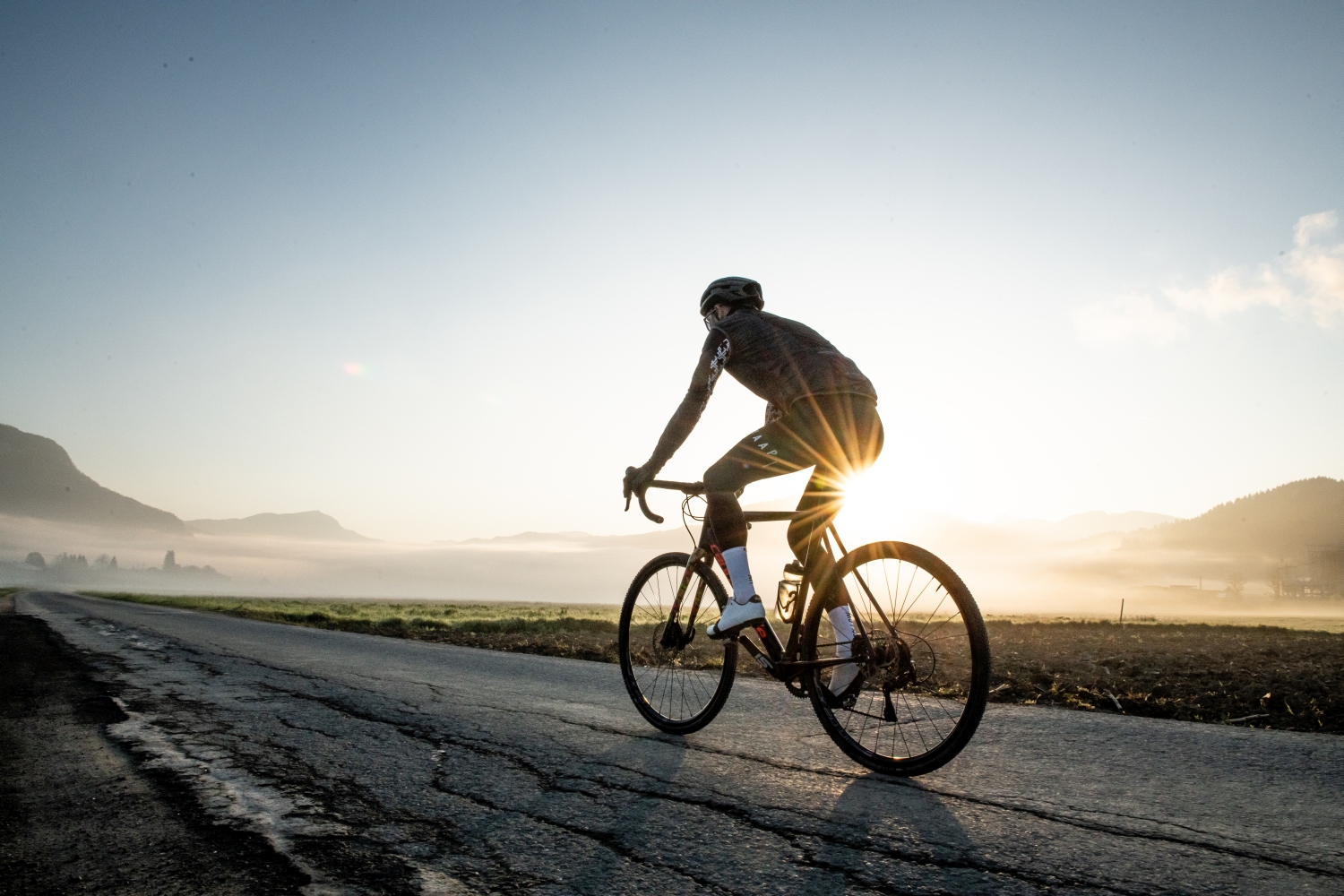 Kitzbühel Circuit, Tour No.1
Distance: 28.4km
The short Kitzbühel 'home circuit', this tour follows pretty side roads with wonderful scenery. It includes a rapid downhill descent until just before the centre of Obendorf, via the Dorfbachweg past the districts of Sperten und Weitau to the charming mountain town of St. Johann in Tirol.
You can pause here to rest your leg muscles and explore the town, before joining the Römerweg (Roman Road). You will ride a few kilometres of this unpaved roadway, taking in lovely farm houses and rolling hillsides, before circling back to Kitzbühel. This route is also suitable for families and e-bikers.
Find out more about this route here: kitzbuehel.com
Kitzbüheler Horn, Tour No. 4
Distance: 10.3km
The "horn" is legendary. With gradients of up to 22.3%, it is the steepest mountain that you can cycle in Austria.
A truly epic uphill ride, you'll start in the centre of Kitzbühel and make your way along the panoramic road. Soon you will reach the official start of the Kitzbüheler Horn Mountain Bike Race, where it's well worth taking a short break before the full ascent as there are practically no rest opportunities once you get going – just 875 m climbing over 7.1 km and 18 curves, with average gradient of 12.5%, peaking at that leg-straining 22.3%.
The finish is the Alpenhaus (1,666 m) on the 'Horn'. Course record holder Thomas Rohregger set a best time of 28 minutes 24 seconds. Think you can beat it?
Find out more about this route here: kitzbuehel.com
Around the Wilder Kaiser, Tour No. 8
Distance: 88km
One for those looking for a lengthier tour, this is a day in the saddle to remember. This beautiful and varied circular bike route around the Wilder Kaiser, rewards riders with unbeatable views of some impressive rock formations and the chance to ride through some truly impressive Kitzbühel countryside.
A particular highlight is the beautiful approach to the Walchsee lake, where you can pause to appreciate the peace and quiet. After this relaxing break, get the blood pumping again and enjoy a rapid descent to the centre of St. Johann in Tirol, before returning to Kitzbühel via the Römerweg.
Find out more about this route here: kitzbuehel.com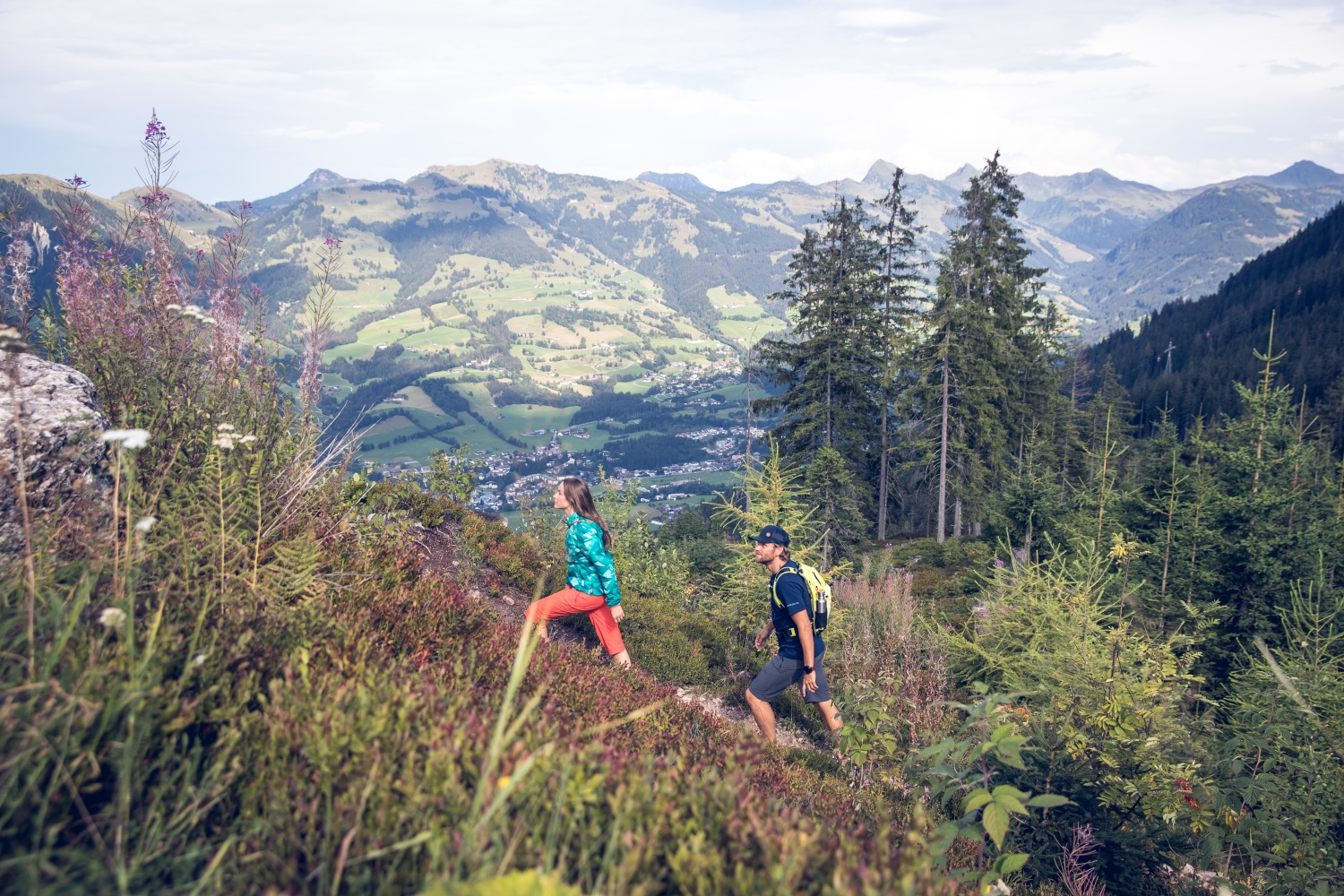 And for something different... Take advantage of the spectacular hiking terrain
It's not all about bikes when it comes to taking an active holiday in the Kitzbühel Alps. The extensive 1,000km network of hiking trails covers everything from challenging mountain treks where you can conquer peaks and test your stamina, to gentle lakeside strolls and waterfall walks that let you immerse yourself in nature. 
Take a look at our full guide to the best summer walks in Kitzbühel and get planning your next trip now.