Ah! Pembrokeshire Coast National Park – the Welsh answer to the South of France. Pembrokeshire is home to the smallest city in Britain, fantastic scenery all year round and an abundance of wildlife (including an insect restaurant which we promise is much nicer than it sounds). This part of the Wales coast path deserves a lot more attention.
Made up of four parts that each sit on the Welsh coast, this national park can be found at the tip of south west Wales. Pembrokeshire is only a three hour drive from Bristol, five from London and Liverpool, and it has more Blue Flag beaches than any other county in the UK - as of 2021 eleven beaches along the Pembrokeshire coast have achieved this recognition.
When you visit the national park you will never be further than 10 miles from where the sea meets Pembrokeshire's cliffs and beaches. So, maybe try a bit of coasteering or cliff jumping at the Blue Lagoon. Take a trip to explore one of the many beautiful sandy beaches on the Pembrokeshire Coast Path for a spot of surfing.
On the southern side of the national park, visit Tenby's three Blue Flag beaches and haunted island. Discover even more Blue Flag beaches as you walk round the coastal path on our second walk. Or visit Freshwater West beach where Dobby's death in Harry Potter and the Deathly Hallows was filmed.
And for those of us who prefer to keep our feet on dry land, maybe visit Pembroke Castle, just one of hundreds of castles in Wales. Or spend an afternoon wandering the streets of St Davids, which may officially be a city, but has all the charm of traditional British village. When here make sure to try an oggie – similar to a Cornish pasty.
If you fall in love with the scenery and want to explore the 186 miles of Wales coast path on foot there are endless hiking trails leading you around Pembrokeshire's landmarks, villages and pubs. Join the other walkers, and surround yourself with stunning Pembrokeshire scenery on this beautiful coastal path.
The Pembrokeshire Coast Path follows the coastline between Amroth and St Dogmaels making its way through coastal towns and villages. But there are also different hikes to try along the way that can be done within a day and are suitable for a range of abilities and ages.
What to Take When Walking the Pembrokeshire Coast National Park
As is often the case with coastal paths, the Pembrokeshire Coast Path does not always have much shade, so remember to take water and sun-cream with you especially in the summer months. The footpaths can often be rocky and steep in some places, so decent footwear is also essential.
In the winter, remember that you are in Wales, so like the rest of the UK, the weather can be unpredictable. So, make sure you pack waterproof clothing, and a first-aid kit in case there is no-one else around to help should you get into trouble. While the Pembrokeshire Coast Path does not have the most challenging terrain, it is vital that you are prepared before setting off.
There are plenty of signposts and way-markers along the coast path, but it is always a good idea to take a printed map with you, just in case your phone batteries don't last the journey. Be careful of cliff edges next to the footpaths, as it can be very easy to find yourself much closer to them as you would like.
Here are our top five Pembrokeshire walks: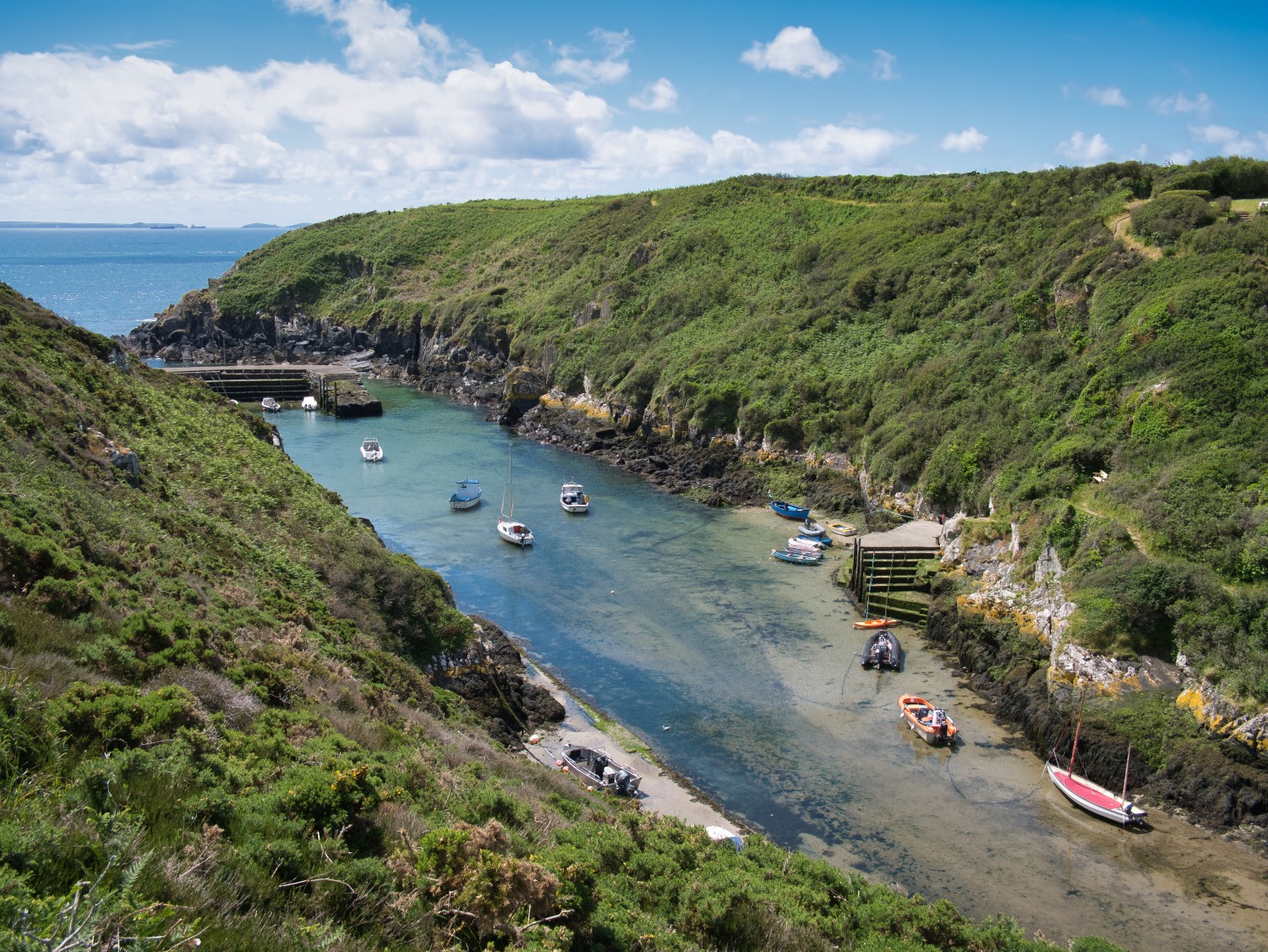 St Davids, Porthclais Harbour and St Justinian Circular Walk
Difficulty: Easy
Length: 13.5km / 8.4 miles
Duration: 2-4hours
Starting at the unexpectedly spectacular St David's Cathedral, this circular trail takes you round the Pembrokeshire Coast Path to St Non's Chapel and down to Porthclais Harbour where you might want to dip your toes into the water. Enjoy fine views over to Ramsey Island as you make you round the headland to St Justinian's lifeboat stations, before heading back in land to end your walk where you started.
The route's terrain is trouble-free but has a few steeper moments as well as narrow paths lined with gorse and heather that look out over St Bride's Bay.
For more information and trail details about this Pembrokeshire walking route, read our full St Davids, Porthclais Harbour and St Justinian Circular walking guide.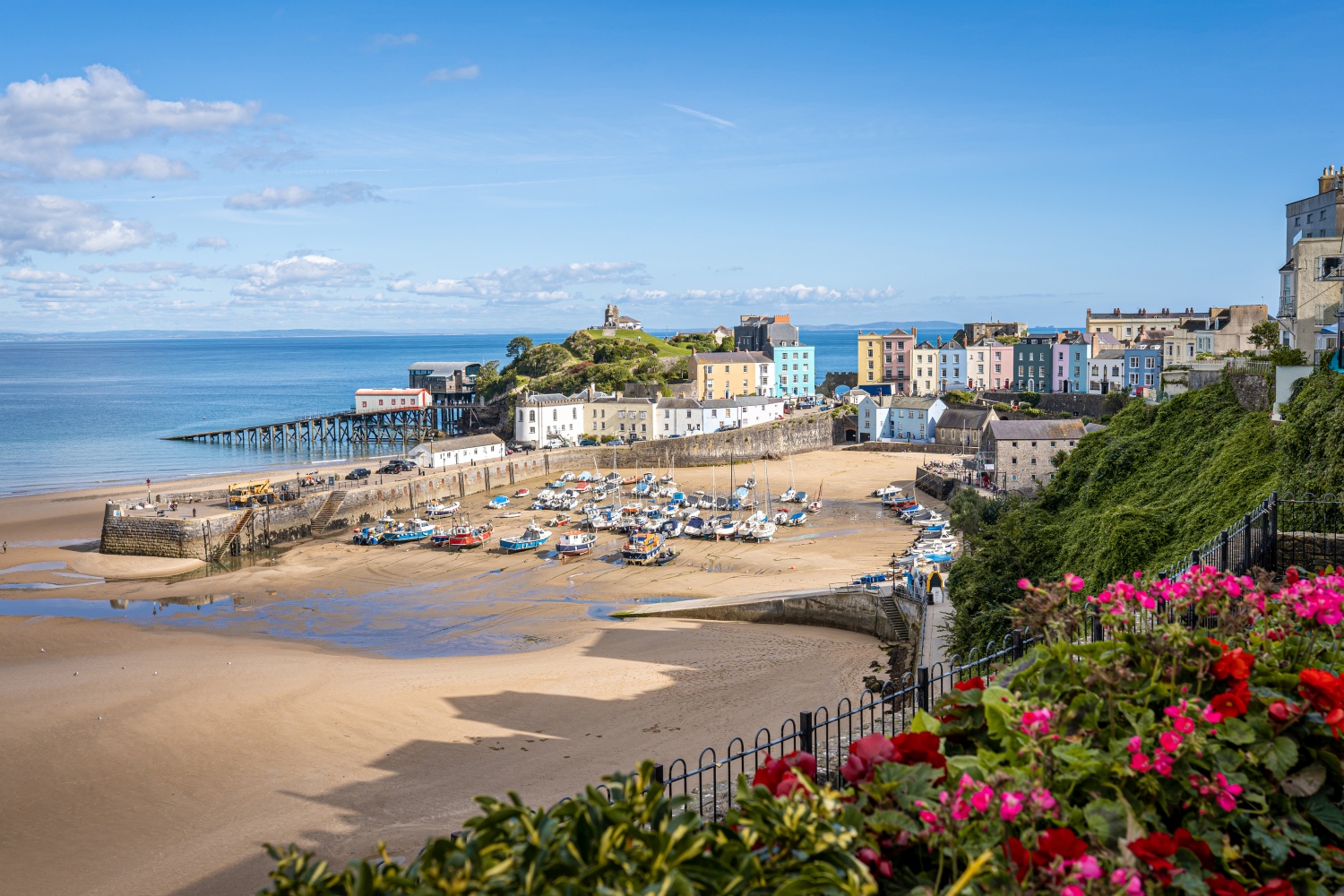 Tenby to Amroth
Difficulty: Medium
Length: 11.9km / 7.4 miles
Duration: 3-4hours
We're exploring the southern side of Pembrokeshire for this route. Begin in Tenby and follow the Wales coast path, using the endless beaches as your way markers until you reach Amroth - one of the ends of the Pembrokeshire Coast Path. Don't forget to stop for lunch in Saundersfoot, or take a picnic with you to have while watching the waves crash on the beach and cliffs below you.
This path has a slightly varied track with some challenges but mostly provides a hikers with a nice, calming adventure. And regular buses mean that you can return home at the end of the walk to discover another part of the Pembrokeshire coastline.
For more information and trail details about this Pembrokeshire walking route, read our full Tenby to Amroth walking guide.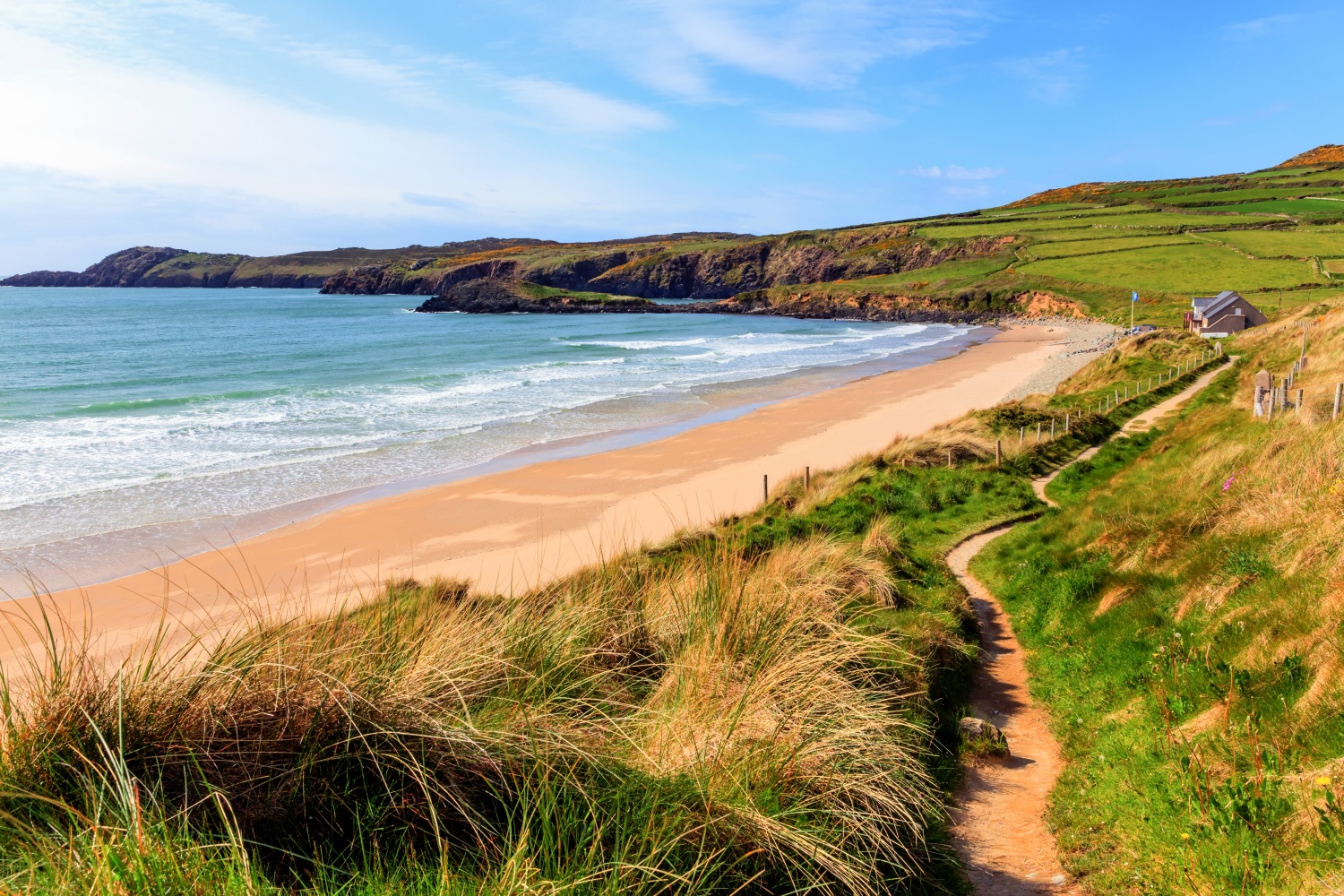 Whitesands Bay to Porthgain, via the Blue Lagoon
Difficulty: Medium
Length: 14.9km / 9.3 miles
Duration: 3-4hours
From one of Pembrokeshire's many beautiful beaches, to one of the many charming villages, this path gives you chance to discover the Blue Lagoon as well as an entire rainbow of colourful countryside and charming sea views. But before you get there, make sure to visit the remains of Coetan Arthur Neolithic burial chamber for a 5,000 year old slice of local history.
This is a rugged part of the Pembrokeshire Coast Path, but much like other sections is also rocky and covered in gorse bushes. The footpaths are not too challenging but have some up and down sections. Regular buses can carry you between St Davids and both Whitesands Bay, and Porthgain. Or to extend your hike, Whitesands is only 3.2km (2 miles) from St David's.
For more information and trail details about this Pembrokeshire walking route, read our full Whitesands Bay to Porthgain, via the Blue Lagoon walking guide.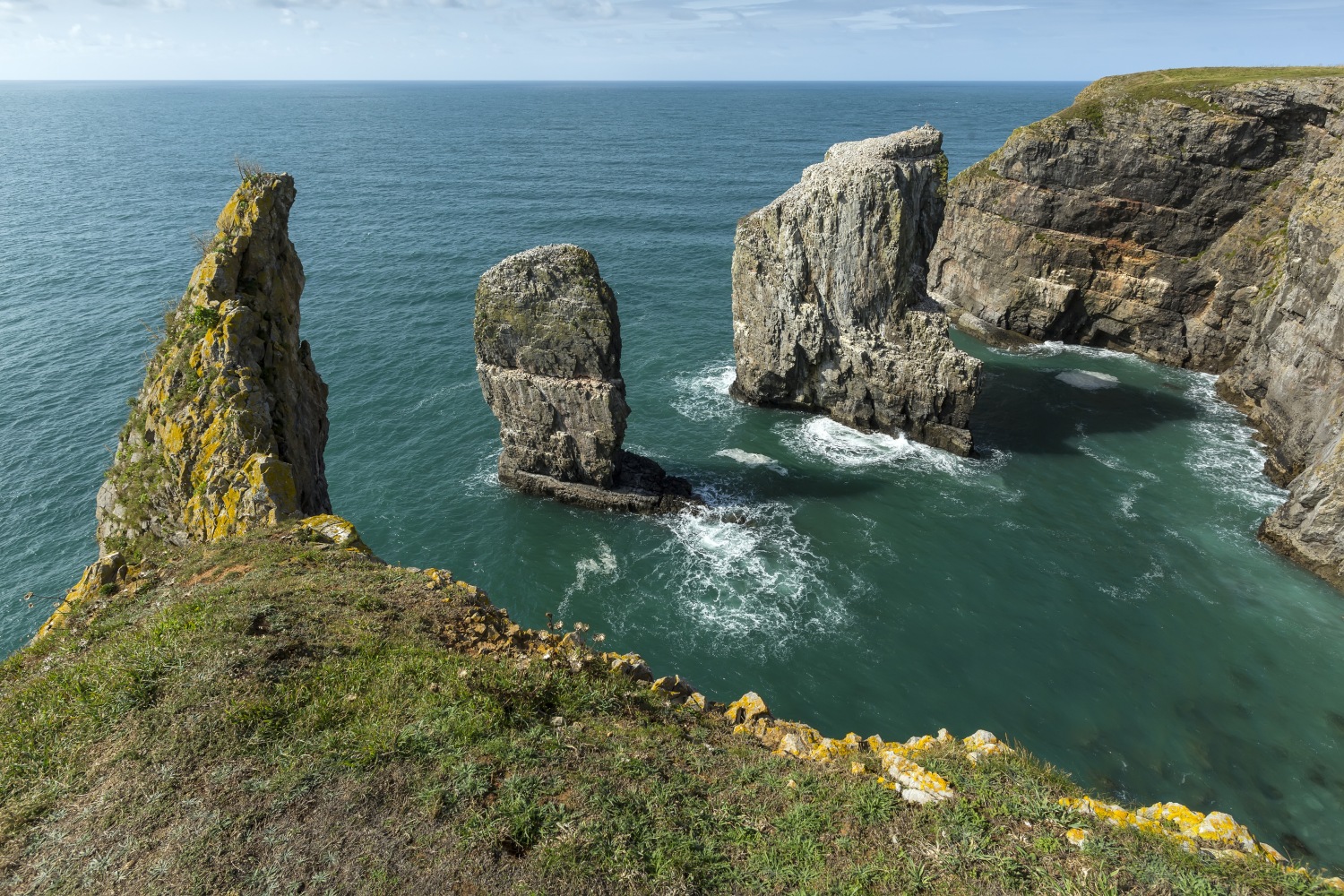 Bosherston Lily Ponds and Elegug Stacks Circular Walk
Difficulty: Hard
Length: 17.9km / 11.1 miles
Duration: 4-5hours
This circular walk has a hattrick of sights to discover. Starting at the man-made lakes that make up the Bosherston Lily Ponds, follow the coast path round to St Govan's Head. Formerly the home of a sixth century hermit, St Govan's Chapel is now a popular tourist attraction hidden in the Pembrokeshire cliffs.
Then on to the mighty Elegug Stacks rising proudly out of the sea, not forgetting The Cauldron or the Green Bridge rock formations that decorate the Pembrokeshire coastline. Here, we walk inland and complete our adventure where we began.
While the Elegug Stacks and Bosherston Lily Ponds are accessible to most, the terrain on the path between them can be a bit more rugged, even if it is mostly flat. Be careful of the cliff edges and before setting off be sure to check the Castlemartin Firing Range closures that can frequently block the route - this is less likely to be the case during peak holiday season, but double-check anyway.
For more information and trail details about this Pembrokeshire walking route, read our full Bosherston Lily Ponds, Elegug Stacks, and St Govan's Chapel Circular walking guide.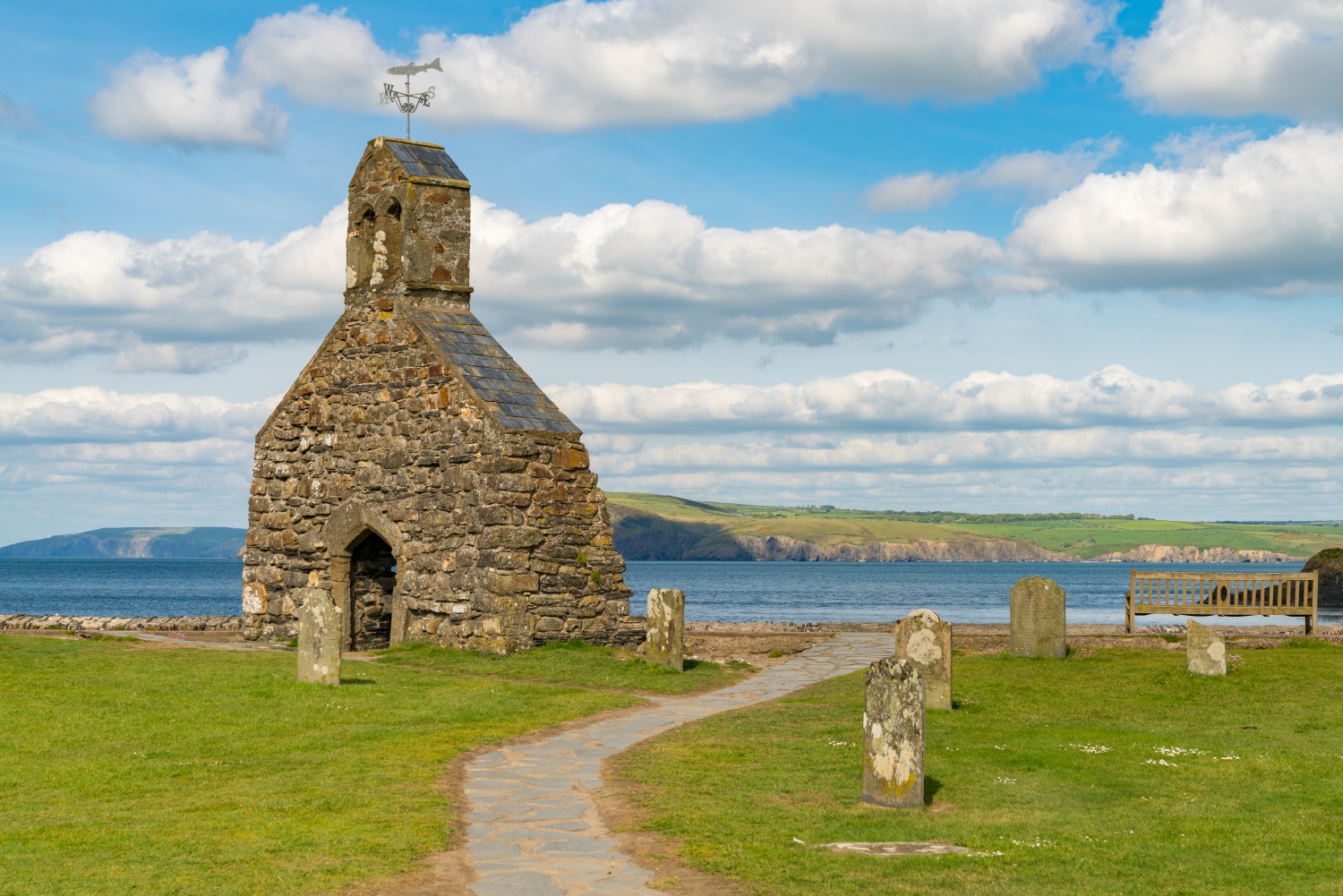 Fishguard to Newport
Difficulty: Hard
Length: 19.5km / 12 miles
Duration: 4-6hours
We start this journey at Fishguard Fort and take the coast path towards Dinas Island (Ynys Dinas). As you walk you will see Dinas Island peninsular in the distance which marks the halfway point of the walk. While here be sure to visit Cwm yr Eglwys. This picturesque hamlet makes the perfect rest stop before you continue on to the finish line in Newport.
The path has lots of steep rocky sections that will certainly earn you a visit to one of Wales' many pubs. You do have the option on this trail to cut out Dinas Island, saving your legs from walking 2 miles.
If you choose to walk around the headland, the views back towards the rest of the Pembrokeshire Coast Path will make the extra miles worth it - even if your feet don't agree. Once you arrive in Newport, regular buses can take you back to Fishguard.
For more information and trail details about this Pembrokeshire walking route, read our full Fishguard to Newport walking guide.