The Altus comes with a 42 - 47 litre capacity thanks to a big floating lid and clever top. The additional 5 litres of storage space can make the difference between an overnighter and a true multi-day hiking trip which adds a lot of versatility to this backpack.
Drawcord adjusters at the mouth and collar and a top flap help compress the load and keep everything neat, this all works in harmony to hold your kit safely and securely in place. We love these design touches and you'll find plenty more all over the bag.
The gear organisation sweet spot has been hit, with plenty of options to logically separate your kit. Zipped pockets on both sides of the floating lid offer ideal storage for headtorches, gloves and scarves. At the front of the bag you'll find a kangaroo pocket, this is big and secure enough to be useful, but also houses a large zipped pocket down one side which is ideal for quick access to waterproofs.
A gear separator in the main compartment allows you to completely isolate what's in the bottom of the pack, using a zip rather than toggles. You can easily get to what's inside, as well as the rest of the main compartment, thanks to a front zipped clamshell opening, not having to evacuate all your carefully packed belongings to find what you need is a definite plus point.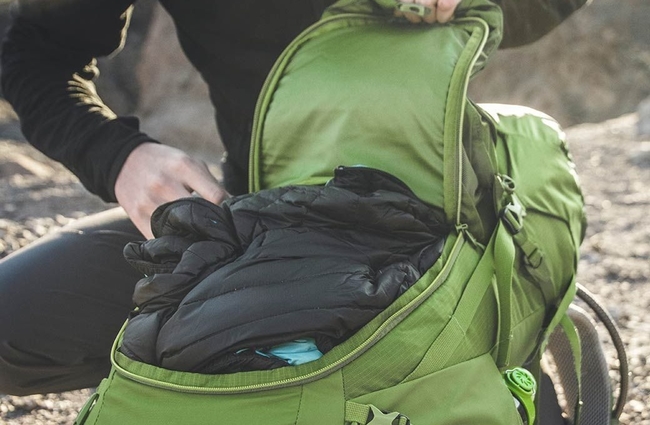 Water bottles can be stored in the side pockets more convincingly than in some packs, thanks to solid material and stretch mesh which holds a bottle securely, but as a result the pockets aren't quite cavernous enough to stuff a jacket into if you're tight on space.
The carrying system on the Altus is well designed, mixing aluminium stays with mesh and Air Contour foam. The wraparound hipbelt is chunkily cushioned and is generally meaty enough to carry a full load, when properly adjusted the Altus can transfer weight down to the hipbelt as good as any other pack we've tested.
Ventilation from the Air Contour system is ok, but it's obviously not as effective as fully suspended trampoline mesh, which is worth considering if you walk a lot in hot weather. Having said that, it's easy to get the Altus sitting flush with your back and the load feels very stable - we'd have no hesitation in recommending based on comfort alone.
All the compression adjusters across the bag are ridiculously intuitive and almost impossible not to use, thanks to being integrated into things like the side pockets and kangaroo pocket. You don't need an advanced degree in rope dynamics to use any of it either, as it all fastens with simple buckles and ladder lock adjusters.
Overall the Altus is a fantastic, versatile multi-day backpacking pack. It has the perfect capacity for both overnight wild camping trips and hut-to-hut hiking adventures. Build quality and durability are both superb, storage is great and it's comfortable to carry, highly recommended.