The ideal daypack or daysack is relatively small, lightweight and comfortable enough for a long day hiking on the hill or trail, but equally at home around town or on the daily commute (although there's a best travel rucksack that will do the latter jobs in greater style). Capacity will vary, but less than 30 litres is definitely the brief - any larger and you're better off with a full-fat hiking backpack. The main difference between daysacks and hiking backpacks is firstly capacity, although that can vary, and secondly support. 
Best Daypacks for Hiking: How to buy


The key difference between daysacks and hiking backpacks is firstly capacity, although that can vary, and secondly support. A hiking backpack might need to carry heavy loads over long distance, and should have a stiffened back support of some kind (these can be anything from steel to aluminium or plastic, even carbon fibre, a solid hipbelt to take the load, good shoulder straps and a sternum strap. A Daysack or Daypack on the other hand might include some of these items too, but probably not all, and on a less industrial scale, as there's a limit to how much weight you can fit into a 20 litre daypack. 
A key consideration is your planned use, so if you're planning longer days will include good support, perhaps a breathable back support, and well-positioned pockets for water and snacks on the go. Similarly, a daypack for more energetic pursuits might have handily-placed pockets for gels, sunglasses, and comfort items like lip salve, along with a hydration-compatible back panel which will combine to keep you going harder for longer. 
It's also worth taking a very keen eye to the gear you plan to fit into a daypack - sometimes less is very much more, and packing light is usually the best option. Many a larger capacity bag has been filled with 'just in case' items that are rarely if ever used, and in many cases could be left at home with ease.
Best Daypacks for Hiking: TL/DR Summary


There's good reason the Osprey Talon 22 Daypack leads this list, it's been one of the best selling and most consistently good daysacks on the market. Offering great support, mesh Airscape back panel, excellent storage and two super-useful hipbelt pockets, the spec is that of a much bigger, more serious rucksack, but without the extra weight and faff.
A second, more wallet-friendly option is the excellent Berghaus Remote 20 Daypack, which comes in at less than half the cost of the Talon. With a strong array of pockets for water, a zip top pocket and a hydration sleeve-compatible back section, there's everything you need and nothing you don't, at a fantastic price point.
Osprey Talon 22 Daypack, £130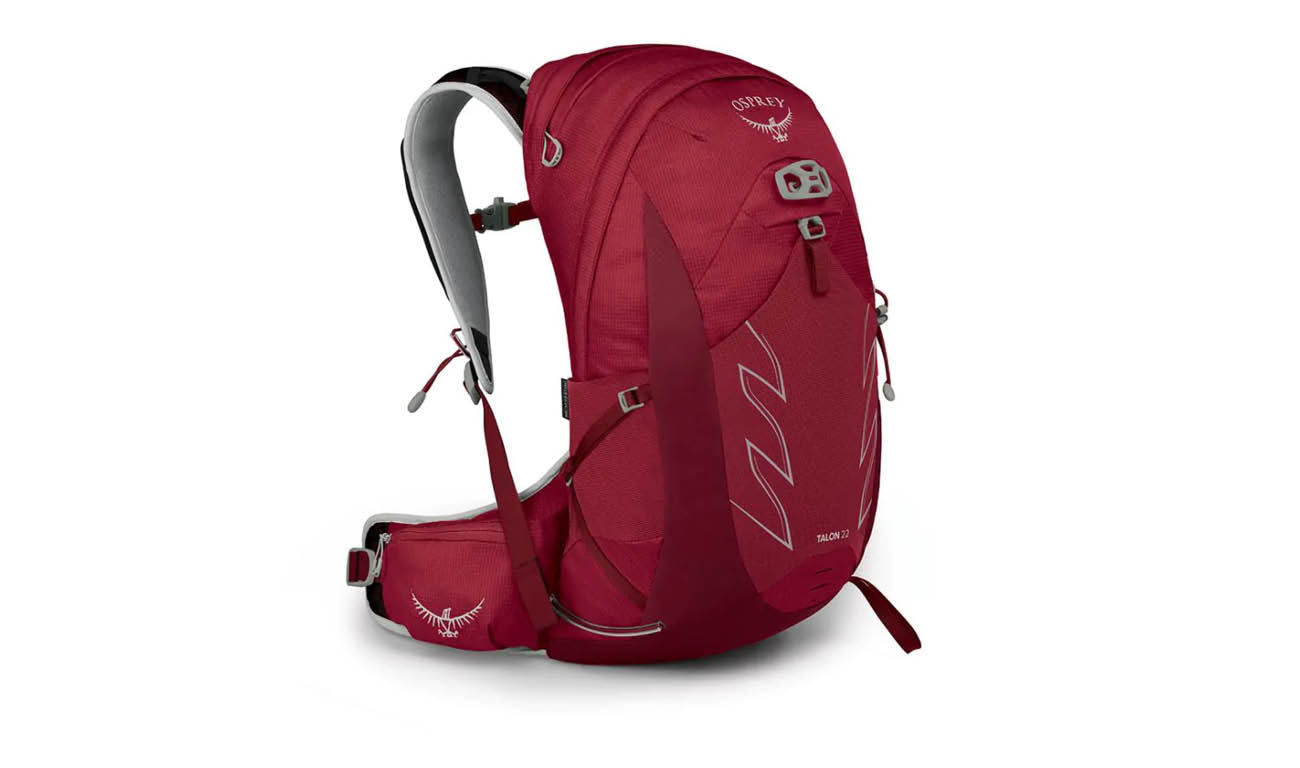 Osprey's Talon 22 backpack is pretty much the perfect daypack for anyone that values comfort, practicality, and durability for days out hiking. The capacity is perfect for a daypack, easily storing waterproofs, extra layers, food, and drink supplies. This is further enhanced by the excellent gear organisation, with a range of very useful and easy-to-access pockets. These include a front stretch pocket, two stretch side pockets, a top pocket, and an internal mesh pocket. It's worth pointing out separately that the Talon 22 has two hipbelt pockets, something that you don't always see on this capacity of daypack. Additionally, there's a LidLock system so you can easily attach your bike or climbing helmet to the bag. The carrying system is excellent, with a comfortable foam and mesh Airscape back panel channelling warm air away from your back. The shoulder straps are comfortbale and the hipbelt is of particular note for being wide and ergonomically shaped, helping you carry heavy loads in the Talon 22 in comfort.
Overall, we rate the Talon 22 as one of the best daypacks you can buy.
Buy Osprey Talon 22 Backpack: From £84.49 at Amazon <<Best Deal>>
Buy Osprey Talon 22 Backpack: £129.95 at Alpinetrek
Berghaus Remote Hike 25 Daypack, £75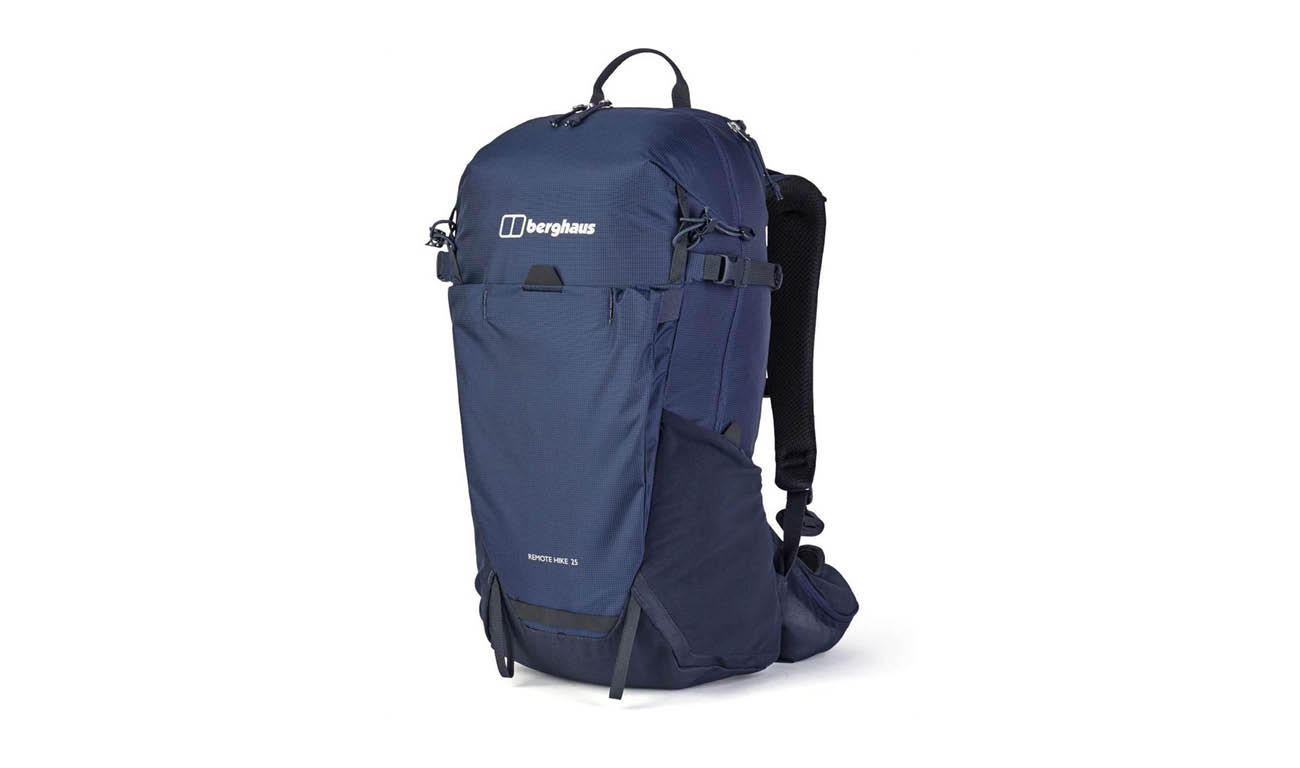 With an appealing design and clean looks you could be forgiven for thinking the Remote Hike 25 was a backpack for light walking duties. Look beneath the surface though and you'll discover a backpack with all the features to take you way up into the hills.
The Remote Hike 25 has a wide, anatomically shaped hipbelt that contours into the back panel. This design is similar to larger capacity backpacks in that it allows weight to be transferred down to the hips for a more comfortable carrying experience. Not only this, but the shoulder straps are well padded, and the sternum strap adds an element of stability.
With a relatively flat back panel, the main compartment is free from obstruction and has a cavernous amount of storage space. In addition, we love the front kangaroo pocket which is stretchy but secure and the two mesh hipbelt pockets give you quick access to snacks and gels.
Overall this is a fantastic technical daypack perfect for hiking. It's comfortable even with a heavy load and swallows all the gear you might need. 
READ NEXT: Berghaus Remote Hike 25 Full Review
Buy Berghaus Remote Hike 25 backpack: £75 at Cotswold Outdoor
-----------------------------------
Recommended travel gear:

- Best Insulated Jackets for Men 2023
- Best Walking Socks 2023
- Best Fleece Jackets 2023
-----------------------------------
Lowe Alpine Airzone Active 22 Daypack, £75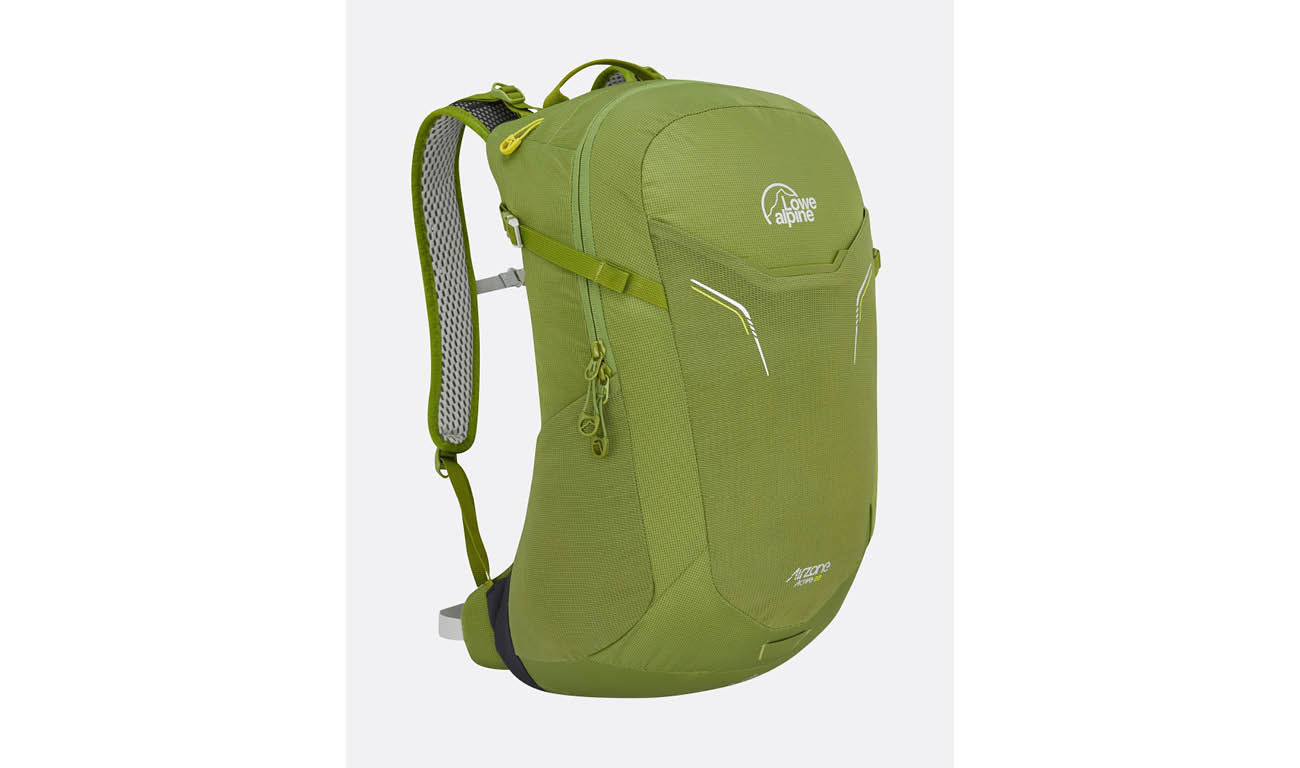 As daypacks go, Lowe Alpines Airzone Active 22 has everything you need but manages to maintain relative simplicity.
The combination of Airzone back panel and aluminium stays is tried and tested and allows you to carry a full load in comfort, with the weight easily transferred down to the hipbelt if that's how you like to set your backpack up.
We found the hipbelt to be a strange affair though, with its stubby wings that don't wrap around your waist, leading into standard webbing straps for the most part. This feels uncomfortable at first with the space for your back to nestle in between the hipbelt wings particularly narrow.
Aside from that though storage is great – it's simple but intuitive. The main compartment contains a zipped mesh pocket inside for small items, there is a top zipped pocket, a large front stretch pocket and two side stretch pockets. We like hipbelt pockets, even on daypacks and the Airzone Active does not have any, which is the only omission in an otherwise fully featured storage setup.
Neat touches include an integrated raincover and rubberised walking pole attachments, the Airzone Active can also take a 3l hydration bladder in a dedicated sleeve inside the main compartment.
This is a proper hiking backpack for long days of walking in comfort, you get used to the strange hipbelt set up, but we wish it was just slightly better.
 Buy Lowe Alpine Airzone Active backpack: £70 at Cotswold Outdoor
Osprey Talon Pro 20 Daypack, £175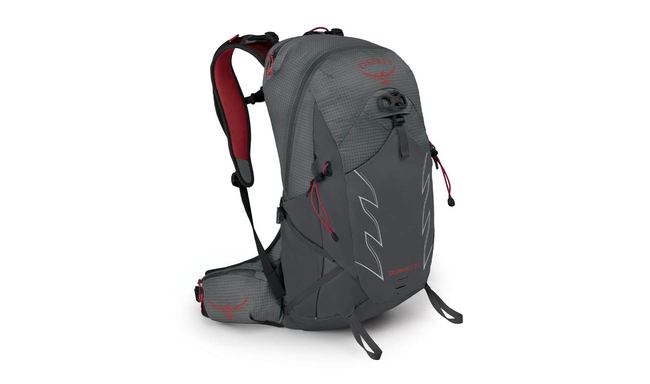 The Talon Pro 20 is possibly all the backpack you will ever need for fast and furious day hiking and cycling, and it better be with such an eye watering price tag. If you're just gently rambling with a sandwich and thermos in your bag then forget the Talon Pro 20, this is optimised for serious day hiking where you want to be able to engage legs and go up hill and down dale mile after fast paced mile without any issues.
About as fully featured as day packs get the Talon Pro 20 features a fantastic array of pockets and attachment points, which are all very useful. These include two hipbelt pockets, two stretch shoulder strap pockets and the usual stretch side and front pockets. The internal compartment isn't bent out of shape by a trampoline mesh back panel leaving plenty of space to store gear, and the main access zip, although panel loading gives you plenty of opening angle to easily get at gear in the depths. Your hydration bladder is externally positioned so as not to get in the way of, or leak all over kit in the main compartment.
The Airscape back panel looks high tech and works incredibly well. It's airy, comfortable and stable and combines with the fantastic hipbelt and comfortable shoulder straps to create an overall excellent carry system.
To put the icing on the cake the Talon Pro 20 is made of seriously durable but lightweight materials, so despite being one of the most fully featured daypacks it is possible to buy, it tips the scales at only 900g.
A seriously excellent backpack for serious hiking.
Buy Osprey Talon Pro 20 backpack: £148.75 at Cotswold Outdoor <Best Deal>
Berghaus Remote 20 Daypack, £55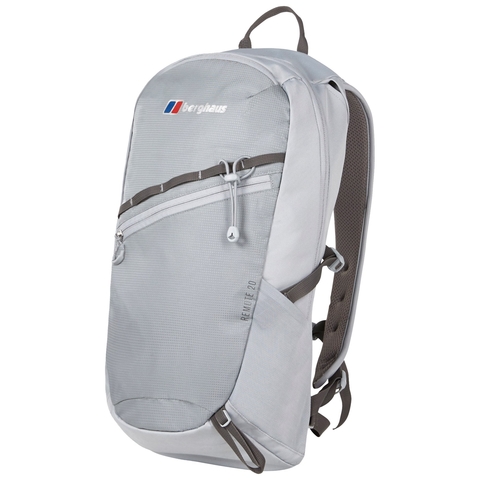 The Berghaus Remote 20 has a headline grabbing price tag a lot lower than most of its closest competitors, like the Salomon Out Day at £90 RRP.
For this paltry sum you get a reasonable pack for day hiking if your aspirations aren't too high. There are a decent range of storage options in the pack itself, including the usual stretch side water bottle pockets, a main compartment complete with hydration sleeve and map compatible front and sunglasses compatible top pockets.
These are all pretty unremarkable holes for gear but do the job you would expect them to, the trekking pole loops are a very handy addition too.
Comfort in the shoulder straps is okay and it's the same story on the back panel. The Remote 20 doesn't transfer weight down to the hips particularly well but with the low loads expected to be carried, that's no big deal.
Peak Design Everyday Daypack 15L, £179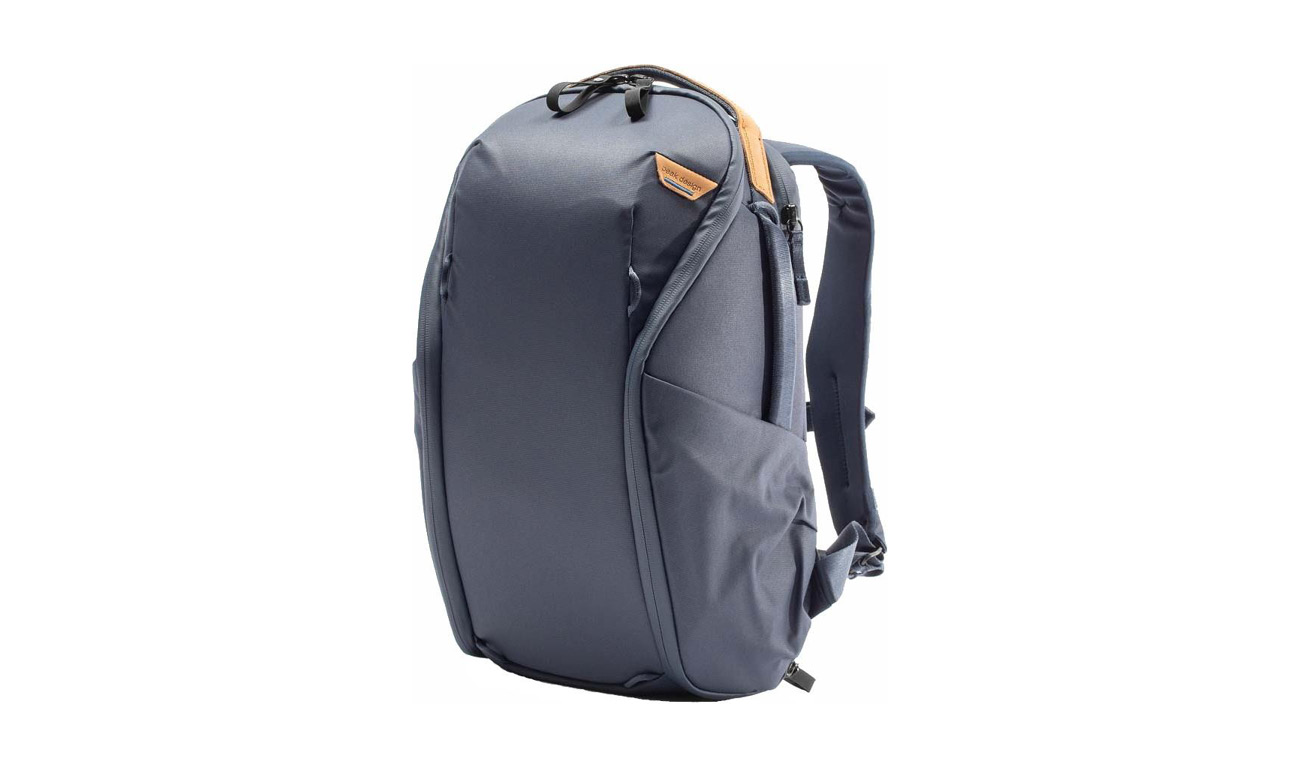 This cool looking bag from Peak Design hides a bevy of clever features to help keep your camera equipment safe. A clamshell top opening reveals removable dividers, so you could use the Everyday Backpack for your non camera kit, and a selection of camera accessory shaped pockets. For a 15L bag you can fit a surprising amount of stuff in. There's room for a decent sized camera/lens combo, and a dedicated 15" laptop sleeve as well as side pockets for a tripod or drink. The 400D weatherproof shell is super tough and there are minimal dangly straps to get in your way.
Buy Peak Designs Everyday Backpack 15L backpack: £179.95 at Amazon.co.uk
 Best Daypacks for Hiking: Conclusion


Overall, the best daypack is one that fits you well and has enough capacity for your day - whether that's scaling mountains, running the trails or simply taking in the delights of a new city. Most daysacks will do most of these interchangeably, but it's worth being as refined as you can in your choices in advance to get the best match. 
Now you're fully armed with information on daypacks, why not check out these best walking trousers, or even the best waterbottles to keep you hydrated on your adventures…
Read next: The Best Walks in Brecon Beacons: Six Great Walking Routes