Choosing the best travel backpack can make the difference between trips that are smooth sailing and journeys that are a pain in the backside - or worse still, cause you actual back pain. Much like the best hiking backpacks, a decent travel backpack should be comfortable to wear for long periods of time, as well as holding all your belongings securely. 
Best Travel Backpacks: What to look for when buying
Often used as a smaller alternative to a wheelie bag for shorter trips, a good travel backpack needs to be large enough to work as an overnight bag (with space for a washbag, a change of clothes, a laptop and some personal items) but small enough to fit in the overhead compartment on planes or trains, or even under the seat in front of you. For this reason, most of the best travel backpacks (including all of those listed on this page) have between 25 and 40 litres of carry capacity. 
Although airlines usually have a certain amount of flex - especially if you're only carrying one small rucksack - it's very wise not to overstep the size criteria, especially on more popular routes and budget airlines. Many brands make certain their bags fit the strictest criteria, which may well save you a Ryanair penalty. 
You'll probably want padded shoulder straps for long museum visits or sightseeing trips, but you most likely won't need the kind of hip belt or chest strap that you'd find on a hiking backpack. Other features to look out for in a travel backpack include a dedicated laptop compartment, an accessible pocket or sleeve that'll hold your
water bottle
, and hidden pockets for things like your phone, keys and cash. Compression straps help keep things compact, and can also be used to stash a 
waterproof jacket
 on the move. Some travel backpacks (like the Burton and Patagonia models below) even feature waterproof outers, in case you have to walk through a monsoon on your travels.
A final note is around security, especially when travelling internationally on a city break or similar. Many bags have concealed inner compartments that make casual theft much harder, and some make zips less accessible to would-be tea-leaf types. 
Best Travel Backpacks: TL/DR Summary
Not got time to slog through the whole list? We gotcha - these are all brilliant packs, but the best of the bunch is the Editors Choice Fjällräven Travel Pack Backpack, which just edges out the competition due to withering quality and an impeccable build that'll literally last for life - and a stylish life at that.
On the wallet-friendly side of the equation the Berghaus Twenty Four Seven 30 Litre Daysack is well worth a look too, as it offers brilliant bang for buck and will survive years of abuse, as well as being available in a range of sizes to suit your specific needs. 
Best Travel Backpacks: How we chose them
Several of the backpacks on these pages are old favourites that the Active Traveller team have owned for years and tested almost to the point of destruction. (The reason they've made this list is that they're still going strong). Other are newer models that we've picked on the basis of their features and functionality. (We'll tell you which is which in each review).
Of course, no list of travel backpacks can claim to be 100 percent exhaustive, and as always, these reviews are based on the occasionally subjective opinions of our gear experts and editors. But with our considerable experience of travelling, we can confidently say that these are six of the very best travel backpacks on the market today.
Fjällräven Travel Pack, £220
---------------------------------------------------------------------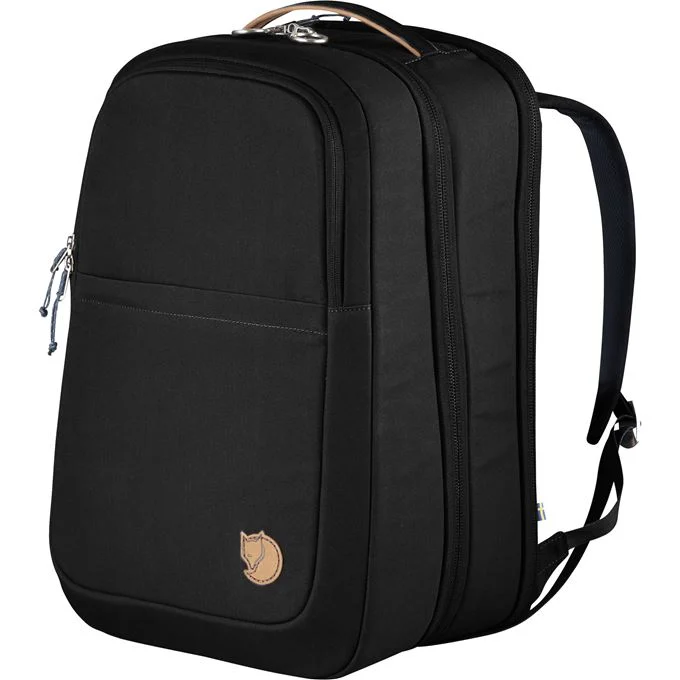 Fjällräven are the design geniuses behind probably the best-selling backpack on the planet, the Kånken — a bag so iconic, it's now been designated a work of art by the Swedish society for crafts and design. With this model (as the name suggests) they've turned their minds to creating the best travel backpack going. And while we haven't tested this bag in a real world situation yet, one look at the features is enough to tell us they've got pretty close.

Made from the heavy duty version of Fjällräven's durable, G-1,000 fabric, this bag is built tough. The 35 litre volume is specifically designed to fit the measurements accepted for a carry on backpack by most airlines. It's got padded straps that can be stowed away, if you prefer a briefcase style look; there's a padded laptop sleeve and a slot for a tablet in the front zippered pocket, and there are zips to help keep your kit divided inside the main compartment.

It's water resistant rather than waterproof, and it's the priciest travel backpack on this list. But given the brand's pedigree and the features on offer here, we still reckon this is a bargain.
Buy Fjällräven Travel Pack: £139.46 at Alpinetrek <<Best Deal>>
Buy Fjällräven Travel Pack: £177.86 at Amazon

Herschel Little America Travel Backpack, £105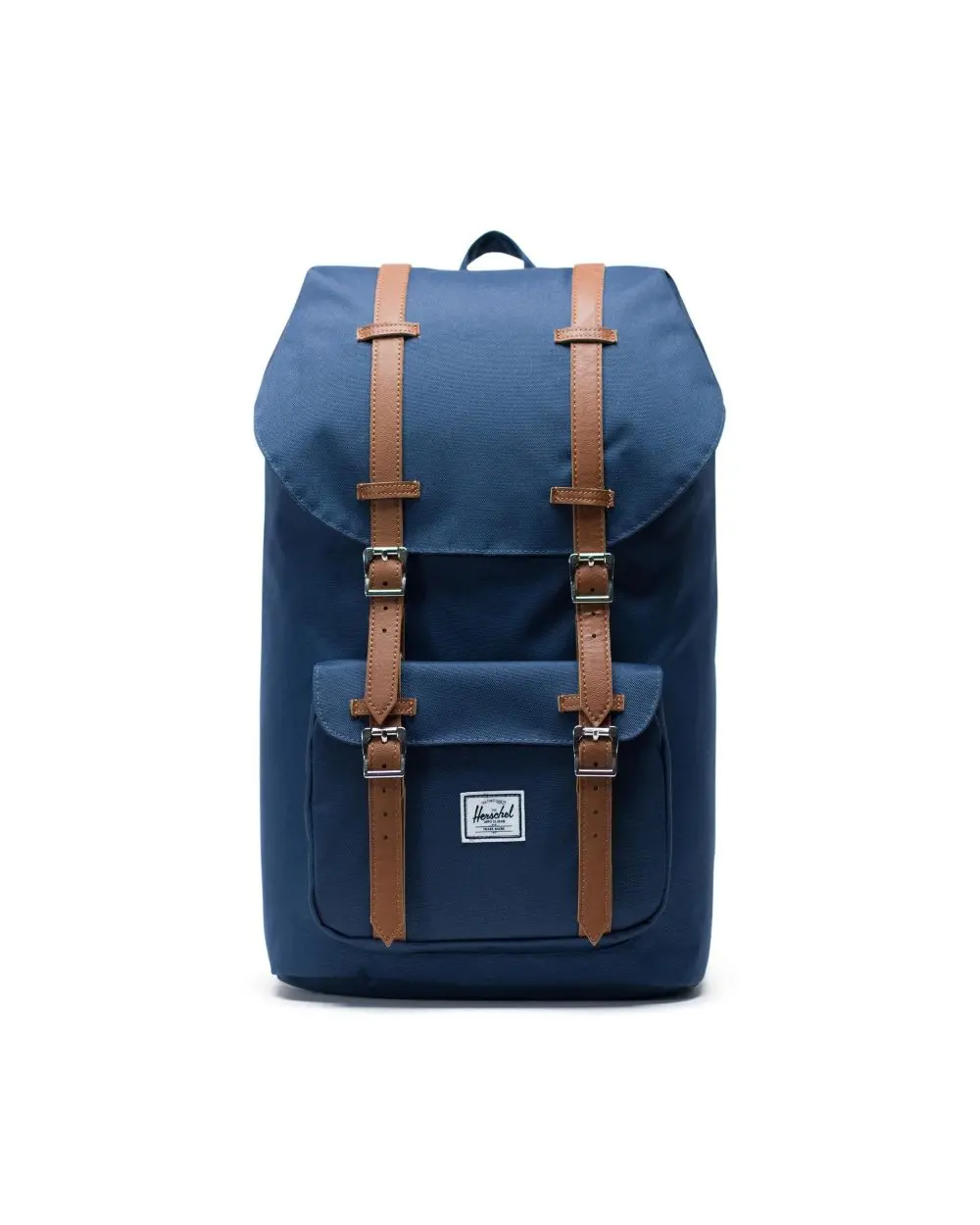 Although its design is based on a classic, old school hiking backpack, the Herschel Little America Travel backpack is a thoroughly modern piece of kit. The leather buckle straps feature magnet fastenings underneath them, so you don't have to undo the belt buckles every time, and there's a padded laptop sleeve on the inside too. The back panel, meanwhile, features air mesh padding, which not only makes it comfortable, it stops you sweating.

For all those modern touches, however, this backpack is still just as tough as the original canvas rucksacks it takes its design cues from. This reviewer has owned one of these for nearly ten years, using it to commute for five of them, and aside from a bit of wearing on the leather (and a few unidentifiable stains from pub floors) it's as good as new.

Its 25 litre carry capacity might not sound like a lot, but with its flap lid and drawstring fastening, we've found this can fit a surprising amount of kit in it—we regularly fly with it as our only bag for weekend getaways. It's primarily aimed at urban users, but that back panel means you can happily hike in it without getting too sweaty. Or, as we do, use it as an everyday backpack for cycling into work, and getting round town.
Buy Herschel Little America Travel Backpack: £73.75 at Amazon <<Best Deal>>
Buy Herschel Little America Travel Backpack: £102.95 at Alpinetrek


-----------------------------------
Recommended travel gear:

- Best Insulated Jackets for Men 2023
- Best Walking Socks 2023
- Best Fleece Jackets 2023
-----------------------------------
Berghaus Twenty Four Seven 30 Litre Daysack, £50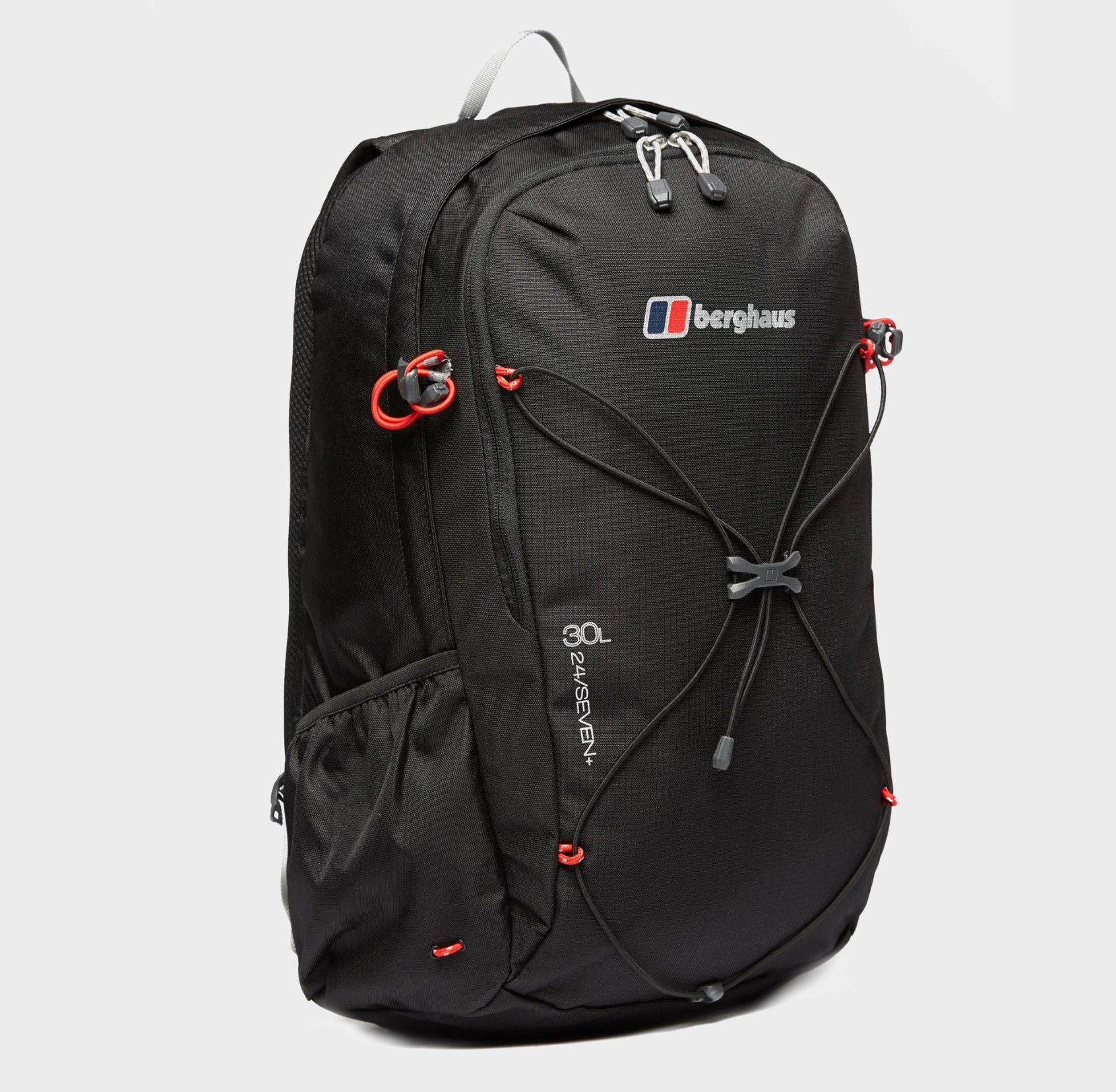 The Berghaus Twenty Four Seven has almost unanimous good reviews, and it's not hard to see why. Firstly, Berghaus has a long pedigree in making solid, well designed outdoor and travel gear, and secondly, it's usually at a very reasonable pricepoint, both key attributes of this travel rucksack. The sleek lines make it blend in to any environment, and its packed with all the features you could want, but without adding faff if you don't need them. A good example is the hydration system compatibility, which would be very useful on a bikepacking trip, but isn't in the way when commuting to work.  
There are spacious side pockets that'll swallow a flask or water bottle, a laptop sleeve and  internal organiser to keep small items handy. There's also a zipped front pocket, and a bungee system to attach walking poles or waterproofs to the outside for immediate access. The 30L version here is an ideal size for short trips, but there are smaller 25 litre and 20 litre versions if you're after an even more slimline packsize. 
Buy Berghaus Twenty Four Seven 30 Litre Daysack: £48 at Amazon
Buy Berghaus Twenty Four Seven 30 Litre Daysack: £48 at Blacks
Deuter Aviant Carry On Backpack, £100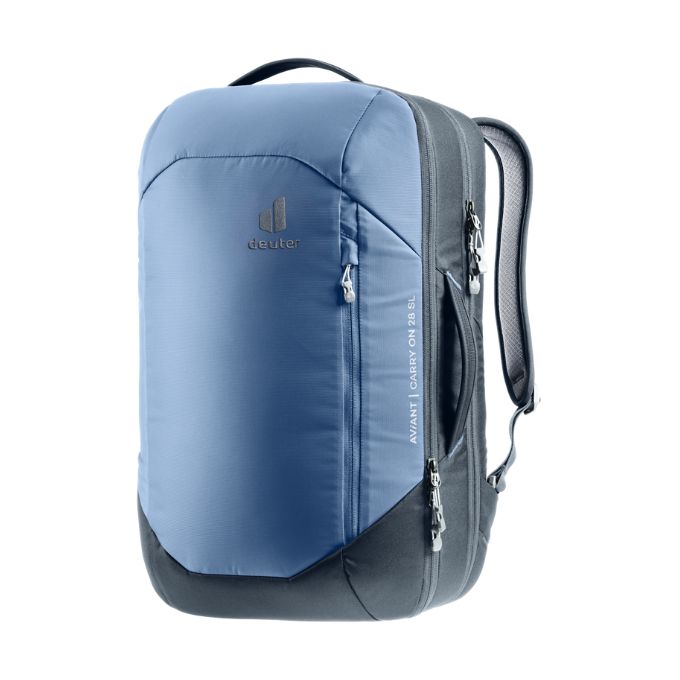 Deuter are like the BMW or Mercedes of backpack brands—not just because they're German (although they are), but because their bags are designed with exceptional attention to detail. This travel backpack is no exception.

Its central feature is the fact that it opens pretty much in two, so you can spread it flat and find things both in the front pocket and in the main compartment. The sheer number of separate compartments makes organising things easy—from the laptop sleeve to the mesh covered clothing compartment to the separate section for a tablet or kindle.

This 28L version features a contact back panel that's ergonomically built specifically to fit the female anatomy, but there are men's versions available too. It's designed to fit within the dimensions specified for a carry on backpack on all major airlines, and is perfect for weekend breaks. While we've not tested this model specifically, our extensive experience with Deuter bags of various shapes and sizes, especially the specialised hiking backpacks is enough for us to include this on this list with confidence.
Buy Deuter Aviant Carry On Backpack: £104.36 at Alpinetrek <<Best Deal>>
Buy Deuter Aviant Carry On Backpack: £125 at Amazon
Patagonia Black Hole Travel Backpack, £130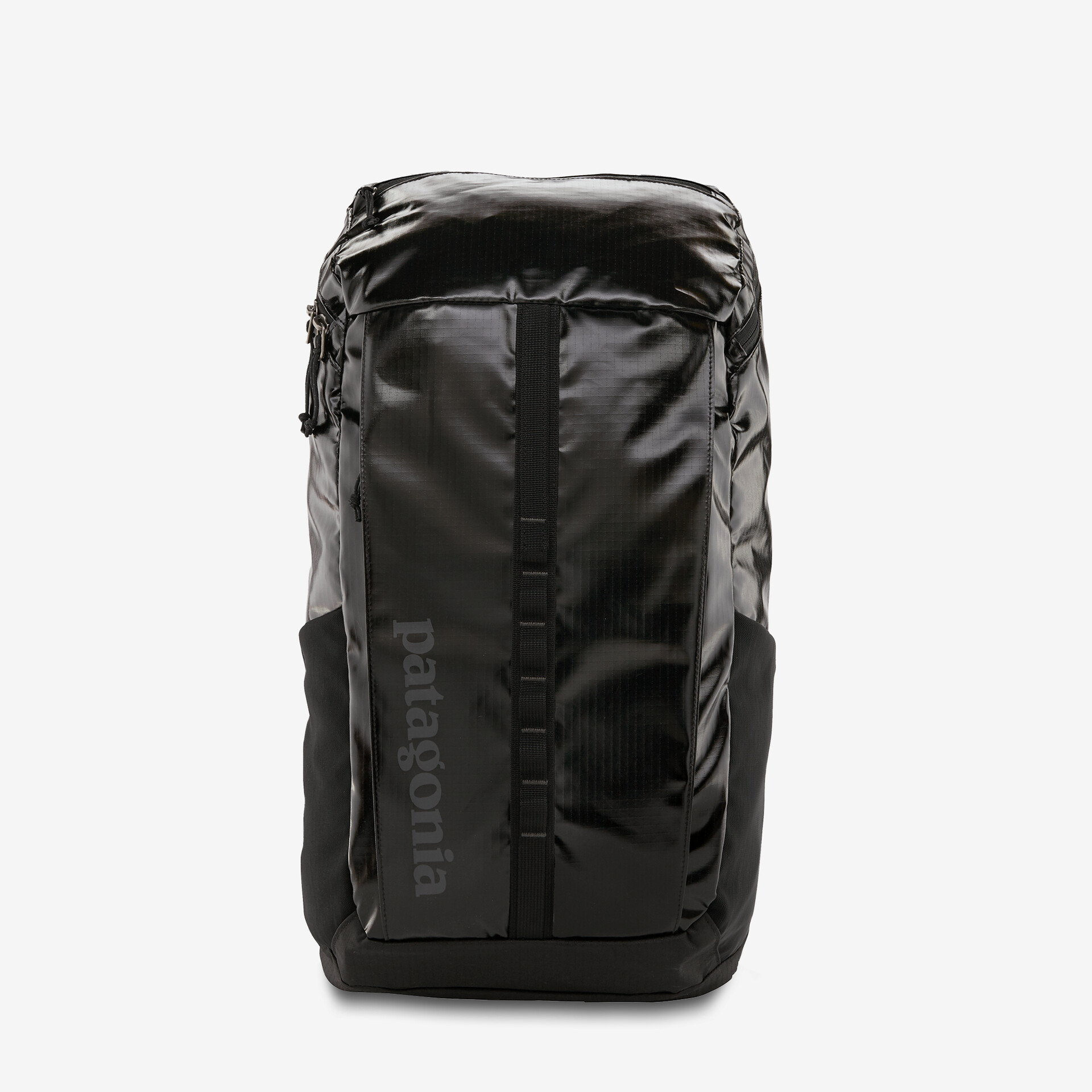 The Black Hole series of bags are so called because they just swallow things up, and this 32L travel backpack is no exception. From the outside, the design looks pretty simple—the clean lines broken up only by the 'daisy chain' gear loops that let you attach stuff to the outside, and the side stretch pockets that hold reusable water bottles. 

Inside is where things get more complex, with a whole range of different compartments, including a backpanel laptop compartment, and stash pockets for personal items of varying shapes and sizes. The exterior fabric is has a waterproof coating, which will help keep your kit dry, and there are other little touches that make this a great bag for hiking, as well as hulking your gear around town, from the Camelbak compatible back panel, to padded backpack straps, to the sternum strap.

The fabrics used are 100 percent recycled, and the bag is certified fair trade sewn — you'd expect nothing less from Patagonia — and while the styling is definitely more "outdoor" than "urban", this is a great all round travel backpack, made by one of the best brands in the business.
Buy Patagonia Black Hole Travel Backpack: £117.56 at Amazon <<Best Deal>>
Buy Patagonia Black Hole Travel Backpack: £128.95 at Alpinetrek
Burton Multipath 27L Travel Backpack, £155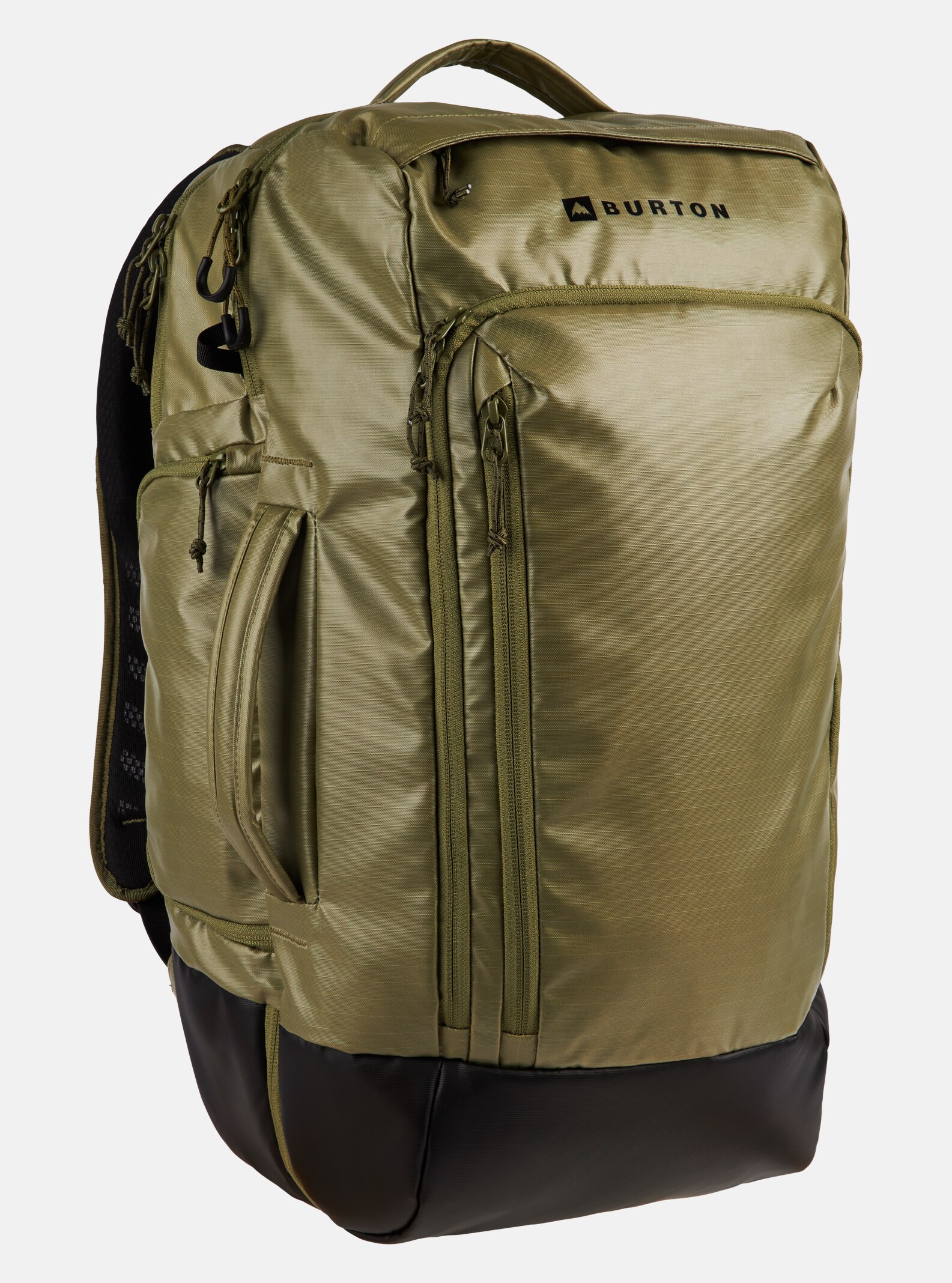 It might seem strange to include a backpack made by a company best-known for building snowboards on this list, but Burton have been making well thought-out and rugged luggage for years. This travel backpack, which the brand claims will "impress the customs agents at the border" with its impeccable organisation, is yet another excellent example.

Opening up like a book, the bag has two main compartments, each with a zip to keep your items separate. There's the obligatory laptop sleeve, plus separate zipped pockets for your travel documents, tablet and other items, and an external water bottle holder. The fabric is water resistant, and BlueSign approved, meaning it has met the highest environmental standards.
At 27L, it's plenty big enough to serve as a carry on backpack, with more than enough space for a weekend trip. Having used Burton's bags for years, we know that they're built tough, too.
Millican Fraser the Rucksack, 32L Travel Backpack, £155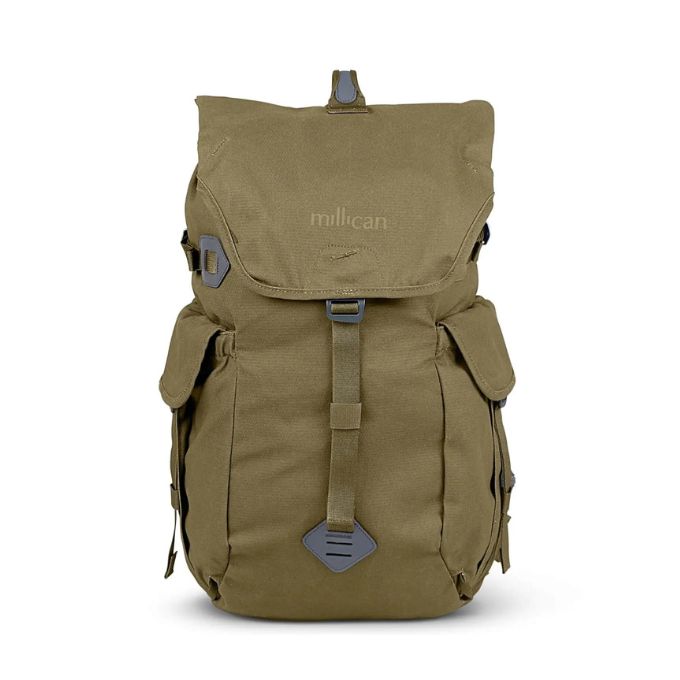 This brilliant travel backpack from British brand Millican doubles up as a hiking pack too. The style is retro chic—the kind of thing you can imagine them parachuting with in the BBC's SAS Rogue Heroes—and perfect for the city streets. But the features, including the removable hip belt, prove that this bag is as much about function as it is form.

The wide top lid, with an adjustable drawstring underneath, means you can pack a lot in, and the padded shoulder straps and a foam back panel mean you can carry serious loads without feeling any discomfort. We've spent long days lugging gear up the hill for photoshoots in this, and always been impressed by how well it performs.

The backpack includes a side water bottle pocket, a laptop compartment that can serve as a hydration bladder holder if you're out hiking. The whole thing is made of 100 percent recycled materials, including durable Dalton canvas for the outer and a lightweight post-consumer PET for the inner. Both are BlueSign approved. If you're looking for an all rounder, that looks good in the city, but still holds its own on the trails, then Fraser could well be your guy.
Best Travel Backpacks: The Final Word
If none of those downright design classics have tickled your fancy, then maybe the budget-priced ultimate in airline-friendly luggage the Aerolite Cabin Luggage Backpack (Amazon.co.uk, £49.99) is your jam. It guarantees that it'll fly with 14 approved airlines, although it's no looker.
Of course, having selected the best travel backpack you'll be needing a few accessories as well as a few excuses to get out there and put it to good use. One of the best water bottles is a great starting point here, and we barely ever leave the house without one of the best waterproof jackets for good measure. If you're on the hunt for destination ideas then check out these things to do in the Lake District, best hikes in Nova Scotia, Canada, or browse the options in the best adventure holidays.
Read more: Men's Walking Boots and Walking Shoes