Sponsored content
Nova Scotia is a year-round adventure playground, with no shortage of great hiking and biking terrain. Scenically dramatic, with stunning coastal views with rugged cliffs and rolling inland landscapes, the province makes a strikingly different destination for visitors wanting to explore on foot or on two wheels.
The Kejimkujik National Park and National Historic Site, for example, is home to a network of 15 day-hiking trails that cut through a wide range of forest, including Acadian Forests, red maple floodplains, windswept pinetrees and old growth hemlocks.
And mountain bike riders will love that the area now has a new trail: the winding 6.3km Ukme'k Trail (pronounced 'ook-may-k'), meaning 'twisted' in Mi'kmaq, the province's indigenous language, which meanders along the Mersey River connecting the campground with popular day-use areas. The recently completed new permanent Mill Falls Bridge and the inclusive rainbow crosswalk are just two new features to experience..
It's worth noting that many of the most popular trails in Nova Scotia are shared-use meaning hikers and bikers are equally at home here - and each needs to be aware of the other!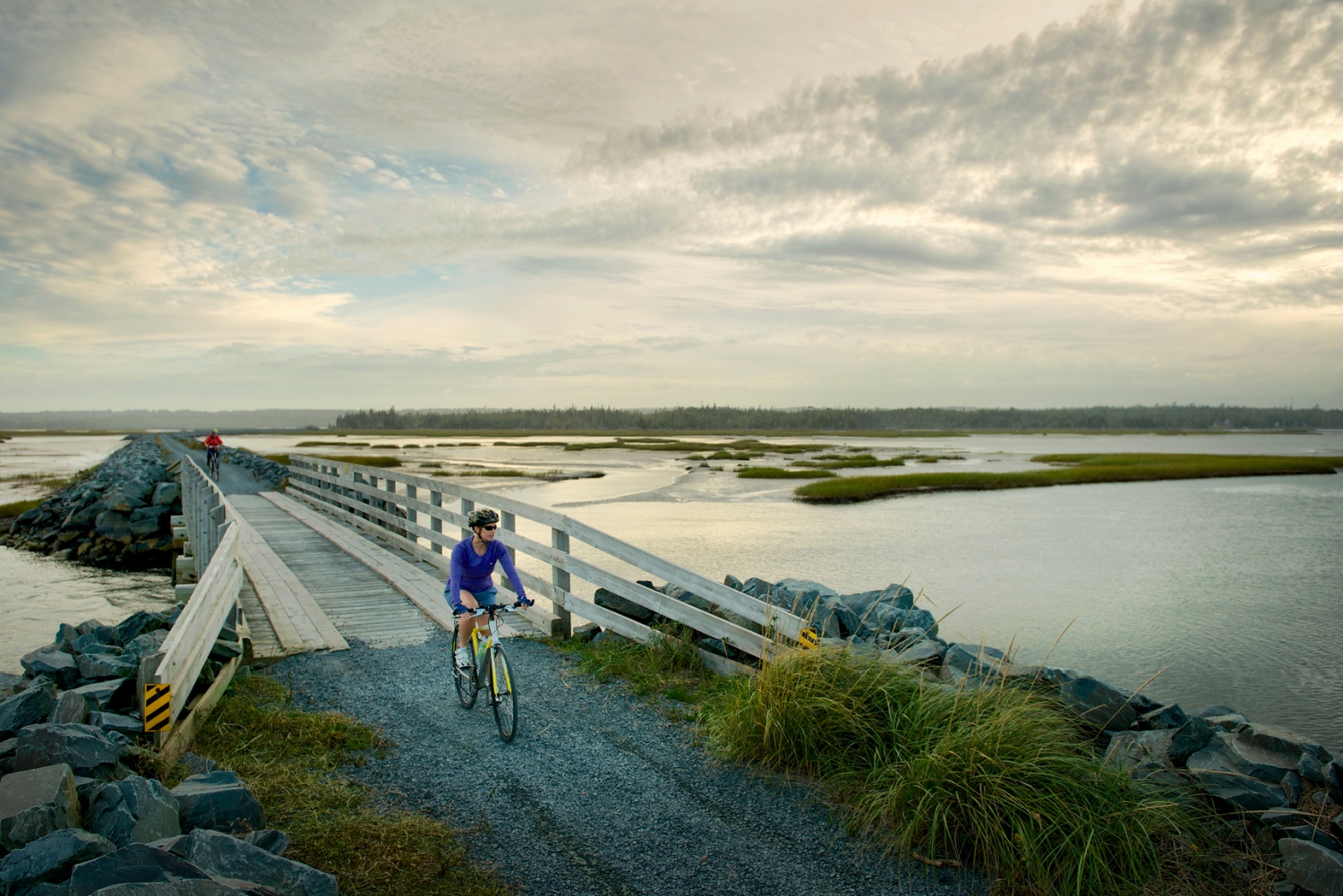 Where is Nova Scotia and how to get there
One of Canada's four Atlantic provinces, Nova Scotia - Latin for New Scotland - lies on the eastern edge of Canada, connected to the mainland by the Isthmus of Chignecto. About the size of Scotland and home to just a million people, it's the second-smallest province, and the second most-densely populated.
You can fly direct to Nova Scotia's capital city, Halifax, from London Heathrow with Air Canada, in six hours. Arriving at Halifax Stanfield International Airport, it's a great idea to hire a car to explore with the ultimate flexibility.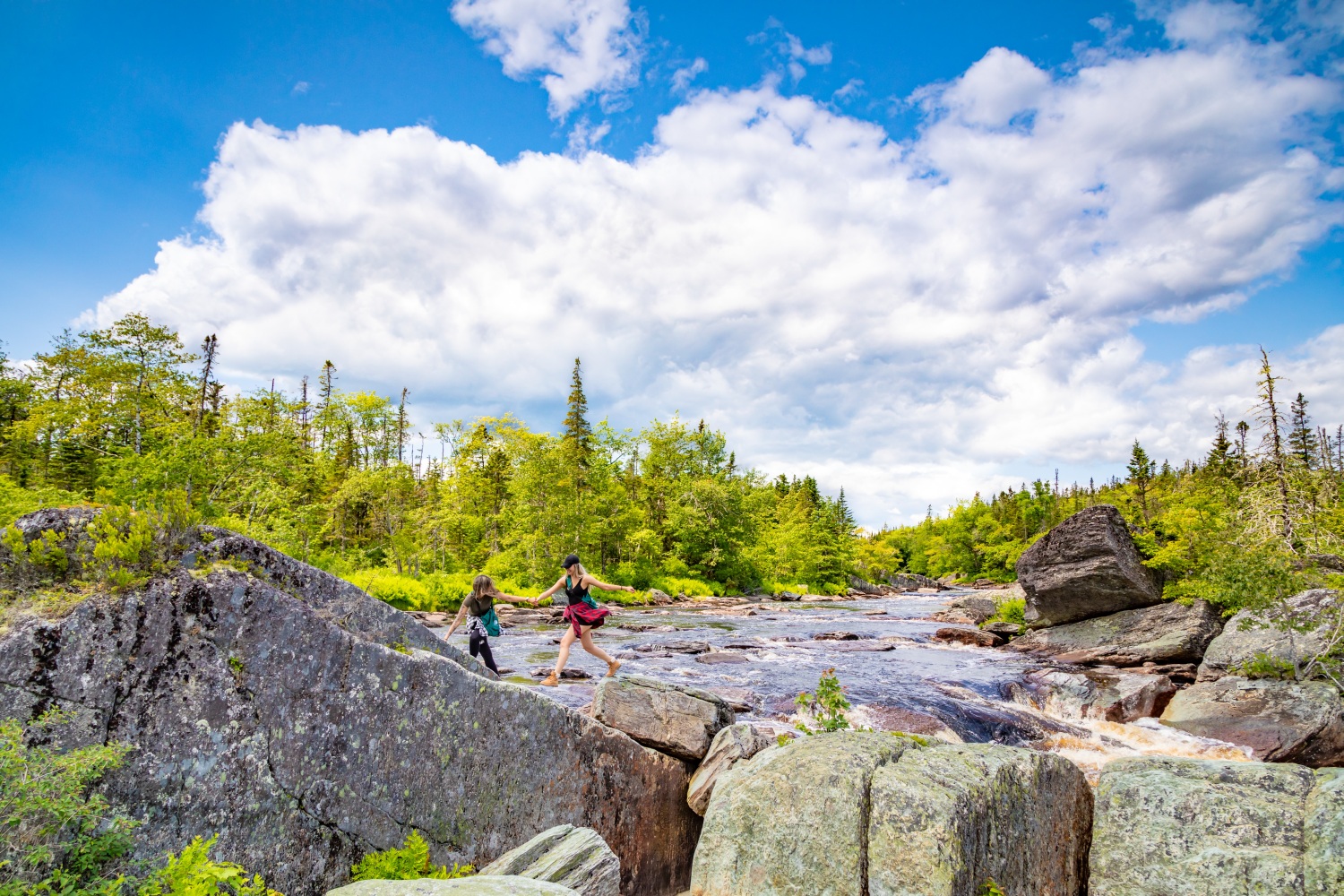 What is the hiking terrain like in Nova Scotia?
From coastal trails with expansive ocean views, to adventure trails meandering through old growth forests, highland mountaintops, rolling orchards, and pastoral fields, hiking in Nova Scotia is full of variety. Whatever your fitness or ability level, you will find enjoyable ways to stride out.
What is the cycling and biking like in Nova Scotia?
With more than 13,300 km of coastline, Nova Scotia is home to a wide range of exciting cycling experiences. Challenge yourself on one of the world's most scenic cycling routes and the province's masterpiece - The Cabot Trail - on Cape Breton Island, or explore Nova Scotia's Wine Country via the Harvest Moon Trail in the Annapolis Valley or take a journey to destinations once explored by seafarers and rum runners via the Rum Runners Trail along the South Shore.
The Blue Route provincial cycling network connects Nova Scotia's communities through designated cycling routes on secondary highways with paved shoulders, low traffic volume roads, hard surfaced trails, and city streets. Based on a concept pioneered in Quebec, it will, once fully completed, provide a network of 3,000km of signposted bike routes in the province.
Top five hikes in Nova Scotia
Here are some of the best trails to inspire you to grab your walking boots.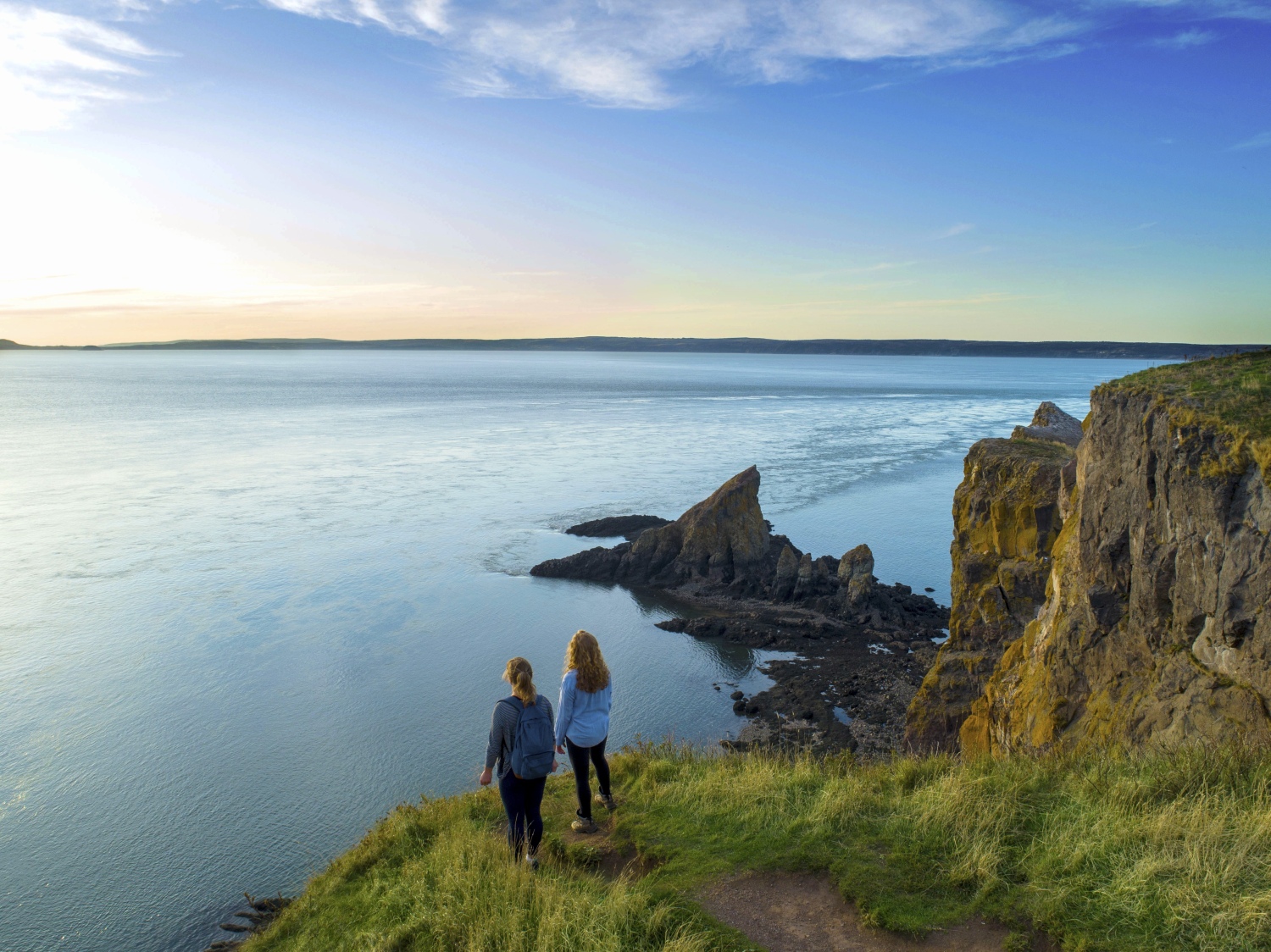 Cape Split Provincial Park
Length: 13.2km
Time: 4-6 hours
Experience the natural wonder of one of Nova Scotia's most famous features, the Bay of Fundy from the dramatic cliffs of Cape Split. The Cape Split Trail takes you through mixed forests of old-growth and coastal conifers punctuated by viewing points with stunning panoramas of this epic coastline. At the end of the peninsula, the trail opens into a meadow revealing huge sea stacks and basalt pinnacles carved by the power of the world's highest tides.
Cape Split Provincial Park is the most ecologically intact portion of the North Mountain, a ridge of basalt that defines the northern border of the Annapolis Valley. This 450-hectare area was designated a Provincial Park in 2019 and protects cultural sites of significance to the indigenous Mi'kmaq people and natural wonders of rare plants and old-growth forest.
For more info about this route, go to novascotia.com
Louisbourg Lighthouse Trail
Length: 20km (loop)
Time: As long as you like!
Nature and history combine for this popular trail, which follows the coastline through spruce woods and along some pretty steep edges of cliffs. Each area of the hike has its own tale.
Located across the harbour from the Fortress of Louisbourg National Historic Site and known for its spectacular crashing waves and unsurpassed ocean vistas, the Louisbourg Lighthouse is truly a sight to behold. A great opportunity to cover two fantastic historic sites on one trail, you can walk approx. 10km from the fortress, around the coast via the town of Louisbourg, and on to the impressive lighthouse beyond.
There are also several shorter trails around the fortress itself, which are perfect for family outings. For example, the gentle 2km looped trail is great for spotting shorebirds along the beaches and fishing boats sailing into the harbour. Experienced hikers can follow the rugged shoreline beyond.
Other paths include The Ruins Walk - a meandering 2km coastal walk, which takes in the original foundations of 18th-century homes and fortifications not featured in the reconstruction of the Fortress of Louisbourg. Some notable ruins include the 100-bed hospital and the convent of the congregation of Notre-Dame. You will also visit centuries-old burying grounds.
The family-friendly Old Town Trail is a 2.25km seaside walk popular with locals and the perfect spot for a refreshing outdoor trek all year round. Arrive in the early morning to see the sunrise over the Atlantic Ocean and watch for deer grazing along the path. In the evening, the dark skies over the Fortress of Louisbourg National Historic Site make this an ideal spot for stargazing.
For more info about these routes, go to novascotia.com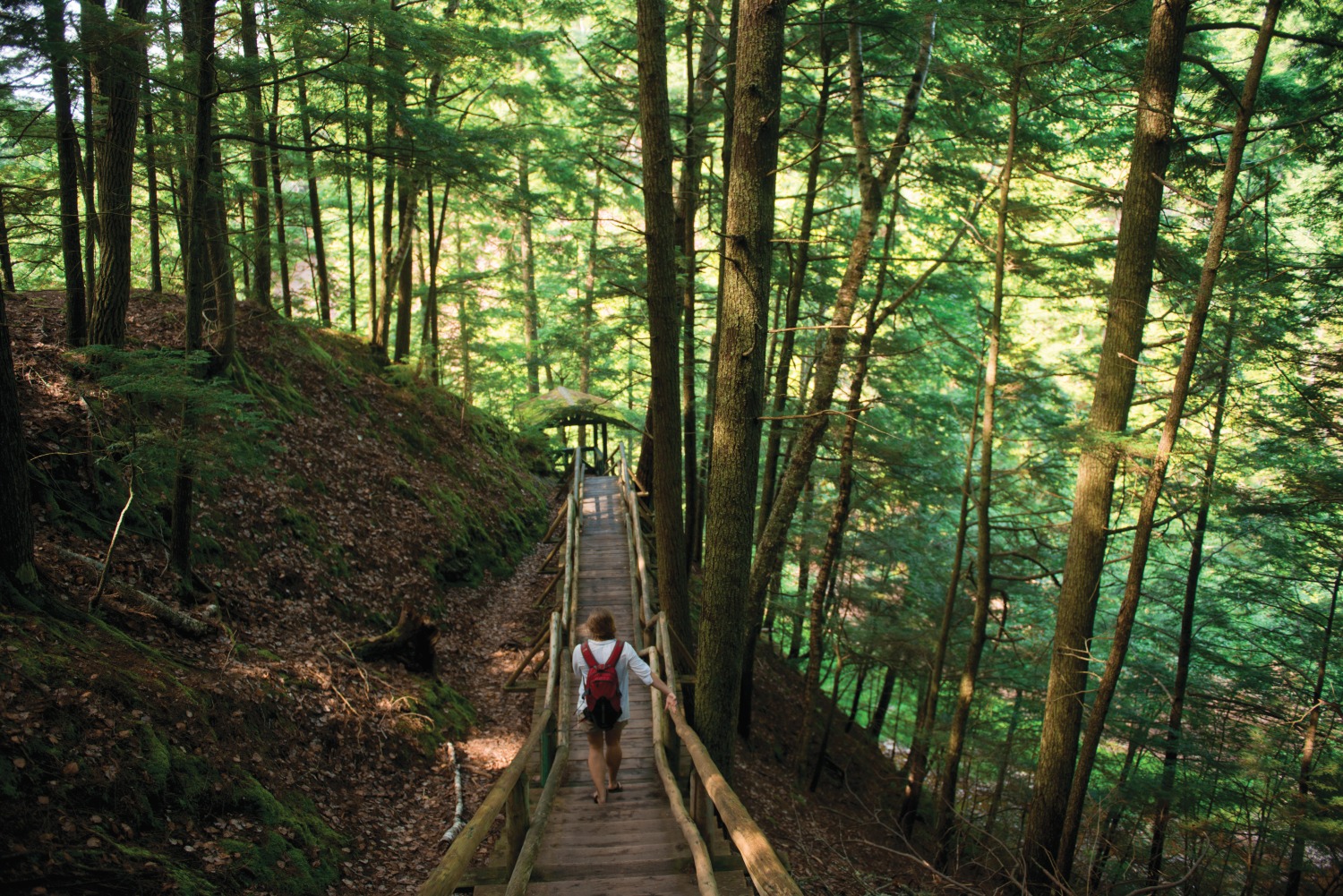 Victoria Park trails
Come for an hour or linger for a day: Victoria Park is a 3,000 acre treasure in the heart of Truro. Trails run throughout the entire park and there are trails for everyone to enjoy, including some for those with limited mobility. Now more than 130 years old, this beautiful and dynamic urban park has some incredible natural features, including a dramatic steep-sided gorge, a winding river, cascading waterfalls, and a stately old-growth Eastern Hemlock forest. You can play at the playground, swim in the heated outdoor pool, find picnic spots aplenty or challenge yourself with a 175-step climb to the top of Jacob's Ladder.
Lepper Brook flows throughout the heart of the park and over the eons, has carved the deep gorge. From the gorge riverbed, the terrain rises by nearly 100m from north to south, and there are numerous wooden staircases that ascend the sides of the gorge. Plateaus above the gorge have flatter areas and offer amazing views.
The combination of natural experiences, cultural history, and numerous other recreational opportunities makes Victoria Park a satisfying destination for visitors.
For more info about these routes, go to novascotia.com
Celtic Shores Coastal Trail
Length: 92km
Time: Multi-day
The Celtic Shores Coastal Trail is a 92 km (57 mi) multi-use trail, along former rail bed, stretching from Port Hastings to Inverness on the west coast of Cape Breton Island. Its also part of the Trans Canada Trail and the International Appalachian Trail. 
Great for long-distance trekking, the easy, flat trail meanders along the coastline, through picturesque wilderness, connecting several communities and attractions that showcase the area's vibrant Celtic culture, including some of the best live Celtic music on the island, at the Red Shoe Pub in Mabou, or at an afternoon ceilidh at the Celtic Music Interpretive Centre in Judique, Watch for pilot whales, bald eagles and a variety of sea birds as you enjoy the sweeping coastal views between Port Hastings and Long Point.
The beauty of this trail is its versatility: there are more than 30 trailheads and access points, making it ideal for everything from a few hours walk along a section to a multi-day trek for completists!  
It is a shared-use trail also hugely popular with cyclists.
For more info about this route, go to novascotia.com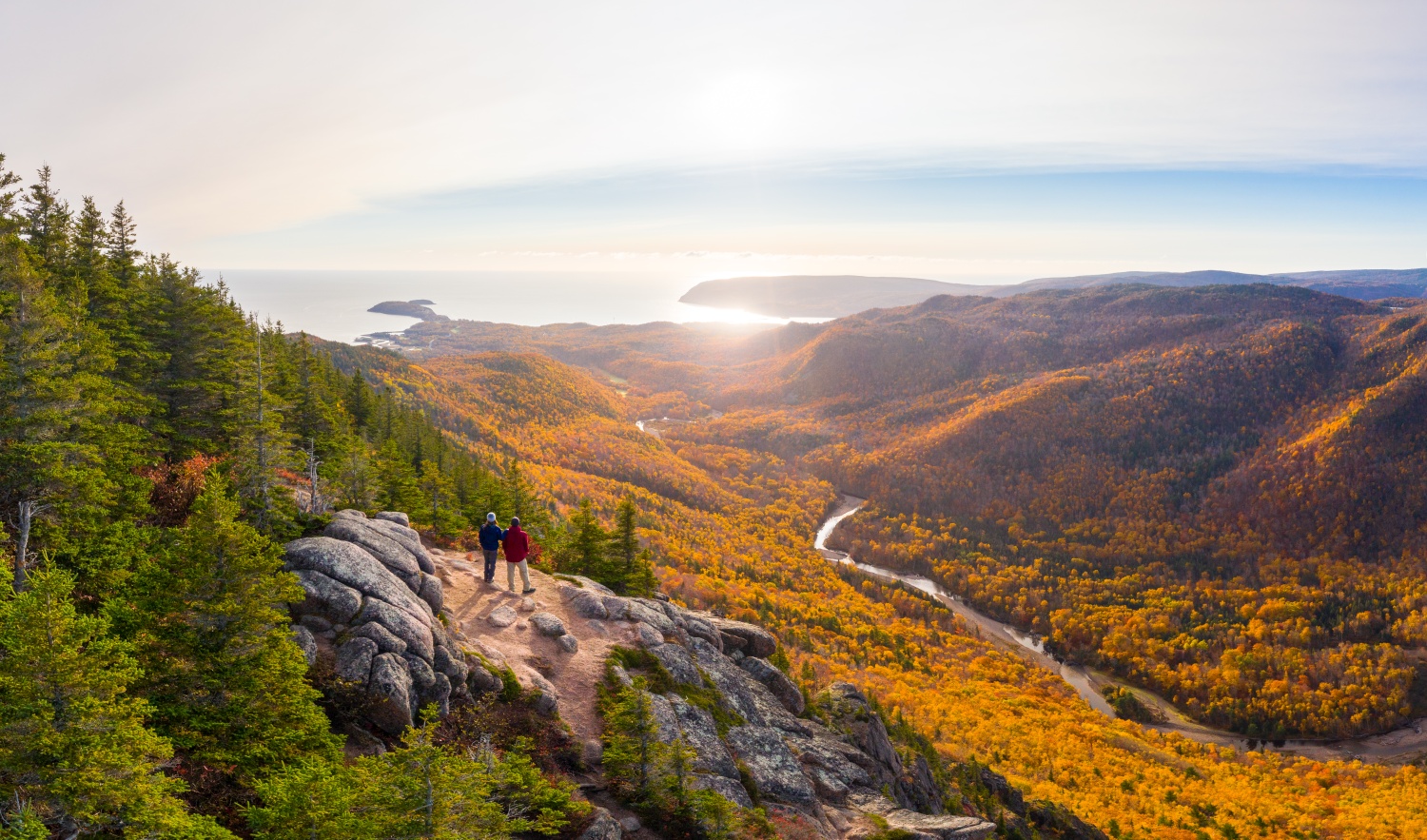 Franey Trail
Length: 7.4 km (4.6 mi) loop
Time: 2-3 hours
A trail notable for both its scenery and its wildlife.  At the top, large flat rocks give you a nice place to sit and enjoy the 360-degree views of the entire Clyburn Brook canyon and the Atlantic coastline from Cape Smokey to Ingonish. Gaze back at the mountains, the sheer rocky face of Franey Mountain, or the river winding through the valley, 425 m below. Remember that moose, bald eagles, bears and numerous boreal birds live in this habitat too.  They may be fascinating creatures but be sure to give them a wide berth.
For more info about this trail, go to novascotia.com
Top five bike routes in Nova Scotia
Hop on your bike and take on some of these fantastic trails.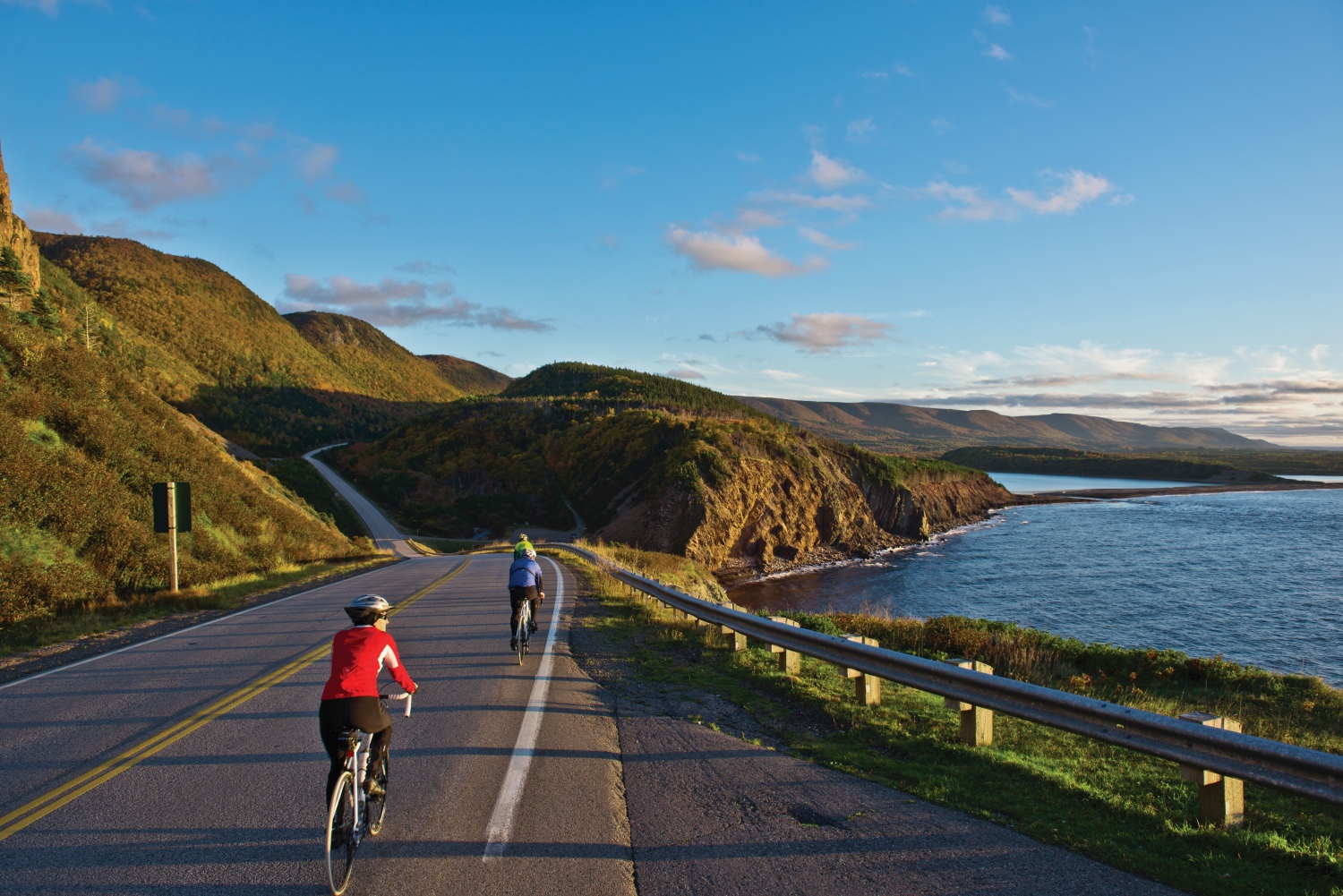 Cabot Trail
Length: 298km (loop)
Time: Up to six days
Showcasing the landscape of the Cape Breton Highlands National Park, the Cabot Trail is quite simply one of the world's greatest rides, with some of the most breathtaking views in Atlantic Canada. The beautiful coastline meets the breathtaking highlands in ways that make you appreciate both, and understand why Nova Scotia means New Scotland.
The cool maritime climate and rugged landscape provide the conditions for a unique blend of Acadian, Boreal and Taiga habitats, plants and animals. This special mix of northern and southern species is not found anywhere else in Canada. Within the park are several dozen species of rare or threatened plants and animals, as well as small populations of arctic-alpine plants left over from the last ice age. 
You can cycle all or part of it, stopping off at various campgrounds or accommodations along the way, making this a flexible option for riders. There are numerous viewpoints scattered along the Cabot Trail, giving you ample opportunities to take pictures, observe wildlife, or learn about a special aspect of the Cape Breton Highlands National Park. In particular, the look-offs at French, North, and MacKenzie mountains offer unforgettable vistas of the coastline, fishing boats in the Gulf of St Lawrence, and purple-hued Cape Smokey. You might be lucky enough to spot moose, bald eagles, and even a minke or pilot whale in the Atlantic Ocean or the Gulf of St.Lawrence.
Combining awe-inspiring scenery, out-of–the-way charm, unusual inns, exceptional cuisine, and particularly friendly locals, the Cabot Trail is a cycling experience to remember.
For more info about this route, go to novascotia.com
Pictou to Pugwash
Length: 109km
Time: 1-2 days
A great way to discover the delights of the Northumberland Shore as you pedal along through rolling farmland and seaside villages, with the sun rising gently over the warm blue waters of the Northumberland Strait.
Savour historic sites, lavender blossoms, and award-winning wines, as well as endless stretches of pristine beach. The route follows a flat and relatively quiet series of roads along the coastline of the North Shore.
In the historic town of Pictou, Nova Scotia's Scottish roots are celebrated and preserved. The town is known for being the port of arrival for the ship Hector and its Scottish passengers in the late 1700s – a full-size replica of the ship sits at the Hector Heritage Quay. Next to the Quay, you can learn more about the lobster fishing industry at the Northumberland Fisheries Museum and even visit their lobster hatchery.
The halfway point is the vibrant community of Tatamagouche which is home to art galleries, museums, craft shops, restaurants, and a farmers' market. The name Tatamagouche is derived from the Mi'kmaq term 'Takumegooch' which means 'meeting of the waters'.
The wonderfully-named Pugwash is famous for the Thinkers' Lodge, which displays a Nobel Peace Prize for an international peace conference calling for nuclear disarmament.
For more info about this route, go to cyclenovascotia.ca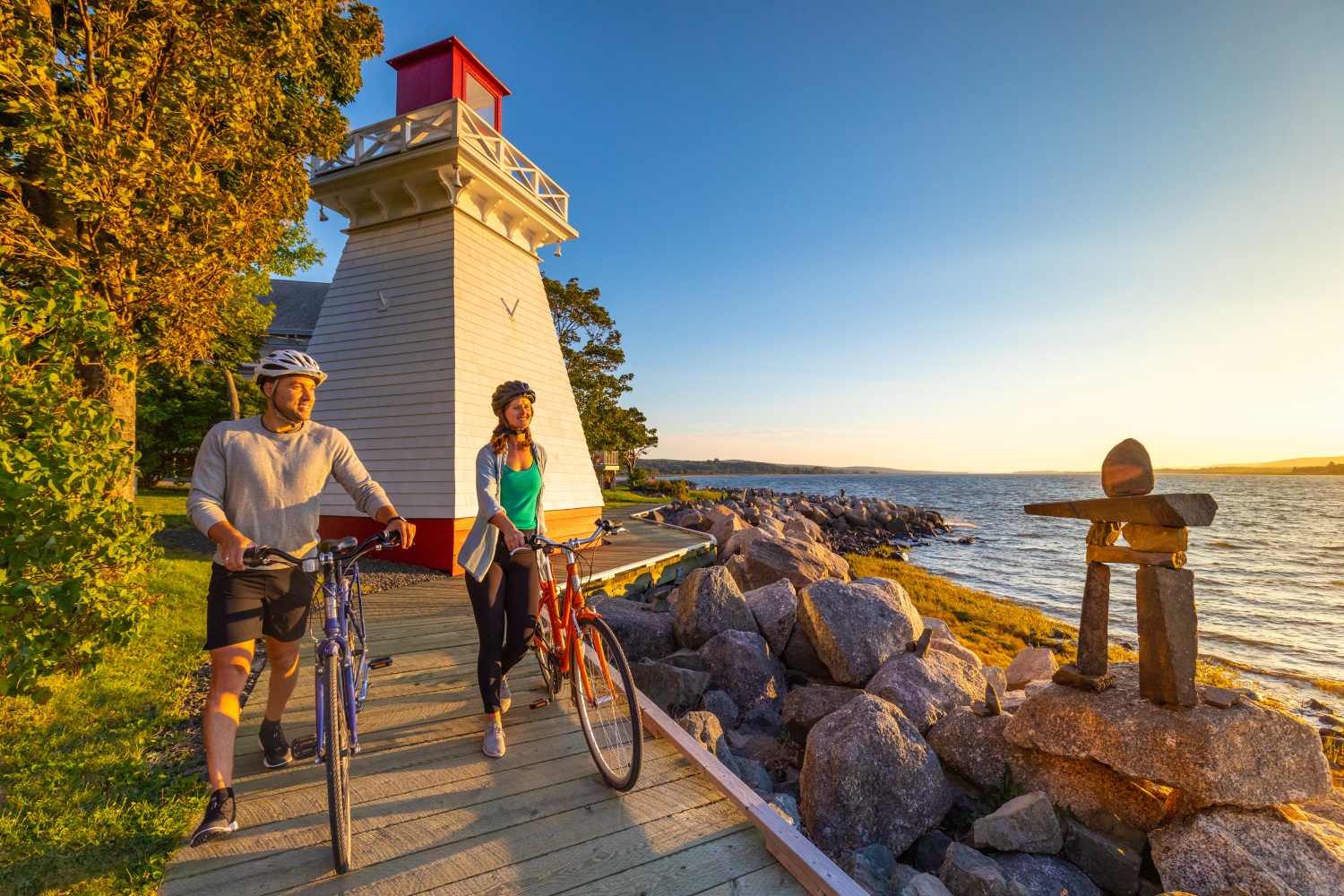 Harvest Moon Trail
Length: 110km
Time: 1-2 days
Part of the Blue Route Provincial Cycling Network, the Harvest Moon Trailway crosses the Annapolis Valley through beautiful towns along the former railbed, connecting the UNESCO World Heritage Site of Grand Pré to the historic seaside town of Annapolis Royal. It's a great way to get an insight into the area's rich Acadian heritage and vibrant culinary scene!
Great for off-road cycling, this easy, flat trail passes through the heart of picturesque communities and offers trailside access to local farm markets and u-pick farms, award winning wineries, craft beer producers and a variety of restaurants, accommodations and retail businesses. Don't leave without sampling the Tidal Bay wines - Nova Scotia's signature appellation wine that brilliantly reflects the land, coastal breezes and cooler climates of its birthplace.  
The trailway has 22 sections, and there are more than 20 trailheads and access points along the way. Most of the trail is smooth and hard-packed but a number of sections are shared use and surface conditions can vary from season to season.
For more info about this route, go to novascotia.com
Cobequid Trail
Length: 18km
Time: 45min-1hr
A network of shared-use trails in central Colchester County, at the head of the Bay of Fundy. This is pleasant way to spend an hour or so, if you just fancy exploring woodland paths and shaded brooks. Follow the rail trail through farmland and Acadian dykelands beside the tidal Salmon River and watch the tidal bore when it arrives twice daily. Discover We'kwampekitk (the Mi'kmaq name for the Truro area), which means 'the bay runs far up'. 
The Cobequid Trail is great for wildlife viewing - watch for migratory birds on the marshlands and mudflats - and has numerous rest areas with benches and picnic tables to enjoy the views.
For more info about this route, go to novascotia.com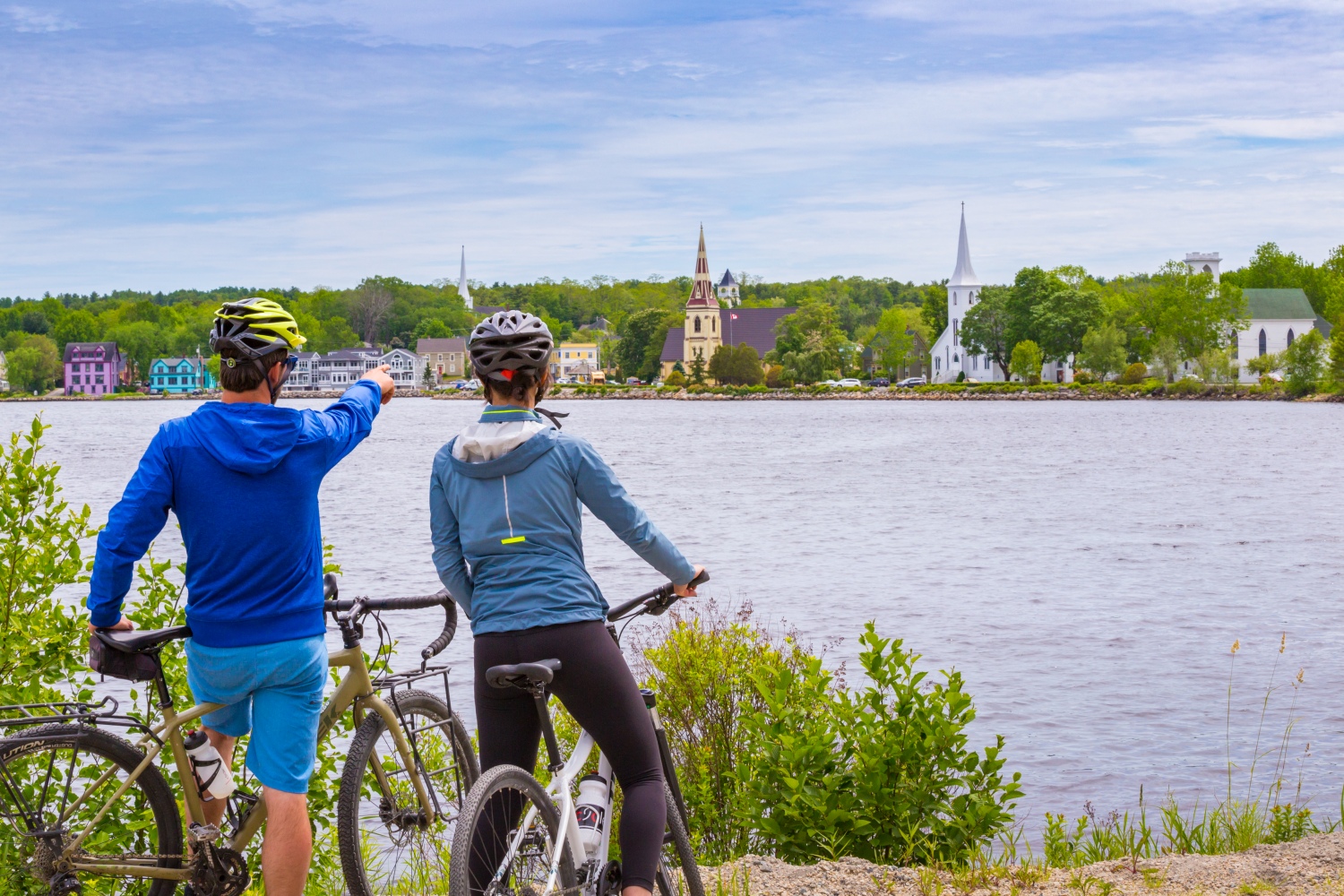 Rum Runners Trail
Length: 112km
Time: 1-3 days
Take a journey to destinations once frequented by seafarers and rum runners! The Rum Runners Trail is a mostly flat shared-use trail built along the route of the former rail line from Halifax to Lunenburg, a UNESCO World Heritage Site, and passes through the coastal towns of Hubbards, Chester, and Mahone Bay. It merges six community trails: the Beechville Lakeside Timberlea Trail, St. Margaret's Bay Trail, Aspotogan Trail, Chester Connector, Dynamite Trail, and Bay to Bay Trail., and can be accessed in Halifax from the Chain of Lakes Trail, which is a 7 km paved surface trail.
Chester's downtown is a hive of studios, galleries and restaurants, such as The Kiwi Café and Rope Loft, while historic Lunenberg is a bustling town with a vibrant culinary scene, plenty of shops, artisans, and grand heritage inns and B&Bs.
For more info about this route, go to novascotia.com
Take the trip
Book your Nova Scotia holiday with the experts at Canadian Affair. Call them on 0203 424 9649 or visit canadianaffair.com to start planning your adventure.