Your top layer is there to protect you from wind and rain but it also needs to be breathable, easily stowed and look good!
Waterproof jacket buyers guide
For walking it's not advisable to leave home without a waterproof jacket, even if you're not expecting rain. Add an overnight wild camp into the mix and your choice of jacket becomes pivotal, both in terms of protection from the elements and the dent it puts in your overall pack weight. It's much the same for cycling where having an easily packable jacket that you can throw on in a downpour can make the difference between a miserable ride and a great one.
A decent waterproof jacket can also be used for travelling, daily wear and anything else you care to throw at it, but take care as the materials used are often optimised for weight rather than durability so wearing one too often could risk prematurely wearing out your expensive investment.
Lightweight jackets often compromise on features to bring weight down too so decide whether you need lightweight packability over and above pockets, adjusters and a highly durable material.
The jackets on test have been put through their paces across a wide range of activities and in a number of different climates to whittle our choices down to what we consider to be the best buys available today.
Waterproofing
The higher the jacket's 'hydrostatic head' the more water resistant it will be. This info should be on the garment's swing tag and will be written as 'mm H2O' – 20,000mm H2O is a good figure to look for.
Breathability
Look for the jacket's 'Moisture Vapour Permeability' rating (measured by how much steam its fabric lets through a square metre in 24hrs. Look for about 20,000/m2/24hrs.
Seams
These are potential weak points. Laser cut and glued seams are best as the process doesn't involve putting holes into the fabric. They also keep weight down. Taped seams are even better.
Packability
An easily packed waterproof is a versatile one, as you're more likely to take it on more occasions. One that packs down to a small size is obviously more easily stowed – especially in smaller summer day packs and travel luggage. Small pack size usually means lighter too. The most versatile pack into their own pockets.
Columbia Ampli-Dry waterproof jacket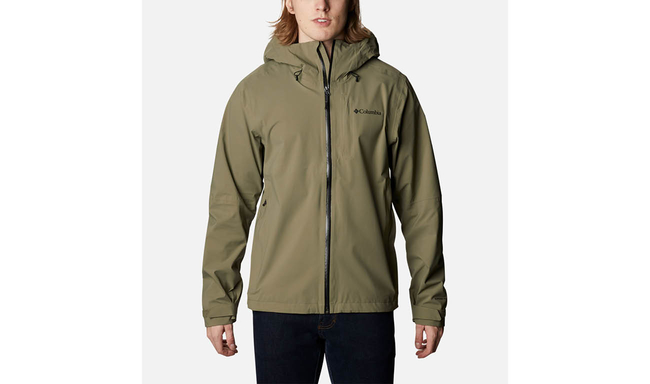 Best for: Travel on a budget
This catchily named waterproof jacket is a generalist, suitable for anything outdoors where you might want to stay dry but it excels at hiking and travel. Columbia's Omni-Tech takes care of waterproofing and claims 10k/10k waterproof and breathability which is about as middle of the road as the price of the jacket suggests. In use, this along with the taped seams and water-resistant main zip ensure you stay dry in most conditions, but the Ampli-Dry jacket is not the jacket to choose for extreme use.
Compared to a much more waterproof and breathable Gore-Tex the Ampli-Dry is pleasantly soft and supple meaning that wearing it isn't akin to donning a stiff bin bag. It's quiet and there is genuine 4-way stretch in the outer material, the inner is also surprisingly comfortable against the skin.
Pit zips and vented hand pockets help greatly with breathability when you work up a sweat, letting moisture and heat quickly escape and the hood adds vital extra protection from the rain, providing decent coverage.
We felt that the cut was quite boxy and uninspiring, the sort of jacket to wear if you want to blend into the background, this is complemented by a range of muted colours (apart from the bright red on test). Despite not sounding particularly appealing this may be exactly what you want when travelling.
Berghaus Athunder Jacket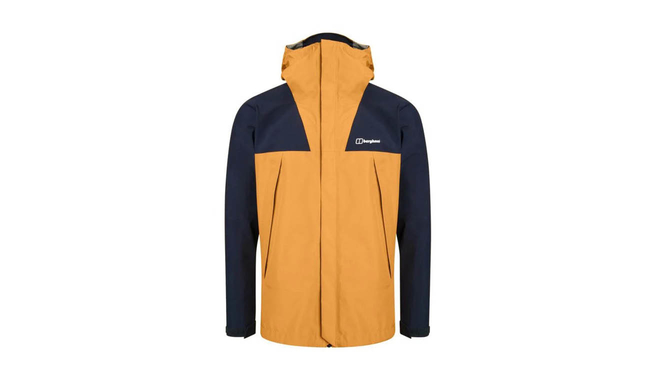 Best for: A solid and dependable genuine all rounder that will take you from crag to Co-op
Berghaus new Athunder jacket comes in a fetching two tone mustard and blue colour that looks quite the fashionable technical jacket, despite Berghaus often distinctly middle-aged leanings. And that's just the start of what we consider to be an excellent 'fully featured' waterproof jacket. What we mean by 'fully featured' is the type of jacket that you can batten down the hatches with against the worst of the winter weather and come out the other side without shrivelled skin and hypothermia.
Waterproofing comes from 3-layer Gore Tex, and despite there being no pit zips we found the Athunder breathable on a warm but wet autumn day, it's also about as waterproof as you can find.
The two chest pockets are the only storage on the Athunder jacket but they will both take a map and handily clear hip belt or harness. The main zip is complemented by a storm flap which you seal down with poppers, this adds to the great looks and also to the rain protection in that most vulnerable of areas.
The hood is effective, it's spacious and comfortable, helmet compatible and cinches down nicely over a bare head. The chin section covers the bottom of the face nicely leaving enough room for your face with the zip done up and the hood moves with your head unlike some.
This jacket isn't cheap or particularly lightweight, but it is very good. If you decide to invest it will give many years of sustained use in the harshest of environments.
Alpkit Definition Jacket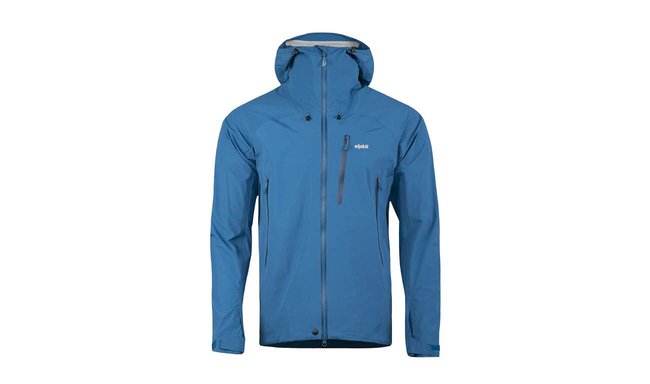 Best for: Battening down the hatches in the depths of winter
The scope of this jacket points to Scottish winters, and these are harsh to say the least so the Definition needs to be every bit the rugged waterproof jacket.
It immediately feels heavy duty, with a thick fabric that's durable and robust, it can easily cope with abrasion from rocks, packs and even ice axes at a push.
The 3 layer construction is highly waterproof, as tested by us in some seriously wet autumn downpours and the 20k breathability rating is also decent. We found that on steep ascents we started to boil up, perhaps sooner than an equivalent eVent membrane would have us doing so but this is quickly counteracted with the venting zips.
Alpkit usually integrate mesh into pockets wherever they can but all pockets on the Definition are built in a solid material. This isn't as good for ventilation but stops snow and general wetness inadvertently getting inside your jacket.
The hand pockets clear harness, hipbelt and shoulder straps and are large enough to hold a map, there's also a small inside pocket for a phone.
We found the hood highly effective in a hoolie, it's helmet compatible, 3-way adjustable and cinches down over the head nicely. It isn't bothersome over long periods of sustained use and the wired peak helps keep rain off your face.
The cut is a bit baggier than we would have liked, but there's still some shape to it. It's designed to accommodate multiple layers for seriously chilly weather so it's function over form here. This does mean that it isn't the most appealing jacket to wear out and about to the shops or pub though.
Overall, a great, batten down the hatches deep winter jacket that won't let you down.
Fjern Skjold Jacket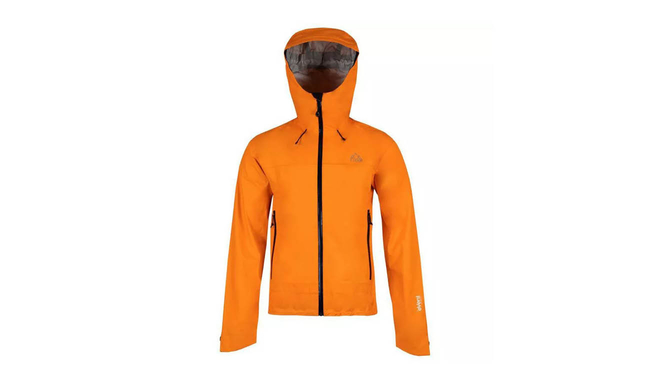 Best for: Fast and light but without the compromise
This is a packable, fast and light style jacket but not paired down to nothing to save ultimate amounts of weight. You still get all the features you would expect from an expensive waterproof jacket, like pockets and adjusters as well as a very decent, functional hood.
The membrane is eVent, this is massively breathable in our experience so is a great choice for moving fast, it does of course also keep the water out just as well as an equivalent Gore Tex.
Being a 'packable' jacket the Skjold' material is thin but not wafer thin, so we still feel that it offers good durability and abrasion resistance. Coverage is also slightly trimmed down at the hem and in general volume, but the cuffs don't suffer the same fate, tapering over the wrists to keep your expensive mid layer and watch dry.
The two hand pockets are located in bog standard places, that is to say that if you're wearing a pack with a hipbelt or climbing harness you will not be able to make use of them, for all other uses though they work as intended.
Coverage and comfort from the hood are particularly good, it cinches down using the adjusters and then moves with your head and the material at the top of the jacket doesn't get in the way of the chin too much.
eVent is a 3-layer fabric technology so there is no mesh lining for comfort or warmth but it's still surprisingly comfortable next to bare arms.
Fast and light suggests a low weight and the Skjold does a decent job considering the feature set at 335g.
There is fierce competition pitching against the Skjold for your money and Fjern are asking a fair amount of it at £250 but we think it's worth it – just.
North Face 1994 Retro Mountain Light Futurelight Packable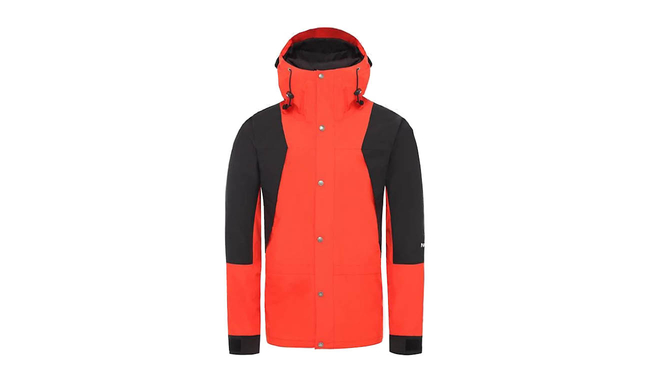 Best for: Casual wear
That name is quite the mouthful but what we can glean from it is a retro inspired look paired with bang up to date materials and tech.
Initially the 1994 Retro feels gimmicky and much more suited to the street than active outdoor use. The fit is massive considering I picked my usual size; the jacket swamps my svelte torso and makes me feel a little bit silly. This is not ideal from a performance perspective, having acres of material flapping around isn't what you want when you're on top of a hill in a hoolie.
Everything is chunky, oversized, and overdone, from the massive toggle pulls to the huge cuff adjusters and webbing strap adjusters for the hood. This makes the 1994 Retro feel and look like a caricature of an outdoor jacket rather than a serious bit of kit for walking.
Once you get over the quite frankly ridiculous styling the actual wind and waterproofing, which at the end of the day is what a waterproof jacket is all about, is top notch. Futurelight is North Face' new waterproof membrane material and is super breathable and waterproof, it keeps the rain off and moves the sweat out.
The mesh liner adds comfort and warmth but contributes to the overall weight of 784g, making a mockery of the 'packable' claim. Still, we could see this being a good travel jacket for some if the style is to your liking (we won't judge).
Keela Stashaway Pro Jacket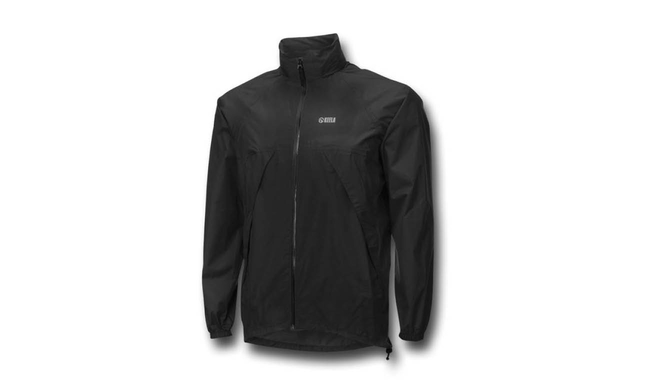 Best for: Most of the benefits of expensive waterproof jackets at a third of the price
The headline grabbing price of this waterproof multi-use jacket is what will attract most people, and for most, this is all the jacket you need to stay dry in a rainstorm.
Yes, it's only £60 but it offers a scaled down version of more expensive jackets and is highly practical, if not particularly glamorous. Not unlike a much better version of a pac-a-mac, the Stashaway Pro comes in a small stuff sack and is designed to be deployed for emergency rain cover.
Although not from an expensive major brand the Rainlife 2000 fabric is waterproof and, amazingly at this price, all the seams are taped, and the zips are water resistant or have storm flaps for complete protection. The hood is a basic affair, there is no wired peak for instance, but it does protect your head from rain.
There are a couple of big pockets on the outside and hem and cuff adjusters. We would say the size is on the larger size both in volume and length, which provides great coverage but a dowdy look.
If you're on a budget and just want something that does the job without a fanfare this is a solid, if lacklustre option.
Salomon Outspeed 360 jacket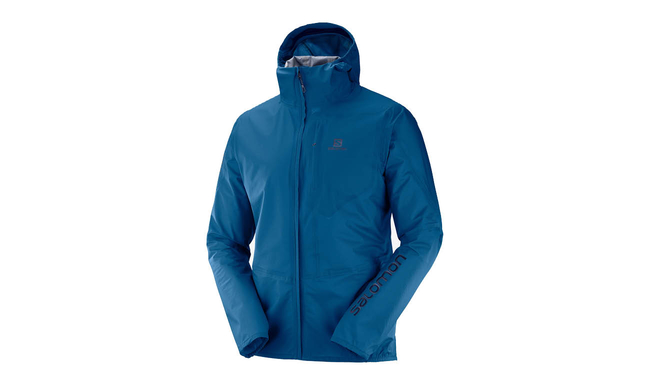 Best for: Ultralight adventures
The Outspeed 360 3L is a jacket bursting with technical features like the AdvancedSkin Dry 20k/30k outer fabric which does an excellent job of protecting against rain and wind while staying breathable.
You might start to feel a little clammy in a real downpour, but in Autumnal drizzle and showers we stayed dry as a bone with fully taped seams throughout giving the waterproofing a boost.
The 3 layers that make up the fabric (outer, membrane and backer) are bonded together to form a very thin shell, which is perfect for slipping on over a midlayer or t-shirt in warmer weather.
Ultralightweight at just 185g this jacket would be a great addition to a bikepacking kit bag or any adventure where you are trying to reduce weight. It even packs down and stuffs into its own chest pocket.
Speaking of pockets, or rather, pocket, the zipped external chest pocket is all you get, so pick a pair of trousers or midlayer with extra storage if you like to bring gadgets etc. along with you.
One thing the Outspeed 360 3L really excels at is comfort. The MotionFit 360 technology works like a dream with the jacket fitting close to the body (nothing worse than pockets of cold air creeping in!) without being too tight or pulling uncomfortably, even when running. Articulated sleeves also help with range of movement. Although fairly short the Outspeed jacket provides good coverage and doesn't ride up and flash any skin.
The hood, like the rest of the jacket is minimalist with just an elasticated section at the back instead of toggles to help with the fit, so this can be a little hit and miss.
Montane Alpine Shift Jacket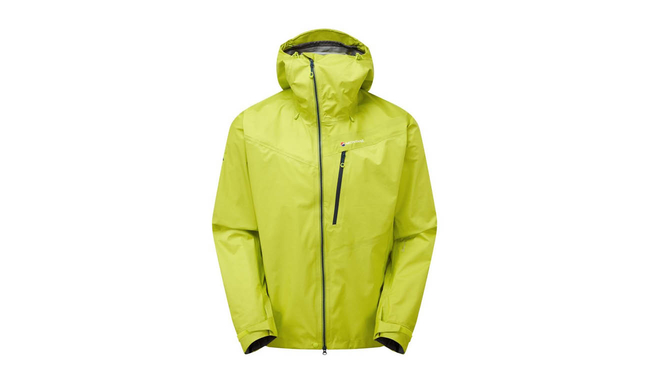 Best for: A great packable jacket for cycling
We've now been wearing the Alpine Shift jacket for over six months, during activities as diverse as mountain biking, camping, bushcraft and hiking, all with lots of rain.
Rain is dealt with by the Diamond Lite Pro 3-layer material perfectly. The hood is particularly good providing excellent protection in sustained downpours. If you're a keen cyclist or climber, you'll also be pleased to know that it's helmet compatible.
The jacket provides ample coverage over the wrists and bum and plenty of space for layering, making it a good option in the winter months. The material, despite only being a relatively thin 20 denier has proved to be robust; this is a jacket that offers much more than its 280g weight would suggest.
Other features are fairly basic, this helps keep the weight down - just one chest pocket for instance, but all the usual adjusters are still there making this a genuinely useful all season waterproof jacket.