Your waterproof jacket is there to protect you from wind and rain but it also needs to be breathable, easily stowed and look good - not much to ask. There's also the questions of longevity and environmental performance such as use of PFC-Free coatings and recycled materials.

Here, we've compiled a handy guide explaining everything you need to know about waterproof jackets. If you want to skip to our selections, there's a TL/DR Summary below. 
Waterproof jacket buyers guide
It's always worth chucking a waterproof jacket in your hiking backpack when you're heading out on a walk or ride, even if you're not expecting rain. In fact, we'd say that after a pair of walking boots (or lightweight walking shoes), and perhaps a water bottle, a good waterproof jacket is the single most important piece of outdoor kit you can carry.

The best waterproof jackets offer shelter in all weather, and can be especially useful in blustery conditions, where wind chill can have a big impact on your day. For cycling or trail running, you might want to look at lightweight waterproof jackets which are more easily packable. The waterproof jackets we've listed here, however, are more general purpose. A decent waterproof jacket should have the versatility to be worn for travel, walking, and daily wear around town. The jackets reviewed here have been put through their paces across a wide range of activities and in a number of different climates to whittle our choices down to what we consider to be the best waterproof jackets available today.
How to buy a waterproof jacket
How does a waterproof jacket work?
Waterproof jackets usually consist of a waterproof breathable membrane like Gore-Tex or eVent, a face fabric, and sometimes an additional layer of fabric inside too. The membrane is usually bonded to the inside of the face fabric and does most of the work, the face fabric just protects that membrane from damage, and offers a more aesthetically pleasing finish. How does this membrane work? It's designed with microscopic holes in it, just big enough to let heat and moisture vapour from the inside pass, but small enough that rain drops can't get through from the outside.
Often you will see a waterproof jacket with a DWR, or Durable Water Repellent coating. Contrary to popular belief this is not the waterproof element of the jacket, it simply helps the jacket breathe properly from the inside. The coating is applied to the face fabric of the jacket and encourages water to bead up and roll straight off, rather than soak into it. If the face fabric of the waterproof jacket becomes saturated, or 'wets out' any moisture that has been able to pass through the breathable membrane from the inside will get trapped by the outer fabric, and consequently you may get wet from the inside!
2 layer, 2.5 layer and 3 layer
The very best waterproof jackets are 3-layer. These are known as the most reliable waterproof jackets thanks to their sandwich construction of membrane with face and inner fabric bonded either side. This protects the vital membrane from scuffs and scrapes, body oils which can block the pores and general dirt and damage. These also tend to be the most expensive waterproof jackets though, and for many uses they may be overkill.
A 2-layer waterproof jacket mixes a membrane and face fabric with a loose mesh and taffeta liner. These tend to be the quietest in use and are also often the best value but are heavy and don't perform as well.
2.5 layer waterproof jackets are perfect for most walking, cycling and travel duties as they mix the benefits of both 2 and 3-layer waterproof jackets. They consist of a membrane, face fabric, and printed finish on the inside which offers some protection from body oils as well as a little additional next-to-skin comfort. They tend to be lightweight and very packable and offer the best mix of performance and value.
Waterproofing
The higher the jacket's 'hydrostatic head' the more waterproof it will be. This info should be on the garment's swing tag and will be written as 'mm H2O'. 20,000mm H2O is a good figure to look for if you demand a lot from your gear but anything from about 5,000mm is considered to be waterproof.
Waterproofing doesn't stop with the membrane though, potential weak points where water could make its way through the inside of your waterproof jacket are zips and seams.
Seams
Laser cut and glued seams are best as the process doesn't involve putting holes into the fabric. They also keep weight down. Taped seams are probably more common though, this involves the manufacturer of the waterproof jacket putting a waterproof tape over the seams to protect them. Check that these are all over the jacket rather than just in 'critical' areas.
Zips
Water resistant zips are very common on lightweight waterproof jackets, this puts a rubbery finish around the zip to stop water getting through. Storm flaps are often used as an alternative. This simply places a flap of material over the zip and looks better on casual waterproof jackets.
Breathability
A breathable jacket is a comfortable one so make sure you check the breathability rating of your waterproof jacket before you buy it. Breathability is shown as a 'Moisture Vapour Permeability' measured by how much steam the fabric lets through per square metre in 24hrs. A rating of 10,000 is good enough for most, but if you take your hiking or cycling seriously it may be better to look for a jacket with upwards of 20,000 breathability.
Pit zips are fantastic in any waterproof jacket that you will cook up a sweat in, as they allow you to quickly vent out that excess heat and moisture without getting wet. It's a similar situation with mesh lined pockets, crack these open and hot, moist air will be able to escape.
Packability
An easily packed waterproof is a versatile one, as you're more likely to take it on more occasions. One that packs down to a small size is obviously more easily stowed – especially in smaller summer day packs and travel luggage. Small pack size usually means lighter too. The most versatile pack into their own pockets.
Best waterproof jackets: TL/DR Summary
All of the waterproof jackets on this list are excellent options. But for its combination of fit, waterproof functionality and features, we rated the Rab Firewall as our favourite. It's an all-rounder, but it's great value for money too. 

At the more budget end of things (because not everyone can afford to spend £240 on a new jacket), the Helly Hansen Ervik is the pick of the bunch, at just £110. There are cheaper jackets available, but for the combination of build quality, and no-frills performance, this ticks all the boxes. It's BlueSign approved too, so it won't cost the Earth either literally, or figuratively. 
Rab Firewall Jacket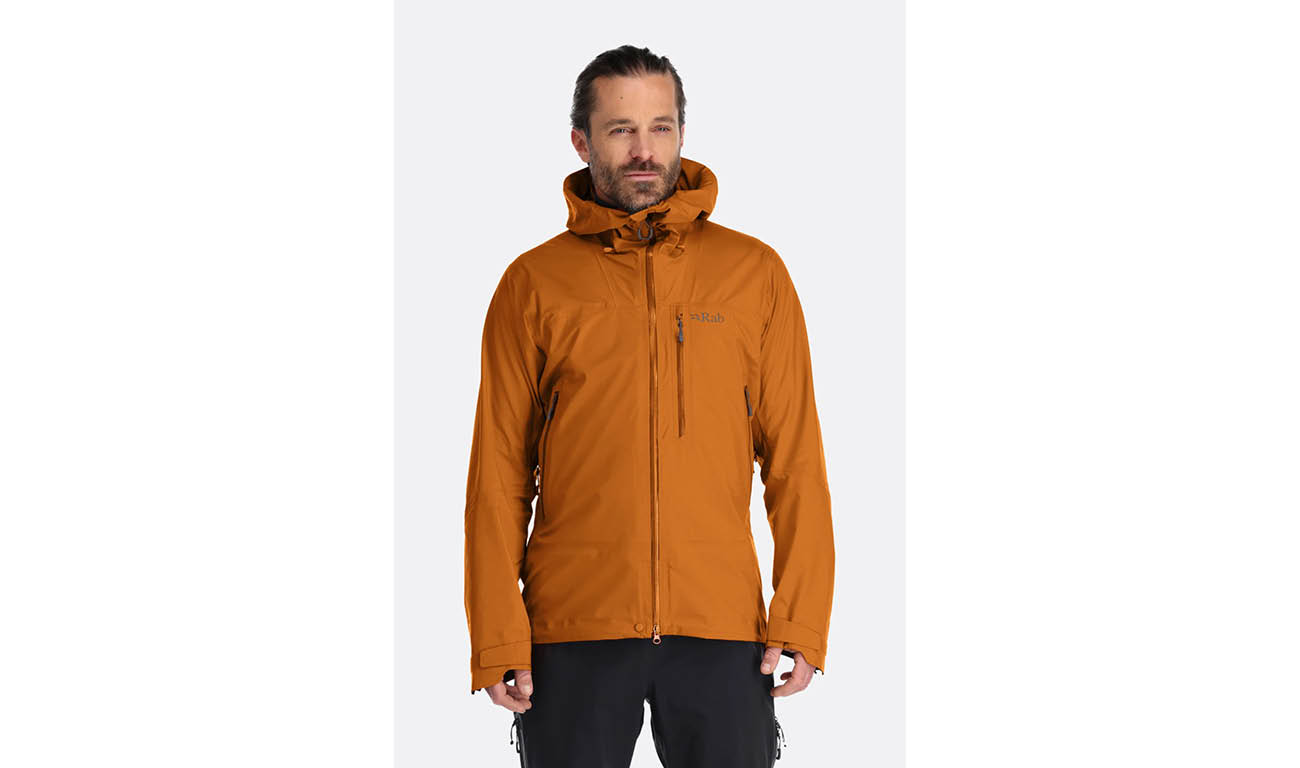 Best for: Day hikes, cycling, and day-to-day use
Weight: 478g
Construction: 3-layer shell
RRP: £240
As a gear tester, I have specific criteria for a waterproof jacket and the Rab Firewall ticks all the important boxes. Comfort and fit are top priorities, and the Firewall delivers. The tapered wrist coverage and drawstring hem provide extra protection, while the Velcro wrist adjusters allow for a custom fit. The two hand pockets and one chest pocket are conveniently positioned, and all zips are waterproof coated. The helmet-compatible hood offers excellent head and face protection with a wired peak and adjustable drawstring.
The three-layer construction with fully taped seams and Pertex Shield fabric make the Firewall durable and lightweight. The 30D Pertex Shield provides a good balance between thickness and weight, while the specs of 20,000mm waterproofing and 20,000g/m2/24hrs breathability mean this jacket is perfect for hiking in the rain all day. The two-way pit zips and bottom zip provide ample ventilation options.
Overall, the Firewall jacket is a dependable and stylish choice for hiking, cycling, and everyday use. It may not be ultralight at 478g, but it's a reasonable weight for its specs and ideal for day hikes.
Paramo Alta III Jacket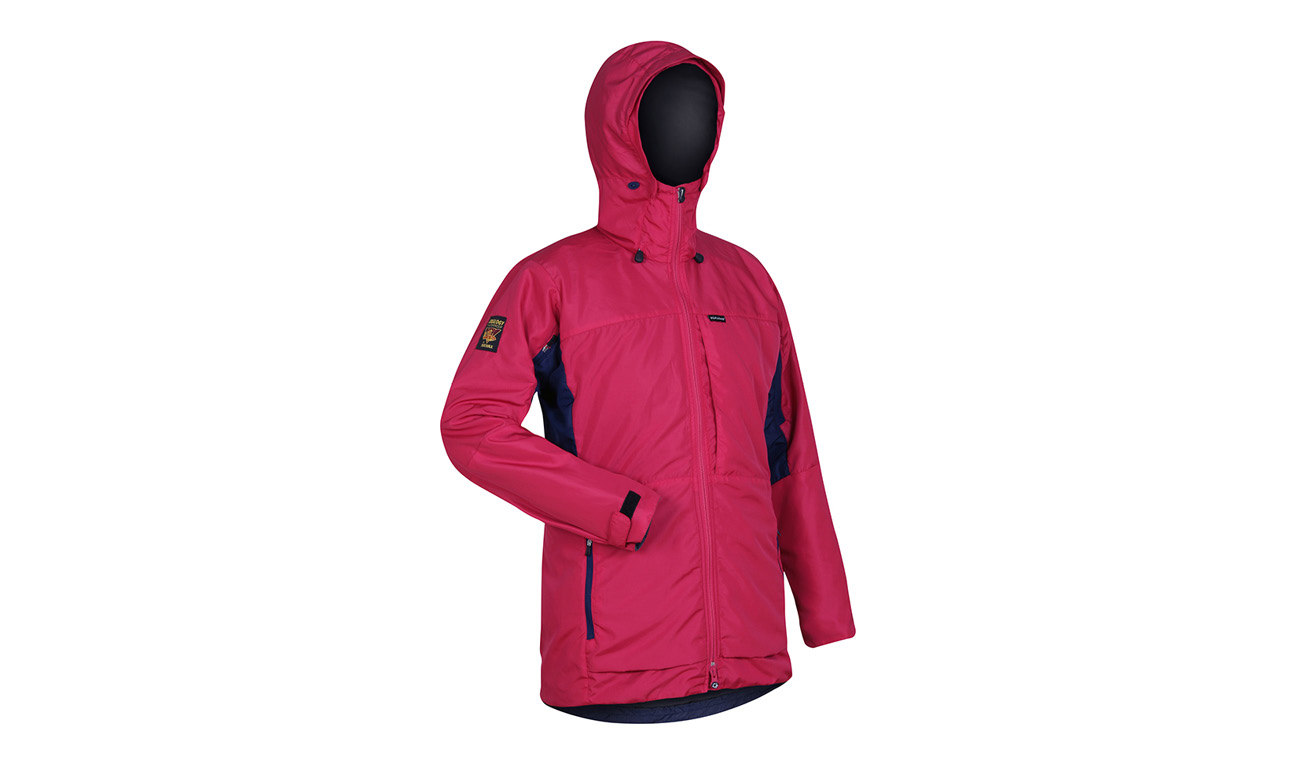 Best for: Wind and rain protection in a classic silhouette
Weight: 805g
Construction: Nikwax Analogy Fabric System
RRP: £310
The Alta III is bursting with technical features, all designed to keep you as comfortable as possible while you're out on the hill.
Paramo use a directional Nikwax Analogy waterproof fabric system which effectively keeps you dry and also works to wick away any moisture after you work up a sweat. They have also integrated a Mesh Pump Liner in strategic places at the shoulder and back panels to provide extra protection from the rain, especially when carrying a heavy pack.
As we've come to expect from Paramo, the outer fabric is soft to the touch and just slightly shiny - nothing like the crinkly, plastic-y feel of many waterproof jackets, which to us is a huge bonus.
The cut is fairly classic for added protection against the elements, and the women's model is shaped to follow the lines of the body.
Freedom of movement is excellent with strategically placed fabric panels which allow you to move freely without the jacket riding up or pulling uncomfortably. Perfect for scrambling and hopping over stiles.
This jacket comes in four attractive colourways, each sporting a two-tone effect with different coloured panels. Choose from Elderberry/Foxglove, Midnight/Indigo (which we tested), Neon Blue/Midnight or Outback Red/Wine.
Buy Paramo Alta III Jacket: £279 at Amazon.co.uk
Montane Pac Plus XT Jacket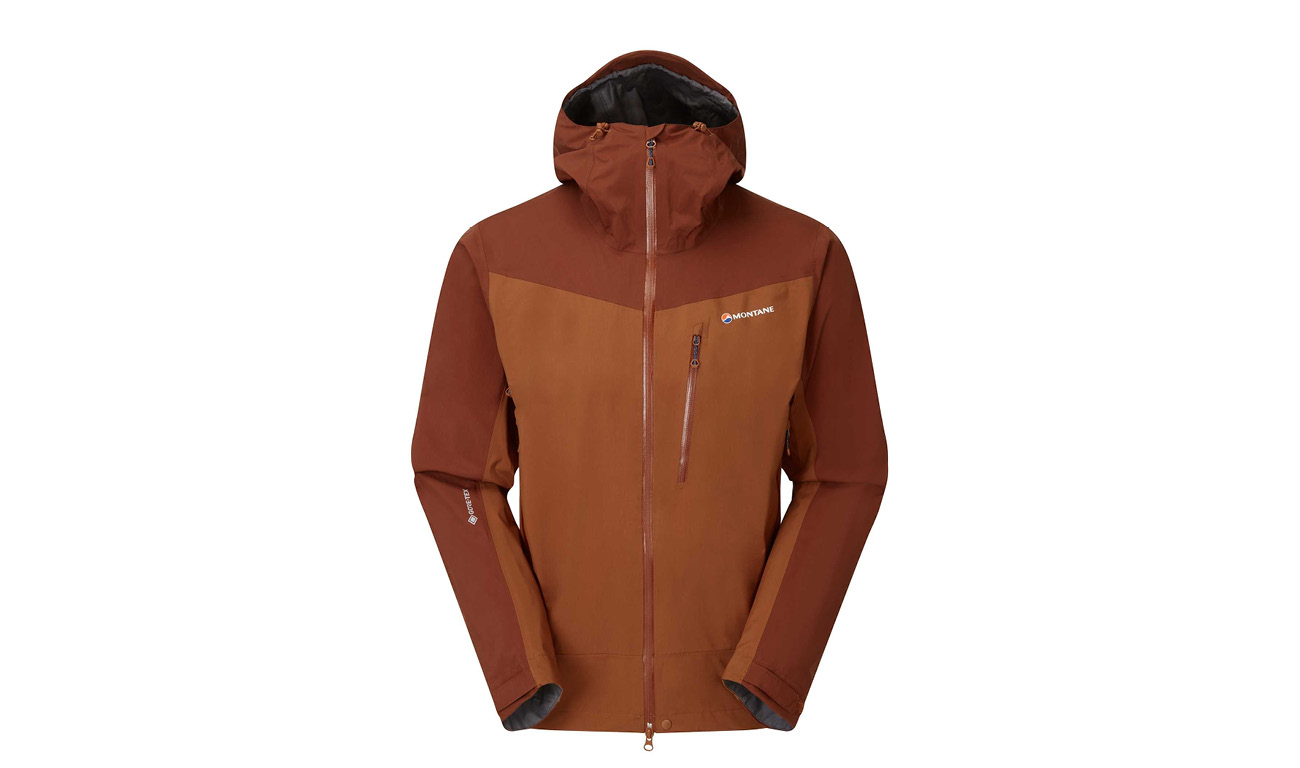 Best for: High paced mountain activity.
Weight: 375g
Construction: 2.5 layer shell
RRP: £230
Gore's Paclite Plus waterproof membrane technology offers lightweight durability and is the material of choice for Montane's new jacket. The Pac Plus XT is essentially a beefed up version of the popular Pac Plus.
The XT offers a thicker face fabric at 40D rather than the previous 30D and pit zips. Although these additions add weight they arguably make the Pac plus XT the more versatile of the two waterproof jackets.
As promised, the Pac Plus XT is breathable when picking up the pace, and the armpit vents are big enough to dump heat quickly. Additional venting is available through the mesh lined hand pockets, which are deep enough to swallow a few choice bits of gadgetry, or indeed an old-fashioned paper map.
All the seams are fully taped, and zips are YKK Aquaguard, so even in the worst storms you can be confident of staying completely dry underneath. Although Gore don't list the waterproofing and breathability ratings, tests suggest that Paclite Plus offers a Hydrostatic Head of around 28k and breathability between 10-15K, both admirable figures.
Buy Montane Pac Plus XT Jacket: £127 at Amazon.co.uk
Salewa Sella Powertex Responsive Jacket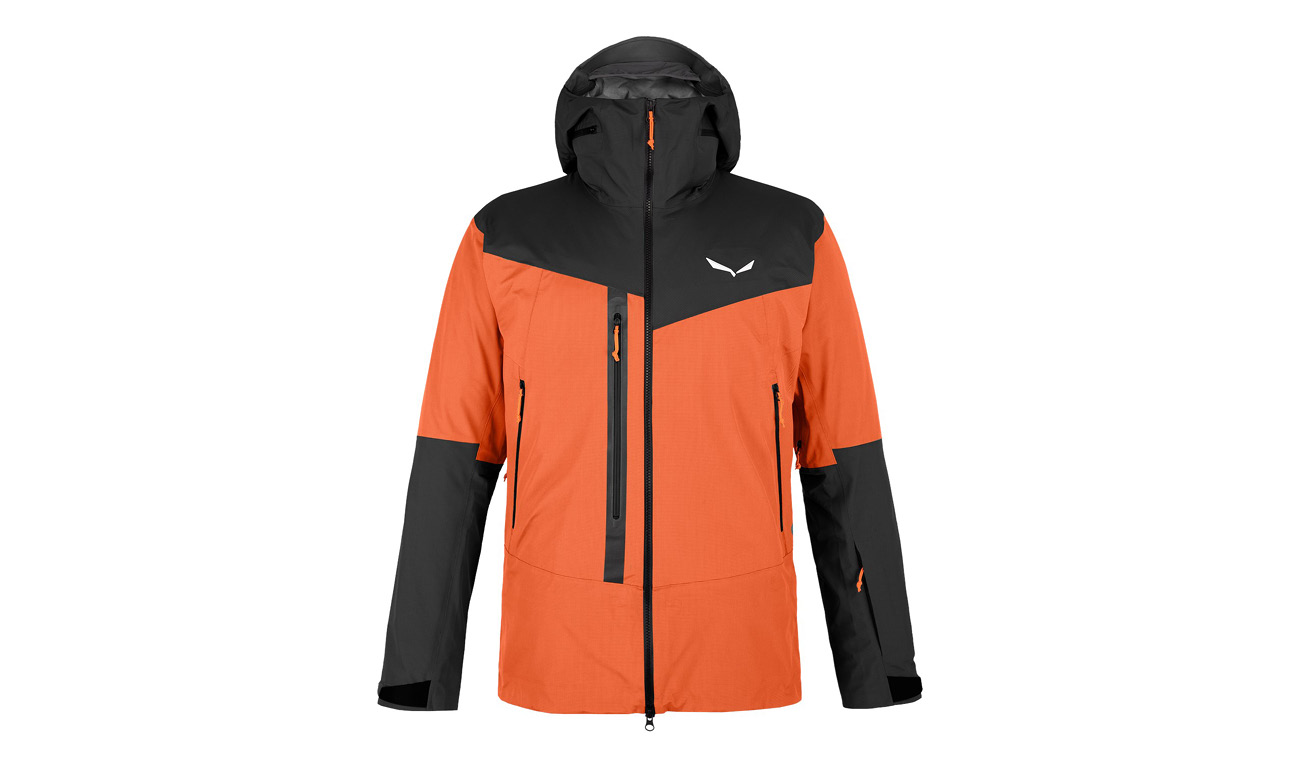 Best for: Summer and winter use in the mountains.
Weight: 520g
Construction: 3 layer shell
RRP: £380
If you want a solid jacket for the mountains, then look no further than the Sella Responsive. This is one seriously tough cookie with a thick and durable 3-layer Powertex material. It offers highly capable 20k/20k waterproofing and breathability and has an innovative reflective lining containing a mix of minerals designed to absorb infra-red radiation and release it back into the muscle tissue to increase energy levels.
It has a zip out powder skirt too so makes for a versatile mountain jacket that can be put to use for ski touring too. Fit is very slim in the torso, but the anatomical shaping is such that it still offers unimpeded freedom of movement.
Overall, a hardy, reliable jacket perfect for mountain life.
Buy Salewa Sella Powertex Responsive Jacket: £489 at Amazon.co.uk
Helly Hansen Ervik Jacket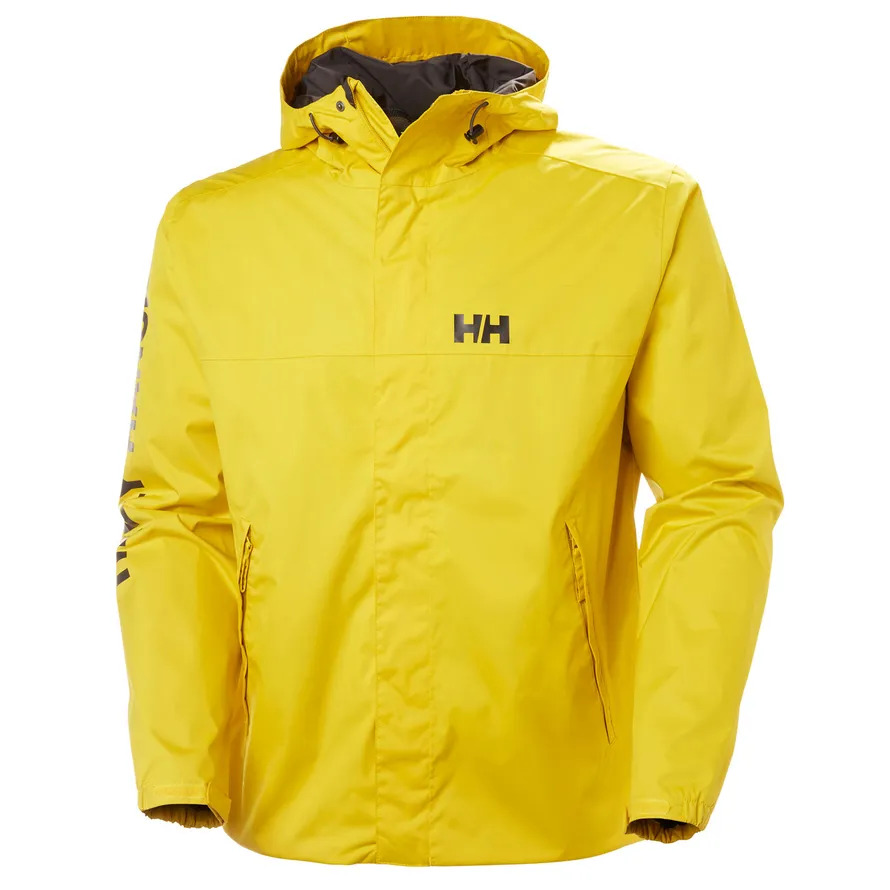 Best for: Outdoor activities on a budget. 
Weight: 550g

Construction: Helly Tech Protection 
RRP: £110
Helly Hansen boasts one of the best pedigrees of any outdoor brand on the market. Founded by the Norwegian sea captain Helle Juell Hansen back in 1877, it began making protective waterproofs for sailors venturing out into the North Sea. These days, the company produces everything from ski salopettes to duffel bags, but everything is still made with the same build quality and attention to detail you'd expect from such a storied brand. This waterproof jacket might be at the budget end of the Helly Hansen range, but it's no exception to that rule. 
It's made from Helly Tech, the company's own three-layer fabric, which comes in three different grades: Professional, Performance, and Protection. Helly Tech Protection, which the Ervik uses, is the lowest grade, but still boasts a respectable waterproof and breathability ratings of 5,000mm and 5,000g/m2/24hours. Features like the adjustable hood and two hand pockets are simple, but functional. 
Weighing 550g, the jacket isn't too bulky, and won't take up too much space in your backpack. It's also a BlueSign approved product, which means its production meets high environmental and social standards. Not bad, for a waterproof which costs just £110. 
Fjallraven High Coast Hydratic Jacket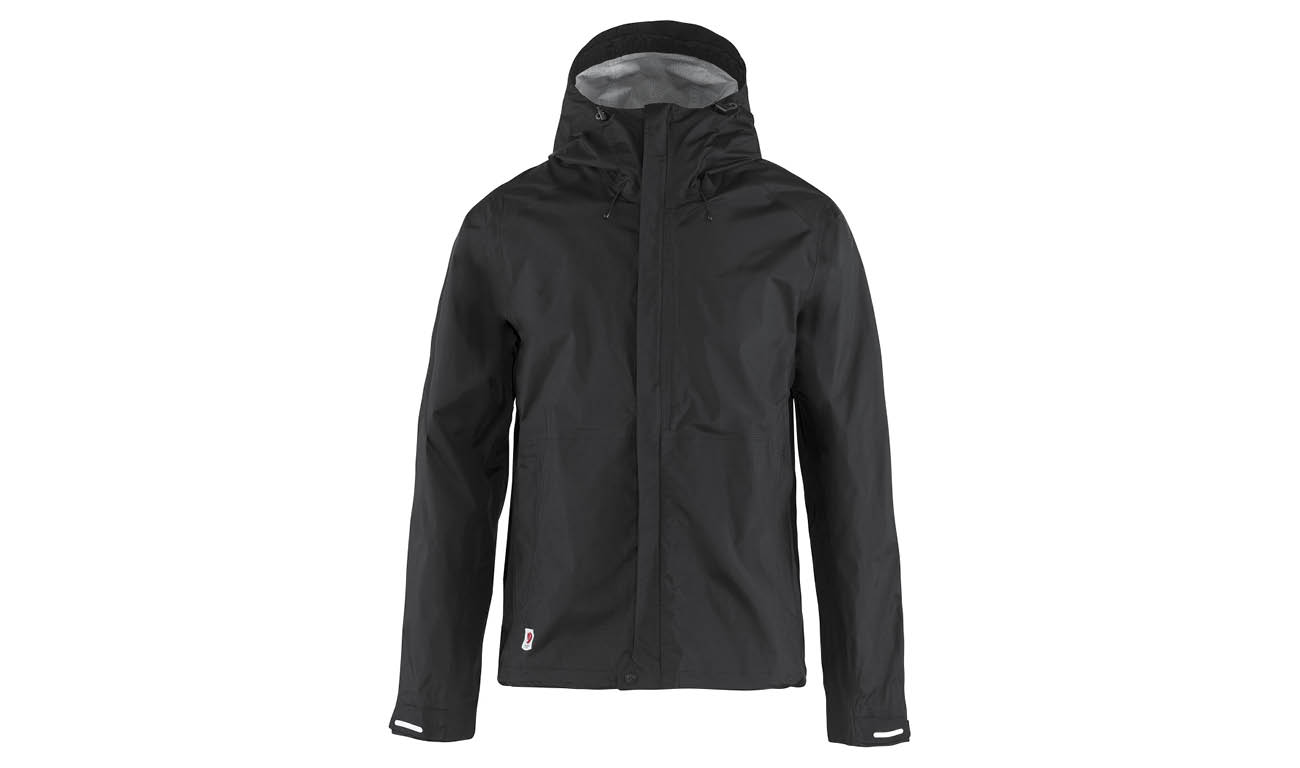 Best for: Everyday use in the town and city.
Weight: 317g
Construction: 2.5 layer shell
RRP: £230
This 2.5 layer shell jacket is Fjallraven's everyday waterproof jacket. It immediately feels very practical, but the cut, shape and colourways aren't all that fashionable. Despite the lowly 6k breathability rating the High Coast Hydratic feels quite airy even when you're pushing the pace on a hike. The unusually placed zipped vents help to dump excess heat, always a welcome feature on any waterproof shell jacket.
The boxy, baggy cut makes more sense with an insulated jacket underneath, with the space filled out the jacket looks a little better but if you're slim and you like an athletic cut then this isn't the best option for you.
You get excellent all over rain and wind protection with the High Coast Hydratic thanks to fully taped seams and a membrane with 10k waterproof rating. The zips all have small storm flaps to stop water leaking through, which isn't as good as waterproof zips but does the job and looks a lot less technical, something more attractive in an everyday waterproof jacket.
The material looks quite plasticky and shiny, especially in the black colourway but when you wear the High Coast Hydratic it doesn't make much noise and feels reasonably soft to the touch.
We felt that the reflective details on the cuffs and hood lend themselves well to city living in general, whether that's cycling to work or walking around town. And this is perhaps where the High Coast Hydratic jacket is most comfortable, as a no-nonsense everyday town and city jacket to protect you from the worst of the rain.
Buy Fjallraven High Coast Hydratic Jacket: £198 at Cotswold Outdoor
Jack Wolfskin JWP Shell Jacket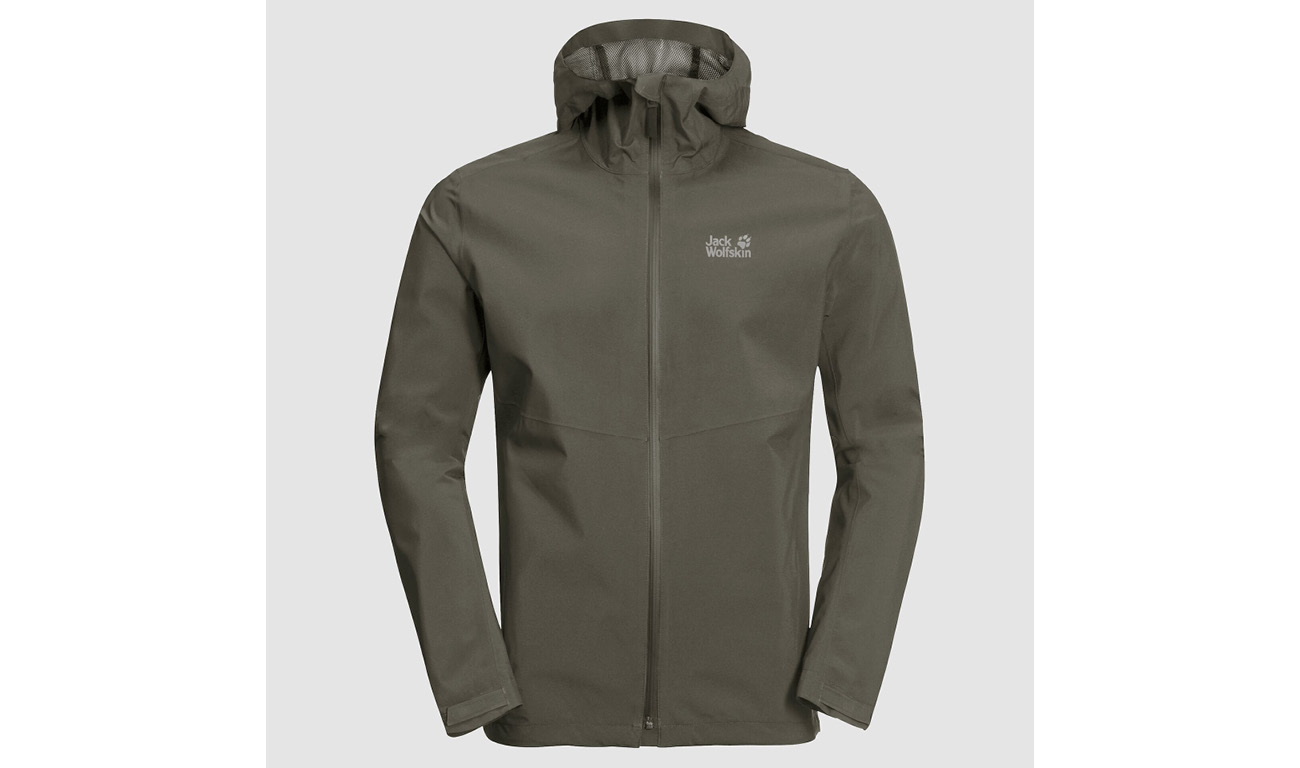 Best for: Travel use.
Weight: 435g
Construction: 2 layer shell
RRP: £130
This relatively inexpensive 2-layer shell jacket does a lot of things right. It's simple, but very well put together, with excellent build quality and a durable feel to the fabric. Despite the outer fabric feeling thick it's still really soft making the JWP Shell comfortable and quiet to wear which is perfect for travel. Being 2-layer the JWP Shell has a loose mesh lining, this adds a boost to the warmth of the jacket and makes it more comfortable inside than a 2.5 or 3 layer shell that just has the plasticky material.
The fit is excellent, it's trim but can still accommodate mid layers underneath. Our only minor gripe is the slightly short arm length, but that's only an issue if, like me you have particularly long arms. The hem, cuff and hood adjusters are high quality and easy to use. The hood works well in a storm, it moves with your head and is comfortable to wear, protecting you from the worst of the rain.
With the hand pockets being mesh lined the JWP Shell has a touch of extra ventilation when you need it. On test, when walking fast we found this waterproof jacket to be really airy and breathable while still offering an effective barrier against the wind. The specs are 20k waterproofing and 15k breathability, in terms of the competition this is above average for the price.
The JWP Shell packs into it's own pocket for easy transportation in a bag or suitcase. It's about 100g too heavy to be considered a lightweight jacket but is still a viable option for backpacking if you're on a budget.
Buy Jack Wolfskin JWP Shell Jacket: £106 at Amazon.co.uk
Salomon Outline Hybrid Jacket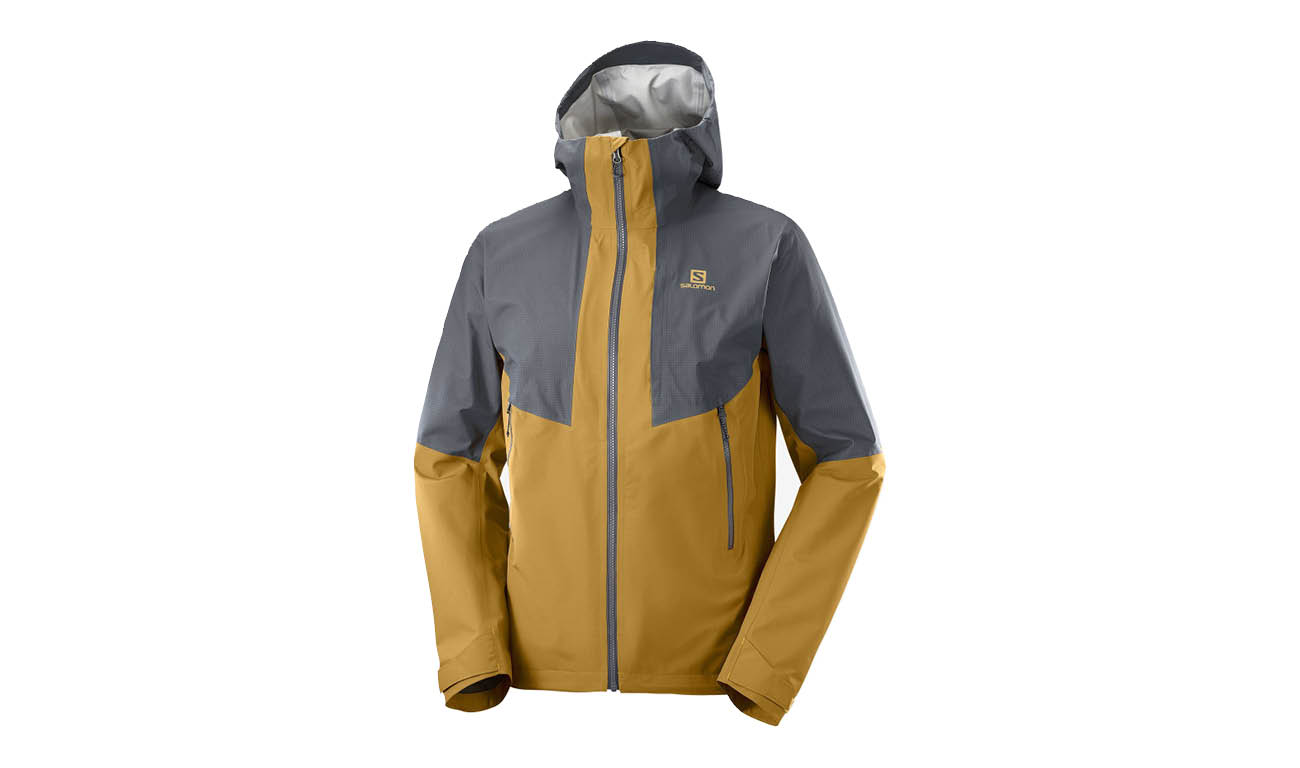 Best for: Lightweight mountain adventures
Weight: 325g
Construction: 2.5 layer shell with 3 layer Ripstop weave on arms and shoulders
RRP: £299
This impressively lightweight waterproof jacket is designed to take on the worst of the elements. The main material is Gore-Tex Paclite which is Gore's lightweight membrane. It offers excellent waterproofing and breathability but not always the best durability which is why the Outline jacket features a tougher Ripstop fabric around the shoulders and arms. This is where a backpack will be and can cause stress on a jacket with heavy use. All the seams are taped, and the zips are waterproof. This isn't always the case with waterproof jackets, if you're looking for something for walking in the mountains across all seasons make sure it has these features as it will stop water seeping in past zips and stitching.
The two hand pockets have mesh lining, this helps with ventilation with the zips open, but pit vents would have also been useful to dump heat without opening the main zip. Having said that the Gore-Tex membrane feels breathable on fast and sweaty hikes in the rain.
We found the hood good in use, it has decent coverage over the face and mostly moves with the head when it's cinched up with the drawcord adjuster. The Gore-Tex material is super crinkly though so wearing it gets annoying quickly.
Overall, this is a decent 2.5 layer technical shell jacket, we're just not sure it's worth the steep price.
 Buy Salomon Outline GTX 2.5L Jacket: £84.46 at Amazon.co.uk
Columbia Ampli-Dry Waterproof Jacket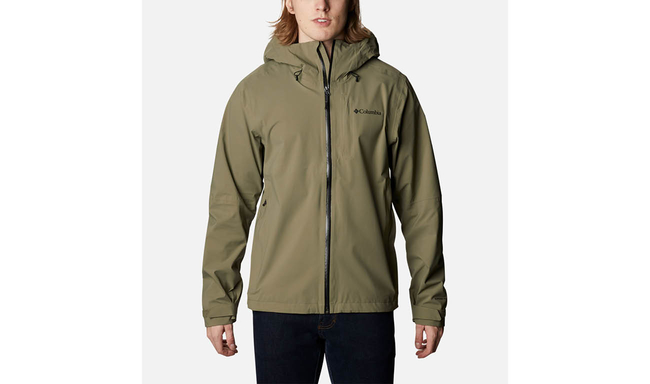 Best for: Travel on a budget
Construction: 2.5 layer shell
RRP: £135
This catchily named waterproof jacket is a generalist, suitable for anything outdoors where you might want to stay dry but it excels at hiking and travel. Columbia's Omni-Tech takes care of waterproofing and claims 10k/10k waterproof and breathability which is about as middle of the road as the price of the jacket suggests. In use, this along with the taped seams and water-resistant main zip ensure you stay dry in most conditions, but the Ampli-Dry jacket is not the jacket to choose for extreme use.
Compared to a much more waterproof and breathable Gore-Tex the Ampli-Dry is pleasantly soft and supple meaning that wearing it isn't akin to donning a stiff bin bag. It's quiet and there is genuine 4-way stretch in the outer material, the inner is also surprisingly comfortable against the skin.
Pit zips and vented hand pockets help greatly with breathability when you work up a sweat, letting moisture and heat quickly escape and the hood adds vital extra protection from the rain, providing decent coverage.
We felt that the cut was quite boxy and uninspiring, the sort of jacket to wear if you want to blend into the background, this is complemented by a range of muted colours (apart from the bright red on test). Despite not sounding particularly appealing this may be exactly what you want when travelling.
Buy Columbia Ampli-Dry: £121.63 at Amazon.co.uk
Berghaus Athunder Jacket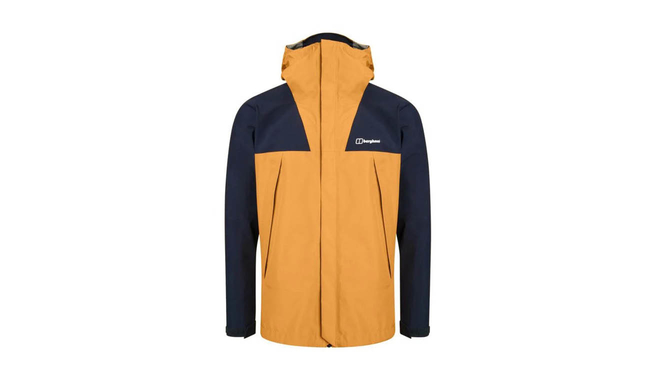 Best for: A solid and dependable genuine all rounder that will take you from crag to Co-op
Weight: 555g
Construction: 3 layer shell
RRP: £249
Berghaus new Athunder jacket comes in a fetching two tone mustard and blue colour that looks quite the fashionable technical jacket, despite Berghaus often distinctly middle-aged leanings. And that's just the start of what we consider to be an excellent 'fully featured' waterproof jacket. What we mean by 'fully featured' is the type of jacket that you can batten down the hatches with against the worst of the winter weather and come out the other side without shrivelled skin and hypothermia.
Waterproofing comes from 3-layer Gore Tex, and despite there being no pit zips we found the Athunder breathable on a warm but wet autumn day, it's also about as waterproof as you can find.
The two chest pockets are the only storage on the Athunder jacket but they will both take a map and handily clear hip belt or harness. The main zip is complemented by a storm flap which you seal down with poppers, this adds to the great looks and also to the rain protection in that most vulnerable of areas.
The hood is effective, it's spacious and comfortable, helmet compatible and cinches down nicely over a bare head. The chin section covers the bottom of the face nicely leaving enough room for your face with the zip done up and the hood moves with your head unlike some.
This jacket isn't cheap or particularly lightweight, but it is very good. If you decide to invest it will give many years of sustained use in the harshest of environments.
Buy Berghaus Athunder Jacket: £189.95 at Amazon.co.uk
Alpkit Definition Jacket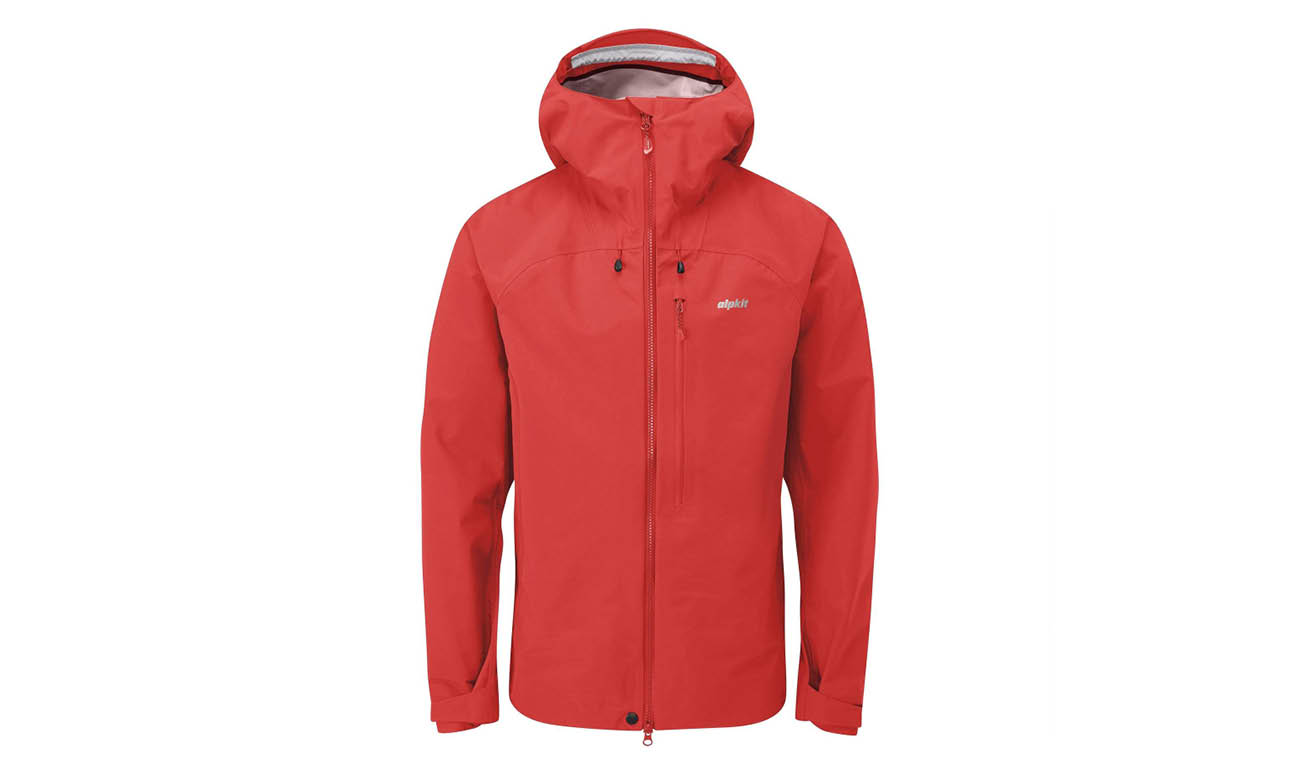 Best for: Battening down the hatches in the depths of winter
Weight: 525g
Construction: 3 layer shell
RRP: £249
Alpkit's Definition is a hardy waterproof jacket designed to take on alpine adventures and therefore perfect for hiking and climbing in the UK's mountains.
It offers a mix of excellent wet weather performance with bombproof durability to ensure you can stay out in the harshest conditions for longer.
The most outstanding feature of the 3-layer Definition is the performance figures, with a waterproof rating of 30k and breathability of 20k. These are both very high figures, proving that the Definition is optimised to keep you dry while hitting it hard in the mountains.
Extra durable nylon on the outer ensures that the Definition stays intact when you're mountaineering or rock climbing, and you can really feel this in the jacket. It feels thick and robust much like Gore-Tex' Pro fabric. The downside to this is of course that it's a little stiff and crinkly, but we think it's a worthwhile compromise.
There is a large map compatible pocket on the chest and zipped vents running up the sides of the body. These help to dump heat quickly without having to expose yourself to rain through the main zip. All the zips are of course waterproof and seams fully taped. Essentially this jacket is not letting in any water, and provides a fantastic barrier against the wind too.
If you're looking for a fashionable waterproof jacket you can pretty much forget it with the Definition, the cut is optimised for layering, articulation and to be compatible with helmet and harness. This means that the hood is big, but easily cinchable over a bare head with drawcord adjuster, and the pockets are placed with access while wearing a harness in mind. The cut is baggy but for its intended purpose it works brilliantly.
The use of proprietary materials and a direct-to-consumer model has traditionally allowed Alpkit to disrupt the outdoor market and the Definition epitomises this approach, with it rivalling the quality and performance of a waterproof jacket at twice the price.
Fjern Skjold Jacket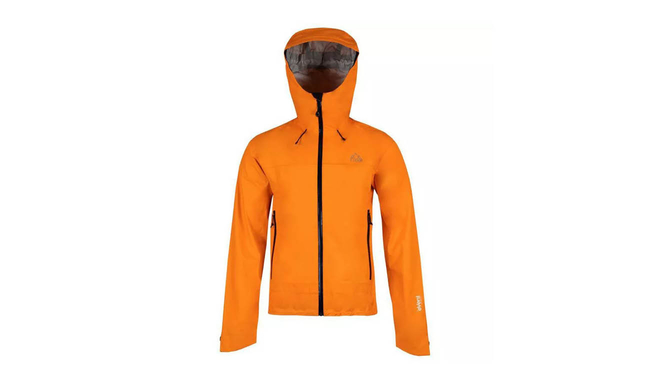 Best for: Fast and light but without the compromise
Weight: 335g
Construction: 3 layer shell
RRP: £250
This is a packable, fast and light style jacket but not paired down to nothing to save ultimate amounts of weight. You still get all the features you would expect from an expensive waterproof jacket, like pockets and adjusters as well as a very decent, functional hood.
The membrane is eVent, this is massively breathable in our experience so is a great choice for moving fast, it does of course also keep the water out just as well as an equivalent Gore Tex.
Being a 'packable' jacket the Skjold' material is thin but not wafer thin, so we still feel that it offers good durability and abrasion resistance. Coverage is also slightly trimmed down at the hem and in general volume, but the cuffs don't suffer the same fate, tapering over the wrists to keep your expensive mid layer and watch dry.
The two hand pockets are located in bog standard places, that is to say that if you're wearing a pack with a hipbelt or climbing harness you will not be able to make use of them, for all other uses though they work as intended.
Coverage and comfort from the hood are particularly good, it cinches down using the adjusters and then moves with your head and the material at the top of the jacket doesn't get in the way of the chin too much.
eVent is a 3-layer fabric technology so there is no mesh lining for comfort or warmth but it's still surprisingly comfortable next to bare arms.
Fast and light suggests a low weight and the Skjold does a decent job considering the feature set at 335g.
There is fierce competition pitching against the Skjold for your money and Fjern are asking a fair amount of it at £250 but we think it's worth it – just.

Best Waterproof Jackets: Conclusion
In the end, which jacket is right for you depends on which activities you'll use it for, but also on personal taste. The fit, and how it looks, is almost as important as the functionality. Because, let's face it, you're much more likely to make use of it if you look—and feel—good while wearing it. 

If you're looking for other gear to go hiking, why not take a look at our recent round-up of the best backpacks for walking, or the best reusable water bottles? And if you need recommendations on where to go, we've got tons—from the best walks in the Lake District, to the best walks in the Cotswolds. Happy hiking!