The British Isles are rightly famous for their great hiking terrain. Almost wherever you go in the UK, there are epic places to hike within a few hours drive from your front door. From the walks in East Lothian, eastern Scotland, to the epic climb up Pen Y Fan in Bannau Brycheiniog (aka the Brecon Beacons National Park), south Wales, via the incredible walks in the Peak District National Park, England, there are no shortage of options.
Unfortunately, the other thing the UK is famous for is its bad weather. Venture out in any of the above areas, at almost any time of year, and you're likely to encounter conditions that might be charitably described as 'changeable' (or uncharitably, as 'crap'). This is why, after walking boots, the single most important piece of kit you need to go hiking in the UK is a decent waterproof jacket. But while that takes care of your top half, what of your legs?

It's not uncommon to start a walk in warm weather—perfect for shorts, or windproof walking trousers — and finish it in a storm. Which is why it's always a good idea to carry a pair of lightweight waterproof trousers — or waterproof overtrousers, as they're sometimes called—in your backpack.
Best waterproof trousers: What to look for when buying a pair?
Many pairs of walking trousers (i.e. trousers designed specifically for hiking) will offer some level of weather protection. Some may even be fully waterproof. But more often, models like the Craghoppers Kiwi Pro II (our reviewers' pick as the best value walking trousers) prioritise breathability and comfort. The pairs of waterproof overtrousers on these pages offer something different. Some can be worn by themselves, but they're mostly designed to be worn over another set of trousers, or shorts, when you get caught in a surprise downpour.

For that reason, they tend to be lightweight and pack down small, so you can carry them in your hiking backpack easily. Usually the lighter and more 'packable' they are, the more expensive they are. Other factors to consider when buying waterproof trousers include whether they'll fit over boots (you don't want to have to take your boots off mid-trail to get them on), what pockets and fastenings they have, and how breathable they are. Again, the more features they have and the more breathable they are, the pricier they're likely to be.

We've selected a range of pairs of both mens and women's waterproof trousers here, all made by brands that our gear experts know well, and trust for their build quality. Whatever your budget, if you're buying waterproof overtrousers for hiking, some of these should be on your list.
Best Waterproof Trousers: TL/DR Summary
Don't have time to read the whole list? Don't worry, we understand. The long and short of it is this: The title of best waterproof trousers on this list was a toss-up between the Rab Downpour Eco Pants and the Patagonia Torrentshell Rain Pants. In the end, the Rab waterproof trousers edged it and took our Editor's Pick award because they're lighter. But either are a great high-spec option.

There's not loads of difference in price, but if you're looking to save a few bob, our best budget pick are the Craghoppers Ascent pants. They're not as waterproof or breathable as the most expensive models, but at £60 a pair, they offer plenty of bang for your buck.
Rab - Downpour Eco Waterproof Trousers - £90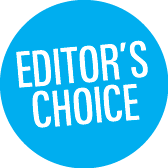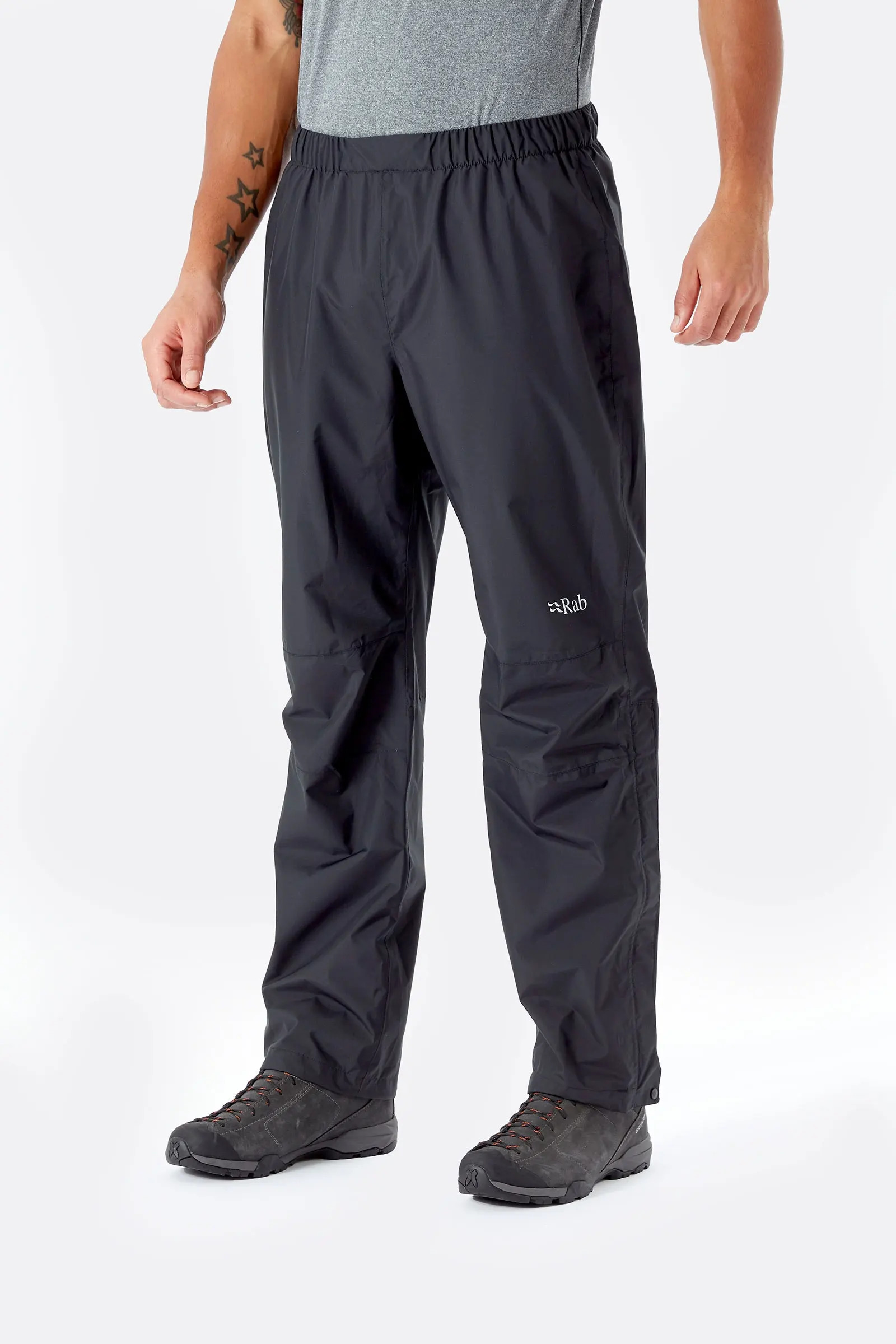 Rab's Downpour Eco pants tick all the boxes for a pair of waterproof overtrousers. They're basically lightweight shell pants, with an elasticated waistband fastened by an. adjustable drawstring and knee-length zips up the side so you can pull them on over your walking boots. They're made from a material called Pertex Revolve, which is both 100 percent recycled and 100 percent recyclable—hence the "eco" in their name.

Weighing just 225g, they're extremely light and pack down small enough that you'll barely notice them in your rucksack. They're highly waterproof and breathable (with 20k ratings for both) and available in male and female-specific cuts too. For our money, they're one of the best pairs of both men's waterproof trousers and women's waterproof trousers on the market.
Buy Rab Downpour Eco Waterproof Trousers: From £67.49 at Amazon <<Best Deal>>
Buy Rab Downpour Eco Waterproof Trousers: £90 at Cotswold Outdoor
Patagonia Torrentshell 3L Rain Pants - £84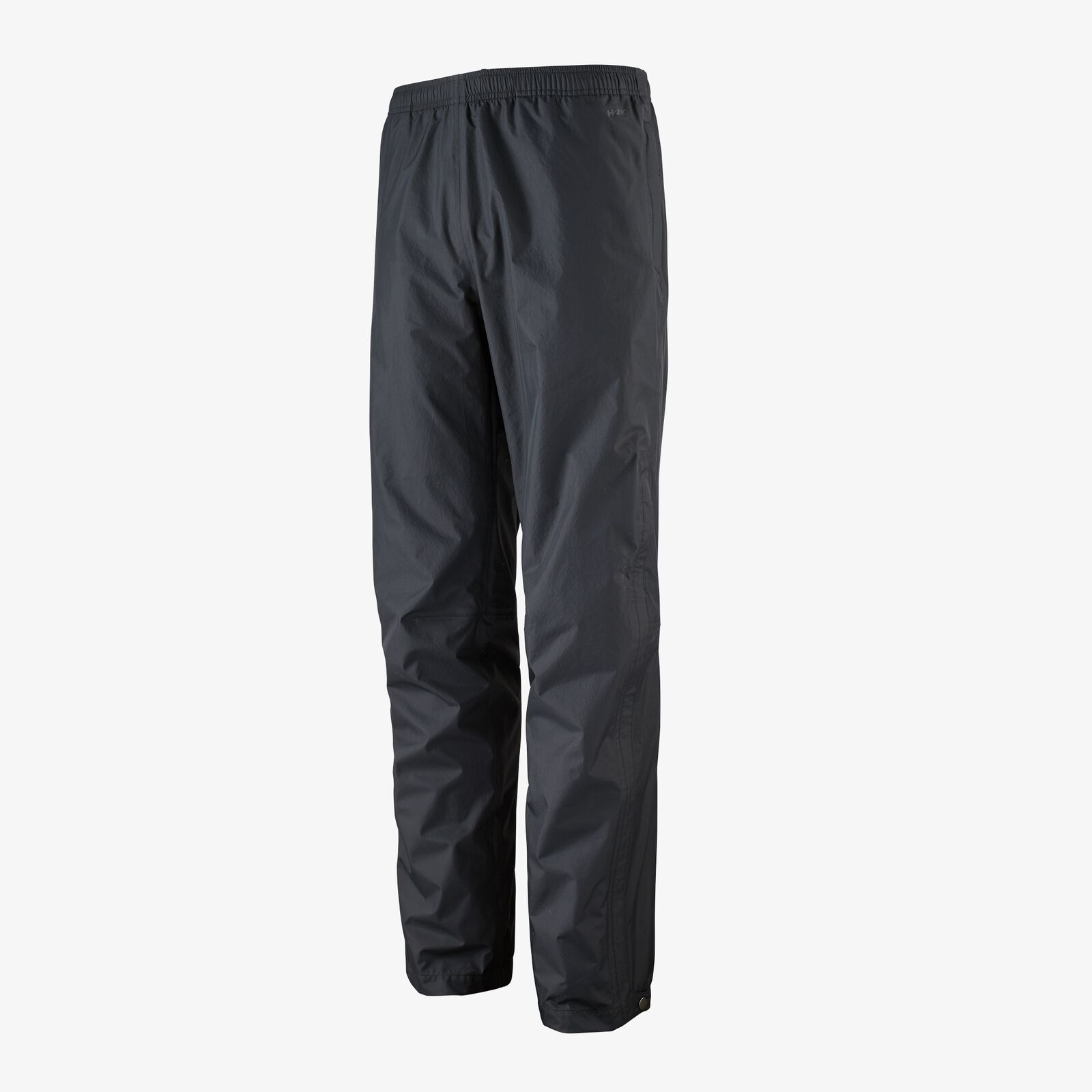 Patagonia think about every element of their supply chain, allowing them to make just about the most environmentally-friendly outdoor gear going. This applies even to simple items like these men's waterproof trousers, which are made of a 100 percent recycled face fabric called H2No (pun very much intended).

Of course, ensuring the ethical origin of your products means they sometimes end up more expensive, and you'll notice these are the priciest pants on these pages. But having tested these Torrentshell waterproof trousers over an extended period, we can vouch for their build quality, their durability, and the quality of the waterproof protection they offer.
Buy Patagonia Torrentshell 3L Rain Pants: From £115.50 at Amazon
Buy Patagonia Torrentshell 3L Rain Pants: £71.97 at Alpinetrek <<Best Deal>>
Rohan - Moor Waterproof Overtrousers - £90

As their name suggests, Rohan's Moor Waterproof Overtrousers are designed to tackle England's wettest and wildest landscapes—from Dartmoor in the south west to the Yorkshire Moors in the northeast. With waterproof and breathability ratings of 20,000mm and 20,000 g/m2/24h respectively these are pretty high tech. They pack down to 600ml, or a shade bigger than a pint glass, but they weigh significantly less than a pint, at just 270g.

An elasticated wasitband with a draw string and side zips that reach up to the knees make the Moor Waterproof Overtrousers easy to get on if the weather closes in suddenly. They're unisex too, and available in a range of different sizes for both men and women.
Craghoppers - Ascent Waterproof Trousers - £60 [Best budget pick]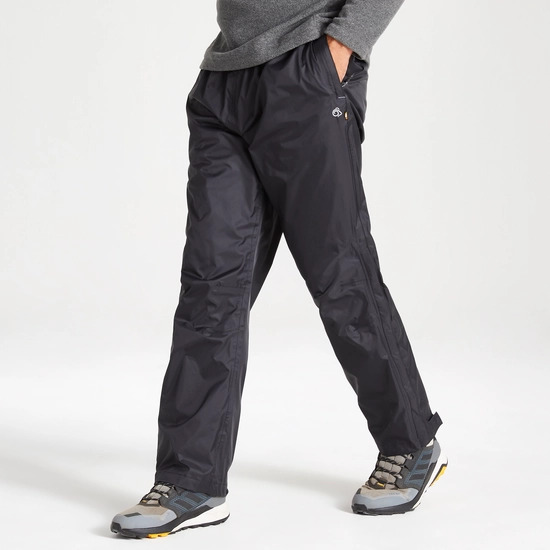 Craghoppers are famous for making decent outdoor gear at very competitive prices, and the Ascent Waterproof Trousers are a classic example. Designed to pack away into their own pocket, or the small stuff-sack supplied, they're small and lightweight for the price, at 275g.

The fabric has a hydrostatic head of 15,000mm, and a breathability rating of 5,000g/m2/24h, so they're not as effective as some of the trousers on these pages, but the price reflects that. With two pockets, full length zips and an elasticated waist band, these are a really decent option for £60.

Buy Craghoppers Ascent Waterproof Trousers: £29.81 at Amazon <<Best Deal>>
Buy Craghoppers Ascent Waterproof Trousers: £45 at Craghoppers
Berghaus - Deluge 2.0 Waterproof Trousers - £70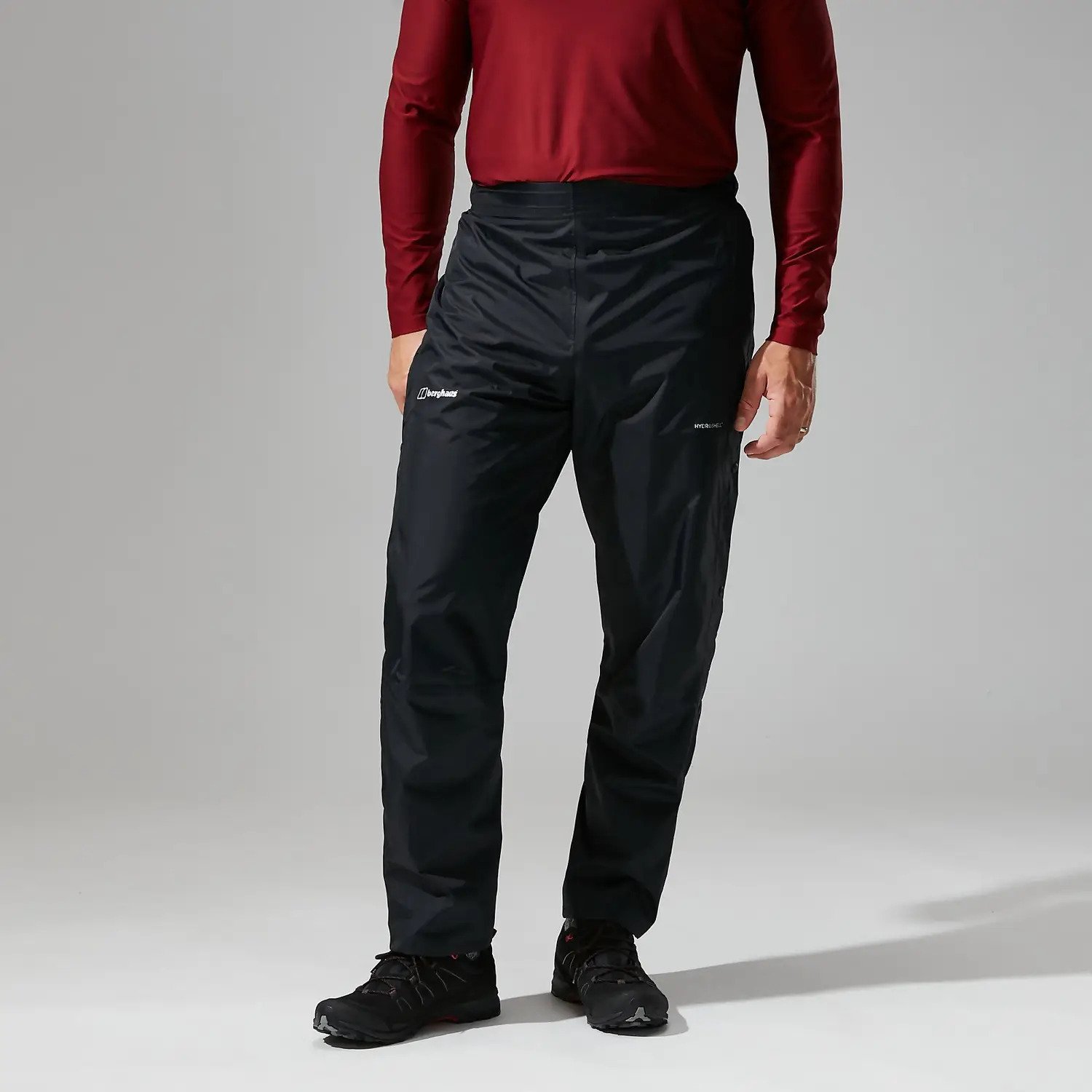 British brand Berghaus make all sorts of excellent hiking kit, from standard walking trousers, to high end gore-tex models, to excellent waterproof jackets and midlayers. These recycled nylon waterproof overtrousers sit at the more budget end of their range, but there's been no compromise in build quality.

Made of Berghaus' patented Hydroshell fabric, they'll stop you getting soaked, and while they're not as lightweight as some of the pairs on these pages, at 374g, they still won't take up much space in your backpack. Key features include 3/4 length zips with snap fasteners, so you can adjust the ventilation according to the weather conditions.
Buy Berghaus Deluge 2.0 Waterproof Trousers: £70 at Cotswold Outdoor
Sprayway - Atlanta Rainpant Waterproof Trousers - £55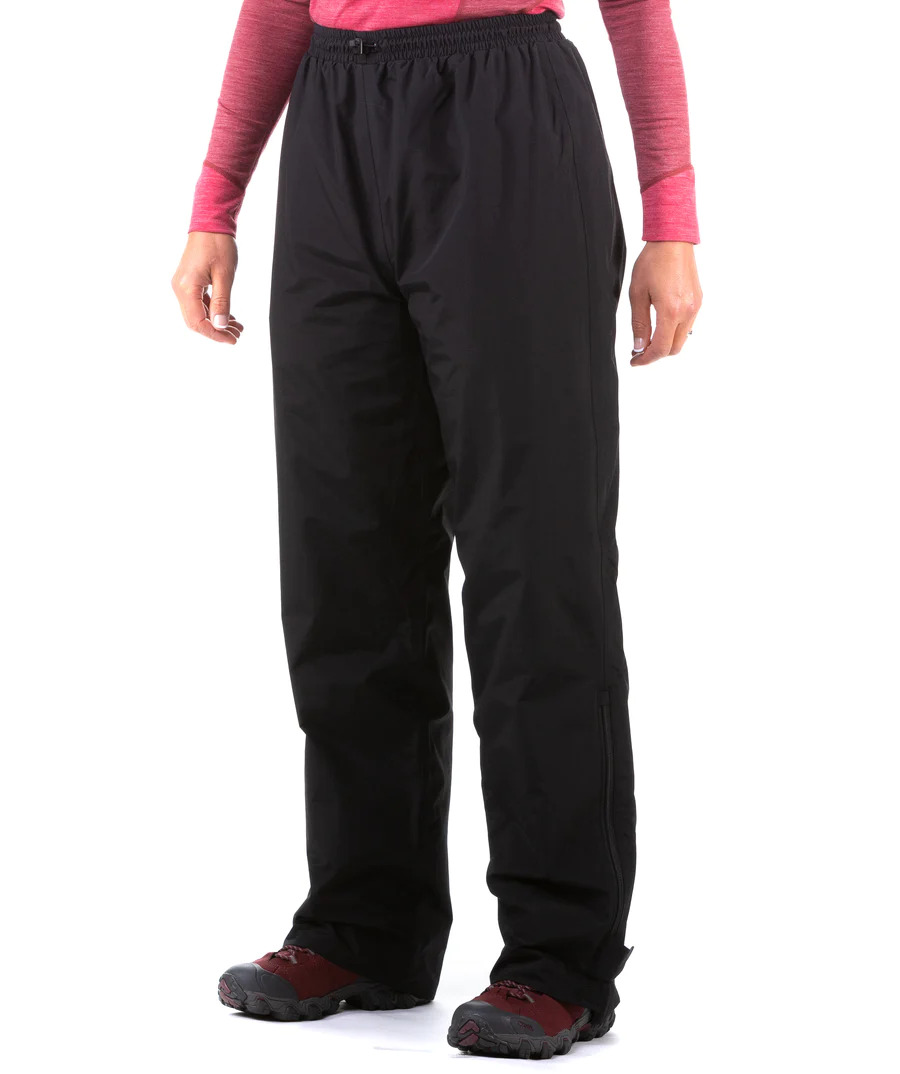 These women's waterproof trousers are the cheapest on these pages, but they'll still do a decent job of keeping you dry. The exterior fabric is one that Sprayway call HydroDry, and while it doesn't offer the same breathability as, say, Gore-Tex, it's pretty good at keeping rain out.

These have basic features like a drawcord adjustable waistband, rear pockets, and quarter length side zips with an internal storm flap. They're not the lightest (weighing 410g a pair) but if you're after a a budget option, these are worth a look. While the Atlanta model is women's only, Sprayway also do a pair of men's waterproof trousers with similar specs called the Santiago Rainpant.
Buy Sprayway Atlanta Rainpant Waterproof Trousers: From £37.95 at Amazon <<Best Deal>>
Buy Sprayway Atlanta Rainpant Waterproof Trousers: £45 at Winfields Outdoors
Columbia - Pouring Adventure II Waterproof Trousers - £80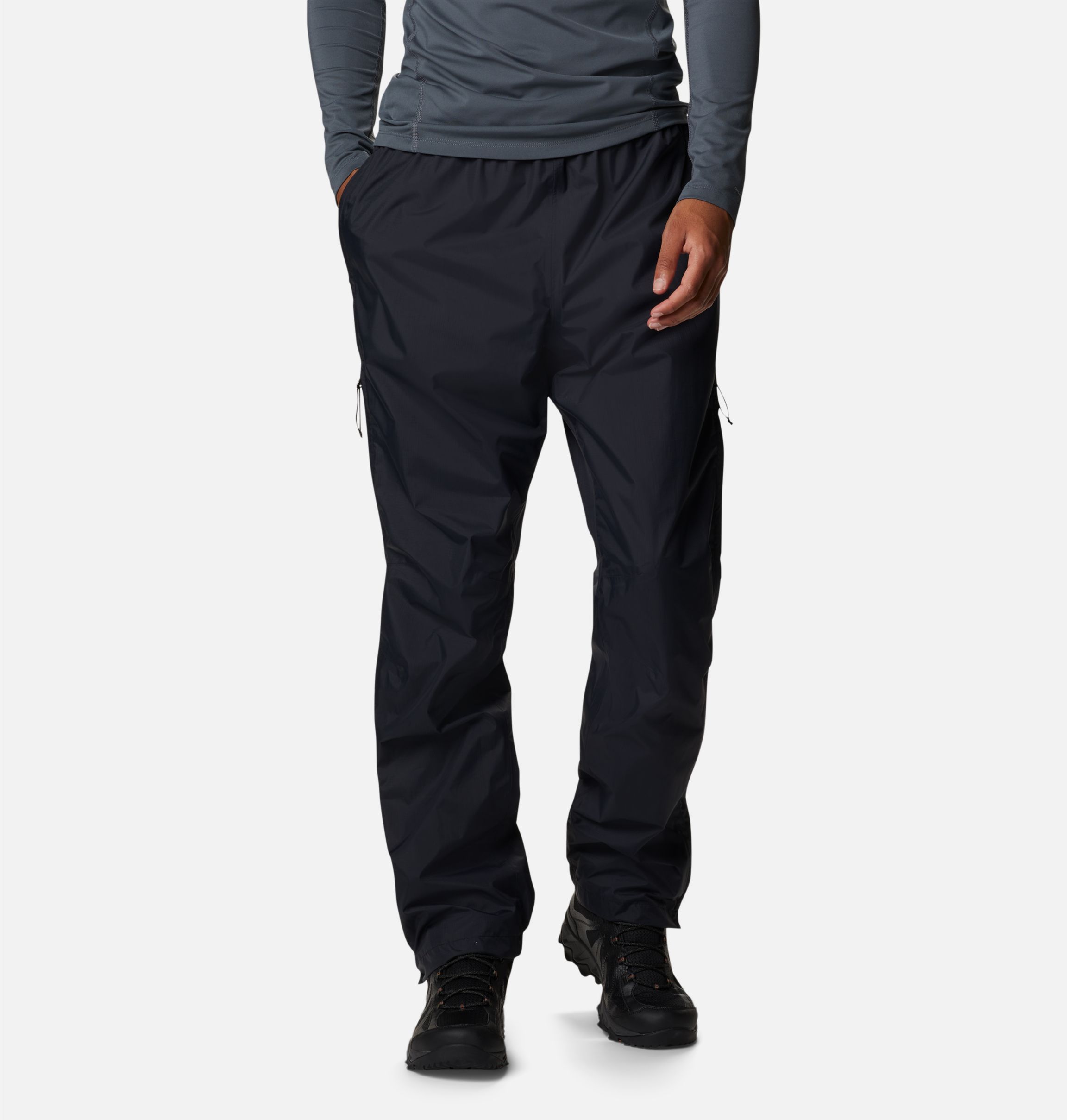 Highly-regarded US brand Columbia hails from the Pacific Northwest, a place that's as famous for its heavy rainfall as it is for its epic hiking. Tested in the heaviest rain that Washington and Oregon can muster, these Pouring Adventure waterproof trousers are a high-spec option for serious storms.

They're made from a waterproof, breathable fabric called Omni-Tech, and feature fully-taped seams, 3/4 side zips, and a drawcord adjustable waist. At 397g a pair, they're heavier than some, but if you're anticipating proper driving rain, then these are worth a look.
Buy Columbia Pouring Adventure II Waterproof Trousers: From £62.81 at Amazon
Buy Columbia Pouring Adventure II Waterproof Trousers: £44.97 at Winfield Outdoors <<Best Deal>>
Best Waterproof Trousers: The Final Word
As much as anything else, your choice of which waterproof overtrousers to buy will probably be dictated by what fits both your waistline and your budget. But features, breathability and, particularly, build quality, shouldn't be overlooked. Waterproof trousers might spend as much time stuffed in your backpack as they do being worn, but you want to be sure that when you need them, they really work.

If you're looking for other hiking essentials, check out our guides to the latest walking boots, waterproof jackets and water bottles. Or, if you're after some inspiration of where to head, why not check out our experts' guide to the best walks in the Lake District.