One of your most important buying decisions is your shoes and whether you go for looks or all out hiking performance you'll need to make sure they suit your needs.
Which shoes are best for walking?
That really depends on your requirements, if you're walking easy paths in the valley then there is little need for stiff footwear and a pair of trail running shoes might actually be the best bet for ultimate comfort, although these tend to have softer, more flexible soles than dedicated hiking shoes. This means they might not offer the protection and stability you need if you're walking in rocky terrain and you might feel sore after a long day. Approach shoes will usually have a closer fit and lacing to the toe which gives precision in every step, some approach shoes will have a stiff sole to give you a stable walking platform if you're bringing scrambling into the mix. Approach shoes often favour grip on rock over deep well spaced lugs for muddy work.


Which shoes will fit me best?
It's worth remembering that we all have different shaped feet so take some time to understand your foot volume (how high your foot is from the floor or footbed of the shoe and therefore how much it fills the shoe out), and how your foot shape runs at the heel, mid foot and toes, as well as whether you have high or low arches. This will inform your decision of what shoes, and even what brands will fit you best. Some shoes come in women's specific fits which are tailored to the slightly different shape than men's as well. If researching your purchases online make sure you get a handle on what kind of shape the shoe is and match it to yours.


Which shoes are best for travel?
For active, adventurous travel a pair of shoes which has the versatility to be worn day-to-day without looking too outlandish but then take you on a day hike or cycling trip is probably the one to look for. Comfort should come high on the list so whatever you choose should be lightweight and a little softer than an all-out walking shoe, but beyond that assess the kind of travel and activities you want to do and match that to the purpose and performance of the shoe.
Read on for our pick of the best shoes for all kinds of adventures.
Best for fast and light hiking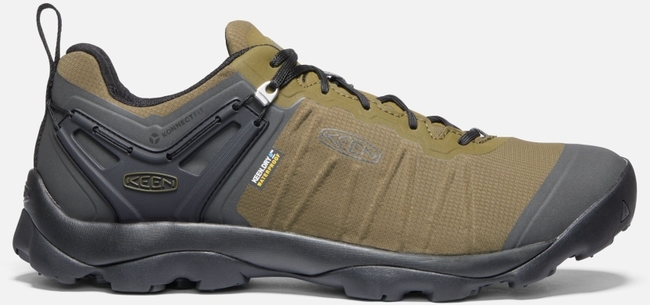 Keen Venture | £120
More purposeful and sporty than Keen's usual fare, eschewing nubuck leather and chunky rands for a honed, close fitting lightweight upper perfect for fast and light mountain missions. Heel retention is great thanks to a narrow heel cup and Konnectfit, which uses one of the top lacing eyelets to pull everything in tight. Underneath, 4mm lugs and sticky rubber give great all-round traction including greasy rocks and roots and the lively midsole offers decent cushioning from impacts and rocky trails.
Verdict
A sporty, lightweight hiking shoe perfect for moving fast across variable terrain.
Quality 9 | Performance 9 | Comfort 8 | Value 9
Overall 9



Best approach shoes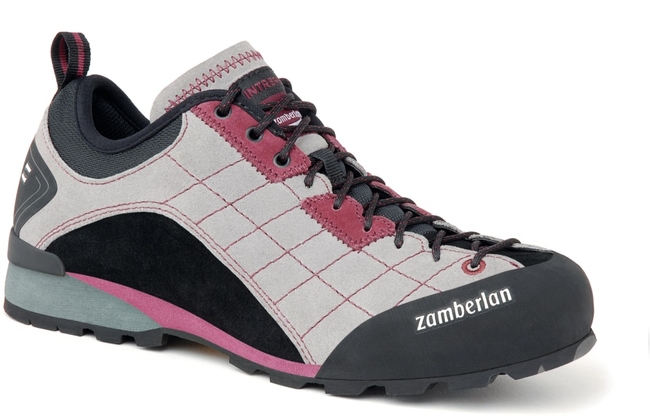 Zamberlan 125 Intrepid RR | £110
An alpine approach shoe in its purest sense, the Intrepid RR was one of our favourite shoes on test, just missing out on the best value buy award to Salomon's Outline. Build quality is superb and you can feel the years of premium boot making under Zamberlan's belt in every step. True to form they're fairly narrow and have lacing to the toe, so they hold the feet in place really well but don't feel unnecessarily uncomfortable. There's plenty of support from the upper and cushioning from the midsole, the outsole offers good grip as well.
Verdict
A technical alpine approach shoe that performs well and is comfortable to wear.
Quality 10 | Performance 9 | Comfort 9 | Value 10
Overall 9



Best for mixed approach/climbing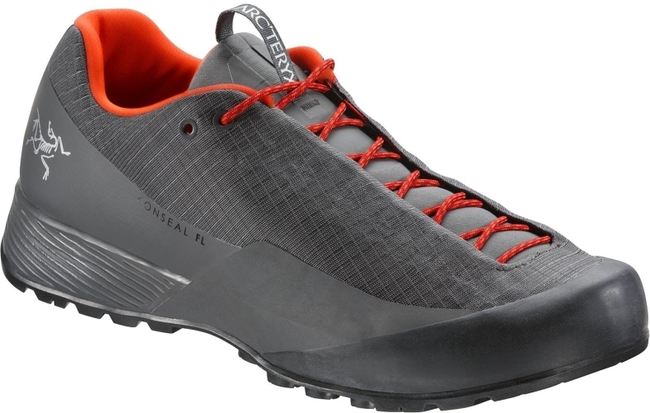 Arc'teryx Konseal FL | £160
FL stands for Fast and Light and the Konseal are unapologetically so, with a purposeful build that makes them great for the environments they were built for but a little less versatile than some. Close fitting and with a minimalist build these feel almost like climbing shoes but are surprisingly stable on the approach considering how low profile they are, the sole also sticks like sh*t to a blanket when you hit rock. The upper gets better with wear as it loosens off and the material at the flex points start to roll rather than fold.
Verdict
Built for a purpose and performs excellently at that without any concessions to versatility.
Quality 10 | Performance 9 | Comfort 8 | Value 8
Overall 9



Best for lowland walking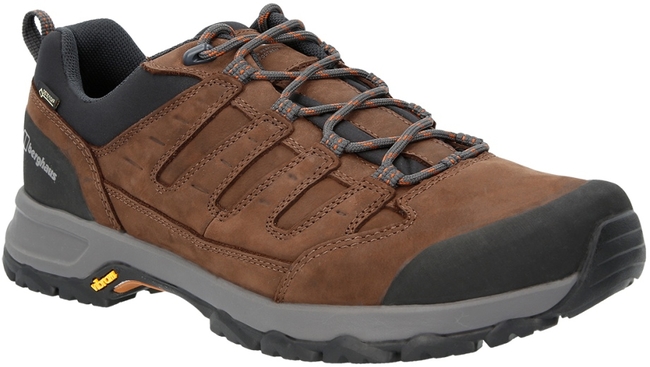 Berghaus Fellmaster Active | £125
Styling of the Fellmaster is sophisticated and will probably appeal to the older demographic, whether that appeals or not these are one of the most well-rounded walking shoes on test offering solid, reliable performance. Durable nubuck leather uppers, a chunky rand and altogether great build quality adds up to excellent durability, and performance on mixed trails is 'just so' offering good cushioning, a reasonably lively feel and confidence inspiring stability and protection.
Verdict
Doesn't excel at anything in particular but is a rock-solid all-rounder for mixed walking.
Quality 9 | Performance 9 | Comfort 9 | Value 9
Overall 9



Best multi-activity shoes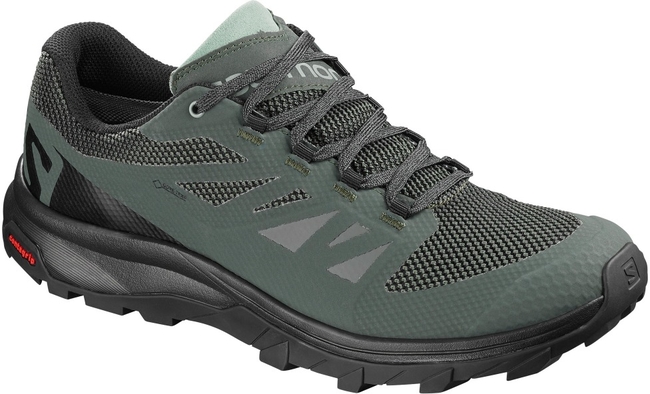 Salomon Outline | £115
We've been wearing the Outline for a year and can't fault them for their all-round versatility across a multitude of uses, from casual sightseeing to walking and cycling. They're built much like a trainer but with just a touch more stiffness in the upper and a chunky Contragrip outsole for all-terrain traction. This means they're super comfortable to wear and look low key on the streets but can be taken off-piste when the need arises, making them an ideal candidate for active and adventurous travel. They're really easy to walk in and remain comfortable all day on most easy trails, there's a bit of stiffness to the sole so stability is surprisingly good on rocky ground, the sole also gives you a little trail feel, but all day hikes on more challenging terrain can lead to a bit of soreness under the feet. We've found the durability good across the extended testing period making them a great value buy as well.
Verdict
Perfect multi-activity shoe that's lightweight and comfortable enough to work for travel as well.
Quality 9 | Performance 9 | Comfort 9 | Value 10
Overall 9



Best for adventure travel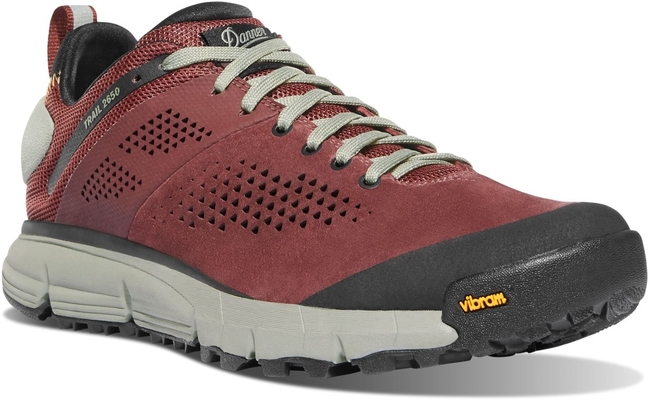 Danner Trail 2650 | £122
Built on the concept of versatility to take on any section of the 2,650 mile Pacific Crest Trail, whether a quick day hike or full thru hike the Trail 2650 aims to really push the boundaries of what a shoe can do. Soft and compliant, it squidges itself around features but still offers a stable walking platform thanks to the signature Danner splayed sole. There's plenty of trail feel without it feeling like Danner have simply scrimped on cushioning, which is enough to protect from the impact of walking and make the experience an altogether comfortable one. The foot is held in place but not suffocated by the mid volume outer, it's difficult to tell how much the EXO heel system contributes to this but it's an interesting feature nonetheless. Textured Vibram Megagrip lugs make light work of pretty much all terrain including tricky greasy rocks and roots and an integrated trail guard shank protects the feet from the regular pounding on angular rocks that can easily lead to soreness. In our eyes these are the best-looking shoes on test as well, which completes an overall fantastic package for the active traveller.
Verdict
Comfortable, versatile walking shoes that are well-engineered to take on all sorts of terrain, looking great while they do it.
Quality 9 | Performance 10 | Comfort 10 | Value 10
Overall 10



Best for fast hikers with high volume feet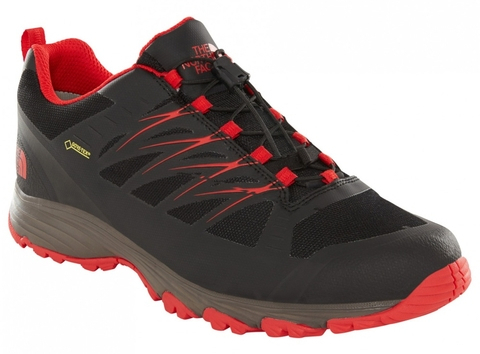 The North Face Venture Fastlace | £110
Those with low volume feet look elsewhere as these are seriously spacious shoes but if your feet fit then the Venture Fastlace offer a great lacing system which tightens the whole shoe with one quick pull of the tab and a minimal paired down outer and sole. The sole is lightly cushioned and quite flat, this is mirrored on the inside where you'll find quite low arch support. These three things combined make sense but will suit some feet better than others.
Verdict
Simple, straightforward proposition for fast hikers with high volume feet.
Quality 9 | Performance 8 | Comfort 8 | Value 9
Overall 8



Best all-rounder for hiking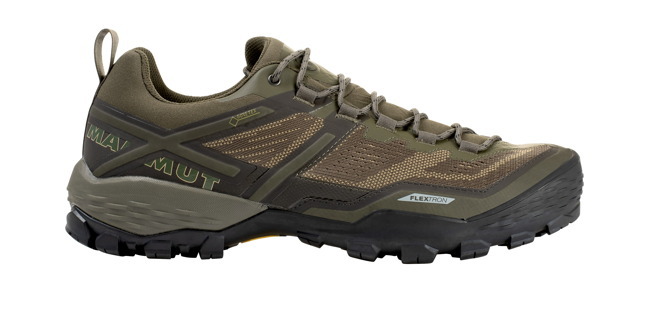 Mammut Ducan Low | £140
Mammut's Ducan Low shoes offer good grip on rocks and roots from the Vibram outsole as well as grip in mud thanks to deep, widely spaced lugs. The mid-flex midsole offers a stable walking platform with a little heel drop helping you to roll through the step and a small heel brake for tricky descents. The 'engineered mesh' upper takes a bit of loosening off but with a few miles everything settles down to be comfortable but still supportive. Inside the shoe is medium volume with quite a spacious toebox with good wiggle room, the tongue is sewn in rather than gusseted and slightly elasticated which makes for quite a clean surface inside and less, if any blisters.
Verdict
Not the most precise shoes over technical terrain but a recommended all-rounder.
Quality 9 | Performance 9 | Comfort 8 | Value 7
Overall 8



Best for heavy-duty hiking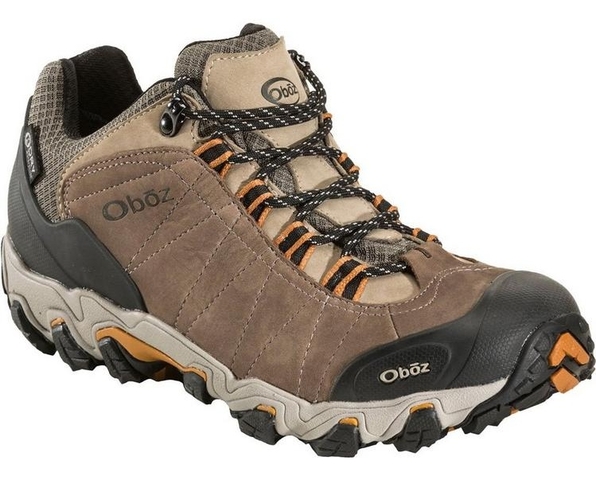 Oboz Bridger low | £118
Easily the burliest hiking shoe on test the Bridger Low is built to meet the demands of mountain hikers, and even has a relief of a map of Montana's Granite Peak moulded into the bottom of the outsole. Seriously deep, chunky lugs wrap right round the outsole and offer good grip on mud, grass and gravel but only okay grip on slippery rock. Because of being so heavily engineered the Bridger Lows feel heavy to wear, especially in the heel area which feels like it drags you down a bit. The midsole is stiff for a walking shoe and the upper rises high, providing strong ankle support and good stability in technical terrain. The heel cup is effective at reducing slip and in a shock discovery we found actual, proper insoles in the Bridger Low which are much more effective than the usual cheap slither of material you find in other walking footwear (which is always best discarded and replaced with an insole that suits your foot).
Verdict
Great if you prefer stiff, chunky walking footwear over lighter weight options
Quality 9 | Performance 8 | Comfort 7 | Value 7
Overall 7



Best for sightseeing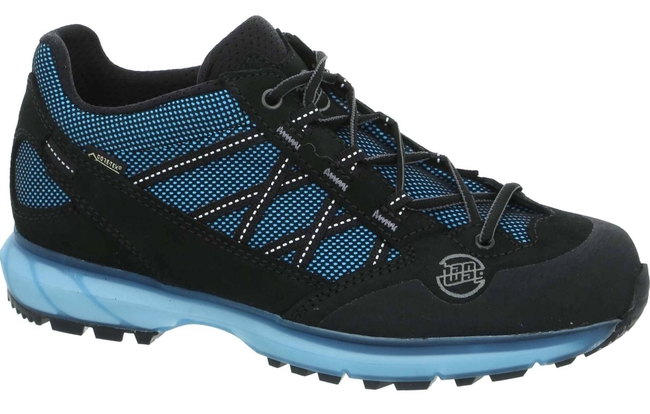 Hanwag Belorado II Tubetec | £150
Hanwag's Belorado II are an accomplished walking shoe and the Tubetec takes that same formula but softens everything up a little to make a great sauntering shoe. The Tubetec midsole purports to offer maximal cushioning, we're not sure about that but they do sit on the comfortable, rather than performance side of the fence. The upper looks almost identical to the Belorado II but a few tweaks make it more of a travel friendly option, both in comfort and looks. The fit is mid to high volume and the heel cup feels quite wide, the walking platform is quite flat but stable and altogether these factors make the Tubetecs great for all day comfort when you're not trying to climb a mountain or run a marathon.
Verdict
A great general purpose shoe for sauntering around taking in the sights.
Quality 10 | Performance 8 | Comfort 9 | Value 7
Overall 8