Welsh pride is strong in this part of Cymru, as evidenced by the 2022 decision to officially rename Mount Snowdon to Yr Wyddfa and Snowdonia to Eryri – and it's easy to see why the Welsh patriotic spirit is thriving here. Snowdonia is a place to be truly proud of, steeped in culture, history and heritage, where "the Welsh language is part of the day-to-day fabric of the area", as the Eryri (Snowdonia) National Park authority put it. 
Home to nine mountain ranges, 11,000 hectares of ancient woodland, 1,497 miles of walking routes and 23 miles of coastline, Eryri National Park is North Wales' largest. It attracts four million visitors annually, who come to conquer towering peaks, scramble knife-edge ridges, explore remote valleys and find tranquillity on lesser-trodden paths. 
Yr Wyddfa (Snowdon), Wales' highest mountain at 1,085m, is the biggest attraction (if you're keen climbing it, check out our full guide to climbing Mount Snowdon here), followed closely by Tryfan – a pyramidal, sharply-spined peak so easy on the eye it's often labelled the UK's favourite mountain. But there is so much more to Snowdonia than this iconic duo. From small-but-spectacular hills to soaring massifs, and from glorious ridge walks and rocky terrain to challenging long-distance trails, here's our pick of the best walks in Snowdonia. 
As with any hill walking in the UK, you'll need the right walking gear. Remember that the trails can be uneven, and the weather can change quickly, so you'll need a decent pair of walking boots, and a backpack packed with a waterproof jacket, water, and a snack at very least.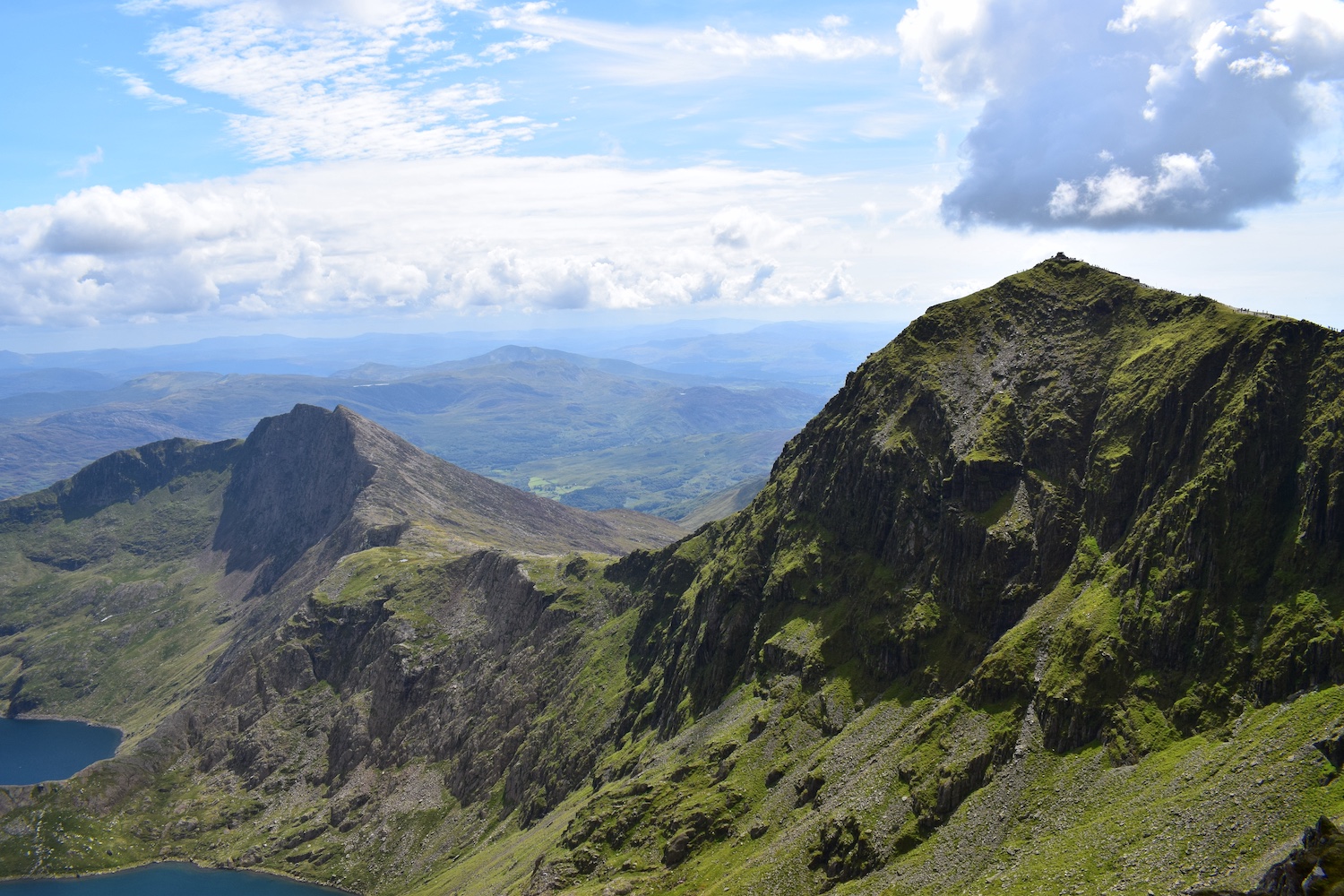 Yr Wyddfa Horseshoe / Snowdon Horseshoe Walk
11.5km / 6 hours
Billed as "without doubt the finest ridge walk in Wales" by guidebook writers John and Anne Nuttall, this circular hike is a rite of passage for British hillwalkers. It has some flaws – the train, café and incessant crowds can spoil the sense of adventure – but there is no doubting the landscape's majesty.

From the Pen-y-Pass car park, you'll initially head west on the Pyg Track before veering right for the Crib Goch ridge. This saw-toothed arête is a grade one scramble with vertigo-inducing levels of exposure, so it's not for the faint-hearted. But if you have a head for heights, it'll get the adrenaline flowing like nothing else. Beyond Crib Goch you'll climb to the roof of North Wales at Yr Wyddfa's summit before looping high above Llyn Llydaw on the Y Lliwedd ridge.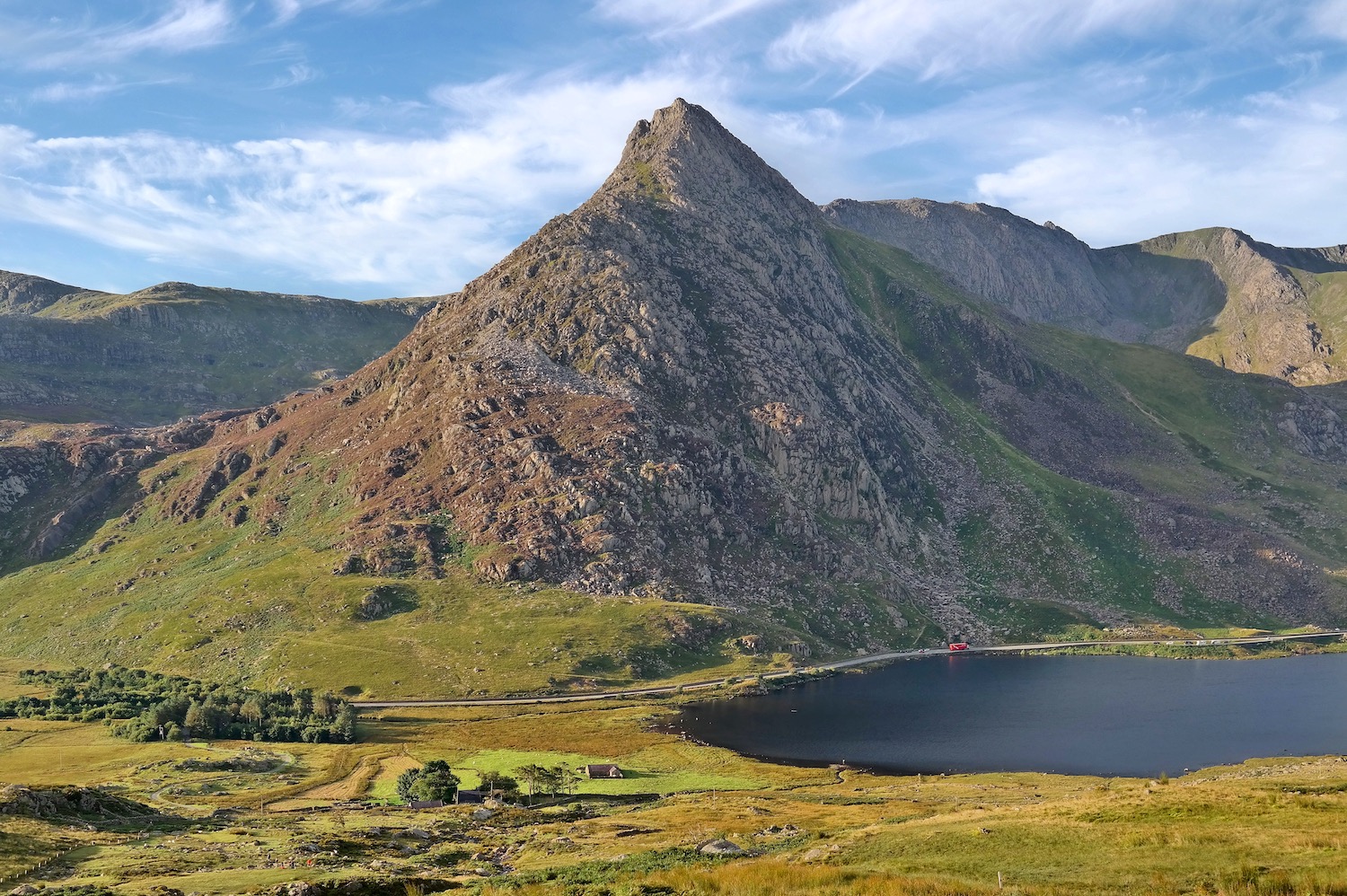 Tryfan and the Glyders Walk
10km / 5 hours
Soaring sumptuously to the south of Llyn Ogwen, the Glyders (or Glyderau in Welsh) are a mountain range of remarkable ruggedness – a world of fissured crags, rivers of boulders and weirdly-shaped pinnacles.
They are home to a trio of iconic mountains – Tryfan, Glyder Fach and Glyder Fawr – and a succession of intriguing rock formations including the Canon Stone and Adam and Eve monoliths on Tryfan, the impossibly-balanced Cantilever Stone on Glyder Fach, and the fang-like pinnacles of Castell y Gwynt.

The best circular route starts at Ogwen car park and climbs the fortified north ridge of Tryfan (a grade one scramble) before ticking of Glyder Fach and Glyder Fawr and descending via Devil's Kitchen for some post-hike refreshments at Ogwen Snack Bar.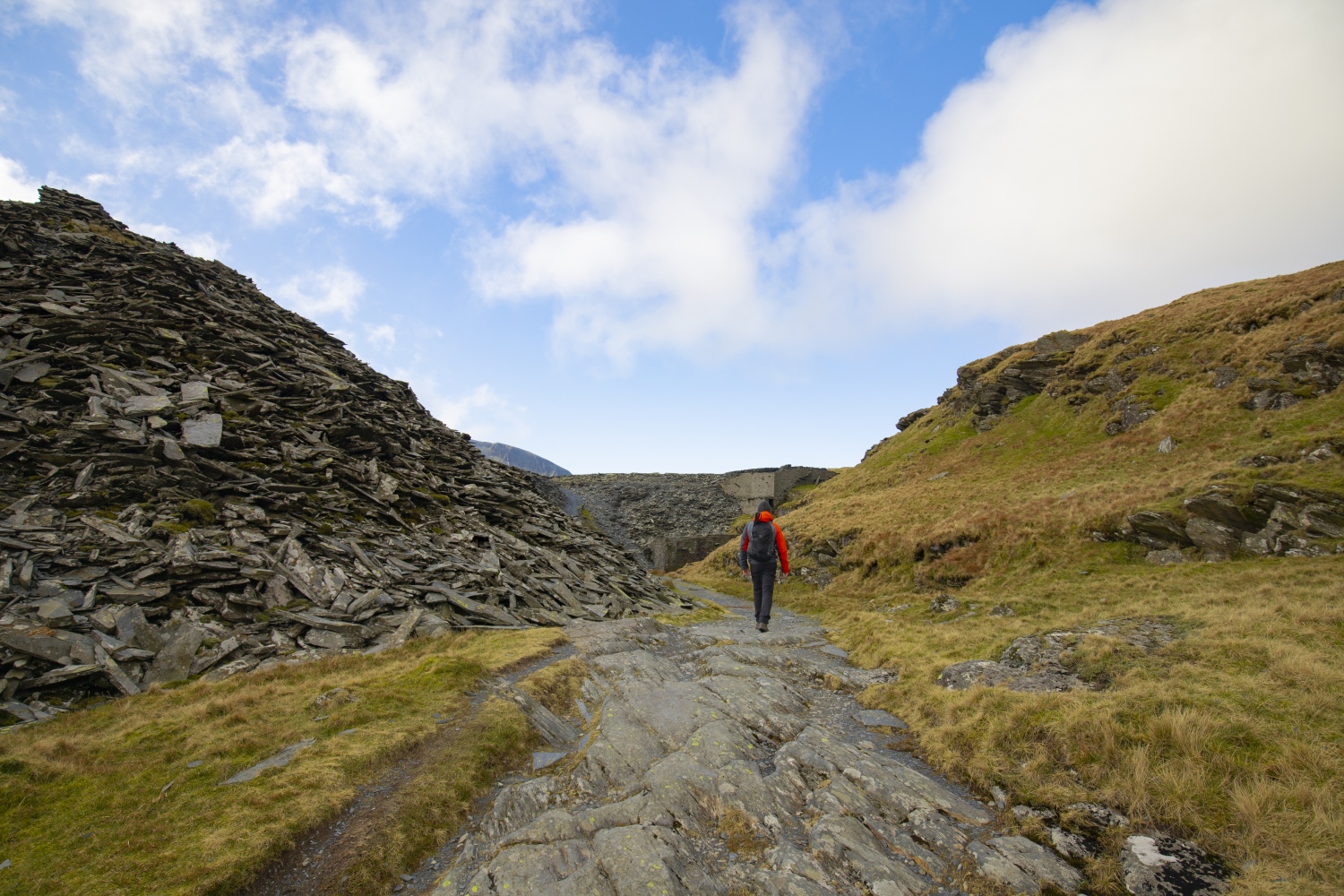 Snowdonia Slate Trail
134km / 5-6 days
Not satisfied with just a day walk? Then grab your tent and head out on the six-day Snowdonia Slate Trail, a backpacking adventure exploring every hidden corner of Eryri (Snowdonia) National Park.

Opened in 2017, this relatively new trail starts in Bangor, heads inland for Bethesda and then completes an 83-mile circular loop around Snowdonia. Devised to connect walkers with the area's industrial heritage, it's part journey through time, part epic mountain scenery – a mesmerising combination.

In the late 19th century Snowdonia was responsible for over 90 per cent of the UK's slate exports and was home to some of the world's largest slate works. Now mostly disused, this walk visits the remnants of this once great industry – ruined slate mines, abandoned quarries, mountain-top barracks, heritage railways and much more. 
The Carneddau
16.5km / 7 hours
Snowdon might be the highest peak and Tryfan the most dramatic, but real mountain connoisseurs head to the Carneddau – the largest area of land above 3,000ft anywhere in Britain south of the Scottish Highlands. Located to the north of the A5 on the shores of Llyn Ogwen, near Capel Curig, the Carneddau present a sizeable challenge and one of the biggest mountain days in all of Wales.
The classic route's start point is a lung-busting ascent of Pen yr Ole Wen. Next you'll do battle with the leviathans of Carnedd Dafydd and Carnedd Llewelyn (the fourth highest mountain and third highest mountain in Wales, respectively), before descending the sweeping ridgeline of Pen yr Helgi Du - a fitting end to a spectacular hike, with eye-watering views across the valley to shapely Tryfan.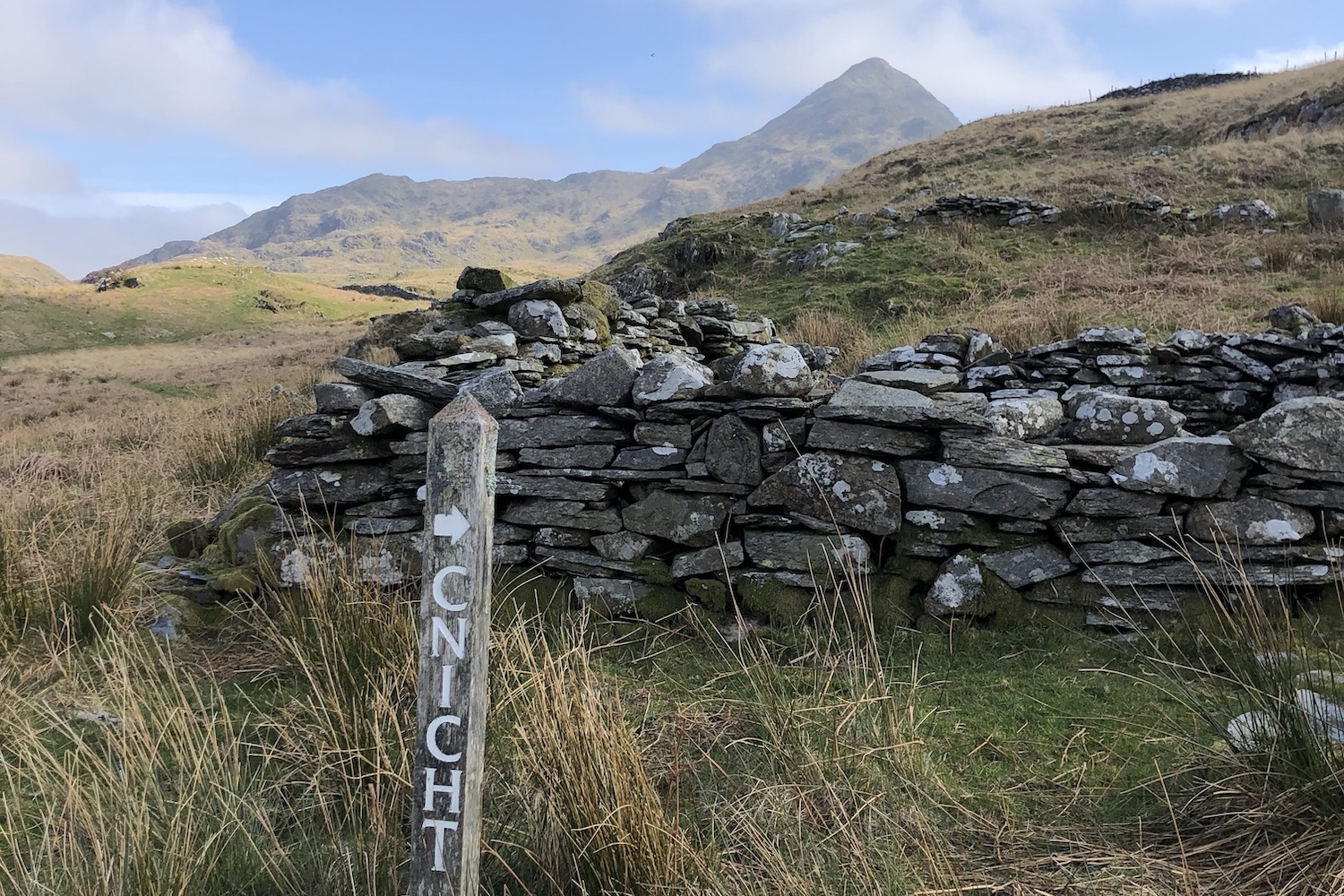 Cnicht Climb
6.2km / 2.5 hours
If there was a Welsh equivalent of the Toblerone, this is the mountain that'd be on the logo. Nicknamed the 'Welsh Matterhorn', Cnicht (689m) is a small but superlative mountain in the Moelwyns mountain range (Moelwynian in Welsh) to the west of Blaenau Ffestiniog. Like its Swiss namesake, it has an arresting profile—pyramidal in shape with a sharp ridge curving down to the valley floor.

From the hamlet of Croesor, you can be up and down Cnicht in less than 2.5 hours: a brilliant short outing, serving up all the drama of the Eryri (Snowdonia) National Park in just over 6km. For a longer day in the hills, you can also combine Cnicht with the tops of Moel-yr-hydd, Moelywn Mawr, Craigysgafn and Moelwyn Bach, a 15km route that also explores the fascinating Rhosydd Slate Quarry.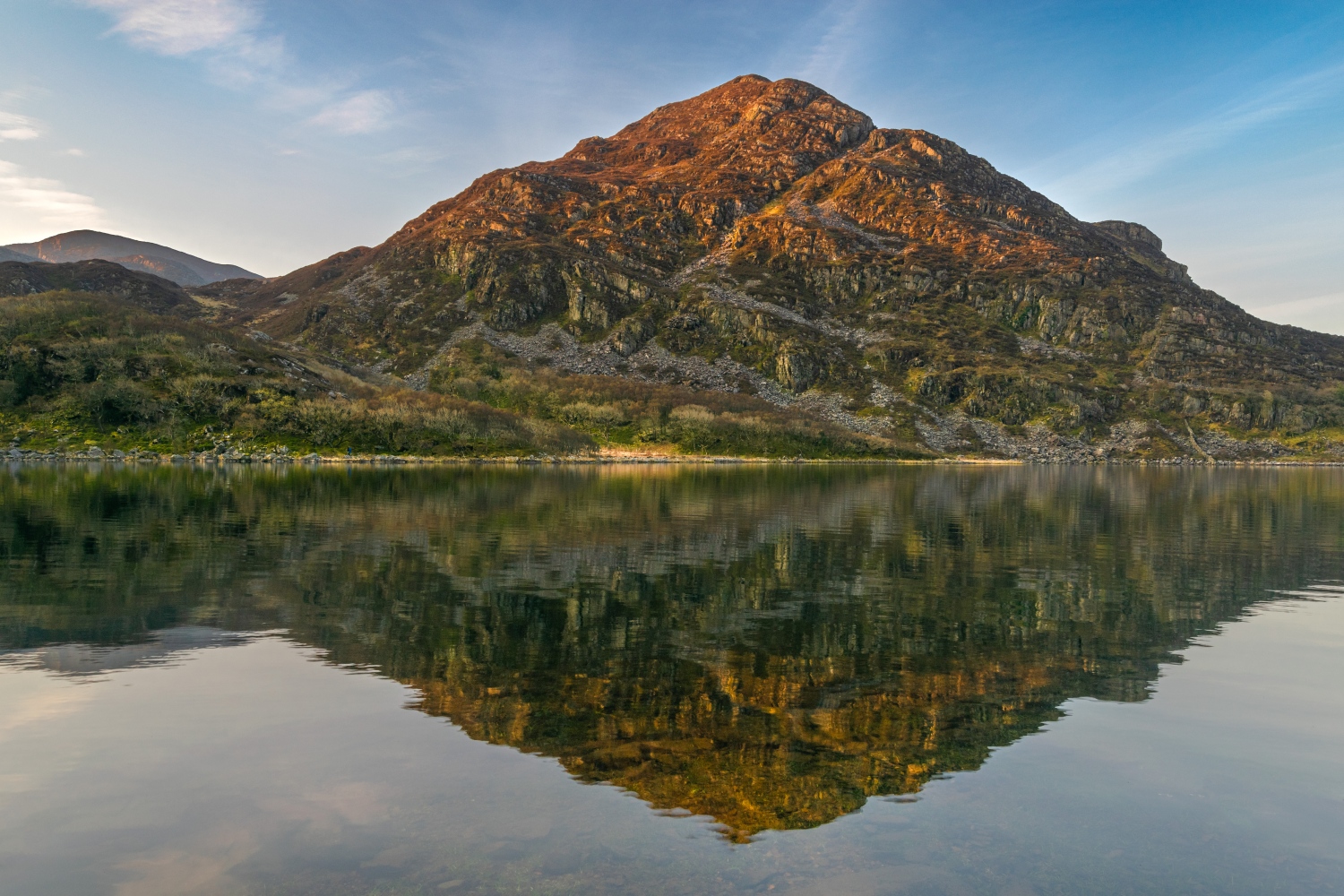 Rhinogs Traverse
32km / 2 days
The Rhinogs Traverse (or Rhinogydd/Rhinogau Traverse, if you prefer the traditional Welsh nomenclature) is a two-day journey down the spine of a rough-hewn, rugged mountain range in Wales' wild west. Located in a hinterland between the sea and the heart of Eryri National Park, in a forgotten chunk of Snowdonia bounded by Porthmadog, Barmouth and the A470, the Rhinogs are wild and remote, with a world-apart feel.

They're the kind of place you're more likely to see a herd of wild ponies than a group of fellow hillwalkers; a mountain range for isolation and escapism, coupled with a dose of suffering. The best approach is to utilise the Cambrian Line railway line, starting at Talsarnau, traversing the massif north-to-south via the summits of Rhinog Fawr, Rhinog Fach, Y Llethr, Crib-y-rhiw and Diffwys, and ending at the train station in the lively seaside town of Barmouth.