What does cross-trail mean I hear you ask? Essentially, it's Leki's version of fast hiking with use cases in trail running. Lightweight walking poles have long been used in trail running and vice versa so we thought the MCT 12 Vario Carbon could make for a perfect ultralight hiking pole.
As with any carbon pole, the MCT 12 is very 'pingy', whether you see that as a nuisance or great for shock absorption is a matter of opinion, but we like the effect and do feel that it dampens impact with the ground and therefore reduces fatigue on the arms. The other benefit to carbon is obvious to most, it's incredibly lightweight. These poles weigh far less than they should, at 200g each, and this makes for an easy pole to carry and use, whether running or hiking.
The minimalist cork look foam grip doesn't offer much in the way of support or stability compared to traditional hiking pole grips, which offer beefier contours for the hands to nestle into. This would be a deal breaker were it not for the genius gloves that come with the system. These mesh and Velcro wonders clip to the top of the pole through a tiny ringlet of cord and act as stabilisation for the hands. They can be released quickly and easily via a discreet button on top of the handle, which we found simple and intuitive to use even when on the move. This allows you to slide your hand down the pole when ascending and clip back on when you reach the top. With the gloves on and clipped in, the grips make perfect sense.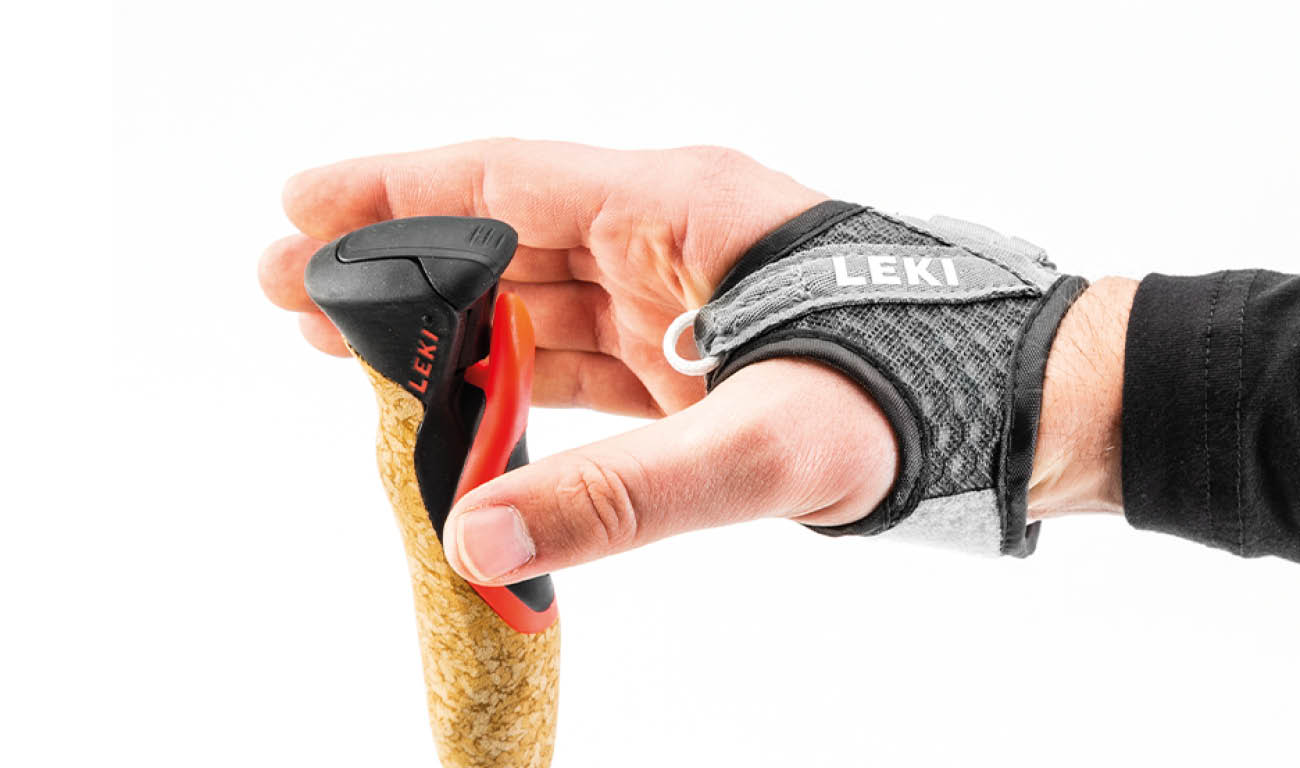 There is only one adjuster in the MCT 12, this controls the height of the pole as well as offering access to the ridiculously well engineered and clever locking mechanism. Extend the pole once and it clicks into locked position, extend again and it unlocks. Despite not having read the instructions prior to testing we were able to quickly get the hang of this minimalist system, more a testament to good, intuitive design than brain power.
Despite only featuring a single adjuster the MCT 12 Vario Carbon still offers a useful range of adjustment, from 110-130cm, and of course this design keeps the overall weight of the poles to a minimum. It also means that at the end of your hike or run the poles break down in double quick time.
We absolutely love the engineering that went into the MCT 12 Vario carbon poles, with a level of precision and quality pretty much unrivalled in other walking and trail running poles. Having said that, they are much more a trail running pole than a walking pole, if that's your poison and you want the best of the best these should be at the top of your list.