Best Lightweight Walking Boots: TL/DR Summary
There's a huge variety of lightweight walking boots on the market, partly due to the range of situations you might want them for - from walking the dog, sunny rambles on the South Downs and casual riverside wanders, all the way to alpine peak bagging, lightweight boots are your friend. For an easy entry to the lightweight boot world, the Keen NXIS Evo Mid is a surprisingly capable boot, ideal for low level walking, trails and the like.
Moving up a few grades, the Hanwag Banks GTX boot is hard to beat for sheer all-round walking capability. Not only is it a tried and tested platform, but it's also available in a variety of fitments (there's an extra wide version, for example) to ensure to get the perfect fit, which is utterly vital for a comfortable walking experience.
A final nod has to go to the Aku Trekker Lite III GTX boots, which like the Hanwag Banks are exceedingly well made and robust, giving real confidence to take on more technical and demanding terrain when required - in short, boots you'll get real value from.
Best Lightweight Walking Boots: Buyer's guide
Where will you be walking?
Will you be using your boots for fair weather walks on gentle paths and therefore your most important criteria is to get the most comfortable walking boots you can find, or is your hill walking of the more challenging variety? Do you work outdoors in your boots? Then you'll need something with excellent durability. Do you go walking in winter with crampons? Then you'll need full waterproofing, a stiff, durable sole that can accept a walking crampon, and perhaps some insulation – but bear in mind that all these things add weight.
Speaking of weight, if you're carrying a heavy load (such as in a good hiking backpack), you'll want a stiffer, more protective boot to cope with the increased load.
Each use will dictate a different type of boot, so make sure you find the best one for you.

Why buy lightweight walking boots?
The heavier the walking boots the more difficult they are to carry on your feet! Heavy boots are only necessary if they add functions or features that you value.
Typically, lightweight walking boots are more comfortable to walk in than their heavier equivalents and the best will still offer a mix of durability and performance for regular hiking.

What makes a great lightweight walking boot?
Look for these four key things when searching for the best lightweight walking boots.

1. Low weight
Anything under about 1250g per pair is a good yardstick to go by. These boots will feel more like your everyday shoes when you hike, meaning you can walk further without getting tired.
2. Stable sole that isn't too stiff
Look for a sole that offers stability but isn't too stiff. Bend the sole along the length and width of the boot and look for a bit of give at the forefoot and a little, but not too much, torsional flex. The midsole should be made of springy EVA foam which offers a good balance of cushioning, stability and springiness.
3. Lightweight, supportive upper
The upper should be made of lightweight, breathable materials possibly with a Gore-Tex or other waterproof liner depending on preference. It should offer stability for your foot and ankle along with comfortable cushioning all in a reasonably durable package.
4. Solid build quality
Making something durable and lightweight is a bit of an artform. A good lightweight boot will use premium materials and quality workmanship to achieve this goal and that usually comes with an associated cost - don't scrimp on your boots if you intend to use them regularly.
5. Waterproofing
Most walking boots now come with some form of waterproofing to keep your feet dry and comfortable when hiking. This usually comes in the form of a waterproof and breathable liner that's sewn inside the boot. Although water can pass through the outer material of the boot this liner should stop any getting to your feet. The outer material, whether fabric or leather will also provide a first line of defence and a gusseted tongue will help stop debris and water flowing inside the boot from that area.
The best lightweight walking boots…
Scarpa Rush TRK GTX
Available in: Men's and women's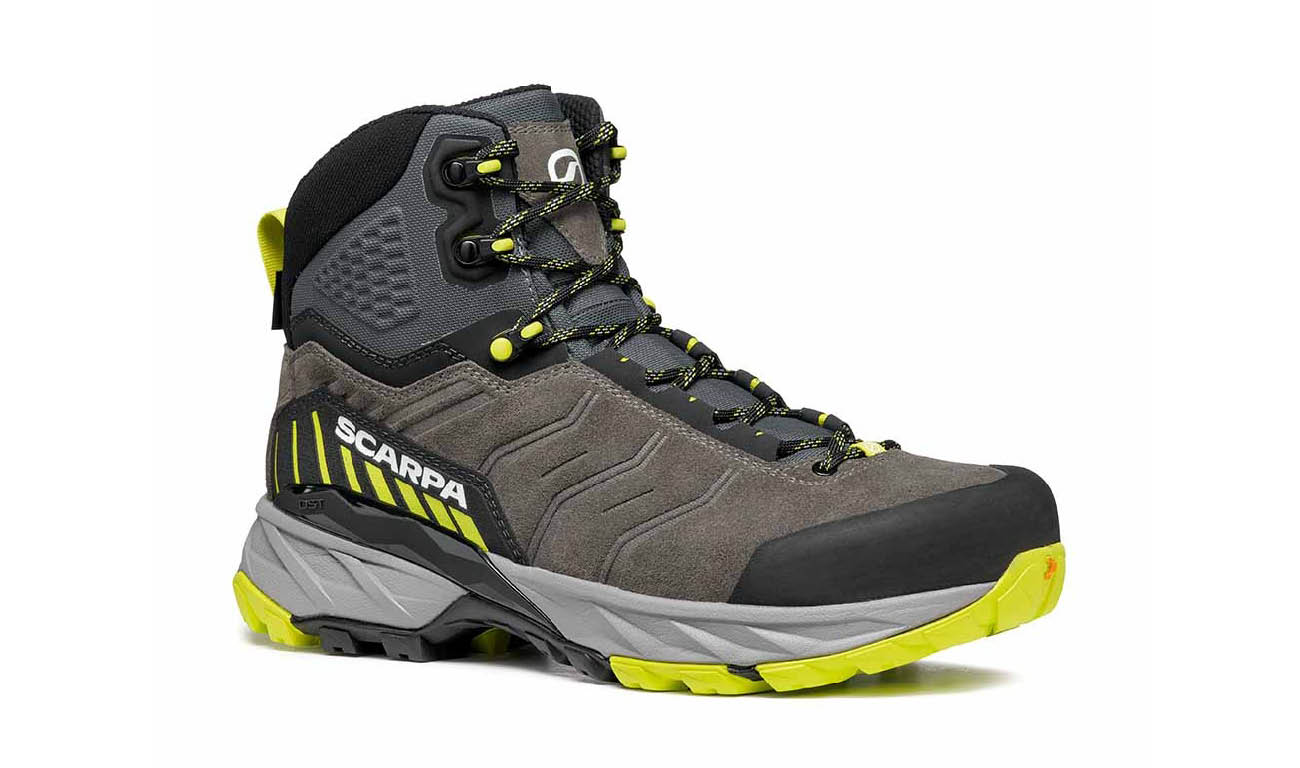 As soon as the Rush TRK walking boots are attached to your feet you know you're in for a treat. They're lightweight but aren't at all sloppy, in fact, a little wearing in is needed but it's worth it for the stability you feel on the trail.
Inside we were surprised to find plenty of wiggle room up front for the toes, unusual for such a sporty walking boot and especially one from Scarpa who have been known to favour a precise fit.
We love the 'Autofit 3D Collar' which adds an area of padding at the back of the foot that nestles into the ankle and retains and cushions the heel perfectly.
The excellent lacing system has lockout points at the flex zone which helps you to customise fit over the lower and upper parts of the boot separately. Overall fit and feel when walking in the TRK GTX is of a nimble yet stable lightweight walking boot.
Scarpa have equipped the Rush walking boots with a Presa outsole. This offers great grip across different types of terrain with mud shedding but sticky lugs.
The Rush walking boots feel expertly crafted and as such we haven't had any problems with hot spots or blisters from inside and the suede and fabric upper can take some serious abuse.
Buy Scarpa Rush TRK GTX Boots: £165 on Amazon.co.uk
La Sportiva Ultra Raptor II Mid GTX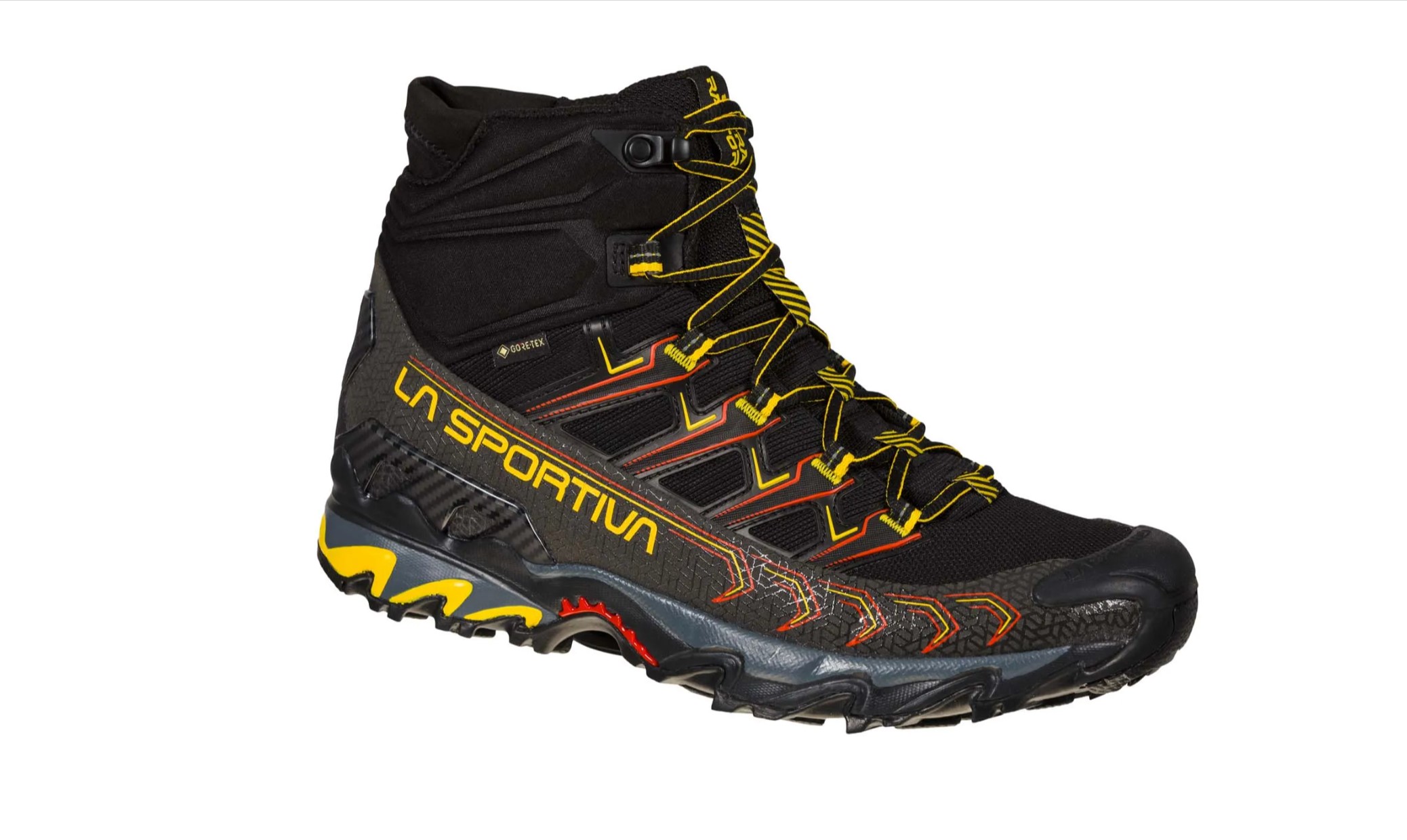 The La Sportiva Ultra Raptor II Mid GTX might be brashly monikered, with a design palette to boot, but the technical ability on offer here is considerable - not least as La Sportiva know a thing or two about boots.
Interestingly, the heritage of the Ultra Raptor II Mid GTX is more trail shoe than boot, based as it is on the popular Ultra Raptor Mountain Runner. This makes it a fantastic boot for those fast and light adventures that need a little more ankle support than mere shoes provide.
The liner here is Gore-Tex, which adds some wind protection as well as its main duty of fending off wetness, but of course there is a slight breathability penalty, as ever. The main star of the show is the trail-derived outsole, which offers a super-aggressive tread pattern and is made from a soft, grippy XF compound. It also features La Sportiva's Trail Bite Heel, which is designed to improve downhill braking when moving fast.
A mesh upper delivers maximum breathability, and the combination of comfort collar, heel stabiliser and a TPU-augmented lacing skeleton gives a snug fit to tackle heel lift, as well as ensuring the widest range of foot-shapes are catered for. That said, there is a wide fit option for the truly broad of instep.
Overall the La Sportiva Ultra Raptor II Mid GTX ticks all the fast and light boxes at 470 grams per foot, and offers good support as well as trail-style speed into the bargain.
Salewa Mountain Trainer 2 Mid GTX
Available in: Men's and Women's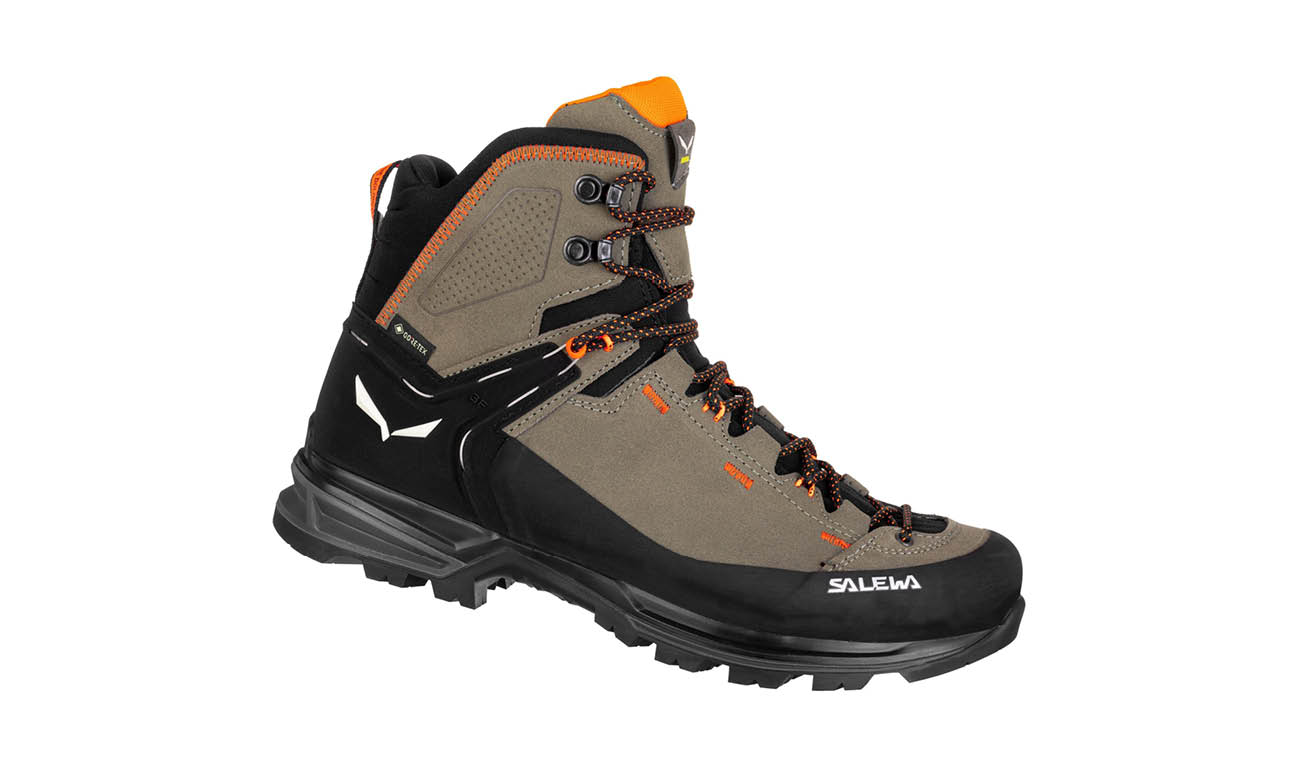 Salewa's Mountain Trainer 2 Mid walking boots are designed for those who will be venturing into the mountains. They are lightweight yet stiff and protective, particularly at the ankle and underfoot, allowing for miles of walking on rocky terrain without feeling fatigued from rocks prodding the feet. The sole pattern is aggressive with deep lugs and a pronounced heel brake, making the boots particularly impressive on descents with their vice-like grip. The grip on wet rock is not great, but it is a compromise worth making for the durability you get from a slighter harder rubber. The ankles of the boots are stiff for good ankle support, and despite this stiffness, the boots still feel lightweight and lively to walk in. The fit inside the boots is versatile and can be adjusted to fit most foot shapes. Initially stiff, the Mountain Trainer 2 softens up after a number of miles, making them among the best lightweight walking boots out there. The build quality is superb and they are a worthwhile investment for any mountain walker.
Buy Salewa Mountain Trainer 2 Mid GTX: £280.92 at Amazon
Buy Salewa Mountain Trainer 2 Mid GTX: £214.95 at Alpinetrek <<Best Deal>>
Scarpa R-Evo GTX
Available in: Men's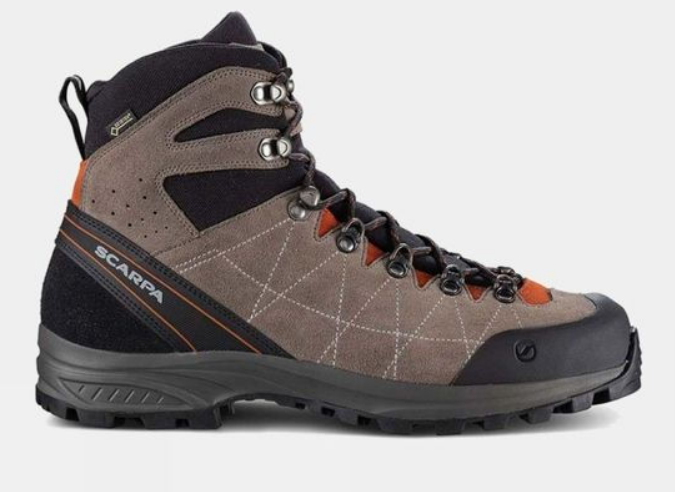 The Scarpa R-Evo GTX isn't the lightest boot here by any means, but the extra heft (1320 grams per pair) is well spent - extra support, a touch more stiffness, and a real sense of robustness mark the R-Evo out from the crowd.
A 1.8mm suede upper is designed to fend off all but the sharpest rocks and sharp bits, while the Vibram outsole will grip across a wide range of surfaces.
It's designed for a snug, sock-like fit, which not only adds comfort and reduces the chance of friction on longer days, but also means that more technical ground can be taken on thanks to the improved dexterity and feel over looser-fit boots.
The generous toe rand adds protection and durability too, while there's of course a Gore-Tex liner to keep damp at bay. Overall, the Scarpa R-Evo GTX is a fantastic choice for a three-season, go anywhere, do anything boot - an oldie, but a goodie.
Buy Scarpa R-Evo GTX Boots: £220 on Cotswold Outdoor
Ariat Skyline Summit GTX
Available in: Men's and women's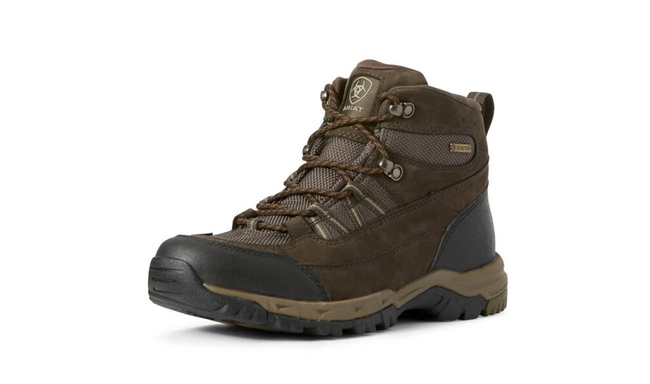 Best for: Offering everything a lightweight walking boot should offer, albeit in a slightly dull package.
Providing an excellent balance between lightweight and sturdy, the Summit GTX are 'country life' orientated brand Ariat's attempt to topple more established walking boot brands from their perches.
They do an excellent job overall, the kind of walking boots that feel well thought out, designed, and delivered. But while they ooze solid dependability, they lack character.
These are grippy walking boots over the typical range of British terrain which can include mud, loose gravel, rocks and roots within the space of a few hundred metres and the midsole provides a good level of support and cushioning. They feel like precise, lightweight boots but keep your feet protected from the majority of the proddy bits on the floor.
Fit is narrow inside, especially so at the midfoot. This adds to the feeling of a precise, rather than sloppy boot but you will of course need to ensure that your feet will fit. The heel is firmly locked in place so no blisters to speak of, we have however experienced a little pressure on the top of the forefoot at the flex point of the boots.
The Skyline Summit GTX feel comfortable enough to walk in, not slipper like but also not clog like, and the Gore-Tex waterproof membrane provides ample protection from water ingress, whether from wet grass or streams.
The leather and mesh upper is of a premium quality but the overall look of the boots is lacklustre and conservative.
Overall a totally sensible walking boot option that will provide lashings of dependability, a modicum of support and an all-round feeling of comfort.
Buy Ariat Skyline Summit GTX Boots: £170 on Amazon.co.uk
Keen Terradora II
Available in: Women's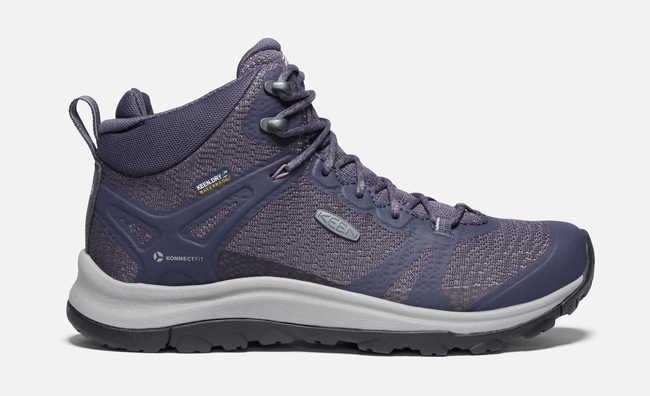 Best for: Travelling, taking on a gap year or backpacking trips
This good-looking hiking boot follows Keen's popular women's only Terradora, with a few added technical tweaks.
These lightweight and flexible boots feel as comfy to wear as your favourite trainers, and won't weigh you down even during long days on the trail. Despite their high flexibility, the Mid version of the Terradora II boots gives great support once fully laced up.
Waterproofed using Keen's own-brand Keen Dry liner, the Terradora II will keep your feet dry in the worst weather. The KonnectFit heel-capture system held our feet firmly in place on test, with no blister inducing slipping or sliding. We were also impressed by the reliable grip that the Terradora II offers - deep lugs and sticky rubber works well even on slippy rocks and uneven ground.
It's hard to find any weakness in this excellent boot, but the lightweight mesh upper doesn't offer much warmth in cold conditions or when hiking in snow - you should pick a winter-specific boot for this and use the Keen Terradora II for spring-autumn adventures.
The Terradora II is also available as a low-cut trainer-style shoe, ideal for warm summer hikes.
Verdict
Overall the Terradora II's high breathability and light weight make it the perfect quiver-of-one boot for travelling, taking on a gap year or a backpacking trip.
Buy Keen Terradora II Boots: £107.78 on Amazon.co.uk
Berghaus Expeditor Ridge 2.0
Available in: Men's and women's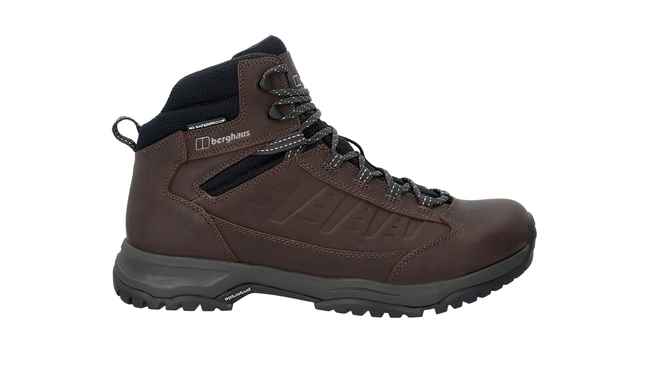 Best for: Gentle coutryside walks
Most of the technology used in the Expeditor Ridge II is Berghaus' own - with an AQ waterproof lining rather than Gore-Tex and Optistud grip on the outsole rather than Vibram. But don't let that put you off, Berghaus have been in the game long enough to put together walking boots without using big name (and expensive) third party manufacturers, with the saving coming back to you.
This makes the Expeditor Ridge 2.0 the best value walking boots on the list, despite this they're still well-built using quality leather and solid stitching all over and the weight is kept to a low 1020g a pair.
There is a catch, an overall lack of stability in both the sole and upper relegates the Expeditor Ridge 2.0 to mostly gentle terrain.
Given the right walking conditions though, these boots can still shine thanks to a lightweight and springy EVA midsole and an upper that's comfortable straight out of the box.
Sizing is narrow-medium but there's space in the toe box for the toes to splay naturally. We were pleasantly surprised at how well the foot and especially the heel locks into the boot and are yet to experience any uncomfortable rubbing.
As a solid everyday walking boot the Expeditor Ridge 2.0 ticks a lot of boxes and the price is favourable compared to others on the market.
Verdict
Great value boots for short walks through gentle countryside.
Buy Berghaus Expeditor Ridge 2.0 Boots: £86 on Amazon.co.uk
La Sportiva TX4 Mid GTX
Available in: Men's and women's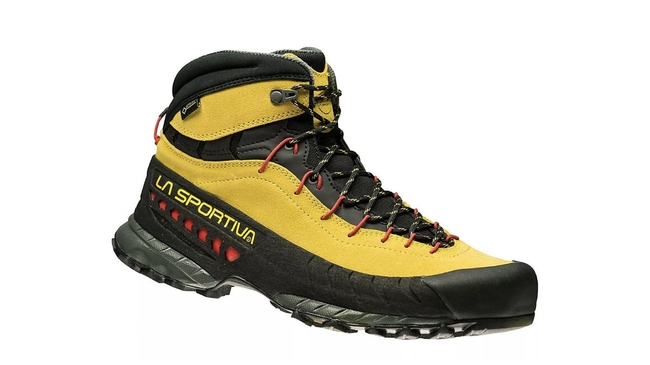 Best for: Mixed hiking and scrambling
La Sportiva's TX4 mid is a lightweight boot designed for technical approach routes, via ferrata and general hiking.
The TX4 MID GTX stands out in a saturated market for many reasons, but possibly the most noticeable is that this rugged, deal with almost anything boot comes in at 970g a pair, which is very lightweight considering the level of support and durability they offer.
We hiked in the highlands of Scotland in the TX4 Mid GTX and even climbed a multi-pitch V-Diff route in these boots. They performed perfectly well, gripping to wet rock and offering support on the smallest of holds. We also used them on the Sgurr nan Gillean west ridge traverse on Skye, one of the finest routes of its kind in the UK and the TX4's performed perfectly.
Durability is guaranteed in these tough conditions by the PU TechLite all-round rubber rand and protective rubber top cap, raising from the sole to cover the first two inches of the upper the whole way around the boot - great for abrasion resistance and additional stability.
While not overly lively, the sole offers reasonable spring and ankle support is good.
The lacing system is taken from the Mythos climbing shoe, and, whilst offering easy adjustment, the boots are possibly best suited to those with narrower feet (in true alpine style). Having said that, if the fit is right for you, you'll find these walking boots comfortable straight out of the box.
Verdict
Overall, the TX4 Mid GTX is the perfect boot for comfortable three-season ascents and journeys, on all but the most technical of climbs.
Buy La Sportiva TX4 Mid GTX Boots: £174 on Amazon.co.uk
Keen NXIS Evo Mid
Available in: Men's and women's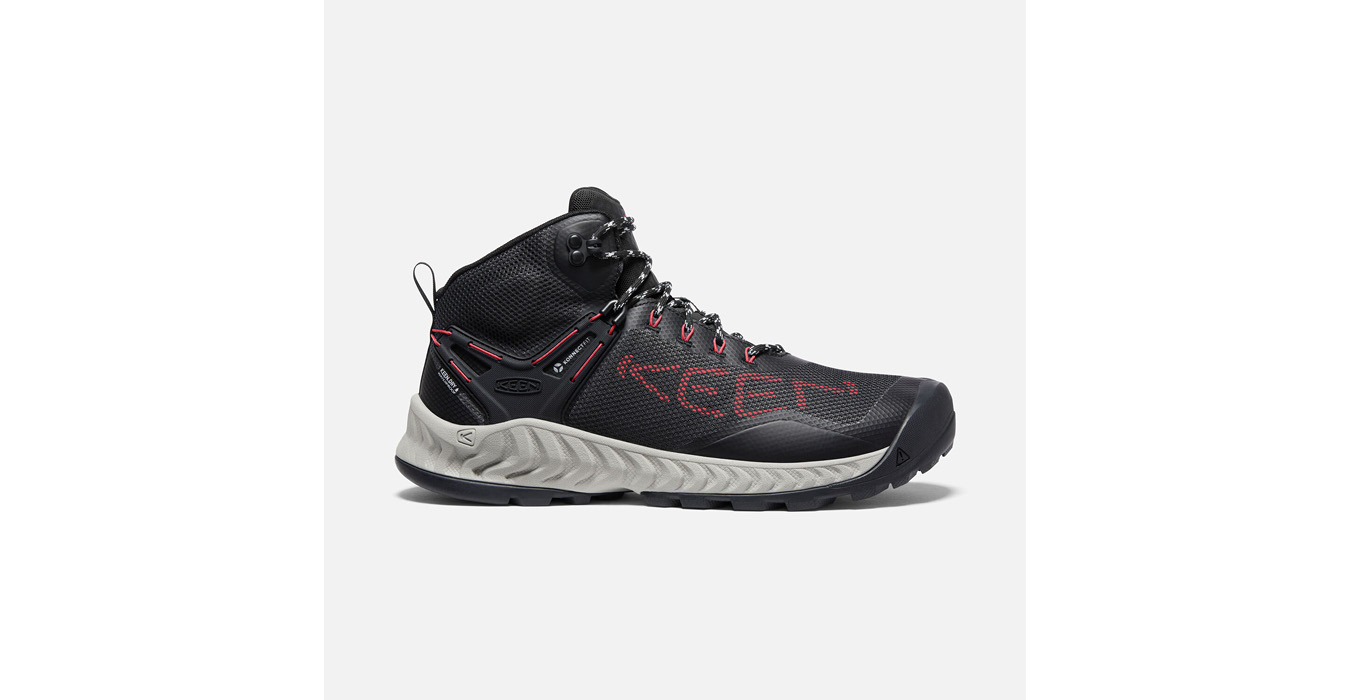 Best for: Fast and light hiking
Keen call their latest boots 'hiking trainers' following a trend towards lighter weight, more comfortable hiking footwear. They are purposefully soft and spongy to walk in, but still provide the support and protection you expect from a mid hiking boot.
The sole unit conforms to the contours of the ground, providing excellent grip as well as a real feeling of connection. It's lively and energetic but also manages to offer ample protection from rocks and twigs. It has a fair amount of flex, which takes a bit of getting used to but overall, we found the NXIS Evo to be stable boots to walk in.
Keen's Konnectfit cradle system locks the heel firmly in place for blister free walking and the rest of the upper of the boot is comfortably spacious but perfectly anatomically shaped. These soft but stable boots somehow manage to balance protection, cushioning and comfort in an altogether compelling package.
Verdict
Soft, spongy, and superbly comfy....but still with an element of stability.
Buy Keen NXIS Evo Mid Boots (Mens): £140 on Amazon.co.uk
Buy Keen NXIS Evo Mid Boots (Womens): £105 on Amazon.co.uk
Adidas Terrex Free Hiker
Available in: Men's and women's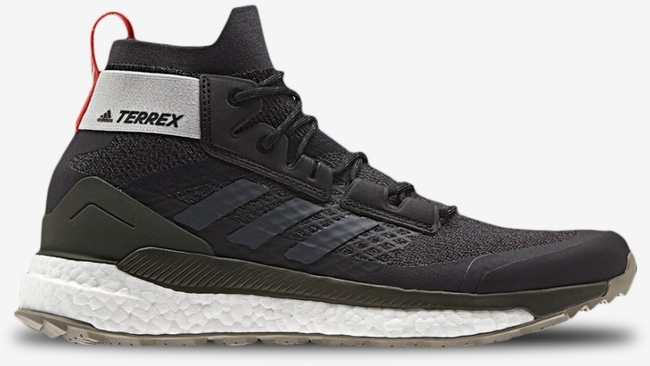 Best for: Adventure travel and sightseeing in warm, dry climates.
Slip the Terrex Free Hikers on and they feel like a pair of trainers thanks to a stretch knit upper, soft bouncy sole and almost impossibly light weight of 764g a pair.
They also look great which means they make perfect travel footwear when you want to minimise your luggage burden.
Looking great and being comfortable is one thing, but being able to hike in them is another, and the soft stretchy upper and flexible sole means that it's easy paths only for the Terrex Free Hiker. The power strap on the ankle counters the floppiness a little so is a worthy addition but we still wouldn't trust the Terrex Free Hiker too far off the beaten track.
Despite less than ideal stability, sticky continental rubber on the outsole offers good grip and the midsole has loads of energy return so given the right conditions these can be a joy to walk in.
If you want a pair of lightweight hiking boots that look good and are seriously comfortable to wear the Free Hikers are worth considering.
Verdict
Good looking, supremely comfortable adventure travel footwear.
Buy Adidas Terrex Free Hiker: £180 on Amazon.co.uk
Hanwag Belorado II Mid GTX
Available in: Men's and women's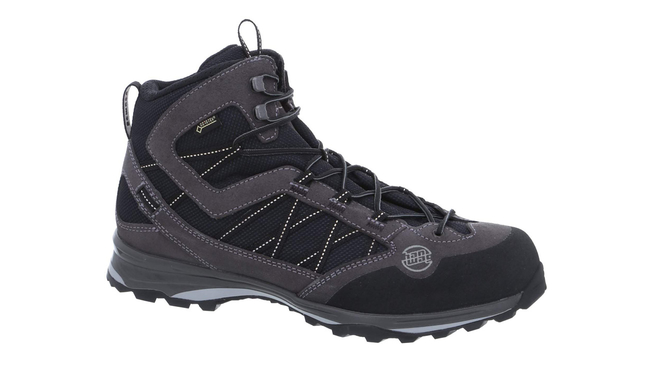 Best for: The discerning hiker looking for excellent build and durability in a lightweight, comfortable package.
Hanwag's Belorado II Mid boots are narrow walking boots with a precise fit, best suited to those with narrow, low volume feet. Inside, they feel impeccably made with a smooth, seamless feel and superb walking comfort coupled with generous helpings of reassuring German build quality. The 1100g weight (per pair) is impressive considering the high levels of performance and durability on offer.
Cushioning underfoot is well judged, with a little trail feel without any of the associated pain over long walks. The walking platform is quite neutral both in roll and energy from the sole, but these are still easy boots to walk in.
Stability is excellent thanks to just the right amount of stiffness and that well-judged upper. There's enough flex at the forefoot and across the width of the boot without succumbing to trainer like floppiness, so the boots are both comfortable and capable.
Verdict
Comfortable, capable and nimble three season walking boots.
Buy Hanwag Belorado II Mid GTX Boots: £158.36 from AlpineTrek.co.uk
Hanwag Banks GTX
Available in: Men's and women's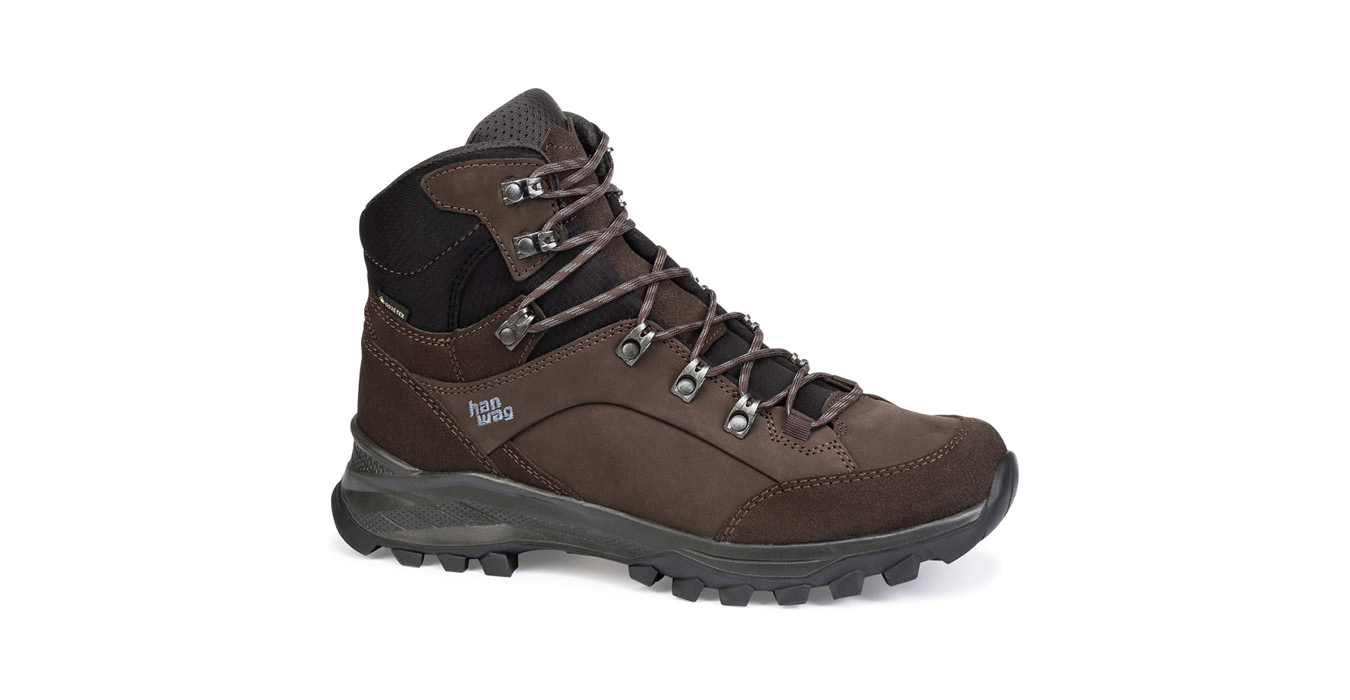 Best for: Any type of walking you care to throw at it.
Fits like a glove is the first thing that comes to mind when you slip your feet into Hanwag's Banks boots.
The carefully considered shape works perfectly for demanding walkers, making the Banks GTX a joy in all situations.
There's just enough cushioning in all areas, from the ankles to the footbed which offers a balance of trail feel and protection.
The lacing is very easy to tweak over the gusseted tongue for a precise fit and the boots are easy to get into and out of, a small but important detail.
The outsole is both stable and lively, as any good lightweight walking boot should be, and there's stacks of grip on all types of terrain. The pronounced heel brake aids with descents and the sticky climbing zone is great for steep, rocky ascents. The overall feeling of walking in the Banks GTX is one of stability, reliability, and comfort, making these our favourite boots of the year.
Verdict
Impeccable build quality and thoughtful design proves to be a winning formula.
Buy Hanwag Banks GTX Boots: £210 from Cotswold Outdoor
Zamberlan Ultra Lite GT RR
Available in: Men's and women's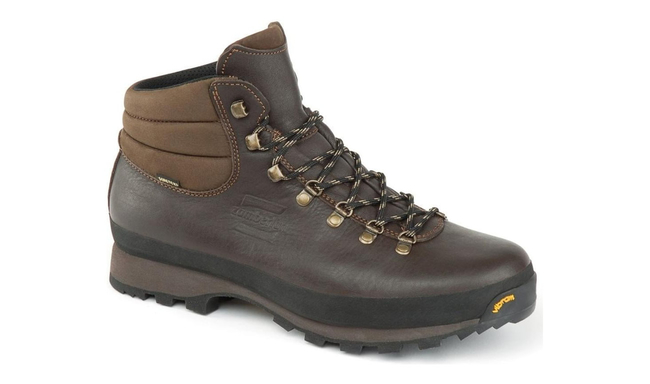 Best for: Fast paced regular walks on well maintained paths across all seasons.
There's a lot to be said for classic leather walking boots but you don't often find them as light as Zamberlan's Ultra Lite GT RR.
Durability is superb thanks to top notch Italian build quality, premium leather specifically picked by Zamberlan for its high abrasion resistance and a full wrap rubber rand which protects the lower portion of the boots from scuffs.
Fit is mid width and there's enough volume to cater for a range of foot shapes. The lacing could be easier to cinch up, but with a bit of tugging you can get a good fit over the whole foot.
The mid stiff sole is suitable for countryside walks, coastal walks and UK hill walking and in these environments, it offers a comfortable platform with little trail feel. Over particularly rocky ground though the Ultra Lites move around too much so we think they're best suited to level paths.
The sole unit feels quite lively, the whole of the forefoot takes on a convex shape, so you roll out of the step. This is an acquired taste, but helps maintain a fast pace when you're walking, if you're more of a plodder a flatter profile will offer better stability.
Under foot, the Vibram sole offers sure footedness but isn't quite as sticky as the soles on the similar Scarpa Terra GTX on slick surfaces. A decent heel brake helps control on descents and the lug depth is above average for lightweight boots at 5mm.
Verdict
Quality leather boots that work well on countryside rambles and coastal walks.
Buy Zamberlan Ultra Lite GT RR: £200 at Amazon.co.uk
Scarpa Terra GTX
Available in: Men's and women's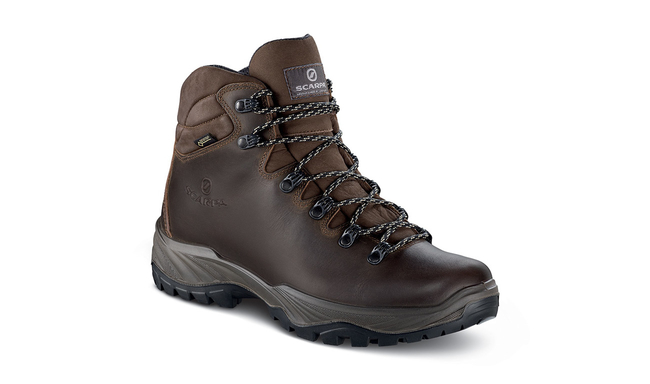 Best for: A fantastically comfortable pair of boots for walking gentle paths and trails
We can see why these are some of Scarpa's bestselling boots, they're lovely in most regards for general walking duties as long as you don't push them too hard. They're also at a great price point compared to other leather boots on the market, and with Scarpa heritage and build quality behind them that makes them a bargain.
We found them comfortable to walk in straight out of the box. There's no denying that they're quite soft, both in the upper and sole which is flexible in all directions but is still stable when you're walking on level paths. There's a bit more trail feel through the soles than we would like, which does eventually become uncomfortable over long distances, but you can partially combat this issue using thicker insoles.
Heavy cushioning around the ankle and tongue really adds to the feeling of comfort and the inner feels like a comfortable pair of slippers.
Foot hold is great despite this tester having narrow feet and the fit being mid width, although heel hold is perhaps not as good as some of the narrower boots with techy heel retention systems.
The walking platform is neutral and stable so feels very natural and the weight, at 1230g, isn't bad at all considering the build quality and materials used.
Verdict
These boots just work and are therefore a keeper.
Buy Scarpa Terra GTX Boots: £140 at Cotswold Outdoor <Sale price>
Aku Trekker Lite III GTX
Available in: Men's and women's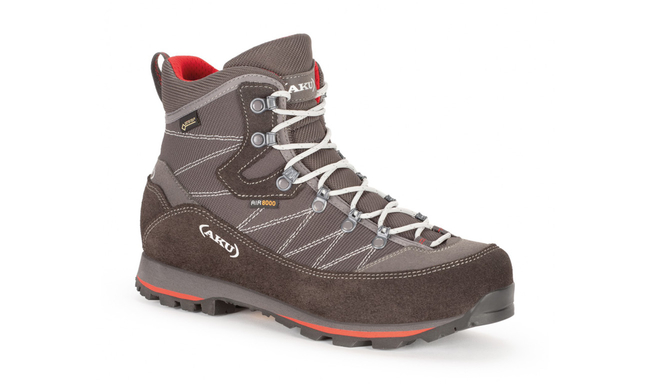 Best for: Long distance trekking over variable terrain.
Taking inspiration from the highly acclaimed Tengu Lite, the Trekker Lite III adds a bit of extra cushioning around the ankle and heel for longer walks.
Being pretty solid through the sole means the bottoms of your feet are kept well protected but there's very little trail feel which takes away from precision. This stiff sole is good for edging or digging your feet in on a descent but can, at times feel clunky to walk in.
The last is excellent – slightly on the narrow side but it is easy to get a good fit over a variety of shapes and sizes thanks to decent lacing and a supple upper constructed of suede and breathable mesh fabric. This upper does not feature a rubber rand but the toe cap is stiff so protects your feet from stubbing as well as adding to the boot's overall excellent durability.
A deep heel cup keeps the feet held firmly in place for blister free walking and the general construction screams quality compared to some of the cheaper walking boots on the market.
Verdict
A great long-distance trekking boot that will provide comfort mile after mile.
Buy Aku Trekker Lite III GTX Boots: From £102 at Amazon.co.uk
Craghoppers Salado Desert Hi boot
Available in: Men's and women's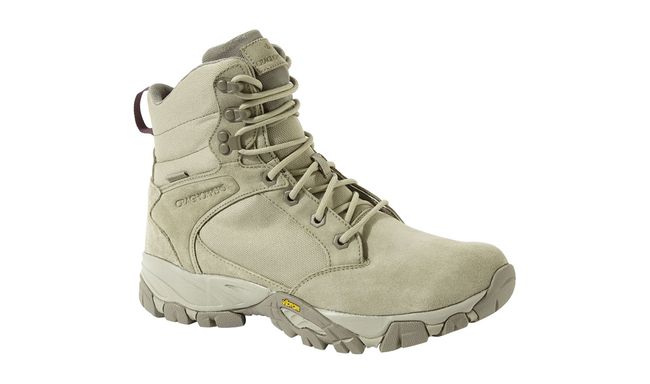 Best for: Desert sightseeing duties
What Craghoppers don't know about warm weather travel gear isn't worth knowing, but boots are a recent addition to their stable so can they compete in a crowded market?
Firstly, when they say 'high' they are not lying. High boots are vital in the dessert to protect you from biting ground insects and dare we say it reptiles and the Salado even comes with a cover for the tops to stop critters getting in while you sleep. Add to this Craghopper's highly effective Nosilife treatment and you've got a decidedly bite free pair of boots.
If you don't do the laces up too tight this high top is comfortable, as is the rest of the boot, much like a pair of well-worn daps but there isn't a lot of stiffness to the Salado High, giving a lot of trail feel – good in some ways bad in others. This allows you to really feel the ground beneath you but also leads to sore feet over long countryside walks, this would of course be a different story over smooth sand dunes.
This softness is quite comfortable given the right ground and the thin upper material positively wraps around your foot holding it firmly in place. Couple the thin upper with a lack of waterproof liner and you've also got a seriously breathable boot.
The fit is about mid width over most of the boot with a narrower toe box, they come up a little short so we'd advise going up half a size.
Verdict
A fine pair of boots for exploring the desert sands
Buy Craghoppers Salado Desert Hi Boots: £129 at Amazon.co.uk
Best Lightweight Walking Boots: Conclusion
As we've highlighted above, there are a huge range of lightweight walking boots on the market, many quite specialised. It's pretty essential to be honest with yourself about your likely use, as some of the more trainer-esque designs emphasise comfort over stiffness, which can lead to challenges on rougher ground if you're not prepared. The Keen NXIS Evo Mid strikes a good midpoint here, but the Aku Trekker Lite III GTX boots and editors choice Hanwag Banks GTX boot are much more robust and capable when the going gets tough.
In short, whether you're planning a week in Wales checking out The Best Walks in Snowdonia: 6 Great Walking Routes or Best Walks in Brecon Beacons: Six Great Walking Routes, there's a pair of boots out there for you. Also make sure you pick out the best hiking backpack for your trip too!