Heading off into the wild with your bikepacking bike is a fantastic experience, all your lightweight camping gear packed neatly into your frame bags primed and ready for an adventure.
Every bikepacking trip is different but the fact that you will be camping overnight remains the same. The travelling part of bikepacking is traditionally done off road, either with a mountain bike or gravel bike, but equally a road bike bikepacking trip can provide the same sense of exploration and discovery.
The bikepacking bike you choose is vitally important for comfort and efficient progress. If you're travelling off the beaten track in the wilds of the hills with lots of singletrack trails or even no trails at all then you would be well advised to choose a hardtail mountain bike that will soak up some of the bumps along the way.
Whatever bike you choose you need to be sure that you can strap your bikepacking luggage to it. This usually comes in the form of a handlebar roll, saddle bag, frame bag and top tube bag. Equally important is what you stuff into these bags - proper lightweight camping equipment is essential.
This will generally include a lightweight sleeping mat, lightweight sleeping bag, bivvy or tent and small and light cooking stove and pans.
Alpkit Kloke Ultralight bivvy bag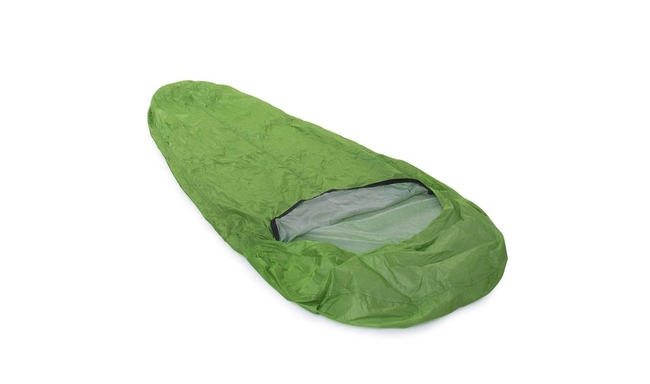 Sleeping under the stars on an open hillside is one of our favourite experiences, but so is travelling as light as possible. So when Alpkit announced their latest bivvy bag as 'one of the lightest and most packable fully waterproof bivvy bags on the market,' we just knew it would fit with our requirements.
Weighing in at a papery 284g, and easily packing to 12cm by 22cm, the Kloke quickly became a favourite - and a 'just in case' bivvy bag thrown into our pack every time we went out. Yes, the fabric is thin and fragile, of course it is - that is a given with ultralight gear - but it never felt in danger of ripping. There's plenty of room and a two-way zip to allow easy management of the breathing gap when the weather's poor. It's also very reasonably priced, especially given how much we've used it.
Altura Vortex Bikepacking luggage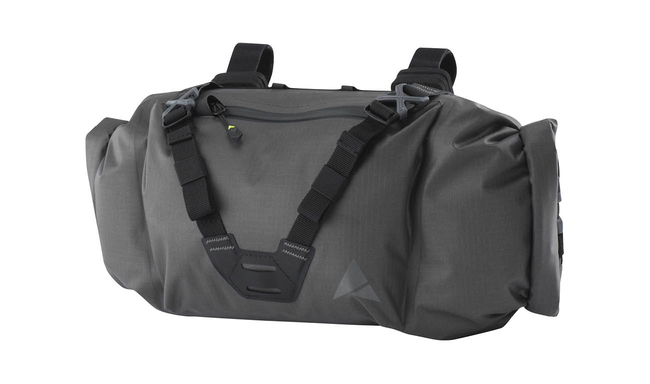 We tried Altura's Vortex 2 bikepacking kit including Seat Pack, Front Roll and Top Tube pack.
On first inspection the fabric is tough and waterproof with all wear points intelligently reinforced with toughened patches. Good friend and well respected endurance bikepacker, Rich Rothwell, helped develop the Vortex range, and we know just how hard he is on his kit. He took on the nightmarish Highland 500 with the original Vortex kit, and the Colorado Trail with the Vortex 2. And after 500 miles and 70 thousand feet of climbing we figure he probably pushed them pretty hard and has only had praise for them.
It's impossible for Altura to come up with a one-size-fits-all design for their bikepacking luggage, with so many bike types to cater for. The Front Roll is a great fit on a typical gravel bike, but it could use a spacing system for a mountain bike setup to better clear cabling. The same goes for the stiff backing of the Front Roll which works well with a drop bar setup but struggles on more complex cabling and shaped head tubes. Access at either end is useful as it lessens the chances of needing to empty the pack to get to something at the far end.
The seatpack, with well placed stiffening elements down either side at the saddle end is a pleasure to pack and use - the stiffening holds everything in place nicely without bulges to get in the way of your legs.
The Vortex 2 is a very capable kit for just shy of £165. Great bikepacking luggage for beginners and crusty vets alike, all at a very reasonable price.
Altura Vortex full review Altura Vortex full review
Thermarest Hyperion 32 Sleeping Bag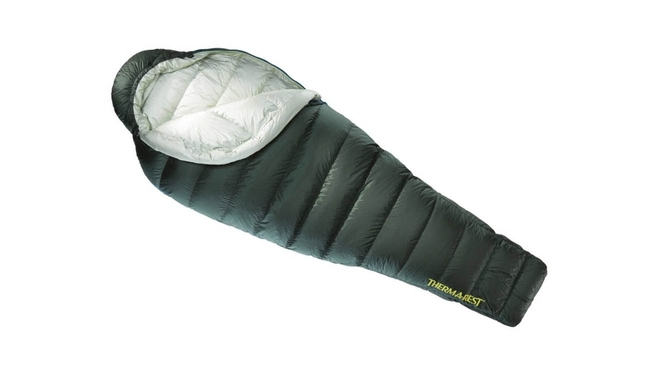 As potentially one of the bulkiest things in your bikepacking kit, it's well worth throwing some money at your sleeping bag to keep it small. The Thermarest Hyperion 32, which packs down to just 14x15cm and weighs just 500g, fits the bill perfectly - especially considering the zero degree rating. The Nikwax Hydrophobic down stuffing should help allay fears of much impact from dampness too. The 900 fill power was excellent.
With thermal bike gear on, we survived comfortably on Scottish autumnal nights down to around 6 or 7 degrees C, but wouldn't describe ourselves as 'cosy' at that temperature without a down jacket on. Another casualty of the weight saving is the cut - it's all pretty slim fitting. Overall however the pack size and weight more than made up for any slight compromises or shortcomings.
Thermarest Hyperion 32 Sleeping Bag full review
Firepot Dehydrated Meals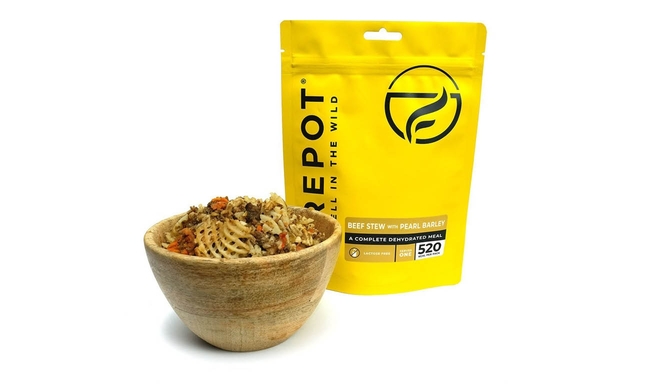 We're old enough to remember when dehydrated food was universally bland, with a texture like prison porridge - something to push calories in, but rarely to be savoured. Thankfully, things have moved on a little since then. Firepot meals are available either in the usual boil-in-the-bag plastic pouch, or a compostable paper-type packaging - a huge step forward when it comes to reducing waste.
We cooked up a variety of options, which all went down a treat. A closer inspection of the ingredients as we munched away revealed a gratifying lack of artificial additives. Tasty, convenient, and reasonably priced at £6.95 per meal (try getting that on a pub menu) - what's not to like?
Firepot Dehydrated Meals full review
Alpkit Koro Stove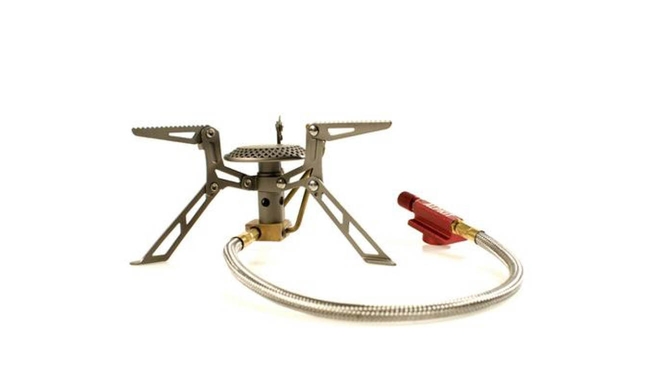 Alpkit's Koro stove features a stable, 'remote' cannister design, fashioned out of lightweight titanium, with a brass pre-heat tube. This has the effect of making sure the gas is fully vapourised when it hits the burner, even if it is freezing cold.
We certainly had no problems in the sub-zero Scottish conditions we tested our Koro in, burning well, despite the freezing open air conditions we challenged it with. The thrifty gas mpg statistic was harder to prove, but we were more than happy with the consumption while boiling our usual endless cups of bothy tea. It was also fast, really fast, compared to some of our other lightweight stoves.
Once each leg and pot support was folded in, it slid neatly into our standard issue 850ml MSR Titan Kettle with plenty room to spare too. All in all the Koro is a terrific expedition gas stove. Well worth the minimal bulk penalty over a 'screw in' stove design.
Thermarest Uberlite Sleeping Mat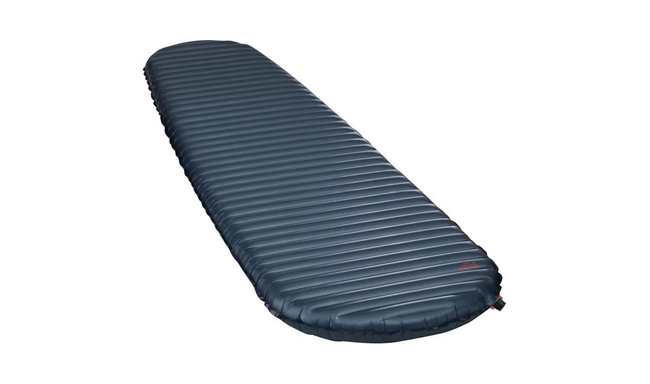 Thermarest describe this as "the absolute lightest insulated air mattress available," and after some digging around the web, we are struggling to argue. It weighs just 250g and, more importantly in the volume-obsessed world of bikepacking it easily rolls down to roughly the size of a can of coke. As with all superlight kit you have to take more care than normal, but we didn't have any punctures. Make sure you pack the supplied repair kit - with that salty £190 price tag, you'd be crying into your morning porridge if anything happened.
Despite the fragility it was extremely comfortable, as you would expect from a 2.5 inch deep inflatable mat, and we found it warm enough for trips deep into a Scottish autumn.
Thermarest Uberlite full review
Adventure Medical Kits Ultralight Kit 3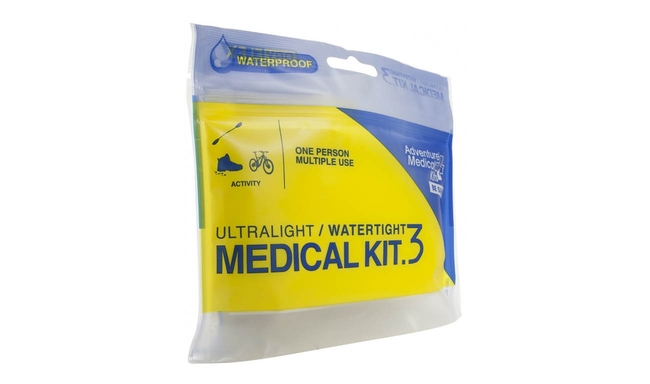 Being incredibly tiddly - 12x10cm by 2.5cm thick - this cracking watertight medical kit slid neatly into bikepacking framebag pockets, and would even fit in a hydration pack. Being so small, it only really contains minor injury materials: plasters, antiseptic wipes, a sting relief wipe, assorted plasters and small bandages. But it also sports a few items for more meaty injuries such as safety picks for making a sling, a length of fabric tape and a few butterfly closures for larger cuts.
This kit may not contain everything - it's not a Tardis, after all - but it could certainly make a bad day a little more bearable, and it only weighs 60g. This is the smallest kit Adventure Medical Kits offer, so if you are after something a bit more all-encompassing, check out their website.
Adventure Medical Kits Ultralight Kit 3 full review
Goal Zero Venture 30 and Nomad 7 Solar Kit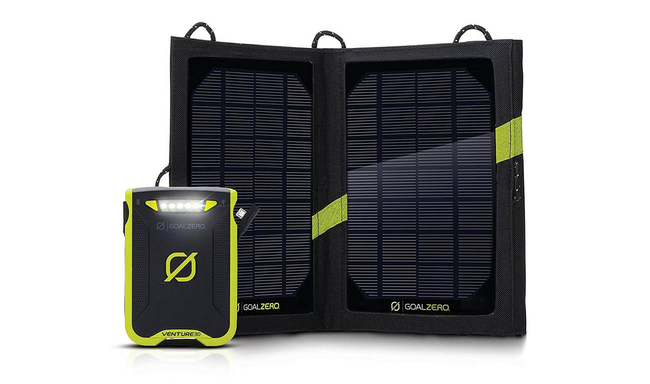 On longer bikepacking trips you might have a GPS, a camera, a phone and more to keep on the go, that needs a chunk of power. One solution is a solar panel and power pack combo.
The 7 watt Nomad panel, folds away to around 230x160mm by 25mm thick and can be easily tucked down the back of a hydration pack or pannier. It weighs in at 450g on its own which is pretty weighty, but manageable.
7 watts in full sun is enough to charge a Huawei P10 at a decent clip - not rapid charging, but in theory a few hours should see the battery full. Unfortunately in our test climate - Scotland - we haven't had a great deal of 'full sun' days to really get the amps flowing.
That is where the Venture 30 battery pack comes in, an impressively ruggedised, IPX6 rated power pack punching out 7800mAh @3.7V, enough to comfortably fill our power-hungry smart phones around twice at a pinch. Coming in at 80x115mm by 24mm thick it always finds a place in our kit without a problem.
The great thing about pairing the battery pack with a solar panel is the ability to store power through the day and hook up gizmos at night. At all corners on the panel there are handy paracord loops for securing, we find our bar pack is the ideal place to leave it for the day, but if you had a rear rack or backpack it could easily be strapped on with mini-bungees.
Goal Zero Venture 30 and Nomad 7 Solar Kit full review